Guest blogging is the process of composing articles for another company that aims at sharing expertise and popularizing the brand's website. It helps a post's creator increase traffic, attain new customers, improve domain authority, establish a position of an industry leader and expert, improve brand recognition, and maintain relationships with companies in the same industry.
In this video, you'll find out guest blogging tips, how to search for guest blogging sites, and keywords for topics that have high traffic.
In this article, we'll unpack the reasons to leverage guest blogging, its benefits, and opportunities. Next, we'll proceed to the steps on how to start guest blogging, find appropriate websites, and monetize your efforts.
Why should you use guest blogging?
Writing evergreen articles or creating other forms of content that are relevant and fit a partnering company is a hard task. However, it offers several benefits for guest bloggers. By sharing their expertise, companies obtain high traffic, new leads and customers, domain authority, brand awareness, and good relationships with businesses within the market. Besides, it enables brands to obtain constant growth and win customer trust.
Guest blogging is beneficial for both the author of the content and the website hosting this content. Becoming a guest blogger improves the exposure of a brand to a different target audience and attracts people interested in the topic.
Now that you have the reasons to hire professionals to create quality posts, let's proceed to the next section to discuss the advantages of this effective technique.
Benefits of Guest Blogging
Creating original and quality content for companies in the same industry isn't an easy task but it's worth effort because of the various benefits it brings:
high website traffic;
wide reach;
good relationships with influencers and well-established companies in the industry;
extra social media shares;
big social media following;
established position of an industry leader and expert;
additional backlinks to your website;
high brand awareness;
fast sales cycle;
big sales volume;
profound content marketing knowledge and new skills;
different points of view and information for readers.
The pros are clear now, so it's time to review how bloggers receive their opportunities.
How do guest bloggers get opportunities?
Use Google search
Consider prolific guest bloggers
Look through backlinks of your rival company
Become a part of relevant communities
As a guest blogger, you will definitely look for opportunities to place your articles on relevant sites with high authority. When doing this, remember to review blogs that relate to your industry and have an audience that will be interested in your company. For example, if your brand sells and specializes in beauty products, it's better to look for a website that contains information about cosmetics, skincare essentials, fragrances, etc.
Use Google search
The majority of blogs that need guest bloggers, inform about this fact on their websites. You can easily find them by leveraging Google search operators.
Say, your brand provides customers with marketing automation software solutions. To find a place for a post related to your industry, you need to create a query in Google that contains your main keyword plus "submit guest post" (use quotation marks) to obtain all marketing automation websites open to guest posting. Your query should look like this:
marketing automation platform + "submit guest post"
Look, you instantly receive around 15,800 results for your query. The only thing you need to do now is to find the most relevant websites for your business.
Consider prolific guest bloggers
One more opportunity is to find some great authors in your industry who always come up with relevant and quality content. Look through their accounts on social media to see their articles and the companies they promote. These brands can be perfect for your articles as well. Find them on Google and check out whether it's possible to publish your guest post. Explore their guidelines.
To search for an influential guest blogger, you should create the following query in Google:
name + "guest post by" (use quotation marks)
For example, let's look for guest posts written by Kay Dexter, a marketing strategist. Below you can see the necessary query:
Kay Dexter + "guest post by"
By writing this way, you'll obtain the websites that contain Kay Dexter's guest posts.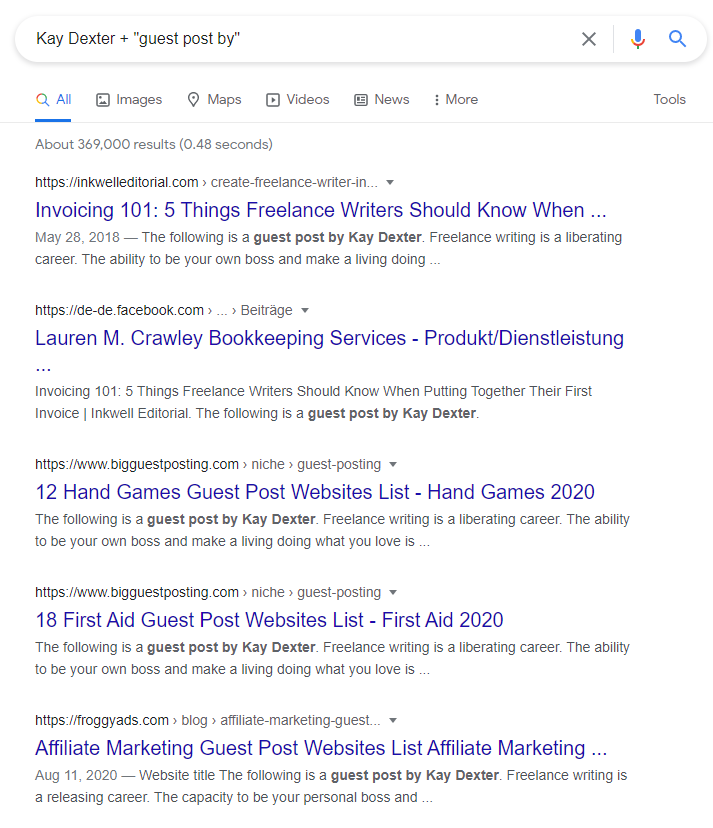 Look through backlinks of your rival company
To get great websites for your guest posts, you can always leverage Ahrefs or SEMRush. Select your key competitors and check their recent backlink profiles. If your competitors succeed in publishing their guest posts on some good websites, there's a chance that they will publish your articles as well.
For example, let's check Runner's World's website and its backlinks in Ahrefs.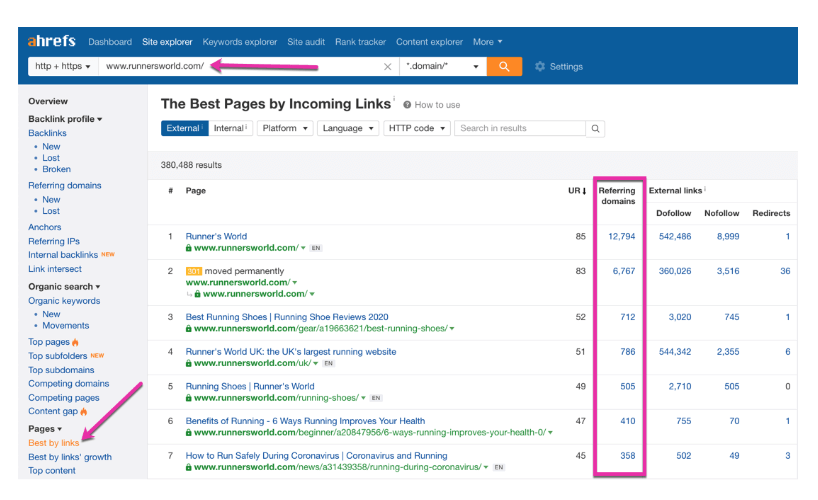 Become a part of relevant communities
Depending on the type of your business, you can join an appropriate community for new opportunities. For example, if you work in digital marketing, it's worth creating a group on platforms like Facebook, LinkedIn, or Slack. This way, you can find websites that welcome articles from other companies. Besides joining the community, you should also show your active participation in it.
Now that you know some opportunities for your guest blogging, follow our guide to start creating guest posts and publishing them on reliable and relevant websites.
How to start guest blogging?
Look for guest blogging opportunities
Get to know the content of the websites<
Explore the guest posts of these blogs
Find out what types of authors these sites work with
Study the guidelines
Pitch a great idea for your post and write an article
Create a guest bio
Monitor and evaluate your post's performance
To kickstart your guest blogging, you should be aware of several steps. We'll discuss them in more detail below.
Look for guest blogging opportunities. As we've already mentioned in the previous section, when searching for some chances to guest post, pay attention to the websites which operate in your industry. The blogs you search for should be in the same niche, have an audience that will be interested in your company, and have a high level of engagement. Look for potential clients through Google search, prolific guest bloggers, social media, competitor backlinks, or communities of guest bloggers. MyBlogGuest is one of the examples of such communities.
Get to know the content of the websites. Before writing any guest blogs, you need to understand the content of your target blog. Explore the audience they write for and the type of content they publish. You should be aware of all these facts to write the appropriate articles for them.
Explore the guest posts of these blogs. Look through and analyze the guest posts from other writers and compare them with articles published by the owner. Find out whether they succeeded to perform like the owner's blog posts. For this purpose, see the number of comments and social shares. If the audience doesn't demonstrate a high level of engagement, it's better to avoid such blogs. They won't let you establish authority or bring traffic to your website.
Find out what types of authors these sites work with. Peruse several bios of experts invited to write posts. It will enable you to figure out what types of people they work with: freelancers, bloggers, or business owners.
Study the guidelines. Before contacting a blog owner, you should see the guest posting guidelines first and try to follow them when creating a guest post. Be aware of the posts the owner would like to see, the format, and other important details. It's necessary to avoid any complications during your partnership and make a great article.
Pitch a great idea for your post and write an article. Once you read the guidelines, you know for sure the things a blog requires. If it mentions submitting a topic idea, you can prepare several of the most appropriate. Depending on the quality of the website's content, you should prepare the corresponding post. Look through the previous guest posts to create something similar to satisfy the host.
Create a guest bio. This part is the most important for you because it contains self-promotion links. So, do your best to describe yourself as an expert to gain trust. You can include a link to your site, social profile, or information about your background and experience.
Monitor and evaluate your post's performance. Finally, you need to track the progress of your guest post. If you strive to boost traffic to your site then measure the results by using Google Analytics. This way, you'll define the success of your article.
It's time to jump into the next section and walk you through the ways to search for sites that welcome guest posts.
How to find guest blogging sites?
Sometimes writers have problems with finding the right sites to guest blog. In this section, we'll unveil several ways to do it.
Look for special blogs on Google. You can easily find the necessary lists of sites that allow guest bloggers to write articles for them. Many people have studied this question before and share their knowledge on Google. This way, you'll have a quick look at the websites related to your niche and their domain authority. The only thing left is to choose the most appropriate for your company.
Use special tools. You can research the necessary websites with different tools. For example, platforms like BuzzSumo enables users to search for guest blogs by writing topic keywords + "guest post" or "guest post by". As a result, you'll have a list of blogs that allow guest posts.
Analyze the activity of your competitors. By using different tools like Ahrefs and SEMRush, you have an opportunity to have a look at your competitors' actions and strategies: their backlinks, websites where they guest posted, and see the authority of websites they write for. This analytics is one of the main sources of guest blogging sites. Choose the companies that suit you the best and contact their teams.
Now let's figure out how to earn money from your guest blogging.
How to make money guest blogging?
Savvy marketers know the numerous advantages of guest blogging and ways to earn money by implementing this strategy. There are several things you should consider to receive money for your articles.
Sell your product. The easiest way to monetize your guest posts is to promote your product and ultimately sell it to a new audience. You can choose an appropriate moment to educate readers about your company and explain what problems it can help solve. For example, if your article is about platforms that help build websites for free and you have such a service and a free plan or a trial period, don't forget to mention it and place a link if possible.
Offer to create posts for compensation. If you are a freelancer and you are good at writing informative and relevant articles, guest blogging might be your additional source of income. Consider writing posts for influencers, teach others how to write such articles, partner with companies and create content for them, or even create an online course on guest posting.
Sell affiliate products. One more great idea to earn money from guest blogging is to sell products of the other companies. You need to describe them most attractively and educate readers about their benefits. The two main advantages are that the product isn't yours so you don't need to spend extra time on its development and you get money for its promotion and selling. Put links that lead to these products, promote courses, webinars, and training, or invite them to join online communities.
Write sponsored reviews. Very often, companies need feedback and reviews from experts in the same industry. You can become one. Try to earn some money by writing product reviews, you can earn some money. Write only honest reviews in order not to tarnish your reputation.
In a nutshell, guest blogging is a crucial part of a company's blog. It brings brand recognition, a wide target audience, and positively affects SEO. If you are beginning your path as a guest blogger or considering hosting guest articles on your site, just give it a try.
Resources:
This article defines the term, uncovers its importance, how to get started and how guest blogging influences SEO.
This article provides readers with the benefits of this marketing strategy both for hosts and guest bloggers.
In this article, Neil Patel unveils 5 ways to guest post.
Last Updated: 30.08.2021