A backlink is an inbound link that redirects a user from one website to another. Site owners care about the smart placement of backlinks since Google uses them as a ranking factor and they, along with content, are an essential part of its ranking algorithm.
In this article, we'll find out the importance of backlinks for SEO, their types, and figure out how they work. We'll also uncover the factors that influence the quality of backlinks, review the strategies to build high-quality backlinks, and how to check them.
Why are backlinks important for SEO?
You can often observe thousands of websites competing for top rankings on Google in a variety of ways. They add new content regularly, optimize it with relevant keywords, acquire backlinks to their sites, match search intent, optimize website speed, work on domain authority, etc. Backlinks are the second ranking factor for Google after content and are critical for SEO. That's why site owners constantly exchange backlinks with relevant authoritative sites, consider guest blogging, provide users with quality content and update it regularly.
Inbound links are essential for SEO because they are a signal for Google that a source is reliable and other companies within the industry recognize it as useful and informative for people. If many companies link to a specific website, search engines take this fact into account. So, earning quality backlinks is critical for ranking and website visibility.
Now that you know about the importance, it's time to proceed to the next section to unveil how backlinks work.
How do backlinks work?
A website with many backlinks is a good sign for search engines. They serve as reviews of web pages and inform users and Google that the content is trustworthy and valuable. Companies try to earn backlinks from authoritative relevant sites to show the value of the content and website in general. As a result, it can rank higher and obtain better visibility. However, check the websites' content to ensure that backlinks are relevant to your site.
Search engines give a higher rank to websites with many backlinks from reputable sources because they enable users to find the necessary quality information faster and solve their problems. Reputable sites also ensure the credibility of the website they refer to and approve that the web page is valuable.
Let's move to the types.
Types of Backlinks
Google constantly updates its guidelines to improve search results and the quality of content websites produce. It uses several ranking factors to define websites' authority in search results. Backlinks are the second most important factor after content, that's why site owners care about smart link building. So, if a trustworthy site with a good reputation links to your website, it will level up your company's site. Let's now review the two main types of backlinks and the influence they can have on your website.
Do-follow links. This type of link doesn't contain any attribute. Do-follow links have an impact on your ranking and help get a higher position on Google. Let's discuss how it works. Say, several high-ranking sites link to your site. Search engines see it, conclude that you have great content, and decide to reward your content with a higher ranking. This is done to deliver the most trustworthy and relevant information to users and help customers solve their problems.
No-follow links. This type of link is necessary for a website to look natural and combine both do-follow and no-follow links. They also drive traffic and gain exposure. No-follow links include a special attribute in their code that sends signals to search engines about the type of a link. If you open the HTML source code of a web page and see rel="nofollow", it means that it's a no-follow link and it doesn't improve your page rank or affect a page's placement in the SERPs. Links from forums, sponsored content, press releases, blog comments, and social media are often no-follow links.
Let's jump into the factors that influence the quality of inbound links.
6 Factors Influencing the Quality of a Backlink
Now that you know about the importance of high-quality backlinks for SEO, you are probably interested in factors that define their quality. So, if you aim to improve ranking and online visibility, attract more visitors and boost traffic, then check out our list of factors.
Domain authority. SEO tools like Ahrefs and Moz give websites certain domain authority. It enables site owners to gauge the potential of their website from 1 to 100 and find out how authoritative a specific website can be. It embraces links, content, technical SEO, and many other elements. Domain authority also includes factors such as the number of inbound links and root domains. The more high-quality relevant inbound links your website has, the better is the domain authority, prestige, and rank of your site. A great number of high-quality inbound links make Wikipedia a website with high domain authority and top ranking.
Website credibility. Besides domain authority, the quality of backlinks is also influenced by the credibility of a certain website. Such sites should be secure, attract organic traffic, avoid Google penalties, and have low spam scores and bounce rates.
Relevance. A website should put only relevant links. This is since Google cares about its users and strives to give them only relevant accurate results. To avoid problems with search engines and stay ahead of your competitors, include backlinks related to your niche. Ensure your backlinks look natural in your content and help customers solve their problems.
Do-follow and no-follow links. Remember, do-follow links are useful for your website since they help your SEO, especially with ranking. At the same time, no-follow links can't directly affect your ranking yet they help bring in more traffic. That's why ensure that you have enough do-follow and no-follow links to improve ranking and generate more traffic.
Anchor text. Although you might think that anchor text doesn't play an important role, yet it does. It defines the value of the link provided and connects two different websites. To give a backlink the maximum value, anchor text should be specific, relevant, and contain appropriate keywords. As a result, search engines can identify the content of the linked site.
The placement of a link. The position of a backlink also matters. Make sure that your inbound link isn't in the footer or on a website's sidebar because it will be considered an advertising link. As a result, your website reputation and ranking may suffer.
Now that you are aware of the factors, let's move to the strategies.
5 Strategies to Get High-Quality Backlinks
If you want to boost your organic traffic, you should pay attention to building backlinks. By placing links on reputable websites, you can improve your reputation to look more attractive for search engines. We've prepared several strategies to help you build quality inbound links, so let's dive in.
Explore competitor's backlinks. Searching for new link-building opportunities can be a challenging task. However, there's one very simple and effective method. To get the new opportunities, get the list of your main competitors' backlinks. Choose the top 5 rivals based on your main keywords. Once you make your choice, analyze their backlinks. You can use a special SEO tool to analyze the backlinks of your competitors. Keep in mind that you don't need to replicate all links. Choose the ones with good authority.
See the mentions of your competitors. Besides competitors' backlinks, mentions on social media channels, forums, or websites also help obtain a list of backlinks. You can help people by answering questions and solving their problems on different channels and they can also help you in return, for instance, endorse your company on their websites and put a link to your site.
Consider guest blogging. If you want to create buzz around your brand on the internet, guest blogging is the right decision. With its help, you can win new clients and communicate with people interested in your industry. It will enable you to increase your following on social media, boost traffic, and build great backlinks. However, make sure that guest posts are unique, relevant, and don't contain spam to avoid penalties from search engines.
Promote your content. If you have quality and informative content, promote it. Some great articles might draw the attention of authoritative companies in your niche and offer you backlinks. You can share your content in a variety of ways: social media, influencers, bloggers, and partners. Use the most popular channels to distribute information to find websites that might be interested in inbound links.
Publish great ultimate guides. Guides are usually informative and long-form which is good for SEO. It's a well-known fact that article length is an important factor for good performance in Google. When creating an ultimate guide, choose a relevant topic that includes keywords and complies with SEO principles. Create long enough posts for readers to understand and find a solution for their problems.
Now it's time to figure out how to find and check your backlinks.
How to Find and Check Your Backlinks
If you want to find backlinks to different websites, you can use Ahrefs.
Go to Site Explorer.
Paste in a domain of a specific website.
Based on what you want to explore, in the drop-down menu choose "*.domain/*" for websites or "exact URL", if you want to analyze a web page.
Go to the Backlinks profile to see all backlinks of a necessary website or page and explore its data. In the Backlink profile, you'll see newly lost, broken backlinks, anchor text, referring domains, first seen, and traffic.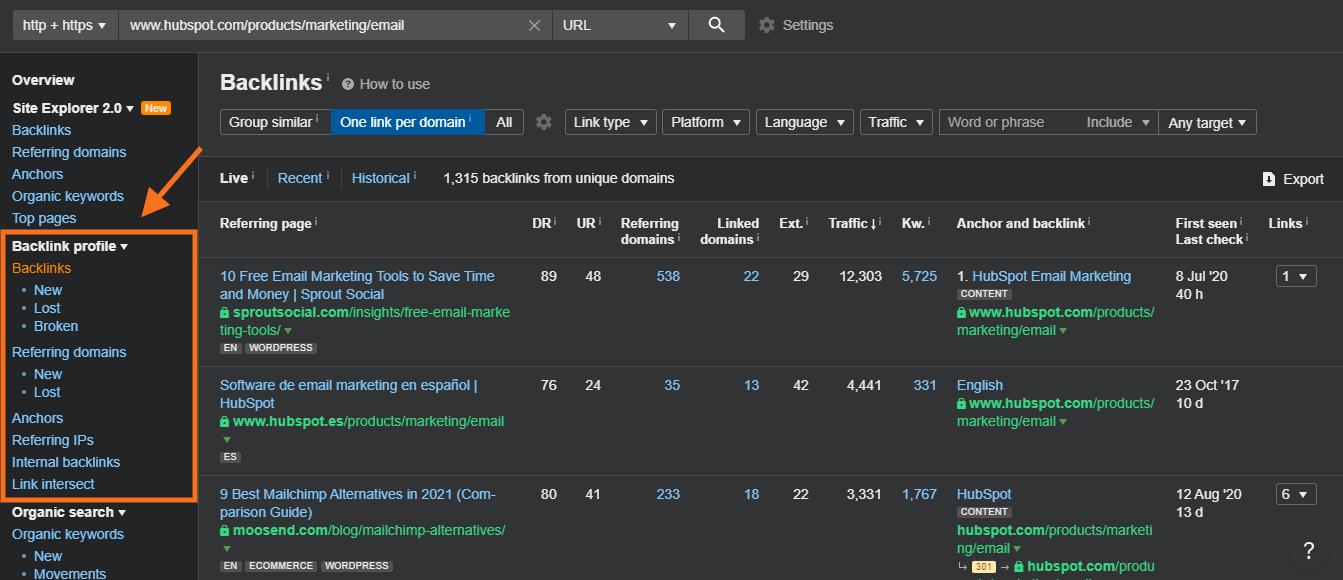 You can leverage other tools as well. There are many other useful SEO tools such as SE Ranking, BuzzSumo, Moz, Ubersuggest, Majestic SEO, and more. Make use of them to analyze the backlinks of your competitors, find the right for your website, and track the current situation with your backlinks.
In a nutshell, backlinks are an integral part of any successful website. They help show the credibility and authority of your website and content. Moreover, inbound links help Google decide on the quality of content and rank it higher.
Resources:
This article uncovers the importance of backlinks for SEO.
In this article, you'll find all types of backlinks.
This article provides readers with strategies to get high-quality links.
Last Updated: 21.03.2023