The truth is that pages with lots of backlinks rank above pages that have fewer backlinks. How do we get more backlinks? We get the right tools, buckle up, and enjoy the ride. This article will help you understand how to automate routine processes, track your linking profile, and grab every opportunity to create high-quality inbound links.
Just a heads up, we're not going to be talking about buying and selling spammy links because it has nothing to do with white SEO tactics every marketer should be using. But if you're interested in building natural links and catalyzing organic growth, you're in for a treat!

Why do you need to use link building software?
Let's dive into the history of backlinks for a minute. It all started with Google co-founders Sergey Brin and Larry Page creating a metric called PageRank. That metric aimed to make search results more relevant by evaluating how many references every webpage has, both internal and from other websites.
PageRank became one of the core metrics search engines use to gauge the value of every page they're indexing. Google stopped supporting this metric a few years ago, supposedly to focus their webmasters' attention on more important things such as the overall quality of content and website performance.
Despite the fact that this particular metric doesn't officially exist anymore, the idea behind it is alive and kicking. Recent research by Ahrefs demonstrates a clear positive correlation between the number of unique referring domains and organic traffic. The more, the better — this is the main principle most SEO experts use when it comes to backlinks.
The number of referring domains is one of the most important ranking factors in Google's algorithm, as this study of one million Google Search results shows: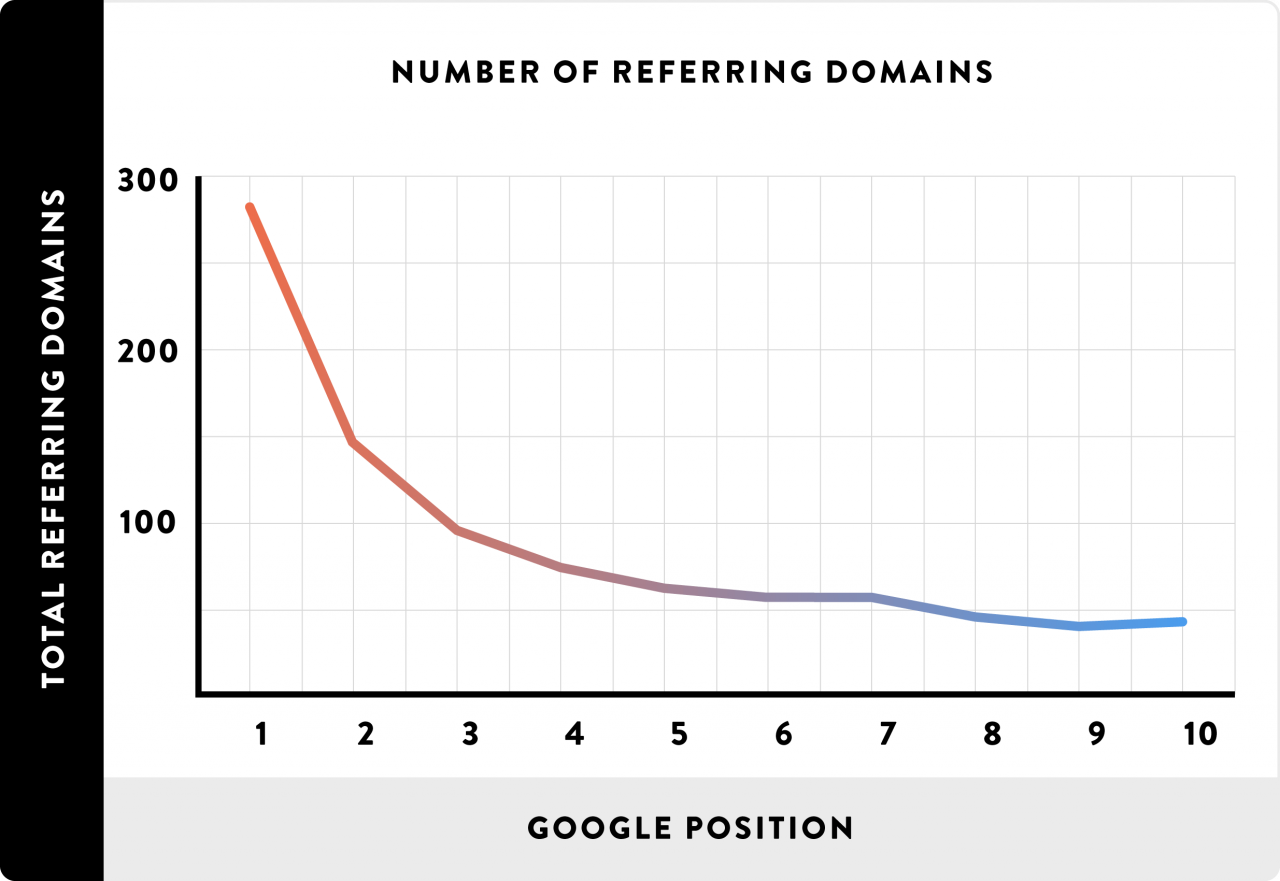 But how do you analyze your website's quality and its backlink profile without being able to see your current PageRank? Not to worry. There are many other metrics and link building tools that provide you with insight on the quantity and quality of inbound linking pages and helps you judge the value of your pages based on that information. In this article, we'll describe a few of them.

What link building tools do you need?
To understand that, we need to look at how SEO experts create incoming links in the first place. There are a handful of methods you can use:
Update existing content. Dig into your old published material scattered across different resources. Contact an editor or a publisher and ask them to add a link to your website to the article or your bio.
Provide value to writers and bloggers. This is a good way to win backlinking opportunities, create connections, and gain authority at the same time. Use platforms like HARO to offer your expertise.
Use webinars and podcasts to promote your personal brand. Participate in online events within your niche to stay on your audience's radar and gain inbound links from the hosts.
Look for guest publishing opportunities. Find relevant, high-quality websites that accept guest posts, contact their editors, and pitch your content.
Fix broken links leading to your website. Identify incorrect URLs and find pages resulting in a 404 error. Then, you can request a fix or redirect the broken pages.
Keep an eye on your competitors' backlinks. With the help of link building software, you'll easily find out where they're earning their links and how.
Take advantage of your competitors' broken backlinks. No one likes having dead links on their page, so reach out to publishers linking to your competitor's website and offer to link to your relevant page instead.
Find unlinked mentions of your brand. You can turn them into active backlinks by simply contacting the publishers and exchanging backlinks if possible.
Create unique infographics and reports worth linking to. This is easier said than done, but it's the most reliable way to create organic inbound links and gain more traffic.
Knowing all of that, you can clearly see what tasks link building tools need to solve. Let's split such tools into several categories:
link profile analysis tools;
link prospects analysis tools;
broken link checkers;
content analysis tools;
trend analysis tools;
outreach tools.
However, in most cases, one tool does many jobs. The choice depends entirely on your link building goals and budget. If you don't have a lot of resources to pour into content creation and outreach, start by analyzing and fixing your existing backlinks.
Link profile analysis tools
In this category, you'll find the best link building tools for evaluating your current inbound links and their effect on your traffic. You can use the same tools to analyze your competitors' backlinks.
Ahrefs' Site Explorer
Site Explorer is just one of the tools you get access to when you sign up to Ahrefs, but it has a lot to offer. Ahrefs has the fastest backlink crawler, right after Google, so it's the most reliable tool for backlink research. Usually, SEO experts use it to check how their website and their competitors' sites are performing, but you can run a simple link profile analysis without going deep into the woods.
Type in your domain or any competing domains, and you'll immediately see how many backlinks, both recent and historical, that website has. For link building, you'll mostly need a backlink tab with dynamic graphs showing how often your or your competitor's website is referred to and how its link profile grows over time.
You'll be able to open a list of every website linking to a certain page. This will help you find link-building prospects. Also, by clicking on "Backlink profile" in the sidebar, you'll see not only referring pages but also their metrics and anchors.
Don't forget to use filters — they are great for finding backlinks that generate the most traffic. This way, you'll be confident about which resources to prioritize and which exclude from your prospects list.
Ahrefs offers no free trial period. But, you can start your 7-day trial for only $7, then switch to one of the plans starting at $99 a month for up to five projects. Considering that there are not so many alternatives on the market, $99 or $179 a month is a fair price.
Ahrefs' Backlink Checker
Backlink Checker is a free and limited version of the original powerful set of tools by Ahrefs.
Using free Backlink Checker, you'll find the top 100 referring domains, their domain ratings, top backlinks, anchors, and pages. That's pretty much it — enough to begin with.
At least, you can specify your search parameters and check backlinks for an exact URL, including or excluding its subdomains. You don't even need to register to use this tool, so it's certainly one of the simplest free link building tools out there. You can also always sign up for a trial period to start using all Ahrefs' tools and get a complete breakdown of your own or a competitors' backlink profile.
MozBar
MozBar is another free link building tool worth adding to your collection. It's a Chrome extension for a quick on-page link profile analysis. Using it couldn't be simpler. Open any page, and you'll immediately see its authority and the number of inbound links. Basically, it's all you need to identify "strong" and "weak" pages at a glance.
If you have serious intentions, try MozBar Premium. It'll provide you with many more metrics, detailed reports, and data analytics. Sign up for a free 30-day trial and then prepare to pay $149 a month.
URL Profiler
URL Profiler is a one-of-a-kind tool. We were not completely honest with you: there are a few prominent alternatives to Ahrefs, such as Majestic and Moz Pro. However, URL Profiler collects metrics from all of them, so we decide to mention this tool instead. It allows you to analyze URLs in bulk and immediately find promising prospects and dead links.
You need to download and install the tool, and it will do the rest for you. Just prepare a spreadsheet full of URLs you want to assess. With the help of URL Profiler, you'll clean up your links, audit your content, and check the rank and link data of any website within minutes.
It's an irreplaceable tool because it merges data from different sources and automates the most draining and laborious SEO tasks. You'll end up with an easy-to-edit spreadsheet full of all the necessary data. It would take you hours, if not days, to put all of those metrics together manually.
You can start working with URL Profiler by trying it for free for 14 days. Then, you'll need to pay $20 a month or more, depending on your plan.
Content analysis tools
Here you'll find the best link building tools for discovering top-notch content in your niche, finding unlinked mentions, and creating your own link magnets.
Ahrefs' Content Explorer
Content Explorer is another multifunctional tool by all-mighty Ahrefs. First, you'll be able to research over a billion web pages and discover the best-performing articles in your industry. You'll see how many references they have and who is referencing them. Transparent social and SEO metrics will help you understand what kind of content attracts backlinks.
But most of the magic occurs when you start setting filters. They help you narrow down the number of topics you can write about. Also, they're extremely useful when you're looking for guest posting opportunities. You'll see different filters right under the search bar:
Here is a small portion of what you can do with them:
Choose only high-ranking domains, pages with 50 and more backlinks, or freshly published articles.
Highlight unlinked domains when searching for your brand or product name.
Discover broken link building opportunities by using the "only broken" filter.
Find pages that have no backlinks yet generate a lot of traffic to identify low-competition keywords you can use.
The last one is particularly helpful when there is fierce competition in your niche. You can find new low-competition words in no time using Content Explorer: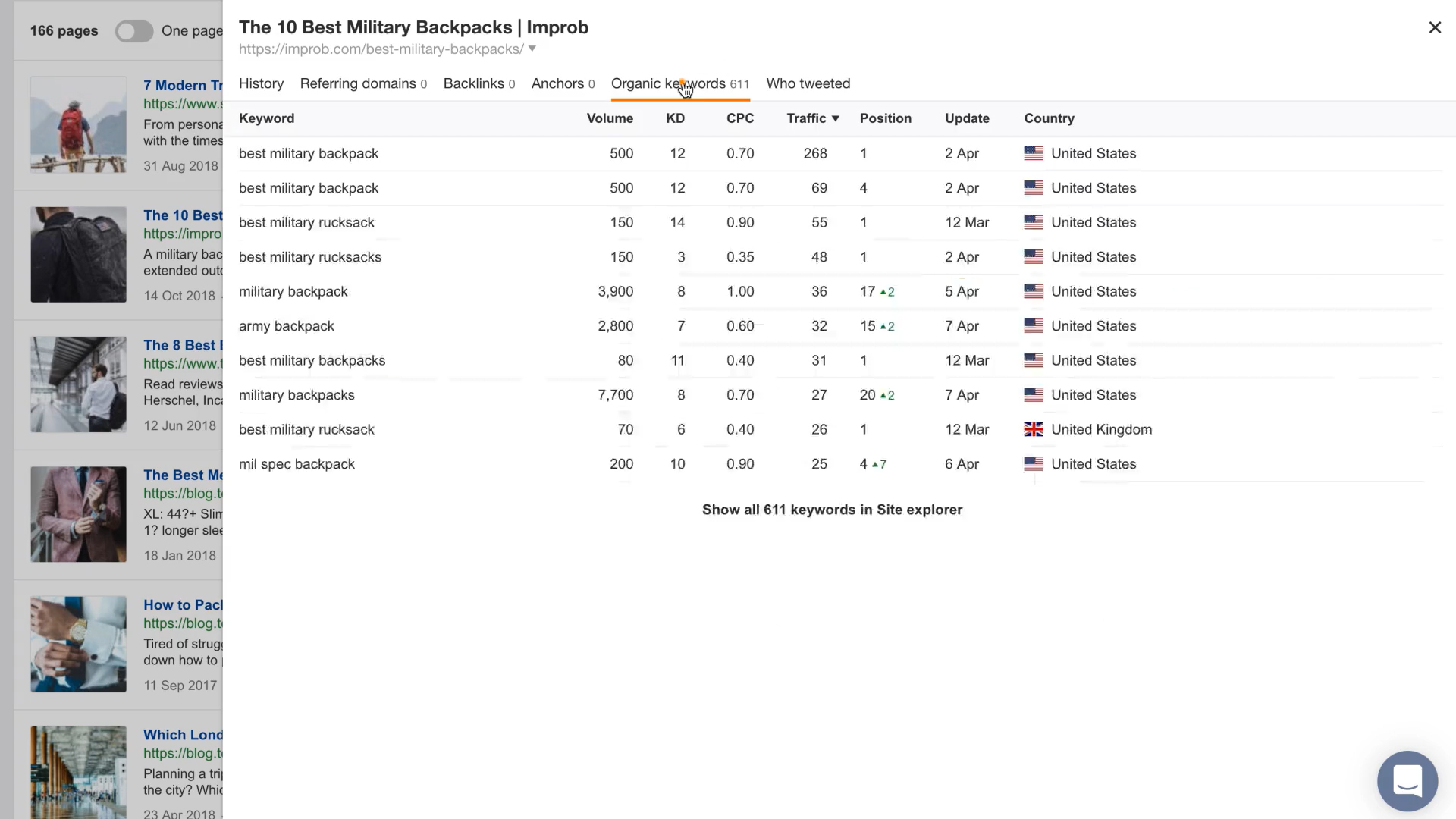 Just as with Google, Content Explorer supports search operators to fine-tune search results even more. You'll find a whole list of them by clicking on the question mark in your search bar. Feel free to export the results, upload that URLs list to any email lookup tool, and reach out to your prospects.
Clearscope
Clearscope is an AI-powered tool content creators use to analyze their work before it hits the wire. It will assess the readability of your text and help improve your tone and wording. Clearscope gives you actionable recommendations as you type.
The tool suggests words from top-ranking articles and shows you the right context in which these words usually appear. It also points out the words you can use to make your copy more diverse. The beauty of this tool is in its mission. It's designed to help you create not just any type of content but the most engaging and comprehensive SEO-friendly content that will actually bring you more backlinks.
Clearscope supports five languages and offers Google Docs and WordPress integrations, so you can keep using a familiar interface. Request a demo to see this tool in action, then choose one of the pricing plans. If you want to use Clearscope by yourself, it will cost you $170 a month.
Google Alerts
Google Alerts is one of the free link building tools that not everyone knows about. It's a content change detection and notification service, and it helps you keep your finger on the pulse of your sector. When there's a buzz about a topic or a trend you're interested in, you'll be the first to know about it and jump in.
Just set up Google Alerts for specific keywords and receive emails every time new publications appear. It will help you react quickly when someone mentions your personal brand or product and, therefore, allow you to ask for backlinks or offer a link exchange.
Who Shared My Link? By Muck Rack
This Muck Rack tool stands in a category of its own. The platform itself helps journalists and experts find each other and collaborate — you can use it to send and schedule personalized pitches. However, it's an advanced service for dedicated PR professionals, not for overwhelmed marketers wearing many hats. This is why it's worth paying attention to Who Shared My Link? — it's free, simple, and reliable.
The main difference between Google Alerts and Muck Rack's tool is that the latter is more content-oriented. Using it, it's easier to find high-quality publications from respected journalists and bloggers. Also, Muck Rack detects new posts the moment they've been published — you don't need to wait for Google crawlers to index them.
Broken link checkers
As you already know, you can find broken links using Ahrefs' Content Explorer. But why not use cheap or even free link building tools if you don't need any extra features?
Ahrefs' Broken Link Checker
Broken Link Checker is another free tool that gives you a glimpse of the premium Ahrefs toolkit. You'll be able to find ten broken outbound links and ten broken inbound links, which should be enough to get the idea behind broken link building.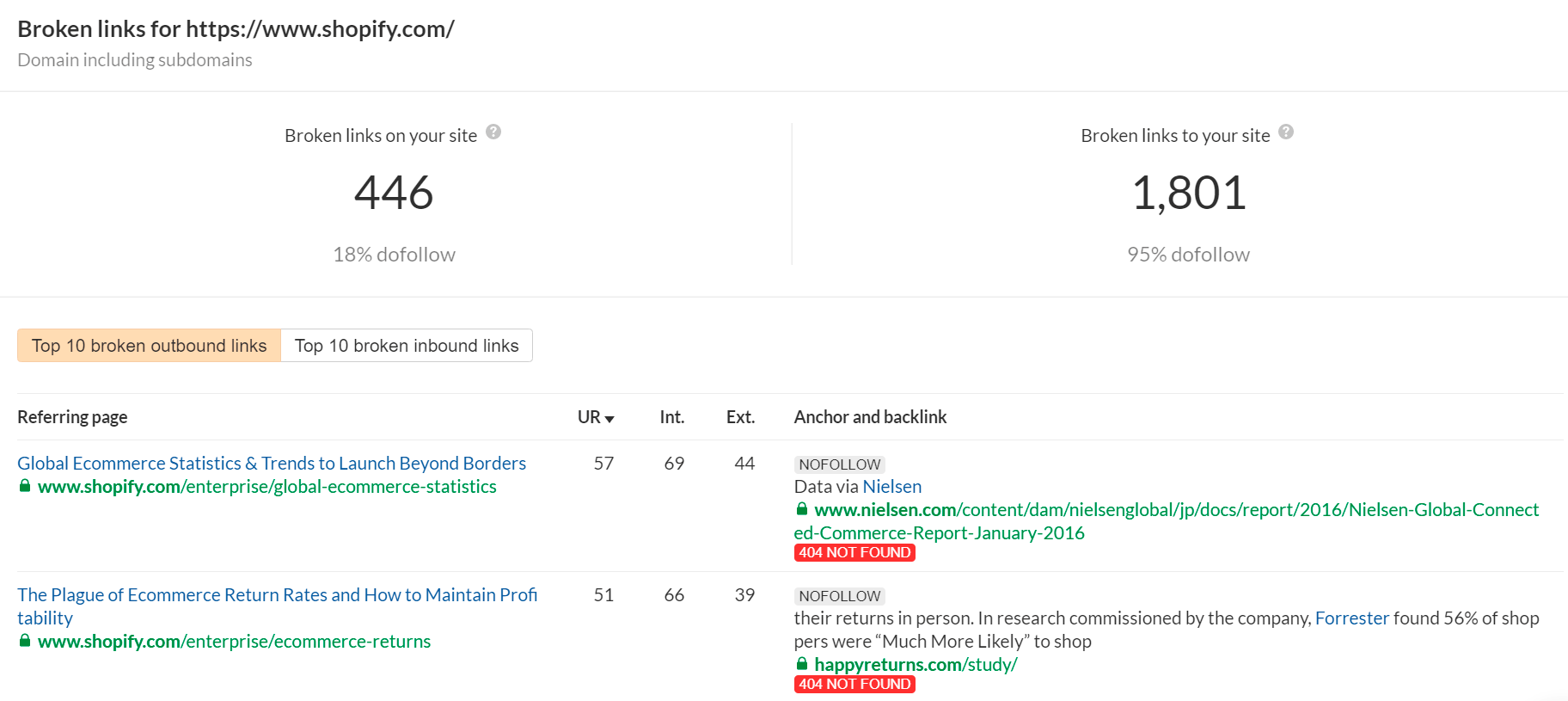 You don't need to sign up to use Broken Link Checker. As always, you can switch to the full plan at any moment and get access to all of Ahrefs' tools and features.
Citation Labs Broken Link Builder
Broken Link Builder truly is a gem that often goes unnoticed even by seasoned SEO professionals. It does what its name suggests, and, oftentimes, that's all you need. Just enter your keyword in the search bar to get the list of dead pages you can replace with your brand-new relevant content.
With this tool, you can take a look at the archived version to get a sense of what that dead page was about. You can export links and contacts right from your workboard. Also, you can look for more 404 errors on a specific domain you're interested in.
This tool will cost you $67 a month or more, depending on how many searches you need to perform.
Outreach tools
There is no scarcity of email lookup tools and outreach automation tools, so we'll just show you these two popular services as examples of what you should be looking for.
Pitchbox
Pitchbox is an advanced outreach tool that combines prospect search, smart templates, natural sending patterns, and personalization to boost your deliverability and response rates. It's a special CRM for link builders. You can scale your outreach efforts and get more high-quality links from influencers, content publishers, and editors.
Pitchbox integrates with Ahrefs, SEMRush, Majestic, Moz, and LinkResearchTools. You can measure ROI and track your progress with the help of transparent reports. The platform also enables backlink tracking to keep your rankings high.
Talk to your prospects without ever leaving Pitchbox:
You need to contact sales to find out the exact price for your team and SEO purposes. You can also book a demo first to get a hint.
Snov.io
Snov.io is a time-saving tool for finding prospects and initiating contact with them. It allows you to reach out to blogs and related sites by finding a decision maker's email address with a single click. You can build prospect lists and export them to other platforms.
Scraping for the right email address manually is a waste of time because you'll usually find HR contact information or any other irrelevant address. With an automation tool like this, you can be sure you're pitching your content to the right person.
You can find addresses in bulk by uploading a list of domains, up to 20,000 at a time, or extract an individual email address from anyone's website or social profile using an Email Finder Chrome extension: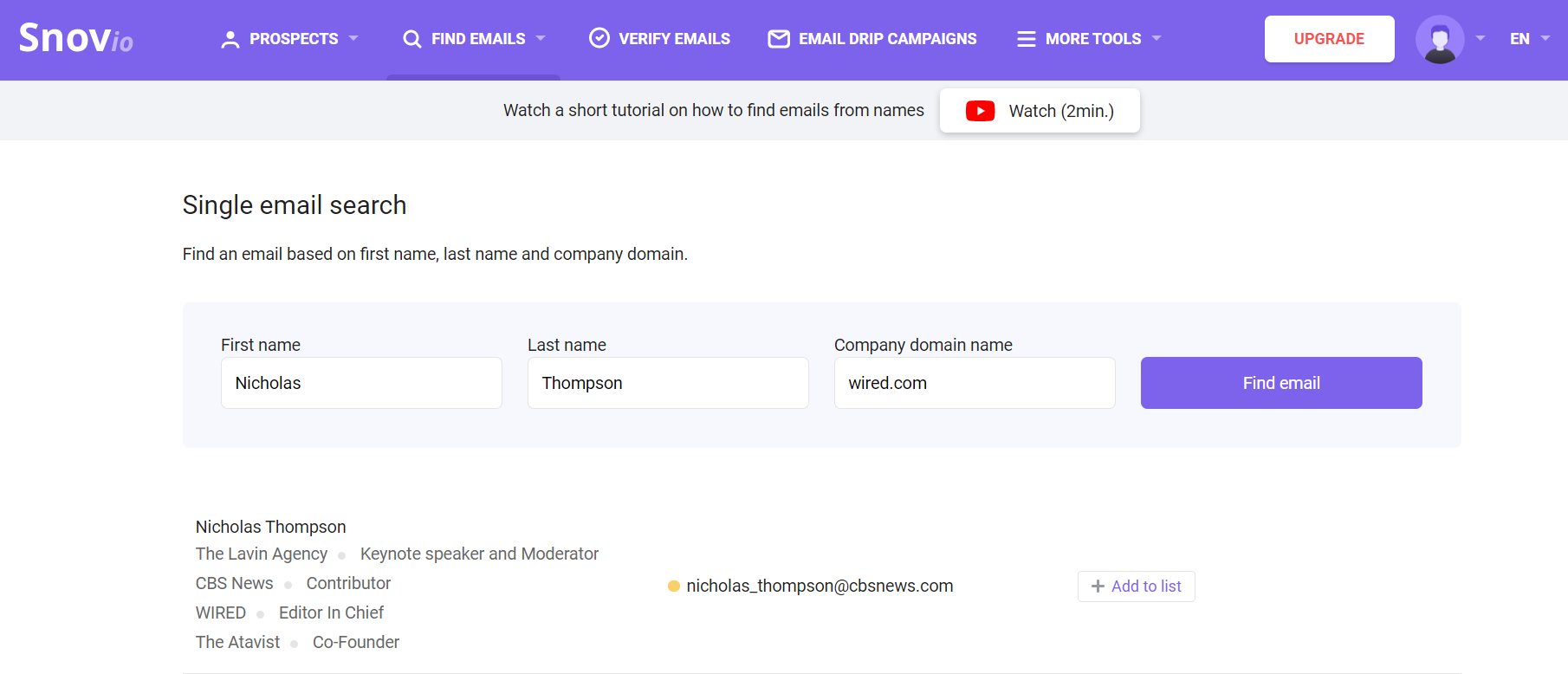 You can try this service for free for personal use — they provide you with 50 free credits every month. The cheapest plan for finding email addresses costs $33 a month and includes 1,000 credits you can spend on tier email finder, email validations, and other related features.
Let's conclude
We believe our recommendations will help you master link building and climb to the top of Google search results. If you don't want to miss a single article on the topics of SEO, digital marketing, and business, subscribe to our emails and get freshly-baked articles delivered to your inbox.
We also encourage you to try our marketing platform — it's a suite of marketing tools to build and strengthen customer relationships. You don't need to be a pro to get started! Learn with us and grow your brand step by step.