A webinar announcement is a message sent to inform the audience about an upcoming webinar. After registering with SendPulse, you can send announcement campaigns for free.
Why should I send a webinar announcement?
If you conduct webinars, conferences, or workshops and never send event invitation emails to your audience, you will lag behind your competitors.
With the help of these messages, you can hype up your event, skyrocket your website traffic, boost sales, and get one step closer to your customers.
With the large selection of channels available today, informing your audience is a no-brainer, and you won't even have to break a sweat to set it up. Still, you have to choose the best channel for your business at a reasonable price. You can create an attractive banner for your site, but how can you be sure that there will be loads of traffic in the days before your webinar? Alternatively, you can run paid promotions, though, there are no guarantees that your offer will target the right people. As a result, you may lose a lot of money.
To be on the safe side, we suggest sending webinar announcement emails. Direct promotions and email campaigns will drive 58-64% of the registrations for your event. As of 2017, 45% of marketers prefer using email when promoting their webinars. This channel has proven to be the cheapest way to build relationships with customers. With SendPulse you can send 15,000 emails for free every month using advanced marketing tools.
Discover more about webinar marketing on our blog
How can I create the perfect webinar announcement?
Create an attractive subject line
Add an image worth a thousand words
Write a clear copy
Creating an announcement email campaign will take 30 minutes without making the process stressful. All you need to do is choose a reliable marketing service that provides pre-designed email templates, an intuitive email builder, scheduling options, and helps you monitor email performance.
Let's dive into creating a webinar announcement step by step.
Create an attractive subject line
Let's assume that you've chosen the right segment of people to send your webinar invitation campaign to. Now your task is to make them open your email — and that comes down to the quality of your subject line. Help your subscribers realize instantly that they've been invited to a webinar. State this information right in your subject line and include the webinar topic in the preheader. Don't underestimate the power of a good subject line, and with SendPulse, you can customize it to your liking.
Loren Baker from SEJ reveals the topic of the upcoming webinar in the subject line and provides more details in the preheader text.

Add an image worth a thousand words
A high-quality image not only attracts attention but can provide all the necessary information about your webinar without typing a line of text. Your banner may contain the topic of your event, questions that a speaker is going to cover, time and date. Make it clickable so that a user can read more about your webinar right on the registration page. If your speaker is a famous specialist in your niche, use their photo to motivate users.
The GIF in the email below grabs attention and is a metaphoric representation of the topic of the webinar.
Write a clear copy
Include information users need to attend your event: topics for discussion, date, time, duration, the reason why it's worth attending and say a little bit about your speakers. To make it visually appealing, make use of a bulleted list.
Don't forget to add a CTA that will let users register. Naming the button "Register," "Save me a seat," "Join the webinar," or something else concise.
The webinar announcement email below brings it all together perfectly. All the details are in front and information is easy to scan.

How can I announce a webinar with SendPulse?
With SendPulse's drag and drop editor, you can create an outstanding email campaign without any technical skills. Drag text, pictures, buttons, videos, social sharing buttons to your email and edit them to match your brand style.
You can use free pre-designed templates to save time. This guide will walk you through creating an email campaign.
Tips to Create an Effective Webinar Announcement
To create effective announcements, follow these tips.
Target the right people. If you plan to launch paid promotions on Facebook or Instagram, be meticulous about choosing the audience that you target with your ads. These people should be interested in your activities, otherwise, you'll be wasting your budget. If you send a webinar announcement email, be careful to choose the necessary segment. Avoid attacking your entire mailing list with the invitation. It's highly unlikely that all of your audience needs to attend this particular webinar.
Combine channels wisely. Your target audience could be anywhere, but never communicate the same message across all the marketing channels you use. You can announce an upcoming webinar on your site, send reminder emails to your registrants, and tell that a webinar is about to start with a web push notification.
Record your webinars. You can use the recording of a valuable webinar as a lead magnet. This way, users will be more motivated to subscribe and you don't have to invest a dollar. Besides, you can use the recording as a part of a course, educational materials or transform it into an article.
Examples of Webinar Announcements
This is a webinar announcement post on Facebook. Users can find all the information in the banner and follow the link to fill in the form to attend an event.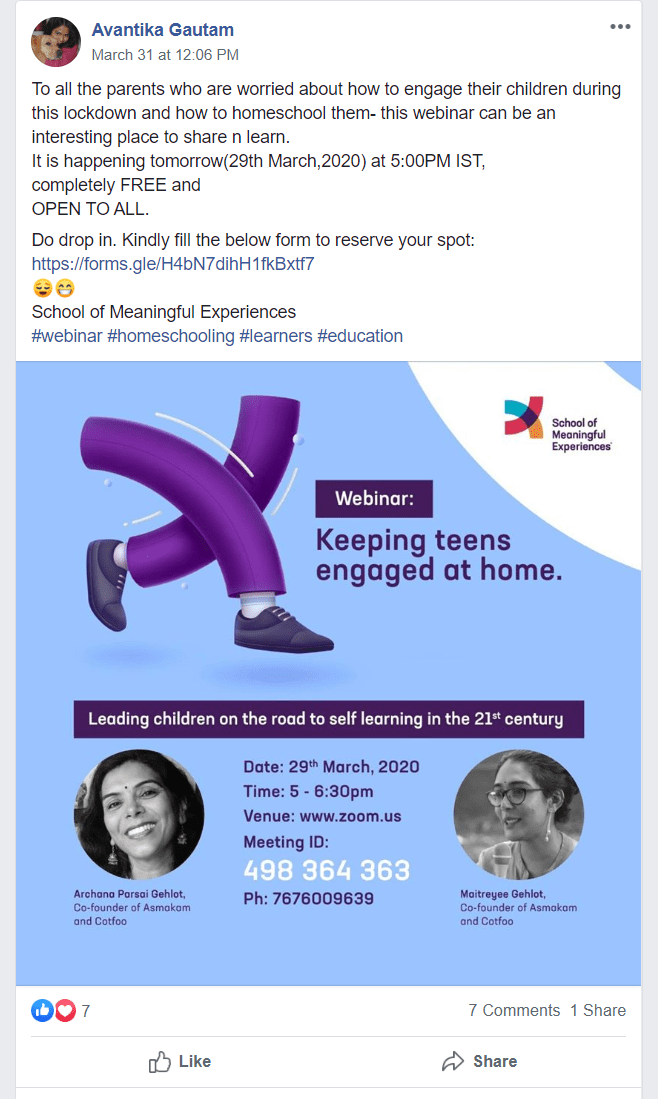 This webinar on Logo Design was announced on Instagram. The person holding the webinar is tagged so people can contact them directly if necessary.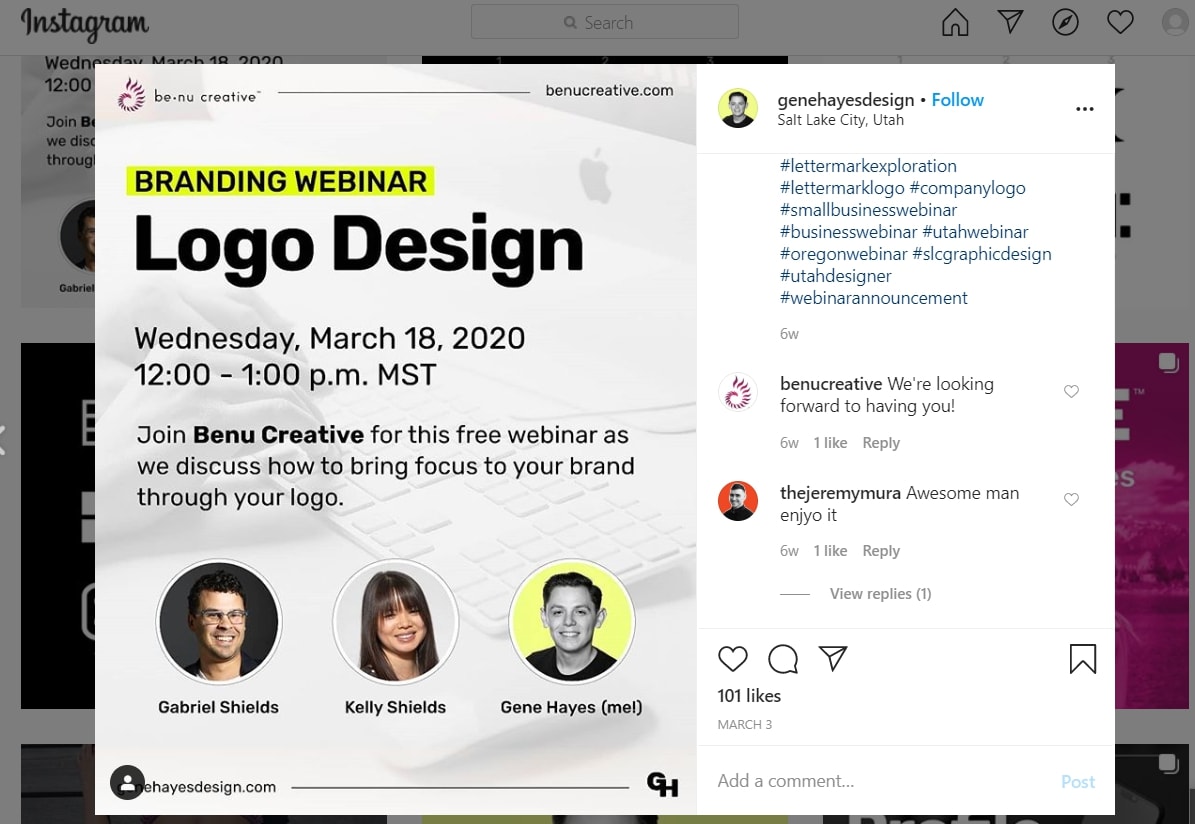 This webinar announcement email from Teachable explains what registrants will learn from their webinar.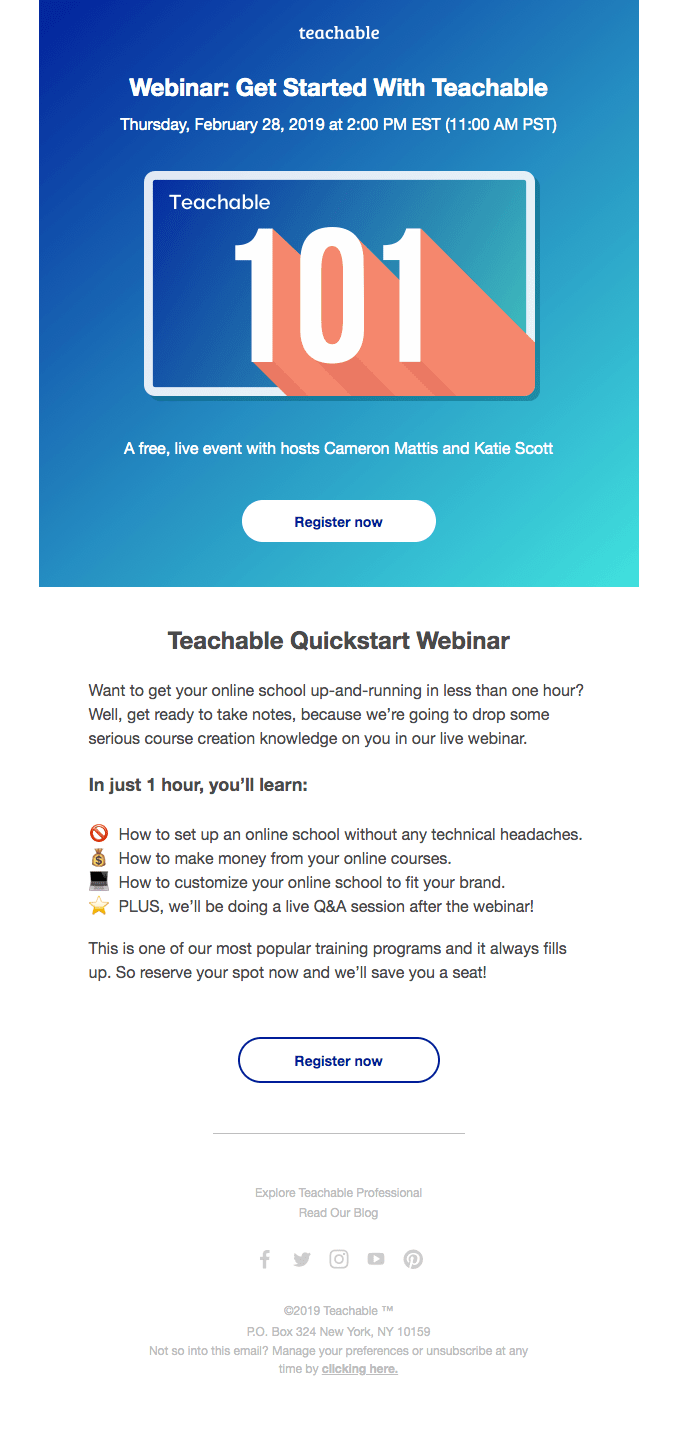 Last Updated: 06.10.2023