Webinars have become a useful tool in marketing, especially when it comes to growing your mailing list and building trust. At least 83% of marketers believe that webinars are highly effective or the most effective tool in their possession.
However, webinars are also taking quite some time to organize and hold. It usually requires multiple people working on tech, chats, email confirmations and invitations, and the presentation itself. Everything becomes even more painful when you have multiple webinars, some of them being on the same topic, or if you try to host a course on the platform.
Luckily, there are already software solutions that help automate numerous processes during the webinar. Some companies go as far as to organize webinars that are fully on autopilot.
In this post, we are going to take a look at some of the best automated webinar software tools and define how to choose the right one for your business.
What is an automated webinar, and who should use it?
An automated webinar is a webinar that runs on autopilot. Usually, it's set in advance by a host with a fixed start and an automated end without more intervention. You can also find fully automated software that can simulate live events without the host's presence and conduct specific actions, such as sending a poll, playing a video, showing presentations, redirecting to your pre-selling page, etc.
Overall, fully automated webinars can save time and effort for event runners, making the streaming more straightforward to work with. At the same time, they help improve engagement rates, boost marketing performance, and create a smoother and more personalized experience for the participants.

Today, automated webinar software is used across many industries, such as healthcare, IT,
eLearning
, and many more. But how to find the best one that ideally meets your business needs? Let's find that out!
Check also our step-by-step guide on how to start an eLearning business with real-world examples and actionable tips.
Tips to choosing the best automated webinar platform
There is no best automated webinar software tool that would fit every person or business. When the first one may need a proper tool for creating online courses, the other can look for specific features an automated webinar platform provides, like playing a video or redirecting to a page. Therefore, it is smarter to learn about what to look out for rather than looking solely at the ratings or downloads.
So what should you watch out for?
Automation options
There are different types of software: you can find those that focus on fully automated webinars only and ones with some automation options. Some also allow hosting both automated and live webinars rather than making companies use different solutions.
Feature set
You will have to write down your needs before choosing a perfect tool. Some offer limited options for free, and others present a rich feature set. The choice depends on how far in automation and customization you want to go. You can find platforms that include landing page builders, poll automatization, automated private greetings, and automated start and end time of the webinars, etc.

Pricing
Pricing matters. You may want to choose the best solution for its money rather than buy an expensive software but not use even half of its features.
Make sure to check our post on pricing your online course!
Trial period
It may be the best software that everyone recommends, but then you try it and understand that you are not comfortable with it at all. The best way to determine whether your relationship with an automated webinar software tool has a future is to use it. It is also the only way to find out whether any false advertisement took place and whether it delivers everything it promised.
Automated webinar platforms to consider
The world of automated webinar software is huge, and it is difficult to understand where to start. We got a list of solutions that are worth your attention — you can either choose one of them or understand better what you are looking for.
Without further ado, let's discover more about the best automated webinar platforms and their features.
EverWebinar
EverWebinar is probably one of the most popular automated webinar software tools. It offers robust marketing and sales features, so you can promote your product easily within one platform. It offers many automation options and is solely focused on automated webinars. You can download WebinarJam from the same company if you want to do live webinars.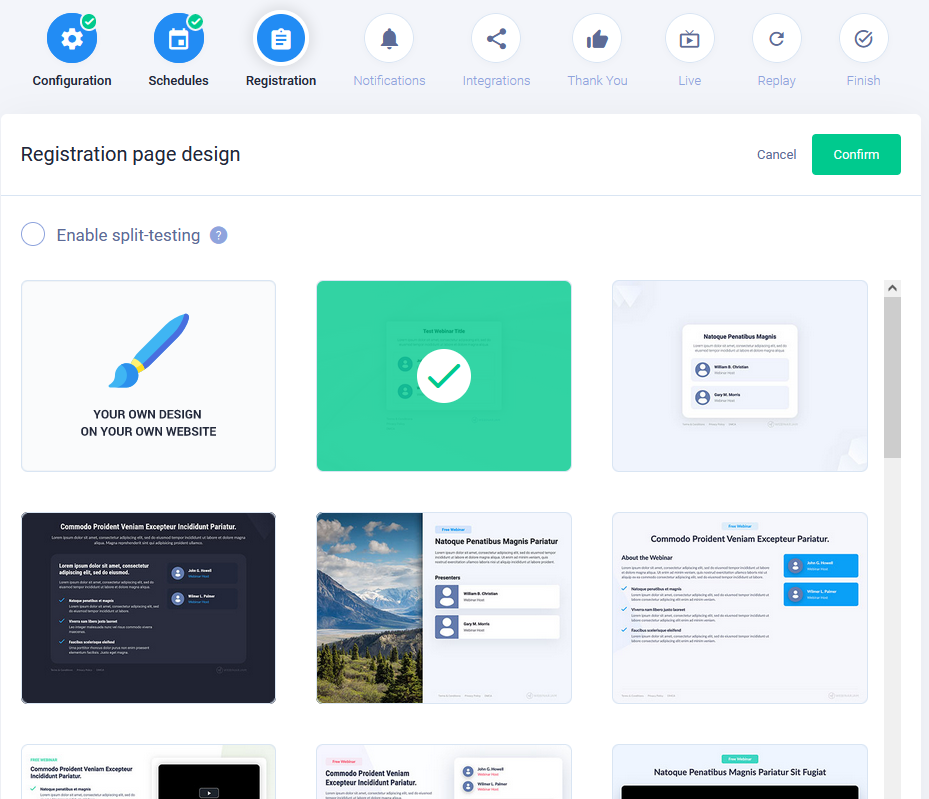 With this platform for automated webinars, you can:
access numerous templates for quick creation of webinar landing pages;
run A/B testing for landing pages;
set up automated scheduling and join-in-progress admission;
use automated polls, handouts, offers, and messages triggered by a specific time or action;
monitor analytics which includes registrants, show-up rate, live and replay attendees, statistics for different options, session lengths, etc.;
turn live webinars into automated events in just one click.
You can enjoy a 14-day free trial, and afterward, sign up for an annual plan for $499 or a biennial plan for $874.
Demio
Demio is also a widely-used tool but it is more suitable for small businesses that don't need too many features and want to quickly launch their digital product. It fits for both live and automated webinars, so it's perfect if you don't want to pay for two different solutions.
Demio offers the following:
minimalistic landing page design with only one template available;
automated scheduling, polls, handouts, and messages;
analytics, including registrations, show-up rate, and focus tracking (learn when listeners start to browse other windows in parallel).
The platform offers a 14-day trial with a further opportunity to upgrade to one of the following options:
starter package for $34 per month — one host, no automation;
growth package for $69 per month per host — five hosts, custom branding, automation;
premium package for custom pricing — no limit on hosts, more customization, support, and automation.
eWebinar
eWebinar is a tool that focuses on automated webinars only and offers nice options for different scales of automation. For example, you can get notifications when someone writes in the chat and answer them live or by email after the event is over.
Setting up a webinar is extremely easy — you just need to paste your video or a link to it, and set a schedule and reminder emails. All templates are already available within the platform, so just change the information, tweak automated responses, and you are good to go.
With this platform for automated webinars, you get access to:
easy-to-use registration page and pop-up builders;
automated welcome messages and responses to certain questions;
scheduling and recurring webinars that are easy to set up;
automated polls, feedback sessions, and auto-reply messages;
analytics with a great focus on feedback and poll responses;
integrations with Slack, Zoom, CRM, and Twilio.
All features are available on all the plans; it is only the number of sessions per month allowed that changes. You can have a 14-day free trial and later sign up for one of the following plans:
level one option with access to 1 webinar for $49 per month;
level two option with access to 2-5 webinars for $99 per month;
level three option with access to 6-15 webinars for $199 per month;
enterprise option with access to 25 webinars for $250 per month.
ElasticWebinar
ElasticWebinar is a relatively fresh tool but it has already received a lot of praise. The rapidly growing popularity of this automated webinar platform is explained by its ease of use and a wide variety of essential features, such as numerous landing page templates, automated follow-up emails, and scheduled interactions.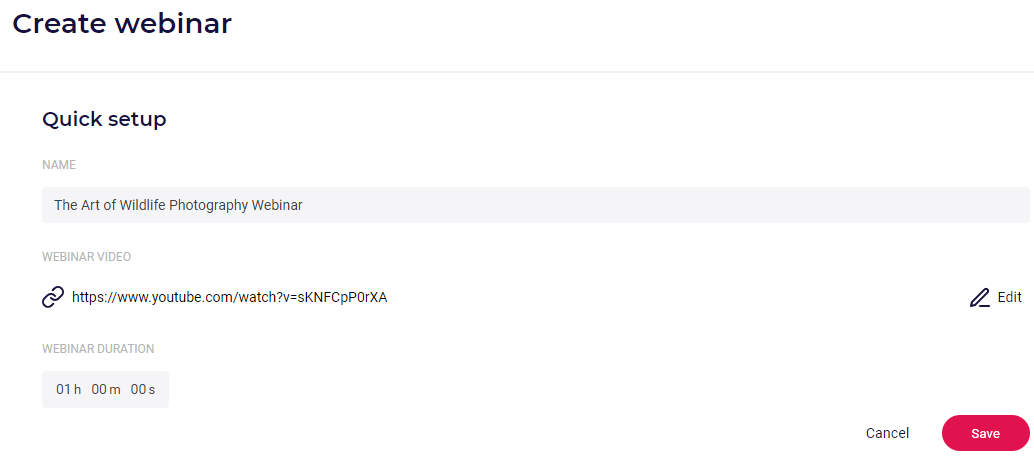 The vast set of ElasticWebinar features allows you to:
customize 14 landing pages templates for registration and even add a countdown timer;
generate simulated attendees and messages or manage a live chat;
utilize email reminders, polls, product offers, and replays;
benefit from extensive analytics — registered users, active viewers, and those who watched in a replay, peak interest times.
You can use a forever-free plan, but it is limited to 10 minutes of a webinar, and there is no email delivery. Otherwise, you can choose one of the following plans:
standard costing $37 per month with access to 1-hour sessions;
professional costing $59 per month with access to 3-hour sessions and customization options;
business costing $146 per month with access to 5-hour sessions and additional customer support.
EasyWebinar
EasyWebinar is another solution that combines live and automated webinars. It also supports marketing tools. Using this tool, you can also convert live webinars into automated ones within one click. In general, the feature list is more narrow compared to other solutions in terms of automation.
With this automated webinar software, you can benefit from the following opportunities:
nine scheduling options, with the option to stream to viewers in their local time zone;
click-and-watch access for viewers without previous registration;
automated surveys and offers;
embed registration boxes on any of your pages;
built-in email notifications;
analytics, including registrations, session times, offer clicks, etc.
If you plan to subscribe to an annual plan, you can enjoy three months of a free trial. Paid plans are available monthly and annually, with the second option being a bit less expensive. You can choose between the following options:
standard plan for $78 per month;
pro plan for $129 per month;
enterprise plan for $499 per month.
The difference lies in the number of attendees, integrations, and a training option for the Enterprise plan.
BigMarker
For those looking for a feature-rich platform for automated webinars, BigMarker can be a thing. It enables you to create automated, live, evergreen, and on-demand webinars. Regardless of the vast functionality, it is pretty easy to set up and use, which is exceptionally important for beginners.
The major benefits you get with this automated webinar tool are:
a large collection of different landing page templates;
the ability to edit and customize a webinar landing page;
the possibility to schedule all your webinar interactions to run automatically;
two display options for automated offers — full screen and slide-out;
a full overview of traffic sources and conversion funnel;
the ability to generate a webinar report for deeper data analytics.
Compared to other webinar automation tools, BigMarker is quite expensive. Nevertheless, having tried the 7-day trial, you surely won't migrate to another webinar platform. Depending on your goals and needs, there are different subscription options available:
starter plan — $99 annually, or $129 per month;
elite plan — $199 annually, or $249 per month;
premier plan — $499 annually, or $599 per month;
White Label plan — calculated individually by BigMarker reps.
You can always contact their support center to get professional assistance in choosing the best option that ideally fits your needs.
WebinarNinja
WebinarNinja is a functional software with a smooth interface and comparatively slight learning curve. One of the best things about this automated webinar platform is free weekly onboarding webinars to help new users get the most of their potential, making it an ideal option for coaches, teachers, trainers, and creators.
This tool offers a vast number of functions, including:
unlimited landing pages and forms;
email notifications and broadcasts;
hybrid and series webinars;
paid webinars with no fees.
The pricing depends on the number of attendees you expect to host. WebinarNinja has a free-of-charge plan with unlimited webinars for up to 20 minutes with up to 10 registrants per event. As for the paid subscriptions, you can choose between the following options:
pro plan, $99 per month for up to 100 live attendees, and $299 — for 1,000 users max;
business plan, $199 per month for up to 100 live attendees, and $399 — for 1,000 users max.
Additionally, if you choose the annual payment model, you'll get two months free, which is great for frequent users.
ClickMeeting
ClickMeeting is probably one of the most popular automated webinar solutions with effortless, straightforward setup and drag and drop builders. Also, the interactive timeline builder allows planning your webinar literally second by second, creating a fascinating user experience for your audience and seamless webinar flow for the hosts.
With ClickMeeting, you can access a large functionality for professional-like webinars, such as:
customized registration fields (short/long text answers, drop-down lists, multiple-choice questions, etc.);
automated interaction timeline builder;
hybrid webinar with the ability to chat with your attendees;
informative webinar attendance statistics.
This automation webinar platform offers a 30-day free trial with automation features and integrations included. Pricing plans depend on the number of attendees, billing period (for the annual option, you can get up to a 20% discount), and the type of the chosen plan:
live — $239 per month;
automated — $279 per month;
enterprise — the pricing is calculated individually depending on the company's needs.
One of the greatest advantages of ClickMeeting is that it can provide a scalable and customizable solution for any enterprise individually, based on their goals and requirements.
Livestorm
Livestorm is a great platform that can ideally fit for business webinars, video conferences, and live streaming events. It offers a standalone landing page with a variety of customization options, which enables lots of design opportunities in terms of the background color, logo, and added media.
This webinar automation tool offers:
up to 3,000 live attendees per webinar;
a full GDPR compliance;
premium customer support in English;
access to specific resources and learning guides, such as docs, eBooks, and videos;
automated polls, chats, and offers;
interactive webinar analytics dashboard.
Just like many other webinar platforms, Livestorm offers monthly and yearly subscription models, with a free plan for 20-minute sessions with up to 10 live attendees. Additionally, it accepts both EUR and USD payments, which means it's targeted at the international market segment. As for the paid options, businesses can choose between:
premium starting from € 99/109 per month, or € 89/99 annually;
enterprise with the price calculated based on the live attendees' amount, hosts, and features included.
Similar to its competitors, Livestorm offers a discount if you sign up with the annual package.
Zoho Meeting
Zoho Meeting is probably one of the most easy-to-use webinar software with a completely secure online meeting experience. It offers multiple security features to keep meetings safe from disruption, such as lock meetings, entry/exit notifications, and advanced organization-level settings.
With Zoho Meeting, you can access a variety of professional functions, including:
audio, video, and screen sharing encryption;
integrations with popular apps, such as Microsoft Teams, MS Outlook, Gmail, Slack, and Zoho apps;
the ability to customize registration forms, webinar emails, and moderate attendees;
comprehensive reports on webinar registrations, attendees, engagement, polls, and Q&As;
various options for interactions with your audience through polls, Q&A forms, and in-app features (raise a hand, allow to talk, make presenter, etc.).
The platform features a 14-day free trial for 100 meeting participants or webinar attendees, with the ability to upgrade to the affordable plans with monthly or yearly subscriptions:
webinar — starting from €19/£16 per organizer per month, max 3,000 participants;
meeting — starting from €3/£2 per month, max 250 participants.
If you choose an annual billing option, you'll get a volume discount of 15% and higher: the more you buy, the less is the unit price. In the case of automated webinars, the only criteria that matter are the number of organizers and attendees you expect to host.
Summing up
The automated software market is full of solutions for businesses of any size, budget, and complexity. There is no doubt that you can find a solution that will meet all your criteria, it is just better to try as much as you can to find the perfect option. And when you find one, make sure to promote your event effectively with our sales and marketing tools.