A webinar invitation is a message sent to inform your audience about an upcoming webinar. Email is the most common way to invite subscribers, while marketers also use social media pages and chatbots.
Sending webinar invitations is the best way to attract people to your webinar and stir up interest in the event. In your webinar invitation, you should motivate people to register and showcase the necessary details.
Let's start this guide by learning what you should include in a webinar invitation.
How do I write a webinar invitation?
Tell your subscribers about the speakers
Combine subject lines and preheaders
Use images
Provide all the crucial details
Add a clear CTA
Provide your contact info
Make a good first impression with your subject line to grab as many potential event-goers' attention as possible. Get creative with the content of your webinar invitation but, at the same time, stay practical by providing users with all the necessary information about the event. To achieve good results, follow these recommendations:
Tell your subscribers about the speakers. If a well-known expert in going to host the webinar, it's a good idea to include their names in the webinar invitation subject line. For example: "Learn how to write killer welcome emails with Neil Patel!"
Combine subject lines and preheaders. Support your subject line with a preheader so you can include details or create a hook, like in the example: Subject line — "Digital Marketing Secrets Webinar." Preheader — "Limited seats." This combination will create FOMO and improve your open rates.
Use images. Include a picture of the speaker or an illustration that reflects the topic of your webinar.
Provide all the crucial details. Specify the topic of your webinar, date, time, and duration. Leave less important information for later in your series of event reminders.
Add a clear CTA. Use a call to action to tell users what they need to do to take part in your webinar. CTAs like "Register" and "RSVP" are the most common when it comes to webinar invitations.
Provide your contact info. Don't be afraid to let your audience know that your speaker is a pro on the topic of your webinar. Some users may want to contact you to get more specific details, so be ready to answer all of their questions.
Now, that you know what should be included in your webinar invitation, let's look at some examples.
Discover more about webinar marketing on our blog
4 Webinar Invitation Examples
Here are some quality examples for your inspiration collected by Really Good Emails:
Asana's invitation includes the webinar's topic and includes the date and time. It also has two strong and clear CTAs. Besides, it shows the guest speaker and the position he holds in his company, which helps readers understand the webinar is made by professionals. At last, users can see the list of activities giving them more motivation for joining the event.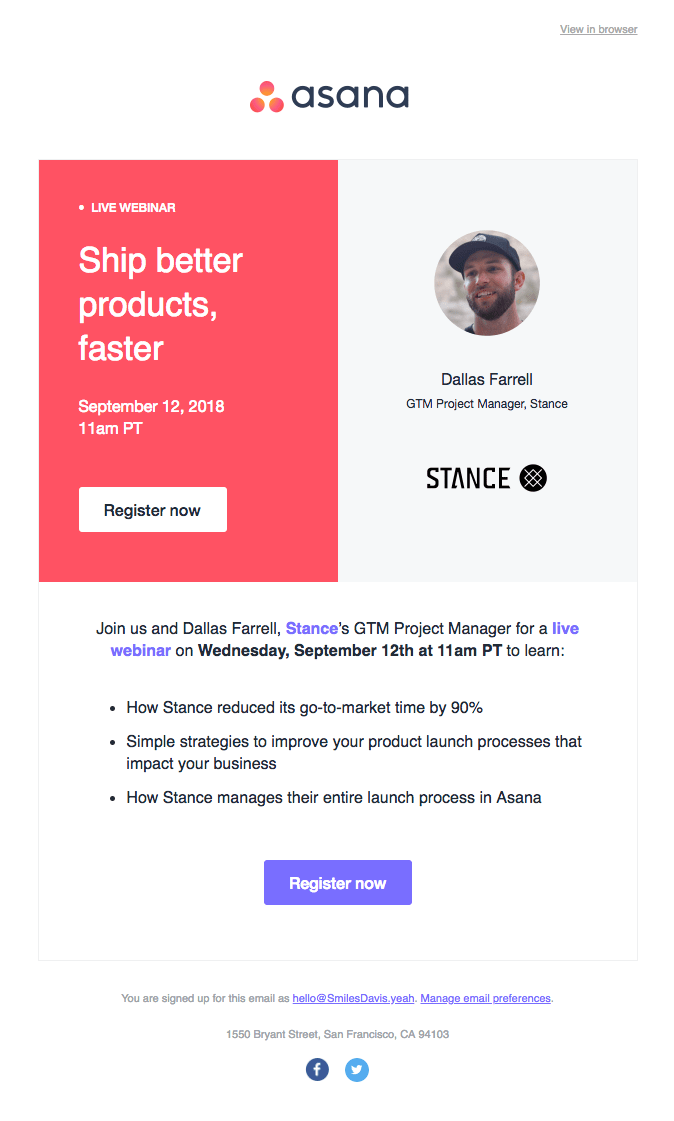 Another great webinar invitation example is from Zoom. It promotes a series of webinars to get the audience acquainted with all of Zoom's features. It includes an image of a smiling person and gives a small intro text with a CTA. Below, there is a list of upcoming webinars with dates, time, and smaller calls to action. In the end, Zoom promotes free daily demos and also encourages readers to register.
Like the previous example, this webinar invitation by Teachable is designed to make the onboarding process easier. The webinar's name "Teachable 101" says that it is targeted at beginners. The email explains that the webinar is free. It also lists the details and explains what users will gain by attending the event.
The last example is from Carrot. Their webinar is designed to help couples with fertility issues become parents in the uncertain times of coronavirus. The message is very simple, it contains one image and a pretty large piece of text with some links. This invitation ends with a CTA.
Let's now learn how to send your own webinar invitation email.
How can I send a scheduled webinar invitation?
Upload your mailing list
Create an email template
Schedule email sending
It only takes three steps to create a webinar invitation email with SendPulse.
Step 1: Upload your mailing list
Upload your mailing list or collect subscribers with SendPulse's free subscription forms. Here's how your mailing list will look in a SendPulse account. The columns "Gender" and "Country" can be useful for segmentation.
Step 2: Create an email template
You can create a professional-looking webinar invitation in several ways with SendPulse:
With the first option, simply drag and drop the elements of your email to the working field and customize the images, fonts, text formatting, and CTA buttons to your liking. Below is an example of a webinar invitation email. You can сreate an email like this in half an hour with this guide.
Step 3: Schedule email sending
In the last stage of creating your webinar invitation, you can schedule it for any date required.
Let's finish this guide with some useful tips.
4 Best Practices for Creating an Effective Webinar Invitation
Personalize your invitation
Motivate returning attendees
Offer an early bird discount
Create a series of follow-up reminders
We've collected four excellent tips to help you create a killer webinar invitation that is sure to attract lots of people. Here they are:
Personalize your invitation. Personalized subject lines can increase your open rate by 50%. Try something like this: "Hi, Nina, free 5 February? Join our Hear Everything Webinar!" 
Motivate returning attendees. It is always cheaper to work with loyal clients than to acquire a new audience. Create a personalized invitation for those who have attended your webinars in the past. This way, they are more likely to join you again and spread good word-of-mouth about your event.
Offer an early bird discount. Create FOMO to attract more attendees early on. The first registrants will share the news about your webinar with their friends on socials, and generate more attendees for your event.
Create a series of follow-up reminders. Create a series of automated webinar reminders and, as the webinar date approaches, add value with every new message. Aside from email, you can create a series of webinar reminders created with SendPulse's Automation 360 that will include emails, SMS, and web push notifications.
Congratulations, you've learned how to create and send efficient webinar invitations. Try sending one with SendPulse today!
Last Updated: 12.09.2023