A chatbot platform is a service that allows marketers to create and maintain chatbots for various messengers, like Facebook Messenger and Telegram.
In this video, Anna shares some tips on how to use chatbots and make your conversions fly through the roof.
Chatbot marketing is gaining popularity among many businesses today. In 2020, there are 40 million businesses on Facebook Messenger with 300,000 active chatbots. Thanks to services like SendPulse, MobileMonkey, ManyСhat, and more, it has become nearly effortless to create a useful chatbot without any coding experience.
Chatbot platforms are convenient tools that help companies automate various touchpoint interactions with their audience, such as ticket booking, placing orders, sharing updates, news, etc.
Let's take a look at the benefits of using a chatbot platform for your business.
Why are chatbot platforms important?
Provide universal tools for creating chatbots
Help identify the best messengers for your business
Simplify multichannel marketing
Help track your overall chatbot marketing efficiency
Here are four key reasons to include a chatbot platform in your overall digital marketing plan:
It provides universal tools for creating chatbots. An efficient chatbot platform offers a set of tools to build chatbots for different messengers — all in one place. This means that you won't need to try different chatbot builders to create a chatbot for Facebook, Telegram, or WhatsApp. Besides, an all-in-one chatbot platform has one customer support team that can help you set up and run your chatbots on all the messengers you use.
It helps identify the best messengers for your business. Using a chatbot platform, you can test the efficiency of chatbots for various messengers, and determine which medium — e.g., Facebook, WhatsApp, or Telegram — is the most effective for your audience. After that, you can direct all of your efforts in one place, especially if your business is on a tight budget.
It simplifies multichannel marketing. A chatbot platform helps users implement a successful multichannel marketing strategy that saves time and money while improving their relationships with the audience. By actively using chatbots, you can collect new leads for your business. Besides, having one more marketing channel allows you to move your existing audience between channels, providing value, and a more personalized experience.
It helps track your overall chatbot marketing efficiency. You can easily track the efficiency of each chatbot you have with a wide range of statistics. The main stats for measuring chatbot's effectiveness are the number of sent and opened messages and redirects to your website. Some services display these metrics using a click map.
Now, let's pay attention to some factors to keep in mind when choosing a chatbot platform for your business.
How to Choose a Chatbot Platform
Multiple communication channels
Multi-language support
Automation
Personalization tools
UX
Free plan availability
It's necessary to find a chatbot platform that fits your business needs. Your choice depends on your goals, the chatbot's functionality, and pricing. Here's a list of factors to consider when choosing a chatbot platform:
Multiple communication channels. It's best if a chatbot platform enables you to create chatbots for various messengers and multiple social media pages. If it does, you can quickly increase your market share and overcome the competitors.
Multi-language support. It should enable you to create chatbots that can "speak" different languages. Ideally, it should automatically translate inquiries from one language to another so the support team can handle issues for users all around the globe.
Automation. A good chatbot is a multifunctional system, able to automate processes beyond auto-replies. It should answer FAQ, guide users towards making orders or booking seats for an event, redirect users to specific pages or a manager, etc.
Personalization tools. Marketers should take advantage of all the user data they collect to create a deeply personalized user experience with their chatbots. Highly personalized chatbots include users' names in messages and create specific flows based on their unique position in the lead funnel.
UX. Creating chatbots should be intuitive and straightforward. Any company, be it a small family business or a large enterprise, should be able to design chatbots without coding skills.
Free plan availability. A free trial is necessary to get acquainted with a chatbot platform's functionality. It's best to create some test chatbots before upgrading to a paid plan.
For that reason, we've reviewed some chatbot platforms that offer a free plan. Before you decide which chatbot platform is worth your time and effort, let's compare a few of them.
Best Chatbot Platforms for 2022
SendPulse
Chatfuel
MobileMonkey
All professional chatbot platforms have the following basic functionality: adding images, audio, video, text, files, and quick response buttons.
Let's focus on the value these three platforms provide.
SendPulse
Functionality. SendPulse is an omnichannel marketing platform that allows you to combine channels like chatbots, email, SMS, web push notifications into an integrated digital marketing strategy. Its chatbot platform has a convenient and user-friendly chatbot builder to develop chatbots for Facebook Messenger and Telegram. It allows you to gather leads for your chatbot using a subscription widget. The service provides tools to create sequential auto reply flows based on predefined and custom-made triggers.
SendPulse also allows you to send webhooks via chatbots, collect data based on user input, and assign variables and tags to particular contacts based on their activity. You can also send promotional and educational campaigns, updates, and notifications to chatbot subscribers.
Here's an example of a chatbot flow created with SendPulse in under an hour. All messages of the flow are placed within one convenient interface so you can see the entire chatbot. This particular chatbot is designed to help users choose a new book by providing recommendations. A book shop can use a similar flow to increase sales and reduce the workload on their sales team.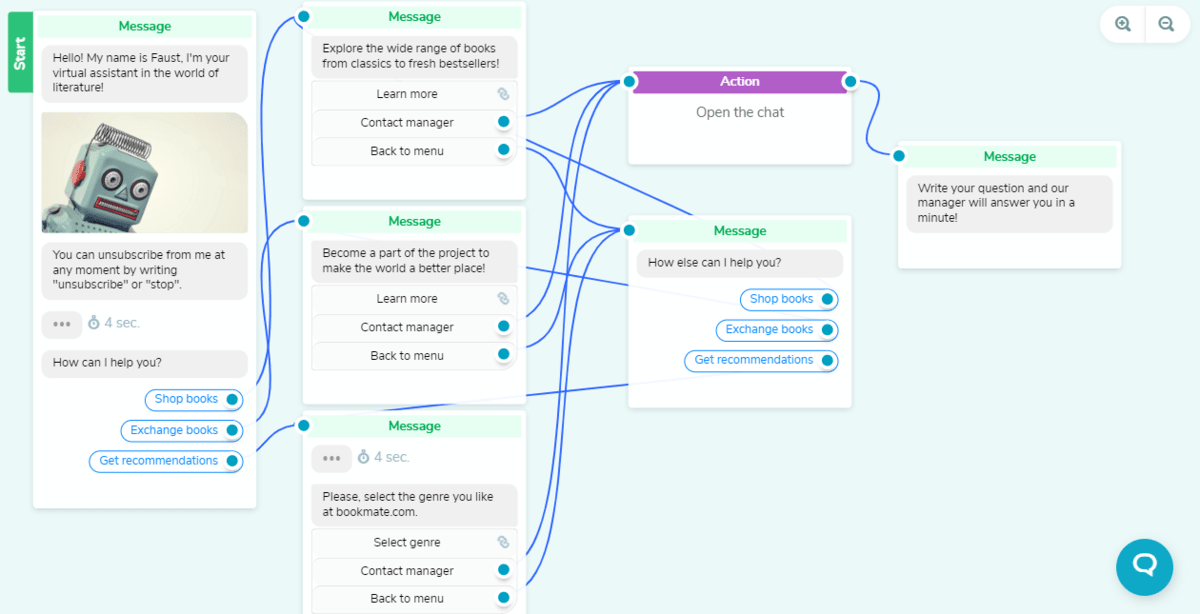 Free plan. The service allows you to create up to three bots for Facebook Messenger and Telegram using up to 10 variables, and send up to 10,000 messages monthly to an unlimited number of bot subscribers.
Paid plan. This plan starts at $9.85/month and lets you send unlimited messages, provides unlimited bots, variables, and tags. Plans are based on your number of subscribers.
Chatfuel
Functionality. Chatfuel bots for Facebook Messenger, save user inputs, and export data to Google Sheets and Google Analytics. This chatbot platform allows you to use an A/B testing plugin and an RSS plugin to share content from RSS feeds via chatbots with ease.
Here's a similar chatbot for a book shop. There is a welcome image on the left-hand side and blocks that you can connect with each other. On the right-hand side, you can customize these blocks and create the right sequence of messages, images, quick replies, etc. Although you cannot see the entire chatbot at once, you can test it as if you are on Facebook Messenger right in the chatbot builder.
Free plan. This chatbot platform provides basic bot-building features to design a simple chatbot and allows you to send campaigns to the first 1,000 active bot subscribers.
Paid plan. A Pro plan starts at $15/mo based on the number of users connected to a chatbot and allows you to use conversation handover, with the ability to delete inactive users. A Premium plan offers custom pricing, allows you to send cart reminders for Shopify, and provides an individual account manager assigned to you and bot-building help.
MobileMonkey
Functionality. The platform works for Facebook Messenger and website bots. It provides OmniChat technology that enables you to write chat content once and use it in every chat platform. The service allows you to segment your audience based on custom tags and provides useful integrations with Zapier.
MobileMonkey also offers a chatbot widget for lead generation, integrations with a landing page builder, custom attributes, and tags. Besides, you can use helpful tools for setting Q&A triggers, bot cloning, and template sharing. The content of a bot made with MobileMonkey can be organized into folders connected to your flows.
Here's another replica of a book shop chatbot created with MobileMonkey. Similarly to Chatfuel, this chatbot platform allows you to structure your bot in separate folders and custom blocks.
Free plan. This chatbot platform limits you to 1,000 monthly messages to an unlimited number of subscribers and lets you create subscription widgets, attributes, and tags.
Paid plan. The Pro plan allows you to send up to 2,000 messages for $19/mo, the Pro Unicorn plan offers 6,500 messages for $49/mo, and the Team plan allows up to 5 users' to collaborate and a 1-hour premium onboarding session for $299/mo. Paid plans allow you to use manager handover and provide detailed bot analytics.
This has been a small overview of chatbot platforms, you can view a more detailed comparison of 8 chatbot builders.
Congratulations, you've learned what a chatbot platform is. We hope you take advantage of SendPulse's free plan and create your first chatbot today!
Try SendPulse's chatbot platform
Last Updated: 24.08.2023