A lead funnel is a representation of the journey that leads make from becoming aware of your brand to becoming paying customers. It's usually divided into several stages — awareness, interest, decision, and action. Companies use lead funnels to optimize their marketing efforts, speed up the lead-to-customer conversion intervals, and save their budget.
Why is a lead funnel important?
Creating a lead funnel will help you organize your marketing efforts so that lead generation, nurturing, and sales processes work in balance. To build an effective lead funnel, you need to deeply analyze your audience, define the best communication channels for each stage, and cut loose any methods that are not working for your brand.
With a well-thought lead funnel, you can gather leads and convert them into paying customers with ease. Now, let's review all the lead funnel stages.
4 Basic Lead Funnel Stages
Awareness
Interest
Decision
Action
Let's imagine a customer making their journey through the lead funnel, we'll call him John.
Awareness
In the awareness stage, the future customer faces the problem that your product can solve for the first time. John has a strong cough when he spends a long time at home. When he wakes up in the morning, he feels his throat is dry, and suspects the dust and dry air provoked these symptoms.
In this stage, people try to identify the problem, so they are searching for information, usually on Google. In this case, John's query is probably something like "dry air at home." Look at the search results for this query: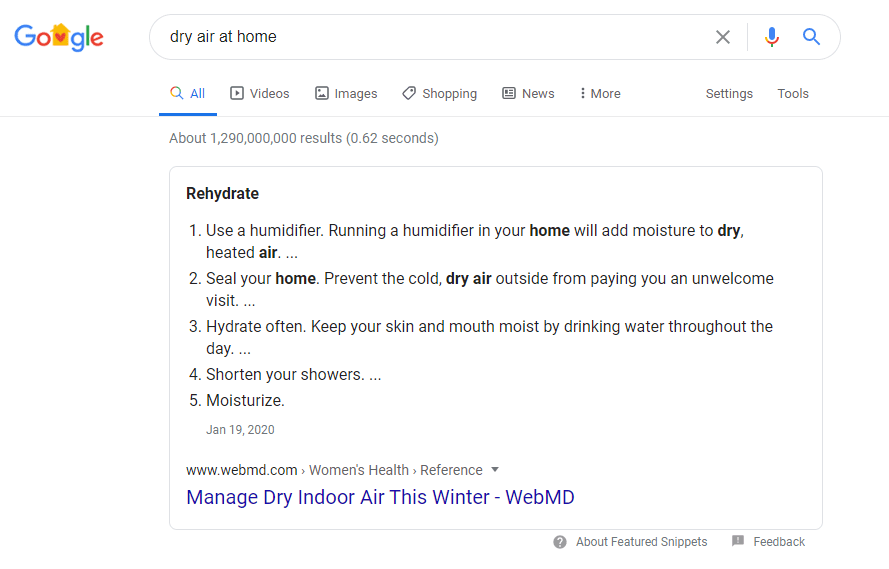 The very first result gives a solution to the problem, now the user moves on to the next stage of the lead funnel.
Interest
Now, John knows he should rehydrate his home with a humidifier — the right product to improve his home climate. In the interest stage, people are searching for more specific information. John wants to know everything about humidifiers, and his query is "how to choose a humidifier." Here's the result: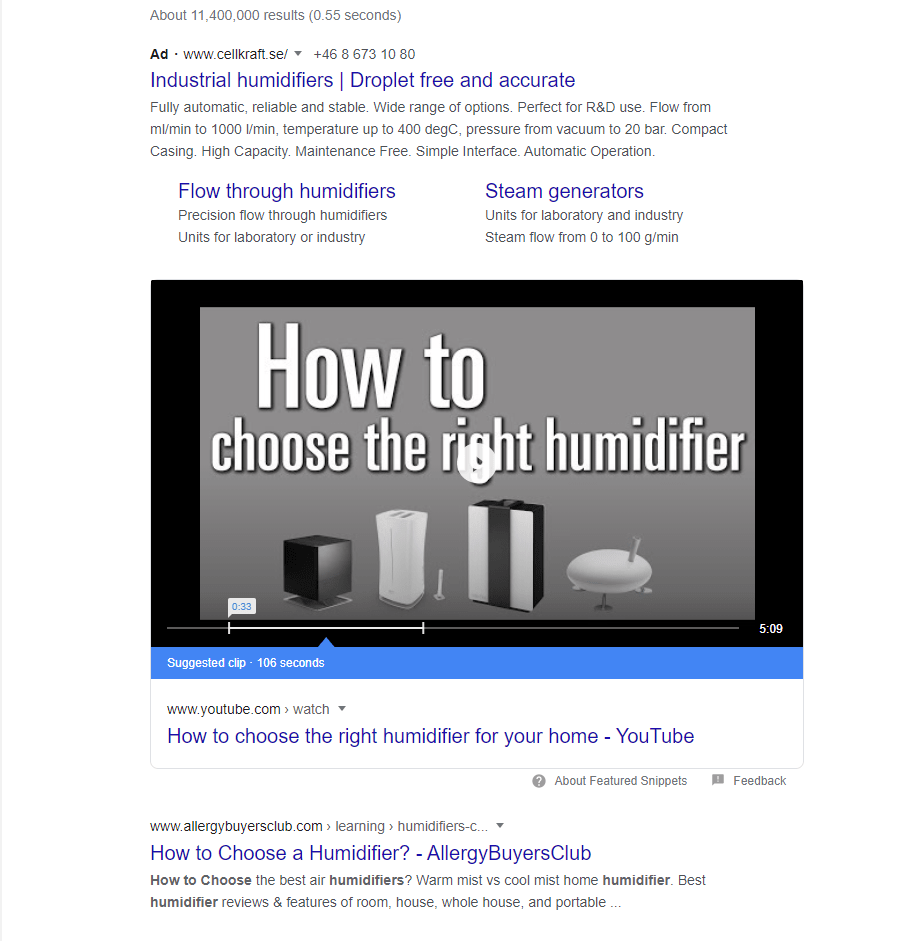 Starting from this stage, you can convert leads into customers. A company in the example above tries to do just that using Google Ads. However, the ad is poorly targeted, offering an industrial humidifier, so it fails.
Imagine that John opens the page from Allergy Buyer Club and it looks relevant and has a lot of information about humidifiers. Here is the contents of this article, which is a great read in the Interest stage.
Usually, users only check the results from the first page of their Google search. Make sure your brand ranks highly, at least for long-tail keywords, like "how to choose a humidifier for home."
Now, the future customer knows exactly what kind of product they need. So they move down the lead funnel to narrow their search.
Decision
At this stage, people choose a specific product based on its key characteristics. To compare humidifiers from various brands, John searches for "best home humidifiers" on Google. The example below, is a so-called "rich result" page — a comparison of 16 the best humidifiers with customer reviews, pricing, photos — everything to make the decision easier.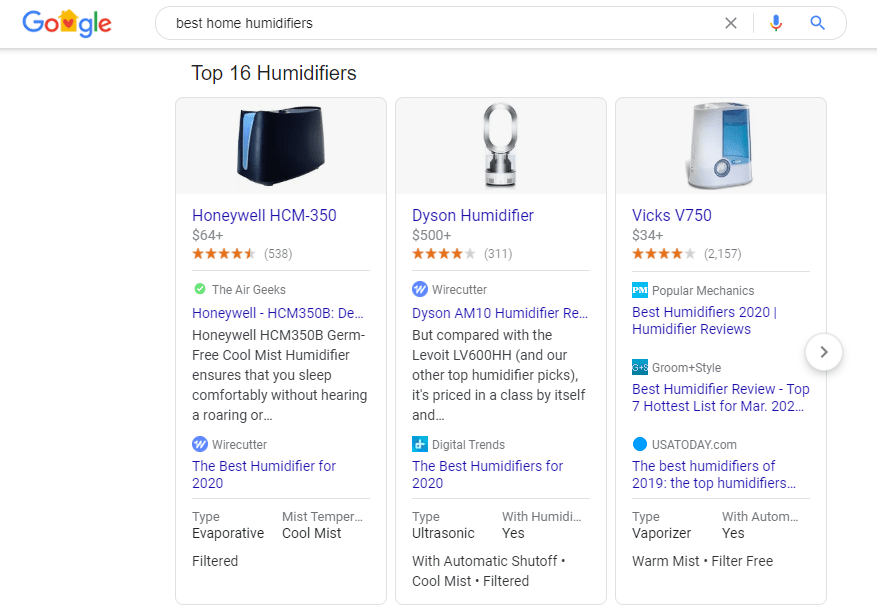 In this stage, you need to sell the idea that your company or product can solve problems better than your competitors. For this purpose, you can create a landing page that highlights all technical specifications, shows how it works, provides customer reviews, etc.
If you don't have a landing page yet, create one with the help of SendPulse drag and drop landing page builder. You don't need to code, since the builder is easy to use and it won't take you more than half an hour to create a good-looking landing page, online store, or link page for your social media bio. Add multichannel subscription widgets, buttons with the links to your chatbots, and integrate a payment system to convert leads into clients. Follow these instructions to create a landing page for free with SendPulse.
John doesn't cut corners when it comes to his health, so he decides to buy an expensive Dyson's humidifier after he examines their landing page. When users are ready to buy, you need to offer them a good deal, so they want to purchase from your brand.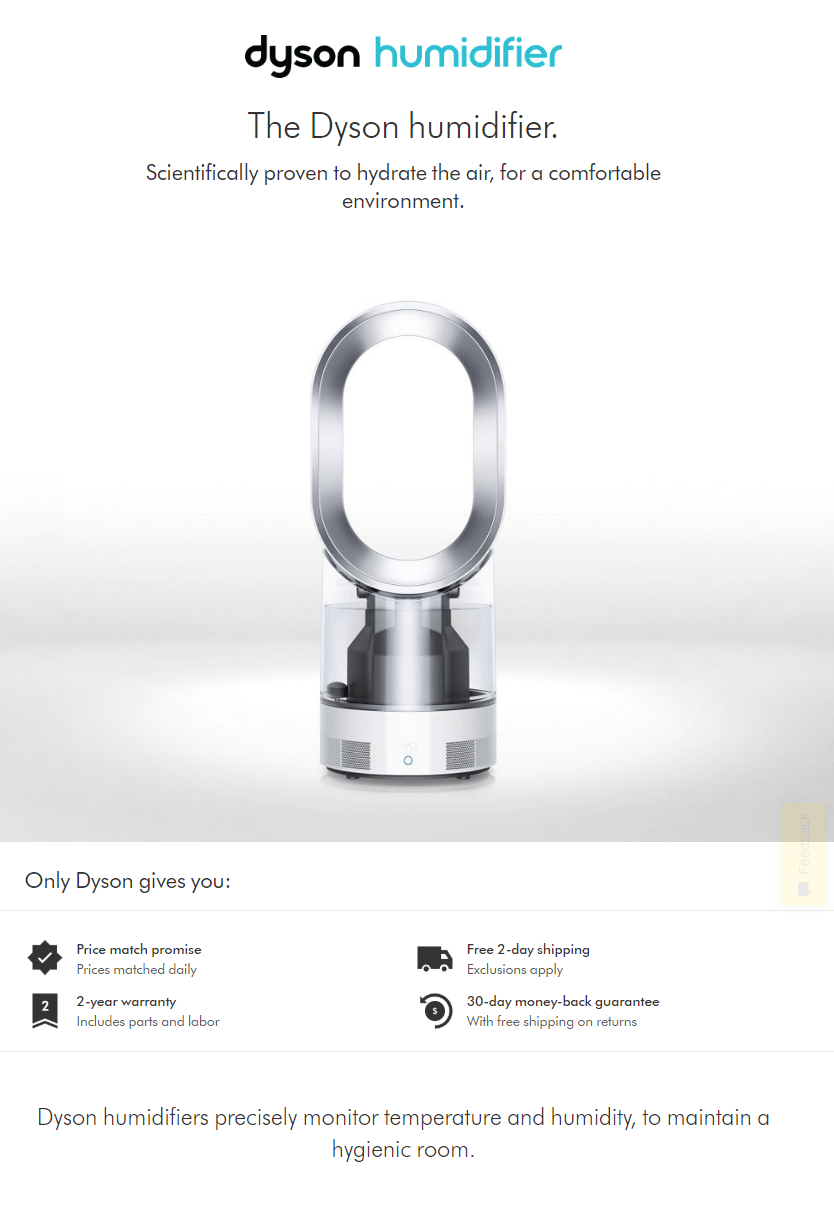 Action
Once people choose a product, they browse different online shops searching for the best price. At this stage, make an irresistible offer to convert a lead into a paying customer.
Note that people may start communicating with your brand at any stage of the funnel, so make sure your company provides relevant, quality content throughout their customer lifecycle.
Now that you know the stages of a lead funnel, let's see how to create one.
How to create a lead funnel with SendPulse
Generate leads
Nurture leads
Close sales
Add leads to your CRM
Inspire customers to return
It seems Dyson has a huge marketing budget for their lead funnel that converted John into a customer. If your business is on a tight budget, you can create an effective lead funnel using free digital marketing tools from SendPulse, including subscription forms, email templates, automated emails, and chatbots.
Here are the basic things you need to do to create an effective lead funnel:
Generate leads
If you have a website or blog with some traffic, you can add SendPulse's double opt-in subscription form to your site, like in the example below.
Use a lead magnet to motivate more visitors to subscribe. Promise a helpful free ebook, a PDF presentation, or a step-by-step guide in exchange for the user's email address.
Nurture leads
Once users have subscribed to your mailing list, send an automated welcome email to greet them. After that, you need to stir up their interest in your brand by sharing relevant content in emails.
You can create email templates in three ways with SendPulse:
Here's an example of an email template created with SendPulse in half an hour.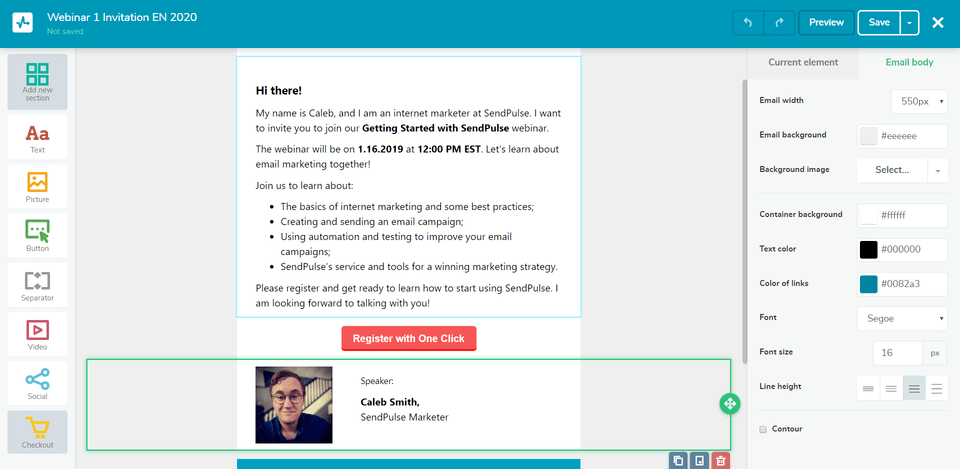 Combine educational and entertaining content with promotional emails, work with objections, and bring your leads closer to purchasing your products.
Close sales
Make sure that it's convenient to make an order from your shop. If something goes wrong and users leave their purchase halfway, you can send automated abandoned cart emails to encourage them to return and finish shopping.
Here's how an abandoned cart email workflow looks in SendPulse's Automation 360.
Let's say some leads bought your products. What is the next step?
Add leads to your CRM
CRM systems allow companies to manage all their deals, store information about their customers, and communicate with them on one platform. This helps create an effective selling strategy taking into account clients' needs, preferences, and previous purchases.
The SendPulse CRM enables marketers to do just right that. You can automate sales and customer communication using one service. Collect data about your clients, accept orders, manage deals, send marketing campaigns, and delegate responsibilities between your sales reps. You can visualize the processes on a kanban-board according to the status of each deal to see your performance.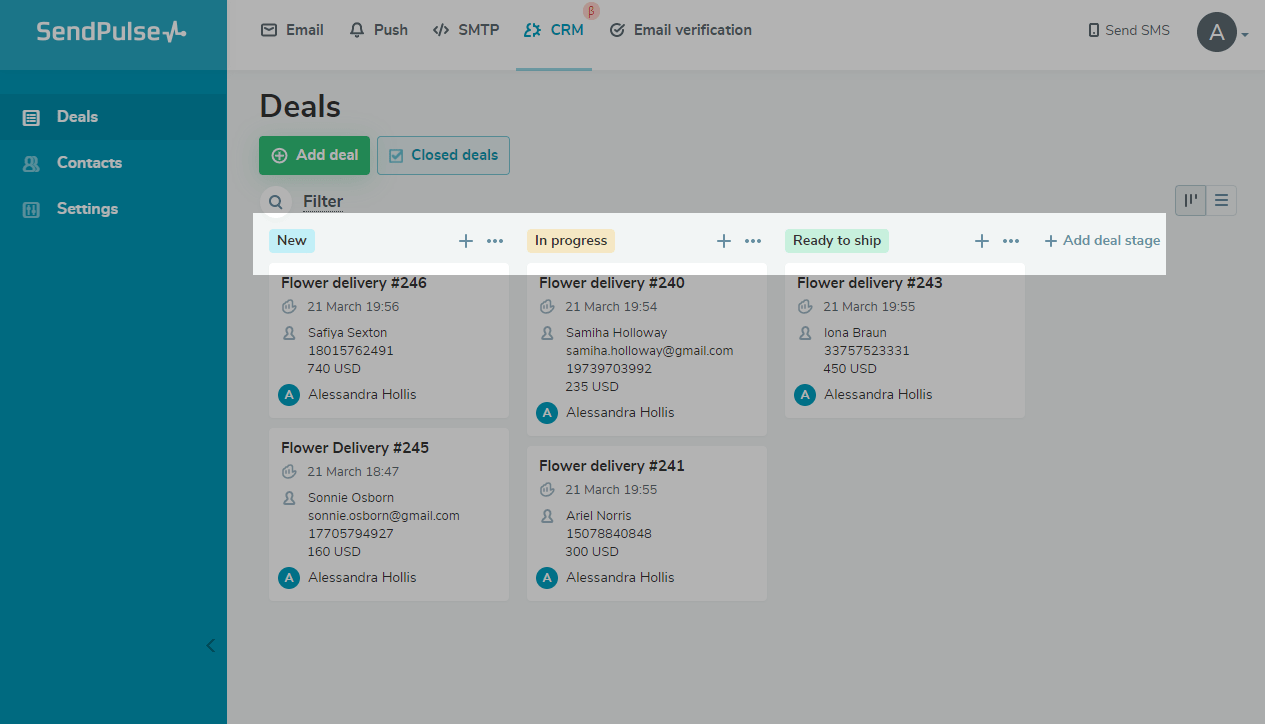 The SendPulse CRM is available for free. Register and streamline your sales!
Inspire customers to return
You need to continue communication with existing clients since it's easier to convert them again and again than it is to generate and nurture new leads.
Start by sending a feedback request email to make sure your customers are happy with your products. Send regular email campaigns to your clients and offer bonuses and discounts to reward their loyalty.
Some leads who bought from you may ignore all your messages after the purchase. Send reactivation emails to inactive leads, re-engage them, and remind of the value you share with your audience. Here's an example of a reactivation email.
Now that you understand how to create a lead funnel using free digital marketing tools, let's finish this guide with some best practices to help you optimize your efforts.
5 Best Practices to Optimize Your Lead Generation Funnel
Use automation
Build long-lasting relationships
Target and personalize your messaging
Monitor customer retention at each stage
Upsell and cross-sell
We've collected five actionable tips to improve your lead funnel. Here they are:
Congratulations, you've learned what a lead funnel is and how it works. We hope you will use SendPulse's free tools for the benefit of your business.
Last Updated: 08.11.2023