If you could close more deals and bolster customer experience, would you do it? Better yet, if it was possible to manage this without having to put extra pressure on your customer support and sales reps, would you go for it? Well, it is already possible with sales chatbots.
Chatbots are not just another accelerating trend companies follow to look more tech-savvy and attract the Gen Z audience. Statistics show that chatbots increase your sales rate by 67% while also qualifying your leads and gathering personal user data, making them a powerful marketing and sales tool.
In this post, we will guide you through all the chatbot for sales features that can empower you to start selling more and keep your potential customers engaged.
Set the right tone of your communication
Chatbots save you the trouble of talking to yourself in the mirror, trying to find the right tone with which you want to greet your customers. A well-crafted chatbot welcome message can establish your manner of communication and carry it through the entire conversation while also helping you personalize this experience.
Go over our tips on how to write the best chatbot welcome message to create a stellar first impression on your customers.
Mindvalley's welcome message is a perfect example of how to set an amiable communication style that aligns with the company's tone of voice:
With SendPulse, you can personalize your messages to customers with the help of variables. Mention your client's first or full name, last message, or username to make the conversation more humanlike. Establishing a friendly and candid tone of voice from the start will make the process of engaging users in your sales narrative effortless and error-free.
Find out more about how to manage variables to personalize your messages with the help of SendPulse's chatbot builder.
Cover your customers' needs and inquiries 24/7
Your sales bot is there for your customers 24/7, even if they wake up in the middle of the night eager to ask whether your product comes with a warranty (which seems like a stretch, but many customers do prefer to shop at night). For example, you can enable your customers to send you some predefined questions to save their time, as Daissy Whole Foods does:
Your leads and customers will be able to get answers to their questions and solutions to their inquiries even if you are not there. Neither one of you will have to account for business hours or time zones — provide quality customer support and enable your live agents to get involved only when your chatbot for sales cannot resolve a certain issue.

Increase your lead quality
Getting more information about your fresh leads should never look like an interrogation — and you risk giving off this energy sometimes. Integrating the questions that can qualify your leads into a sales chatbot script is more seamless than asking the same questions via a phone call. Take a look at this example from Women's Best to grab some inspiration on how to qualify your leads:
You can single out your quality leads starting from their product preferences: if a customer is looking for a pair of new shoes, what is their budget? Keep an eye on other aspects that factor into their decision, and move the conversation forward smoothly and slowly. Quick replies or buttons can be your hard-working helpers since they will speed up the process of getting the answers you need and make sure that qualifying your leads does not require a lot of effort on their end.
The magic of turning prospects into leads: get some practical tips on how to generate more leads on your website!
Include the FAQ section
Answering the same questions over and over again is every customer support rep's nightmare. Similarly, waiting for a live agent to provide an answer to a basic question when they're busy answering other basic questions is every client's nightmare. That's how you lose a potential buyer and damage your employee's mental stability. However, the FAQ section in your chatbot for sales can resolve both these issues with a single shot — see it for yourself in the example below.
Gather all the questions and inquiries your company gets the most, and add them to your FAQ section in your chatbot welcome message. Thanks to your sales bot, your customers will be able to get a prompt response whenever they have something to ask you, which helps you boost your chatbot sales.
Dive deeper into customer service challenges and how to handle them like a pro.
Make your customer communication more comfortable
What many companies often do not account for when qualifying and nurturing their leads is that potential customers can be shy and hesitant. Not everyone is comfortable and confident enough to answer questions about their budget and desirable product features over the phone, especially if a sales rep's communication tactics are intrusive and persistent.
However, other than making the conversation more engaging, your sales chatbot can also make it more enjoyable for users in case they don't feel like talking to any more humans to get the information they need. Case in point: Reface added a persistent menu to their Messenger chatbot to allow users to receive a prompt reply to their question without contacting a live agent. Here's how it looks like: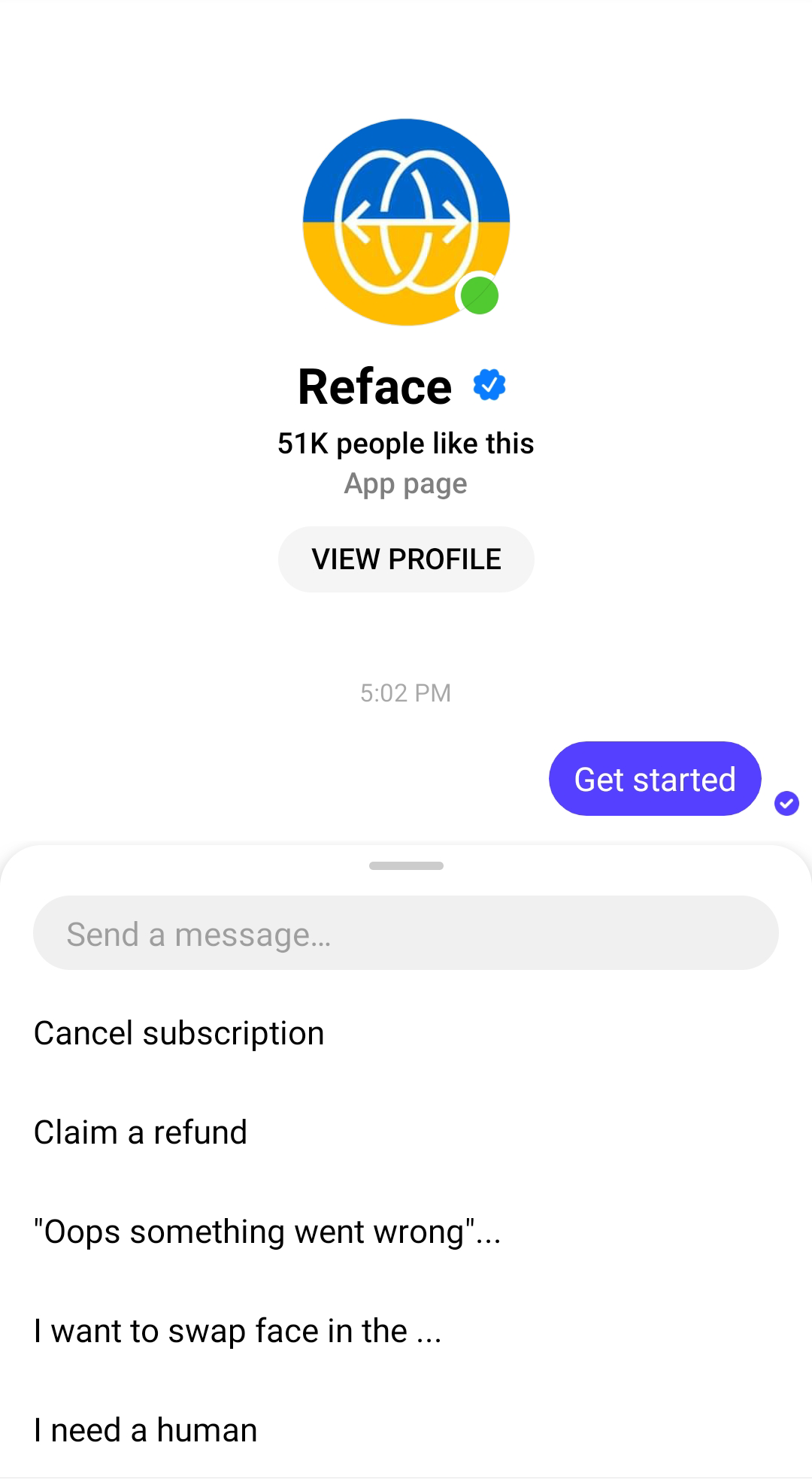 When your leads are satisfied, they will be more eager to interact with your brand and convert, and SendPulse can help you arrange it. Incorporate auto-replies, create sales funnels, and develop your sales bot script using our chatbot builder.
Tailor your product recommendations
The benefit of having personalized offers lure in clients is no longer only live agents' privilege. Chatbots for sales can do just as good a job, but faster. By simply asking two or three questions, your chatbot can find a perfect product for a specific customer. Here is an excellent example of how to personalize your product recommendations using a sales chatbot from Hotelhunt:
Your first-time visitors have no idea that the hat they want to buy mostly suits people with an oval face shape — but you do, and so can your chatbot. Since you are the expert when it comes to your products and services, you can put this knowledge to use to personalize your product offers. Your chatbot subscribers will not have to wander around your website trying to find what they need. You can build your own sales chatbot with SendPulse and create all kinds of automated flows with personalized product recommendations.
Believe it or not, but even transactional emails can help you sell more. Check out this post to explore how to turn any email into a product recommendation email.
Boost your sales team's performance
If only your sales team could predict every potential lead's decision on whether they want to buy your products… Although your sales bot is not able to provide solid error-free predictions, it can definitely help your sales team identify users who are interested, which strengthens their adamance that their job will bring some excellent results.
For example, a visitor who hits the "Pricing" or "Choose a Product" button and interacts with your chatbot has more potential to become a customer than the one who didn't get past the welcome message. This way, your sales team will not waste their time trying to convert those who are simply not interested and allocate their efforts and resources more efficiently instead.

Book demo meetings faster and easier
The process of scheduling demos is almost never fun for both sides: there's a whole lot of lofty emails, calls, and foreplay involved, which often proves counterproductive and life-draining. However, it all can turn to gold if you integrate a sales bot into this routine.
Your sales chatbot can let your visitors choose an appointment date themselves without getting jaded. Although all they have to do is select a date in your calendar that works for them, the interactive process makes them feel more engaged and in control than a regular phone call with a company rep would.
Minimize the number of abandoned checkouts
Abandoned checkouts generally indicate that a customer found out something regarding your products they did not know before — and this something was a decisive factor for them to bail mid-way. Could be also because they got distracted and forgot about the purchase altogether, but if your business constantly faces the abandoned cart issue, it's hardly the case.
With SendPulse, you can send your customers a chatbot message that will be triggered by the "Abandoned cart" event. You can also not just send a message, but start a flow that will motivate a customer to complete their purchase. Here is how this would look in our chatbot builder:
Moreover, you can use your sales bot to prevent abandoned checkouts as well. Ensuring that customers make an informed decision by providing them with all the necessary info in your chatbot for sales is a surefire way to decrease the number of abandoned cart incidents. Include quick replies, personalized offers, and the chat with live agent option to not leave your users in the dark about what happens once they hit the "Shop Now" button. You can take Grammarly's example as your inspiration to get a better idea of how to implement this strategy:
Speed up customers' price comparison routine
Adding a link to your pricing page or promptly providing the info on a particular product's price can dwindle the time customers spend on research and price comparison. Do it like SendPulse's sales chatbot — provide your pricing information to motivate your customers to choose one of your products faster:
Your chatbot for sales can assist users in making a decision without having to browse through your entire website. Consequently, you will be able to generate more leads and conversions faster and save your customers a mighty effort spent on analyzing your pricing.
Simplify the process of ordering on social media
Automating your ordering process using a sales chatbot is especially relevant if you run social media ads regularly. Just like that, an Instagram user who saw your targeted ad and is ready to make a purchase can do it in one fell swoop without leaving Instagram. Here is an excellent example of how to implement this technique:
Cultivate more conversions by providing users with the possibility to order from you on the go — you want it, you got it. Making the ordering process on social media easier will allow you to close more deals, not least thanks to impulsive shoppers. The cherry on top is that you don't have to write a single line of code to start selling more — use SendPulse's chatbot builder to create your own Instagram chatbot in just a few minutes!
Want to start selling on Instagram? Check out our post on everything you need to know about Instagram for sales to get started.
Allow customers to track their order and shipping status
Being able to track an order gives a sense of control to an impatient customer who wants to have their package here and now. Typically, they would have to go to a third-party site and track their order there, but isn't it more comfortable to have all of these updates in your chatbot for sales?
Here is how Dynamite implements this feature to increase their chatbot sales:
Ensuring an excellent customer experience significantly factors into whether these clients will buy from you again. And it's the little details like allowing customers to track their shipment status right in your sales bot that weigh in the most. This chatbot feature will prevent possible issues your customers might have with tracking their orders and amplify their loyalty to your brand.
Close more deals by integrating payment gateways
The deal does not happen without the last touchpoint — and you need it to go smoothly so that customers don't ditch the purchase. Another sales bot feature that allows you to close more chatbot sales and enables customers to pay for their orders right away is integrated payment gateways. Using SendPulse's chatbot builder, you can integrate a payment system of your choosing with your chatbot to make the process of ordering from you more convenient and increase conversions.
The possibility to complete a purchase right in your chatbot for sales noticeably speeds up and simplifies the ordering process, implying that more and more potential customers will get to the "Payment" button and actually hit it.
Learn how to accept payments via an integrated payment system with the help of SendPulse's chatbot builder.
Collect feedback and customer preferences
Nothing screams "quality" more than genuine customer reviews and feedback from clients who love your products and experience all their benefits and drawbacks firsthand. Although people tend to ignore the option to leave feedback if they love a product, your sales bot can remind them why it is so important and appreciated. Take a look at how Adobe encourages users to leave candid feedback:
Leverage your sales chatbot to check in on your customers when they make a new purchase, receive their order, or have a complaint. Emphasize that you share your customers' pain points and are eager to resolve any issues concerning your products to provide them with a premium experience. Gather as much customer feedback as possible to boost your chatbot sales and ensure that your company is at your industry's forefront.
Discover more ways to collect customer data and use it for your benefit.
Retain and re-engage more customers
A sales chatbot can help you gain more leads and qualify them, but that's not as far it can go — it will also empower you to roll with the punches when it comes to retaining and re-engaging your customers. Your chatbot for sales is just the place to shed some light on your discounts, special offers, and freebies to keep your customers captivated.
Level up your chatbot marketing by making sure that customers who open your messages but haven't ordered anything in a long time are still interested in your products. You can give them a leg and offer something exclusive to spark their enthusiasm again using your chatbot for sales.
Thrive not on chatbots alone: check out these tips and tricks to retain your customers for longer!
Conclusion
And moving on to our pro tip on incorporating sales chatbot features into your business routine: leverage a chatbot builder. With SendPulse, you can create a WhatsApp, Instagram, Facebook Messenger, and Telegram chatbot and benefit from auto-replies, several live agents, 24/7 customer support, and performance statistics. Try our chatbot builder for free and kick-start your chatbot marketing today!