It's not very pleasant when people talk behind your back, especially when these people are your customers talking about your brand. Make sure they have an opportunity to vocalize their thoughts and be heard, even if what they are saying is a bitter truth. It'll make your brand better in the long run.
The importance of customer feedback is hard to overstate. In short, it helps you stay on the right track and keep your business growing. Encourage honest feedback, recommendations, and healthy criticism, and you will get a chance to improve the quality of your product or service and get more repeat customers. Asking for feedback from clients can be tricky — let's walk this road together.

What is customer feedback?
Customer feedback is what your audience thinks, feels, and shares about your product or service. It can be as elaborate as a two-page review or as simple as a single click. It can be positive or negative, and it's important to react properly to both types of customer feedback.
Based on the ReviewTrackers' data, more than a third of consumers worldwide say they're more likely to leave a review after having a negative experience than a positive one.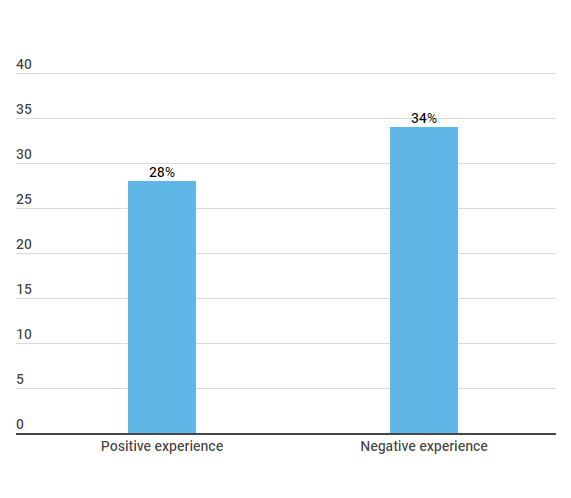 Usually, people don't have the time nor desire to describe their experience if it's "just an okay product." That means that you need to be proactive to get a broad spectrum of opinions.

Why is customer feedback important?
Collecting feedback can help you provide better services and develop better products. You'll find out what your customers expect, what makes them happy, and what upsets them. Moreover, customer feedback provides you with valuable insight that can help you improve the overall customer experience.
But first, let's take a look at this graph. When do you think customers stop interacting with a brand they like?
It turns out, a single bad experience can repel up to 50% of customers. As if that weren't bad enough, stats show that 91% of dissatisfied customers will leave you without any complaint, and you will never know what they didn't like about your product or service. By asking for feedback from clients at the right time, you can prevent this loss.
Collecting feedback also helps business owners:
Improve products or services. Most of the time, you create a product for your audience, not for yourself, right? Then, let your audience speak on what this product should be and what it's lacking. Your customers are more likely to help you and share their thoughts when they know that the end product will fulfill their needs or solve their problems.
Measure customer satisfaction. Some customers may dislike the quality of your service, others — the quality of products, and a third group will like both the product and service, but may find prices too high. Knowing all of that, you can optimize your offering or position it differently.
Build trust. If you are constantly in touch with your customers, their level of trust grows. People tend to recommend products or services that fully satisfy their needs; complaints that have been heard and issues that have been addressed are highly appreciated and make customers go back to a company that cares.
How to collect customer feedback
Before you create a customer feedback form, take a few minutes to reflect on your customer feedback strategy.

Define the stage of the customer journey that you want to improve
Maybe, it's a high bounce rate that keeps you awake at night and makes you wonder what's wrong with your website. Or, maybe, your customer retention rate is low, and you want to know why people only make one-time purchases. Usually, you can pinpoint problem areas that need more attention and research — and ask your audience about them.
Here are some examples of the questions you can ask:
What do you like about our product?
Why did you choose our service?
What is our product missing?
Do you feel like our product solves your problem?
How do you like using our website?
Why do you continue using our product?
How do you feel about our customer service?
Choose the right channels and methods to get customer feedback
There are a few channels you can use to distribute your customer feedback form and guarantee successful outreach:
Survey emails. Good for short and lengthy surveys alike. The only risk is that your surveys may be filtered as spam, but it's preventable.
Social media. Depending on the platform, you can ask people to complete your survey, vote, or simply leave a comment in an informal way.
Customer feedback forms. Embedded on your website, these forms may be displayed as slide-ins, panels, or modal popups.
As for the types of customer feedback forms, there are plenty:
questionnaire;
survey;
rating scale;
opinion poll;
test.
Also, you need to find the right time to send your survey and reach out to people while their memories are still fresh. You can ask your customers to rate their experience right after they contacted your support team or made a purchase. It also makes sense to give your clients some time to get acquainted with your product and ask them how they like it and what could be improved.
Offer something valuable in exchange for customer feedback
Completing a survey is no fun unless there is a small gift or any other sign of appreciation following it. To encourage your subscribers to take a survey, you can offer a discount on the next purchase or any other gift as a lead magnet: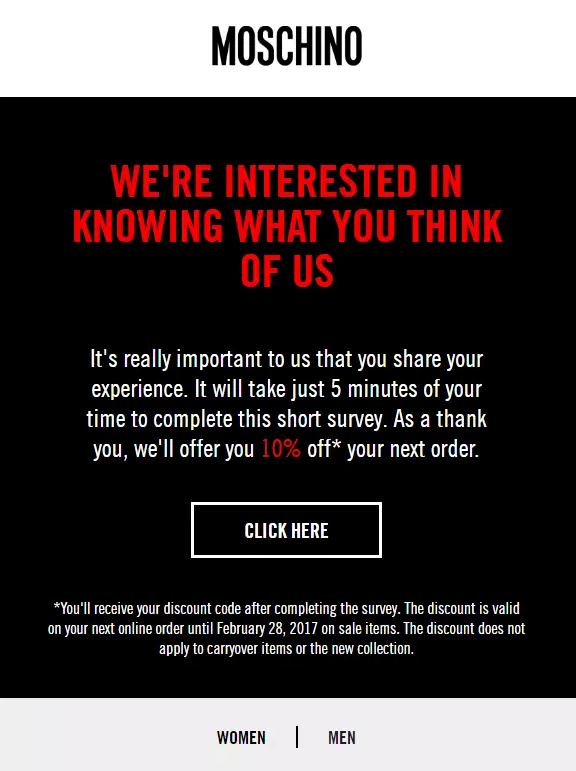 Make sure your customer feedback questions are relevant
If you only have resources to fix today's problems, asking about potential new features is too far-fetched. Feedback needs to be actionable, and there is no need to add extra questions in your survey "just in case." The shorter your feedback form is, the better.
Create a customer feedback loop
A customer feedback loop is the practice of listening to your customers and acting on their feedback.
Once you have gathered your customers' feedback, try to analyze and prioritize it.
Then, use this information to improve the quality of your product or address problems.
Finally, inform customers about the new changes. This step is essential as it shows that you care about customers' opinions and you will do your best to satisfy their needs.
It'd be frustrating for your customers to see that you're not improving your product or service even after they provided feedback. Chances are, they'll be less helpful next time you send them a survey. To prevent this frustration, calculate upfront how much time and effort you can invest in perfecting your product.
Customer feedback form examples
There are quite a number of strategies a business owner can use to gather customer feedback.
Post-subscription customer feedback form
You don't need to wait until your subscriber makes their first purchase. A first-contact survey is an option to get to know your potential customers better and subsequently send them more valuable offers and relevant information.
Mabel's Labels, for example, invites new subscribers to take a short survey to learn the preferences of their audience better.
After-purchase customer feedback survey
It is all about customer experience with your service or product. Asking about it, you can identify the product's strong and weak points, or find out what updates your customers would like to see in the future.
In the example below, Target is asking customers to share their opinion about recent purchases and offers to fix any issues they may have had.
Product development survey
This type of survey will help you understand what your customers want, and what they expect from your future offers. With this information, you can minimize the risk of making something your audience doesn't need.
Likert scale survey
This type of survey is great for measuring customer satisfaction. Providing your customers with a scale from one to ten, you will be able to understand which of your customers are likely to recommend your product to others. This scale will help you analyze your performance and watch the dynamics of your development accurately.
Look how TechSmith uses a rating scale survey in their emails:
Feedback form on social media
Social media is another channel to gather valuable customer feedback. By monitoring your social media channels, you can give a prompt response to anything your customers have to say:
offer a solution for those who leave a complaint;
thank those who leave positive feedback;
give any information about your company that the customers may need;
answer every question about how to use your service or product.
Analyzing customer feedback will help you build a stronger relationship with them and increase their satisfaction. At the same time, you will get an opportunity to identify whether you are moving in the right direction. Sending survey emails should be easy if you use SendPulse — just set up automated flows, process collected feedback, and boost customer satisfaction!