Read the following instructions in this article:
Using filters within the mailing list
Filters are used to search contacts in your mailing lists. Filters can be applied to the whole database or to specific lists.
Go to Email tab in your SendPulse account
Open a mailing list and click Filter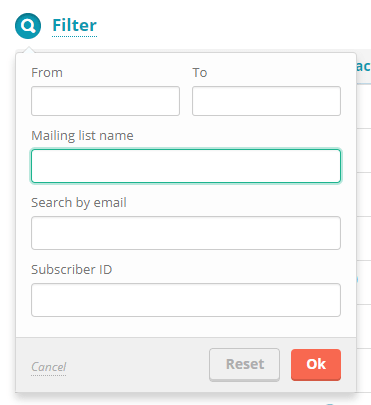 Types of filters
This menu allows searching for leads by several criteria:
Date the subscriber was added (using "To-From" interval)
Search by subscriber's email address
Subscriber ID
Subscriber's status
*Here is how you can find subscriber ID: Open a mailing list with the subscriber and click on their email address. A page with contact's details will open and you will see the numeric subscriber ID in the URL:
Subscribers' Statuses
Subscribers can be filtered by such statuses:
Deleting subscribers from the mailing list
Tick contacts you would like to remove from the list and click Delete at the top of the list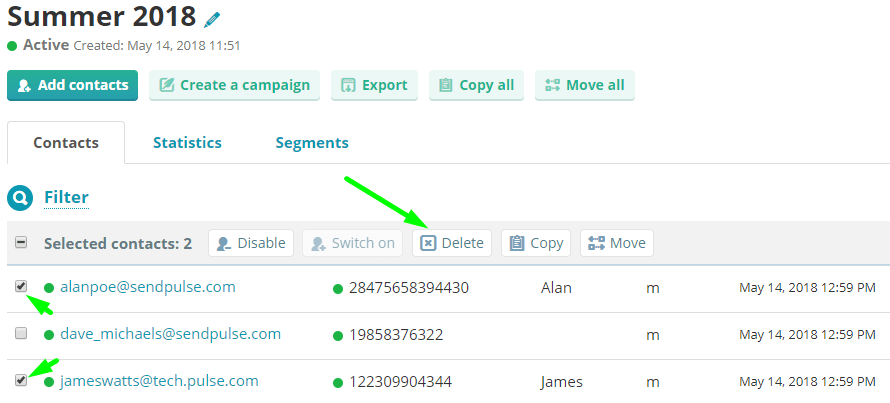 You can also delete contacts in bulk.
Check the box located by the Email address to select all contacts on the page of the list. Then just click Delete.
How to copy selected contacts
Tick the contacts you need to copy and click Copy.
Then you will need to select a mailing list to copy the leads to.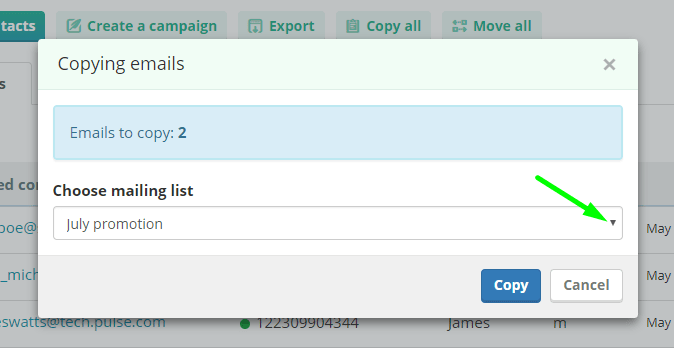 Moving leads to a different mailing list
Select contacts you need to move, or select all contacts on the page (as explained above) and click Move
Now you just need to select the mailing list the leads will be moved to
How to edit a variable
Place the cursor on the variable name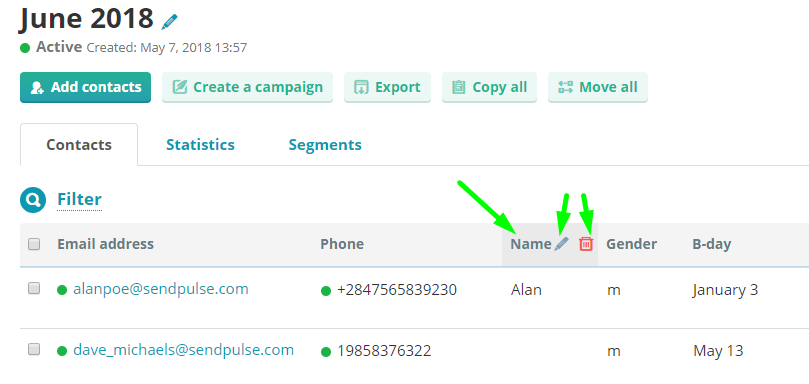 Two icons will appear: pen — to edit the variable mane and trash bin — to remove the variable from the list. Just pick the necessary option and confirm the action.
Searching duplicates in mailing lists
Use segmentation features to find leads duplicating in other mailing lists.
Open the mailing list, whose contacts duplicates you need to find in other lists
Click on Segments tab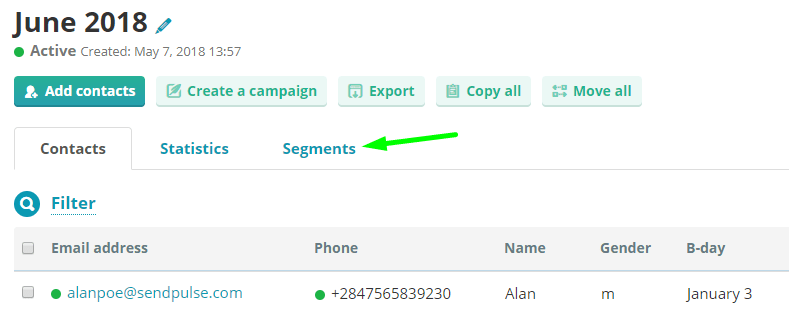 Add a new segment
Open the drop-down menu of the left-hand side box and select the Email is (not) in another list

The central bow will auto-populate with In list parameter
Now you need to move to the third box and select the mailing list you will be looking for the duplicates in. Basically, you will be comparing the target mailing list with other lists one by one.
If no duplicates have been found in the list
click Edit segment to select another list for duplicate search, or click Reset to go back to the original list.
Mailing list' statistics
Statistics tab in the mailing list displays the number of email addresses and phone numbers the list contains. It also indicates the status of email addresses: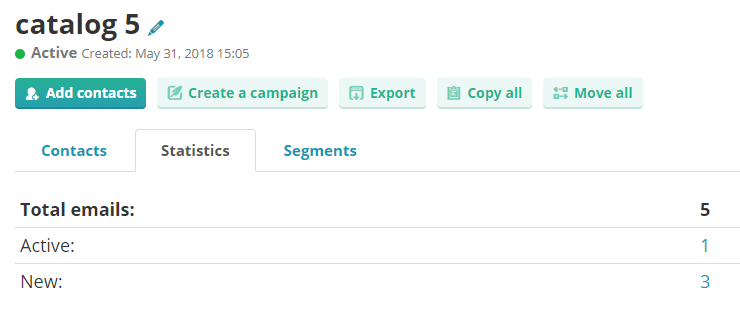 "New" — email address added recently; no campaigns have been sent to it yet
"Active" — emails have been sent to the lead successfully
Last Updated: 2019-04-03