How to Add Instructors
You can add additional users who will monitor your students' progress — those who track student progress, customize lessons, create tests, design certificates, and answer student questions. Your instructors' names are displayed on the course page and on the certificate of completion.
By default, there is one instructor in your course — the account owner that created the course. With a paid plan, you can add more instructors.
To assign another person to be a course instructor, you need to invite the user and grant them access to your account.
Instructor Permissions
CRM/EDU Manager (Inviter) is a standard user role that allows you to manage data in CRM and EDU without access to other SendPulse services.
All users with the "CRM/EDU Manager role (Inviter)" role will automatically have access to courses in your account and will be listed as instructors.
| | |
| --- | --- |
| Service | Permissions |
| CRM | View, create, edit, and delete deals, tasks, pipelines, task boards, tasks, and integrations. |
| EDU | View, create, edit, and delete courses and certificates. |
On the paid plan, you can add more instructors according to your plan.
If you want to provide more or fewer permissions than provided by the standard role, create a custom one with all the required permissions.
Read more: How to Create a Custom User Role.
How to Add a Course Instructor
You can add instructors in the course builder or in your account settings.
In the Course Builder
Go to your course, and click the instructor icon under the title. Click Invite a new user.
You will be redirected to the "Team" section of your account settings, where you can invite a user for this role. Read on to find out how to do it.
In Your Account Settings
You can also add a user and assign them a role in your account settings.
Go to "Account settings" > "Team." Click Invite a new user.
Read more: How to Manage User Roles.
Enter the user's personal data, and select "CRM/EDU Manager (Inviter)" in the "Role" field.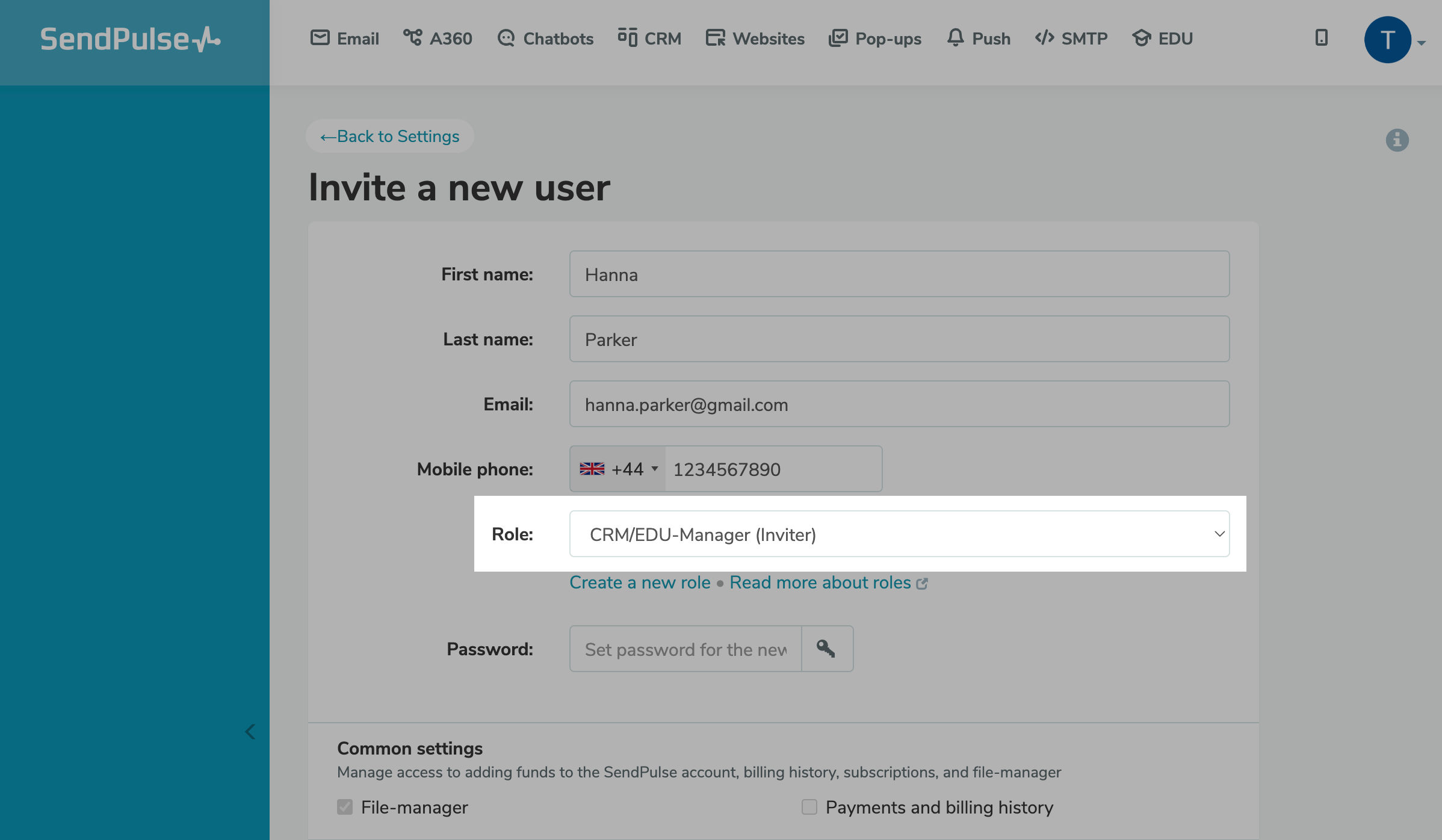 In the "EDU" section, you can limit instructors' access to certain courses. To do this, select the required courses from the list in the "Courses" field.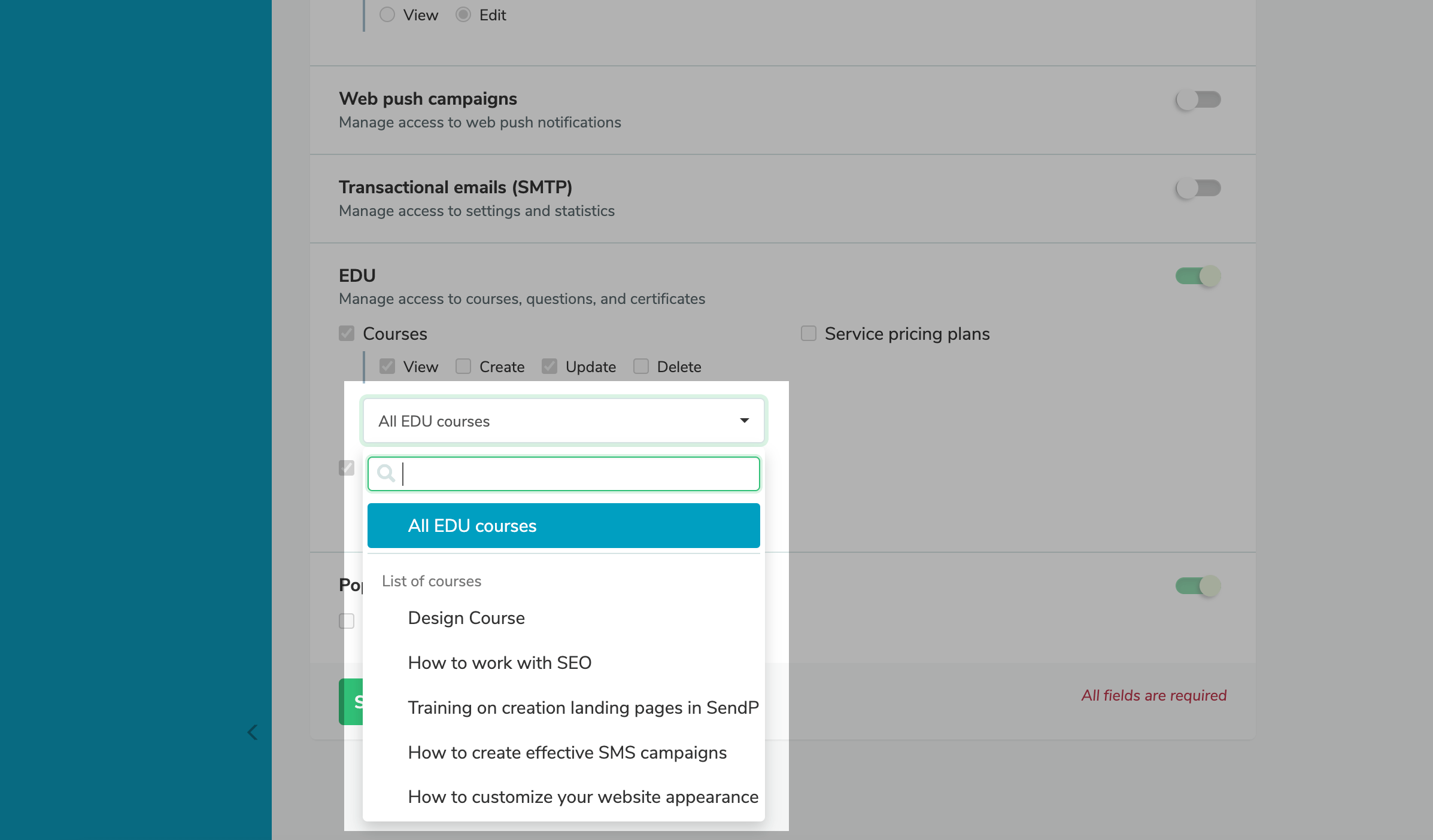 Click Send invitation, and wait for the user to confirm their invitation using their specified email address. This user will be added as an instructor to all your courses.
How to Edit Instructor Information
You can change the name, surname, and phone number of the instructor only in the invited user settings. Go to "Account Settings" > "Team." Next to the instructor you need, click on the three dots icon, and select "Edit." Change their name in the "Name" field.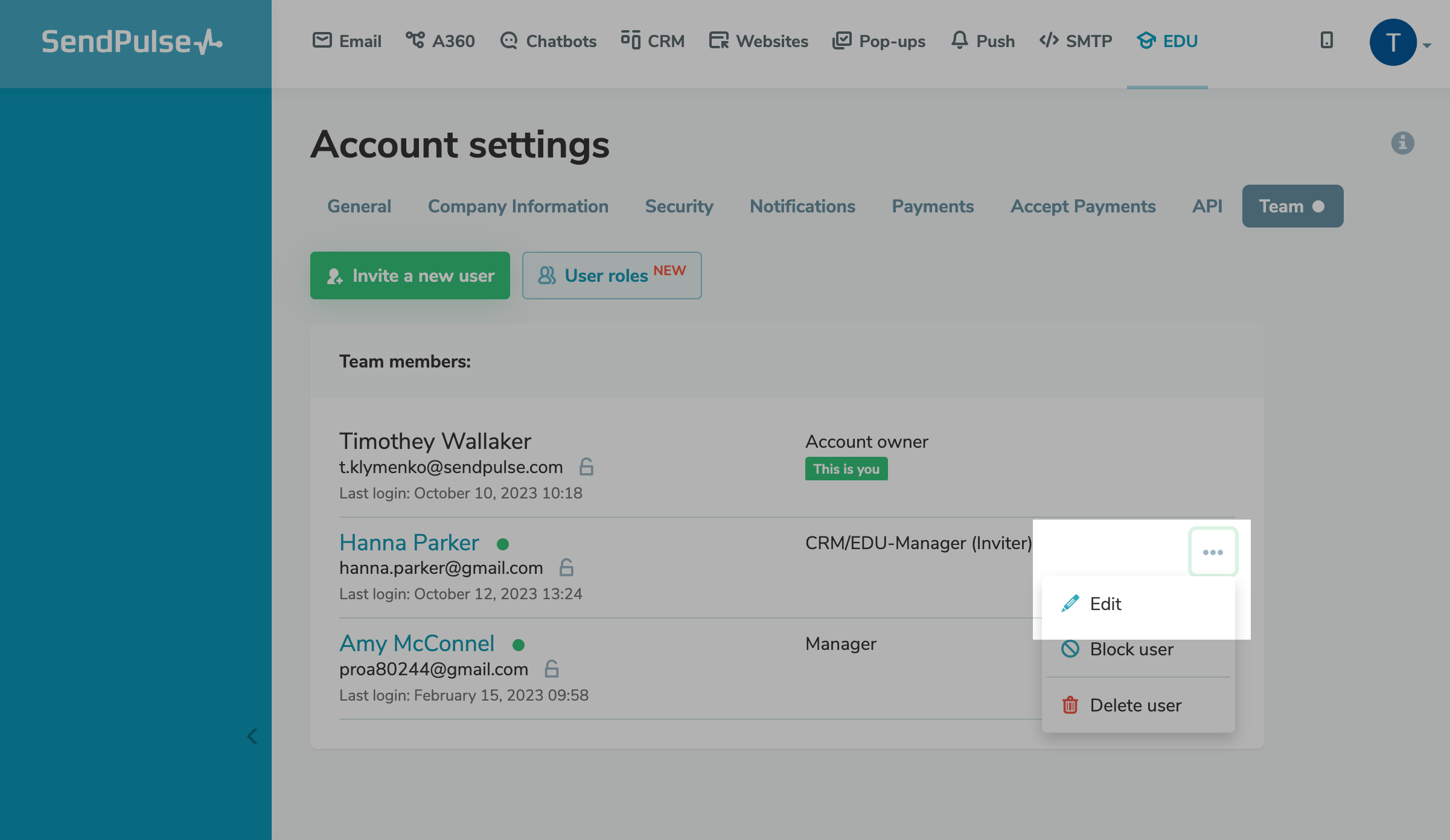 Last Updated: 24.10.2023