Email marketing is alive and continues to increase profits through creating repeat sales. The low price (you might even find free offers for small businesses) and ease of use makes email marketing an easy channel to attract a large audience. After all, who would refuse the opportunity to be able to get customers just a couple of hours after sending the first newsletter?
By signing up to our mailing platform and uploading your email list, you, as a novice marketer, will be able to create mass emails, remind customers about your product or service, and increase sales. However, it's not as easy as it sounds.
The problem is that it's hard to make your emails stand out. When email marketing first began as a channel of communication with a consumer audience, it was possible to achieve excellent results from the first mailing. This was because email newsletters were not widely used. An Open Rate index of 60-70% was seen as a good result. Now, however, consumers receive more than 60 email messages per day, and marketers can only expect an Open Rate of 20-25%. How does that translate into sales? Usually, no more than 1%.
Another problem is triggered emails that are based on the behavior and actions of subscribers. In mass mailings, it's hard to tailor emails to subscribers' needs because you have to assume at random what subscribers are interested in. A suggestion would be to provide the subscribers with options so they can choose what they are interested in because it's a lot easier and more profitable than inventing abstract product offers or discounts on services for mass mailings.
It's better to start with triggered messages
The first thing you need to do in preparing an email marketing campaign aimed at customers is to add a subscription form on the website. Your email list should be constantly updated. Then you should set up the system of triggers for new subscribers: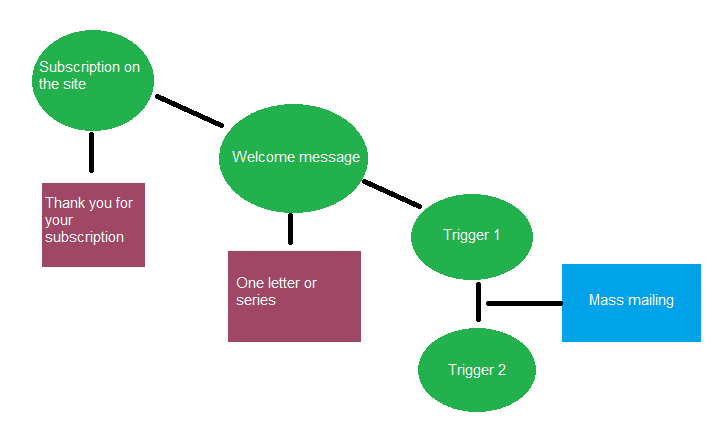 What are the most common triggered messages?
Subscription on the site (The aim is to welcome visitors to the site, provide a general understanding of what the company does, and explain why it is useful to the subscriber)
Recently visited pages (The aim is to show another variant of the page that the subscriber was interested in)
Purchase (The aim is to provide information about order processing)
Abandoned cart (The aim is to remind the subscriber about unpaid goods)
Birthday wishes (The aim is to show the subscriber that you remembered them, and offer them a discount/bonus/gift)
Client reactivation (The aim is to lead the subscriber to the site if they have not visited/not made a purchase/not opened emails)
Related products to those just purchased (The aim is to make additional sales)
In transactional emails, you have to offer the subscriber exactly what they are looking for at that very moment. Therefore, the probability of a sale is much higher.
When should you send mass mailings?
In fact, transactional emails are a direct opportunity to create profit without spending too much time creating the emails, writing copy, and adding information about products. Think about sending mass mailings only when the system for trigger mailings is configured with even the most elementary series of emails.
It's better to start with the content of mass mailings. This way you will be able to engage and attract subscribers and will not always bother them with trademarked proposals (although they appear in trigger mailings anyway).
The purpose of the email content is to form loyalty to the company/online store.
Content Tips for Mass Mailings:
Prepare a unique content, paying attention to the specifics of your company or products that subscribers are interested in.
Segment recipients. Your goal is to guess the desire of subscribers. There are a few options for segmenting:
Divide the base segments by interest/purchases/page views and send separate mailings for each segment.
Create an email with dynamic content for each segment so subscribers will see information that is useful to them here and now.
Do not send content emails too often – two times a month is enough to keep the interest of subscribers.
After you have built up a system of supplying information, it's possible to send a promotional email. However, do not forget to segment.
How do you work with a database that has not been collected from the subscription form on the site?
Working with the database that you have uploaded to the mailing service at the moment of registration is very similar to working with new subscribers. There is only one difference – you don't have an agreement with them to send emails.
For many online stores, purchases are an indication that you can send emails. This approach works. However, what if you have a B2B business and your customer base consists of those who have never used your services or made a purchase?
Step 1: Check the relevance of the database and obtain permission to send emails
Send emails to your email list with a reminder of the previous conditions of work and the question of whether customers want to receive your emails. The question can be presented in the form of an interview in Google Forms, for example. And don't forget to provide a link to the questionnaire in the email so you can immediately see the names and addresses of those who are willing to receive your emails.
In extreme cases, you can send a welcome letter explaining why the person received your email. You can specify in the email where you worked together before, what's new in your company, how often you will send emails, and most importantly, what its value is to the client.
Those who are not interested in your information will unsubscribe, and you will get a clean database.
Step 2: Set up the trigger system for those who are ready to receive emails
The next step is no different from what was described above.
Email marketing is not just a sales promotion – it is a channel of communication that aims to satisfy subscribers' enquiries. Do not forget this when you start preparing the first emails of your campaign.