A booking confirmation email is a transactional email which notifies a user of the order being processed. It confirms the booking and provides all the necessary details. In SendPulse, you can send such email automatically.
Every user expects to receive a confirmation email after booking a hotel room, a tour, a restaurant table, a flight, or a meeting with a barber. If they don't find one in the inbox, they will think that something went wrong with their order. So, don't leave your customers alone when interacting with your brand and provide them with the best user experience!
Why is a booking confirmation email important
It contributes to building customer loyalty. Certainly, it's formed not by that email alone but it shows a client that you care even after they pay.
It has high open rates and CTR. People wait for them, hence, they perform better than promotional campaigns do. As a result, they positively impact the sender reputation.
It is sent automatically. Rely on marketing automation services. Using one, you cat set up booking confirmation email sending once and focus on your marketing strategy.
Reassures a user. It informs subscribers that they have successfully booked and from here on they have no doubts.
How to write a booking confirmation email
To send relevant confirmation emails, follow the tips below:
Write a relevant subject line and a preheader. A user should understand your intention directly from the inbox. Make both your subject line and a preheader informative. In SendPulse, you can customize the preheader easily. It may look like this "Congrats, Charles! Your order #3423 has been successfully placed."
Personalize. A personalized email is not an option but a must for industries sending booking confirmation emails. Apart from providing an individual approach, they deliver necessary details.
Give thanks. Suppose, your brand was not the only one solution for a client. Some reasons made them choose your services. So, just be polite and say that you appreciate their decision.
Include all the booking details into the email. Your confirmation email is a chance for a client to find all the necessary information in one place. Be sure to include the date of both booking and stay, address, payment receipt, check-in and check-out dates, etc. Specify the amount of money to be paid for the necessary staying period.
Allow users to manage their booking. Having checked the data, a client may need to correct something, or just change their mind. To be on the safe side and avoid overlaps, provide a link to the booking page.
Add links to your social media profiles. That will help you increase your audience on socials, build trust among subscribers and give users more information about your brand — a win-win for both.
Incorporate a clear CTA. This button should explicitly tell users what they should do next to complete their booking. It may be "Confirm my booking", "Complete my booking", "Pay", "Modify my booking".
Tell about the booking cancellation policy. Sweet happens, you know. Show that you care and state the deadline to cancel a booking for free. That will help you avoid negative reviews about your company.
Leave the contacts of a reservation manager. Should anything happen, email is not the best choice to connect with a company. A phone number is a good alternative.
Attach the relevant image. It may be a photo of a city a client is going to visit, a tempting meal from a restaurant, hotel apartments, etc. That will inspire customers and build anticipation.
Offer a discount. You may do that to reward your clients. Give a discount for a local taxi, museums, the next tour, the next visit to a restaurant, etc.
How to send a booking confirmation email
With Automation 360, you can send it automatically. First of all, you should go to the "Event manager" and create an event "Booked". Follow this step-by-step guide.
Then, create an automation flow that will start right after a user books something on your website. You may add the condition to resend the email if a user doesn't open it. Find out more about sending automated emails in this article.
Booking confirmation email examples
Below is an email sent by a world-known platform for booking. A user receives all the necessary information regarding the hostel. It includes the city, the date, the hostel, check-in and check-out dates, details regarding prepayment, payment, and cancellation cost. A client has a phone number to connect with the hostel.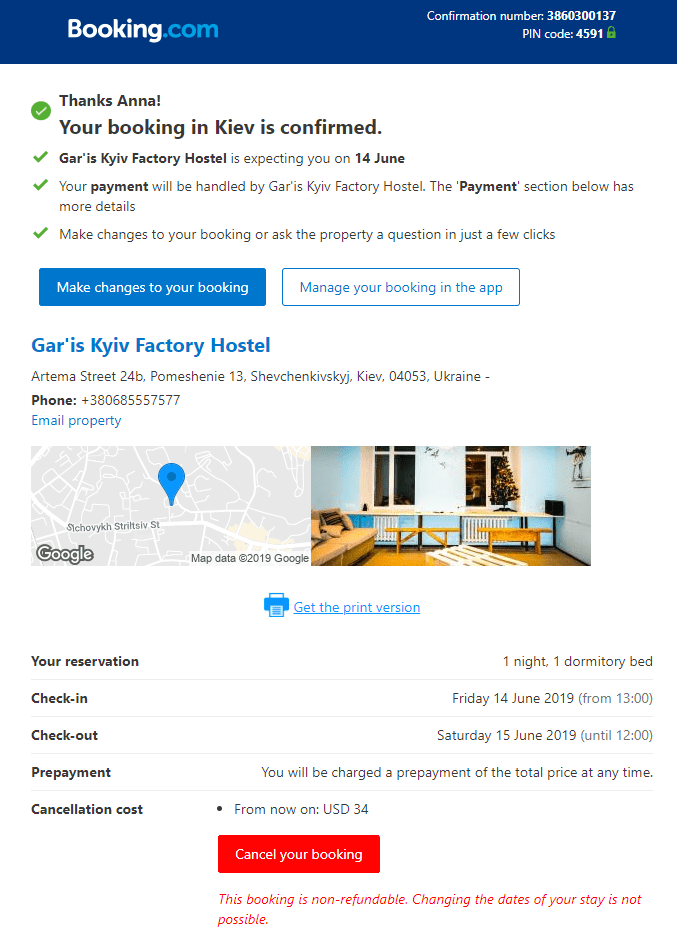 That is an email sent to confirm an appointment with a barber. It has all the necessary details as well as the previous email. Besides, the company reminds about the appointment on the X day. If a client doesn't confirm it once again, it will be canceled.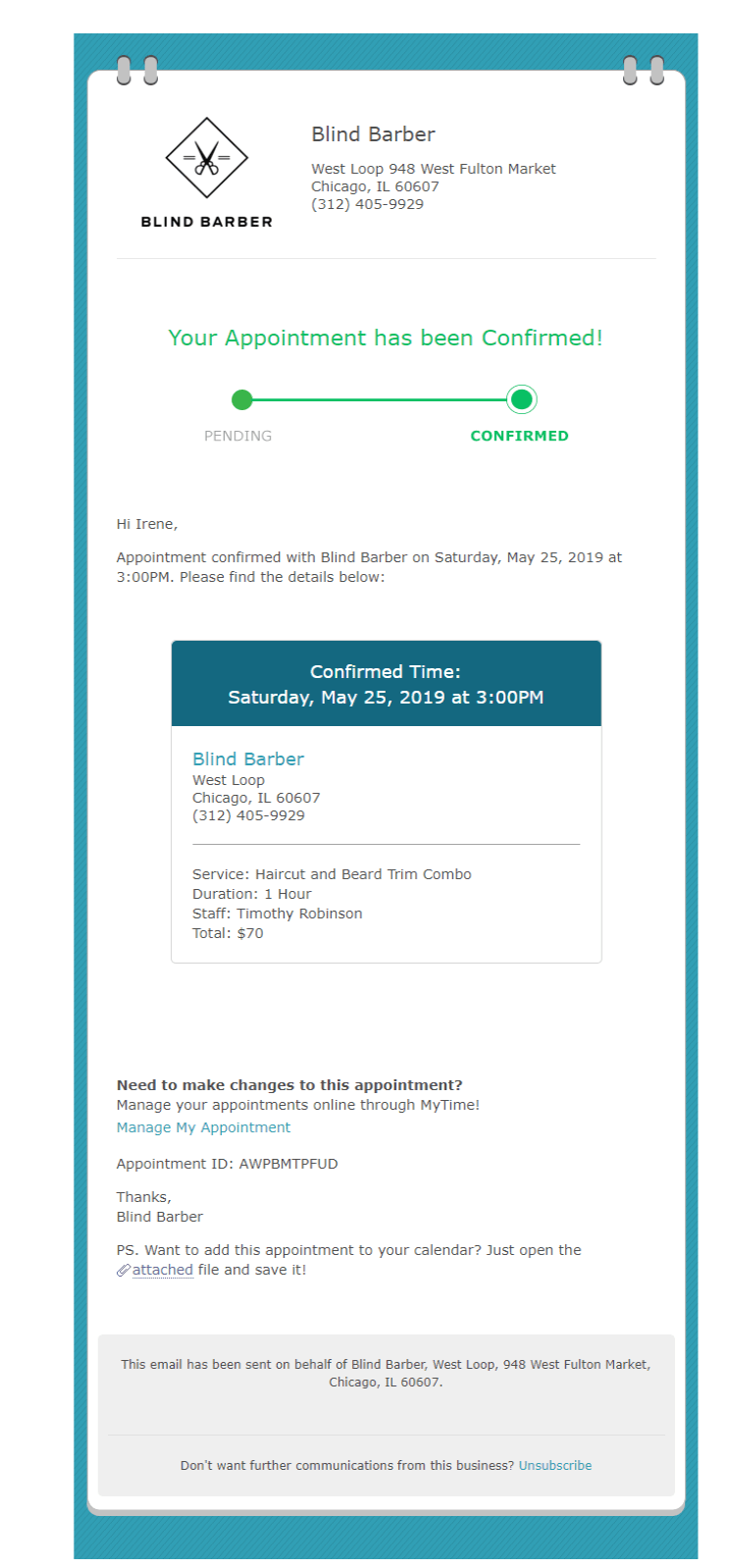 Booking confirmation email best practices
Automate booking confirmation email sending. If you deal with marketing for hotels worldwide, it would be rather a daunting task to send each email automatically. So, choose a marketing automation service which allows setting email sending in advance according to users' actions.
Send AMP emails. These are web-page-like emails with dynamic content that allow recipients to interact with the brand right from their inbox. Use this technology to let your clients modify their booking on the go.
Segment your contacts before sending a booking confirmation email. Take into account different variables to create an email relevant to every subscriber. These variables include data based on the industry. It may be the number of booking, place a user is going to visit, date and time, language a client speaks, etc.
Send a confirmation email RIGHT after the booking. Don't make any delays and notify the clients of their order immediately after they book. This way, they won't be on wires about their plans and your brand will grow the number of satisfied customers.
Promote your referral program. Big brands motivate their clients to attract new users with special bonuses or cashback from the orders made by their friends. This way, you increase revenue and customer loyalty.
Last Updated: 2019-05-31