Building a mailing list is a no-brainer for any online business. A robust mailing list gives you the opportunity to engage with and nurture your audience without having to spend more money to acquire leads over and over again. And the best part is, you get to build a relationship with your mailing subscribers as they move down the sales funnel.
The thing is, growing a mailing list isn't a one-time task. It has to be a constant practice if you want to scale your brand. That's why sometimes you need to get creative to attract new subscribers. Fortunately, there are many ways you can attract more subscribers, and live video is a new, exciting, and effective option.
Live video is a major tool for attracting new leads. On LinkedIn, live videos generate 24 times more comments and get seven times more reactions.
How can you use live video to grow your mailing list? In this blog post, we'll share six steps that you can use to grow your mailing list using video live streaming. We'll cover everything from creating an amazing offer to planning your live stream, using the power of storytelling, promoting your event, and more. But before we do, let's define live streaming.

What is live streaming?
Live streaming involves the use of live video that's broadcast to an audience. Live streams can be accessible to anyone or a set group of people based on how you set it up. For example, Facebook and YouTube live videos are available to anyone on either platform. Zoom live webinars, on the other hand, are accessible by invite only.
You can also host pay-per-view or PPV live events. PPV allows brands to monetize live video streams and events by charging a fee for access. If the idea sounds familiar, that's because it is. PPV is used by television networks that charge a fee for access to major sporting events or concerts.
Growing your mailing list with live stream video isn't nearly as tough as it may sound. You don't need to be a large television network or have access to state-of-the-art technology for a big-budget production. All it requires is a little planning, creativity, and proper execution to make it happen.
Six steps to growing your mailing list with live video
Like all things marketing, the extent of your success with live streaming and building your mailing list has to do with how well you plan. What follows is a six-step process designed to help you generate results.
Define your audience
The buyer's journey is one of the most powerful concepts in marketing. Using it, along with an in-depth understanding of where your audience is, can help you perfectly align your live stream with leads at various stages in their journeys.
To leverage personas and your buyer's journey, start by developing a clear picture of who your ideal buyer is. Determine what challenges they face on the road to discovering and purchasing a product like yours.
Next, identify where your ideal buyer is in their journey for your live stream to be of value. Have they just stumbled across a problem they can't clearly define at the beginning of their journey, or are they problem-aware and looking for a solution?
While having a persona is marketing 101, don't underestimate the value of creating a concrete definition of who you are going after and why they should listen to you. If you don't have any value to add, you're not going to generate results.
If you haven't quite figured out your audience, get your hands on DigitalMarketer's Customer Avatar Worksheet. It's an easy-to-follow worksheet that will help you develop an insightful customer persona.
Create an enticing offer
Live streams are all about sharing valuable information with customers. The information you share has to be linked inextricably to an equally powerful offer. The offer you present must also be a solution to a problem that your audience has. It could be a quick free guide, a checklist available for download, or an invite to book a free consulting session with you.
When you create your offer, design it to make a positive difference in your buyer's life. Aim to have your offer be so valuable that audiences can't help but sign up for it.
Amy Porterfield's live stream on how to ask better questions comes with a free cheat sheet. The stream is targeted at online entrepreneurs and gives them tips on how to ask better questions to generate better business results. Towards the end of the stream, she directs viewers to a simple landing page for a quick download.
Tell a powerful story
Storytelling is an effective marketing tool. When used correctly, it positions your buyer as the single most important participant on a journey to success by giving them something to relate to.
To tell a powerful story, you must introduce a problem. Depending on where your buyers are in the journey, they may or may not completely understand the length and breadth of their situation as they move along the buyer's journey.
By introducing a problem, you CAN help them define it by providing context. Show how the problem affects their business or life, and the costs of not addressing it. Demonstrate "solutions" that are not effective and how you, and your product, can potentially help.
After you have introduced the problem and your audience clearly understands it, the solution must follow. Your live stream is part of that solution. But what's important to note is that your goal is still to capture an email address by offering your audience something valuable like a lead magnet.
Your story, therefore, becomes the vehicle for creating a need, and your offer (in exchange for an email address) the solution.
Amy Porterfield digs deep in her live stream titled "How to Ask Better Questions to Get Better Results." The stream is targeted at online entrepreneurs and how they can ask better questions to generate better business results. To engage her audience, she uses the power of storytelling to share personal stories about her entrepreneurial journey. She talks about the highs and lows, all of which are empowering for her audience and directly related to her live stream's title.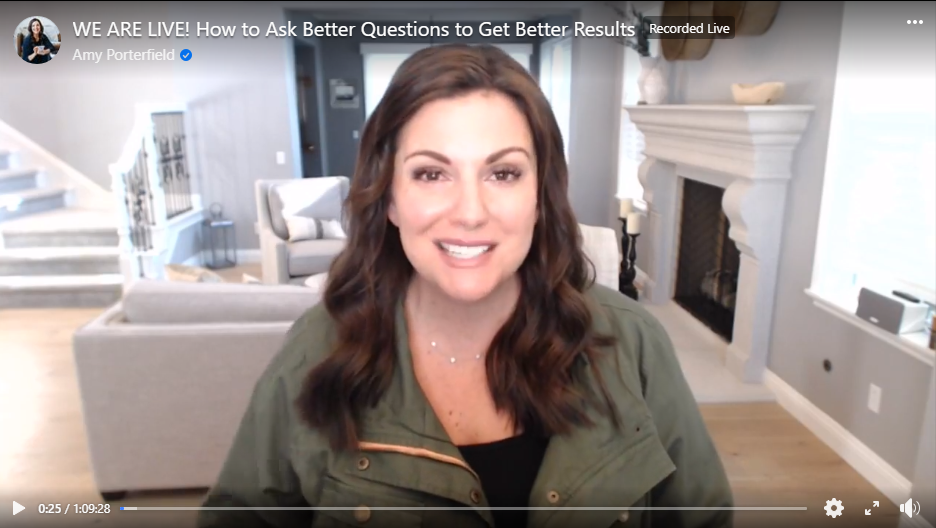 Draw attention to your call to action
Having identified a problem and presented a solution, it's time to make your offer as clear as possible. Live streaming gives you the chance to share your offer in real-time verbally and also provide a link that buyers can click on to immediately take you up on your offer.
And as you deliver your call to action, be sure to drive home the value of the offer. A call to action, like the problem you defined, must have context. Your audience needs to understand the benefit of taking action.
Porterfield shows exactly how to make an effective call to action. Towards the end, she draws the audience's attention to two offers. The first is access to a program she promotes, one all about online marketing. The second, a free downloadable cheat sheet on how to ask better questions to get better answers (and results).
Promote your live stream like a blockbuster movie
Promoting a live stream is a lot like promoting a new film. Whether your offer is access to a live video streaming site, new software, or a coaching program, use all the platforms you can get your hands on to promote your event in advance. Turn to social media, use email marketing, and if possible, dedicate some of your budget to using paid ads when possible.

Create anticipation about the value you'll share. Doing so gives you the opportunity to attract the largest audience and introduce more strangers to your brand.
Wave.video is a video marketing tool that frequently hosts live videos on their YouTube channel, Facebook page, and other social media platforms. They start promoting their live events on social media and email newsletters weeks in advance. Here's an example of a Facebook post and a teaser video that they've created for their upcoming live stream.
Repurpose live stream gems
Live videos often include information gems. And as every smart marketer knows, repurposing content is the surest way of keeping your brand top-of-mind, making it easily accessible to buyers as they move closer to making a purchase decision.
Once your live stream recording is completed, repurpose it. Create quotes with images, video snippets with profound knowledge, share stats that are sure to catch your audience's attention, and more.
Adobe Summit took place in March 2020, but that didn't stop them from promoting the event in July. In this example, Adobe uses a quote and makes an offer to anyone who missed the event to access an on-demand video collection.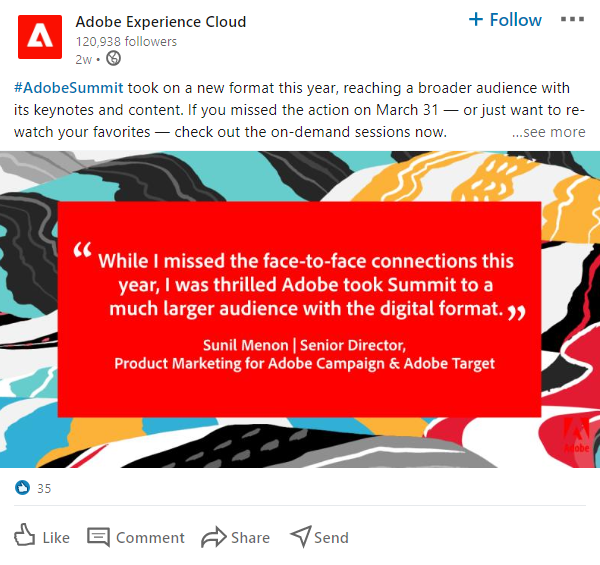 Bonus: Think beyond lead capture
While growing a mailing list is the goal, you must think bigger. Today, anyone signing up for any piece of content, offer, or newsletter knows that they're going to be emailed. Your goal as a brand is to be as human as possible. Do this by offering value and solutions to help your new subscriber make an informed decision.
There are tons of ways to begin your nurturing cycle. Yours will depend on where your buyer is in their journey, and how much you understand about them and what they need.
For instance, if you're offering a guide on features to look out for when creating a successful membership platform, your buyer is in the consideration phase. Here, your nurturing cycle is all about education that drives consideration for your solution. You can offer a series of emails with links to videos about each critical feature buyers must be aware of, all of which are features that your solution includes.
Conclusion
Live video is a powerful tool brands can use to build and grow their mailing lists. To do so successfully, they'll need to clearly define their audiences, create enticing offers buyers can't say no to, tell relatable stories, and promote their events feverishly.