Are you aware of all hidden pitfalls in email marketing? People change email addresses or use temporary ones; email addresses can be stolen and become a part of an online fraud scheme. Reaching illegitimate inboxes can be like playing with fire in your marketing funnel and even damage your sender reputation. The good news is that there is a long list of tools that will weed out any inactive or fraudulent email addresses in your database and save the day and your sender reputation.
To help you find the best email verification service, we did a test drive of five SaaS providers: recent startups and long-established companies. Fasten your seatbelts and come along for the ride!
What to consider when choosing an email verification service
Email validation, or verification, is a primary measure to keep your mailing lists healthy, so this feature is at the core of each platform we are going to test. It doesn't really differ from provider to provider and usually includes a syntax check, catch-all server detection, a domain check, and SMTP authentication.

The process of email address validation is quite similar: you add a single email address or make a bulk upload in the .txt, .csv, or .xls format. After the check, you can download all of the email addresses on your list or filter them.
The differences between email validation services start with their speed, accuracy, additional perks, and pricing. Here is the list of criteria we used in our comparison:
speed and accuracy;
data security and GDPR compliance;
additional features included in the plan;
free plan or trial availability;
pricing.
To evaluate each email validation service, we took five randomly generated email addresses to check, the last one containing a typo: khris@me.com, rmcfarla@yahoo.ca, papathan@me.com, kuparine@outlook.com, cgreuter@yagoo.com. Here we go!
SendPulse Email Verifier
Free plan or trial: 100 email addresses per month
Paid plans start from: $12 per month for 1,000 email addresses billed yearly, or pay as you go
SendPulse combines a suite of marketing tools you need to fuel your sales and marketing strategy under one roof. Our Email Verifier is one of them, ensuring that not a single undeliverable, risky, or unknown email address sneaks into your mailing list.
To check a mailing list, you can upload email addresses from a file in .txt, .csv, .xls, or .xlsx format. Those who already use the platform to send email campaigns can verify their existing mailing lists. If you need to add one or several new email addresses to a previously verified list, you can opt for an instant single email address verification so that you don't have to check the entire list again.
This email verification service is GDPR compliant as well.
When signing up for a free plan with SendPulse, you get access to our email marketing service, chatbot builder, CRM system, landing page builder, and other useful tools.
It took us no more than 15 seconds to verify our email addresses. The verification test results are the following: 2 email addresses are active, and the rest are invalid.
Bouncer
Free plan or trial: 1,000 credits, 1 credit = 1 email address
Paid plans start from: $6 for 1,000 credits, then pay per use
Bouncer claims to be the most intelligent email validation service with 99.5% accuracy. It not only checks email address syntax, the domain, and the server but also uses AI algorithms to negotiate with the SMTP service to get the most accurate results possible.
It is GDPR compliant, which means that personal data you add into the system will be perfectly encrypted and secure.
Apart from actually verifying email addresses, Bouncer provides three more additional services:
real-time and batch email verification API;
free verification sampling, so you can pre-screen your list before verifying it;
bounce rate estimation, so you know what to expect after you launch your email campaign.
Our mailing list verification test results with Bouncer are the following: 2 email addresses are OK, the rest are undeliverable. The validation process took no more than 30 seconds.
Bouncer also has an ROI calculator which helps estimate the benefits of integrating this email verification service into your sign-up and pop-up forms or landing pages. One more cool perk: they provide online support even if you are on a free plan.
Snov.io
Free plan or trial: 50 credits, 1 credit = 2 email addresses
Paid plans start from: $39 per month for 1,000 credits
Snov.io is a cold outreach automation platform that helps you find, verify, and convert leads. Email verification service is a part of the infrastructure, offering a 7-tier verification method, ready-to-use integrations, including Zapier, API, and flexible list export options.
You can register for Snov.io via your Google account, which is convenient. This service is GDPR compliant as well.
To verify a list of email addresses, you can:
upload them in .csv, .xls, .txt formats or as a Google Sheet;
find and scrape them from a page, for instance, from LinkedIn search results.
In the second scenario, your leads get verified automatically.
Other services offered by the platform are Email Finder and Email Drip Campaigns. Both are included in all the service plans, so when purchasing a plan from Snov.io, you get access to their full service, not a single verification tool.
So, what are the email verification results? We couldn't get a full validation report instantly because one of the emails underwent a greylisting check: an anti-spam check of the recipient's server.
The check was over in 5 minutes and we got the following results: 2 email addresses are valid, 2 are invalid, and 1 email address we cannot be certain about.
With this email verifying software, results can be only be downloaded on paid plans.
ZeroBounce
Free plan or trial: 100 credits, 1 credit = 1 email address
Paid plans start from: $16 per month for 2,000 credits or pay as you go
Positioned as an "email validation and deliverability toolkit," this email validation service is GDPR compliant and offers to clean up your mailing list, removing all the invalid addresses, spam traps, and abuse email addresses. On top of that, there is a scoring system that rates the value of an email address and gets rid of catch-all email addresses with low activity.
ZeroBounce has a scrubbing system that helps you get more information about your leads, for instance, their full name, gender, and geolocation. They also have an API in case you'd like to integrate their email verification software into your subscription service.
Two more extra services offered:
an inbox placement tester that helps you understand whether your email campaign will be delivered to the inbox, spam folder, or not delivered at all;
an email server tester that checks your email headers to ensure your email server is configured correctly.
To sign up for their free plan, you will have to prove that you represent a business. If you don't, you will only be able to use 5 free credits, which means that you can only verify 5 email addresses. Upon registering, you will receive a call and an email from a sales rep, offering to help you choose the best service plan for your needs.
Our email verification test with ZeroBounce got queued for around 10 minutes. The results we finally got were: 2 email addresses are valid and 3 are not.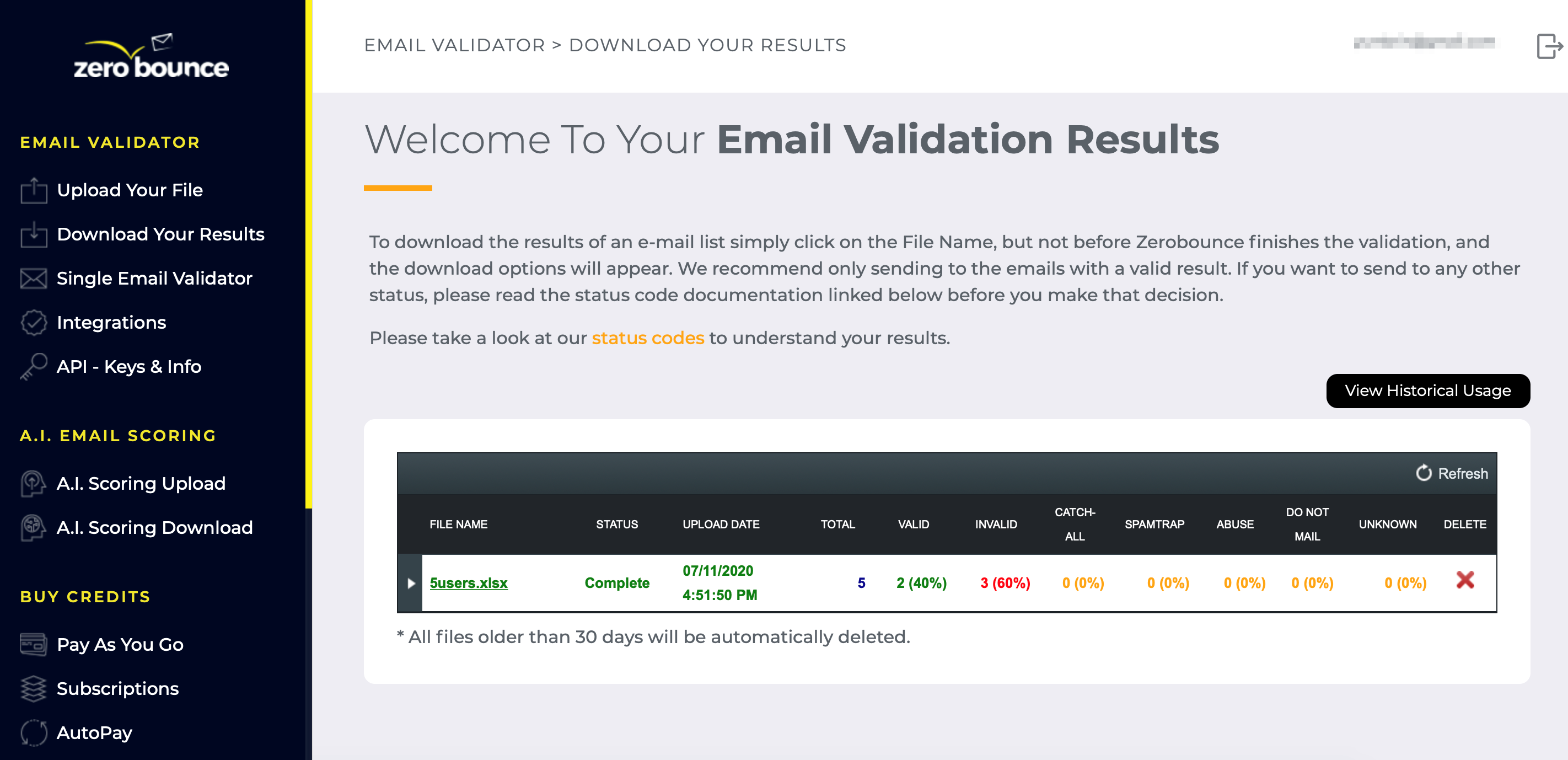 If you download the full report, you will see the detailed status of each email address. This email verification service identified our hidden typo:
Email Checker
Free plan or trial: 100 credits, 1 credit = 1 email address
Paid plans start from: $10 per month with 1,000 credits
Email Checker is one of the oldest and highest-rated email validation services with an email verification API. The service is GDPR compliant, it has a drag-and-drop dashboard, and can preserve the list format if needed. Additional features include:
B2B verification that meets special requirements for mailing list cleaning;
Yahoo verification for the best possible accuracy;
instant single email address verification;
disposable email address detection.
The payment system is quite flexible: you can purchase a certain amount of credits or get a monthly subscription with a one-time payment and then pay as you go.
When you upload your list to Email Checker, it will take time to process your email addresses and then the service informs you when the check is ready. We waited for not more than 10 minutes. The results we got were: 2 email addresses are deliverable and 3 are not.
VerifyBee
Free plan or trial: 100 credits, 1 credit = 1 email address
Paid plans start from: $19/mo for 2,500 credits
VerifyBee is a verify-it-all platform: you can check mailing lists and phone numbers, simply by connecting the service with your CRM system or by uploading a list. There is also a Chrome extension to grab contacts from web pages and a B2B lead database to search for contacts in specific companies and verify them. The service is GDPR compliant.
The platform aims to match the quality of every other email verification service but they also want to do it at an affordable price.
We got the results in 5 minutes and they were the following: 1 email address deliverable, the rest are not.
Calling it a day
It can be very challenging to choose the best email verification service. Even the five platforms we tested show that they may significantly vary in the results they provide and the prices they charge.
If you need an all-in-one digital marketing toolbox, consider using SendPulse. If you look for more simplistic and budget options, look at Bouncer and VerifyBee. If you need to extend your cold outreach, consider using Snov.io. If you want some database insights, have a look at ZeroBounce. If you are a B2B representative, Email Checker may become the best solution.
When you are ready to launch an email campaign for your verified database, sign up with SendPulse, our multichannel marketing platform with over 100 ready-to-use templates!