It is not enough just to produce a perfect product and set a reasonable price for it. Customers have lots and lots of great options and that's why they look for some additional value when making their choice. They want to feel appreciated while communicating with a brand, they seek valuable experience, and want to rely on true experts, those who understand and listen to them.
Providing value for customers requires attention to small details in addition to having a killer product. In this article, we'll reveal how to create value for customers with marketing activities and relevant content.

Why is it important to create value for your customers?
To gain the trust and love of your customers, you should create strong ties between your brand and your target audience. It may be possible if the former not only provides quality services and functional goods but something more: ethics, the feeling of confidence and reliability, and of course, positive emotions that make communication with your brand enjoyable and worthwhile. So, what methods can a business use to bring value to customers through email?
According to Price Intelligently, it's two times more efficient to retain existing customers than to attract new ones. At the same time, only 18% of companies focus their marketing strategies on maintaining solid relationships with their existing customers.

Bringing value to customers strategy #1. Make motivational programs
Here are the most popular types of motivational programs you can use via email:
Discounts. You can offer a discount to high-spending customers. Your proposition may also cover multiple purchases, regularly purchased or complementary products and services. Besides, you can propose a discount during holidays or off-season to help customers and boost your sales.
Special offers. Gratitude and gifts for cooperation are always welcomed. This way you say, "We appreciate you as a customer and look forward to cooperating again." You can offer some free goods as a bonus for customer orders or a special service level. For example, free or expedited shipping, after-hours service, decreasing a minimum order quantity, or assigning a personal manager.
Free trials. As for free trials, a third of marketers say that 11-30% of people who use a trial, later become customers with a paid account. Whether you provide SaaS or traditional software, customers want to check what they are investing in before buying a paid plan. This is a good opportunity to let users realize the value of your product without expending resources.
Subscription services. Nowadays, a subscription doesn't always mean a paid software plan, but monthly delivery of retail products, from razors to food. A USA Today survey says that 25% of respondents are currently subscribed to scheduled retail deliveries, while 32% plan to sign up within six months. For example, a pet store may offer a discount when customers subscribe for regular cat food deliveries. With this service, the customer is always stocked up with daily essentials.
Partnering with another brand. You may start creating value for your customers with co-branded offers. As a partner, you can choose a company that complements your brand. For example, certain bank customers can get higher cashback if buying from their partner's retail website. If you propose relevant goods and services with this collaboration, customers will feel that you know their needs and care about providing excellent service.
Here is an example of how Scribd, an online library, attracts new customers by giving them free 30-day access to their books and magazines:
Bringing value to customers strategy #2. Use loyalty programs
According to Hubspot Loyalty Report, 73% of customers confirm that they are more willing to recommend companies with loyalty programs, 79% are more likely to repurchase from these companies, and 66% are ready to spend more to get benefits from the program.
The purpose of loyalty programs is to thank customers for their cooperation and loyalty to your brand and show how much you value them. There are several common types of loyalty programs:
Point-based. Customers get points for purchases, email subscriptions, adding personal information, or feedback. Then they can spend their rewards on future purchases. The most simple approach is frequently used by coffee houses. After the first purchase, they give their customers a stamp card where they put a stamp for each cup of coffee purchased. As soon as a customer completes the card, they receive a free cup of coffee.
Tier-based. Customers get benefits according to their membership level. By spending more money or purchasing more frequently, customers move to a higher level. By progressing, customers get bigger discounts and points, advanced offers, and services, as well as closed events invitations. Well known tier systems often include something like a sliver, gold, and platinum level with increasing rewards respectively.
Perk-based. Some companies provide small benefits to all of their customers. For example, online retail shops can add product samples or related content to a customer's package, surprises are always great.
For example, Norwegian, a low-cost airline, created a frequent flyer program. Customers receive their next reward for every sixth single flight, which is valid for 12 months. There are four types of rewards: +2% to cashback points, free fast track, free seat reservation, and free baggage.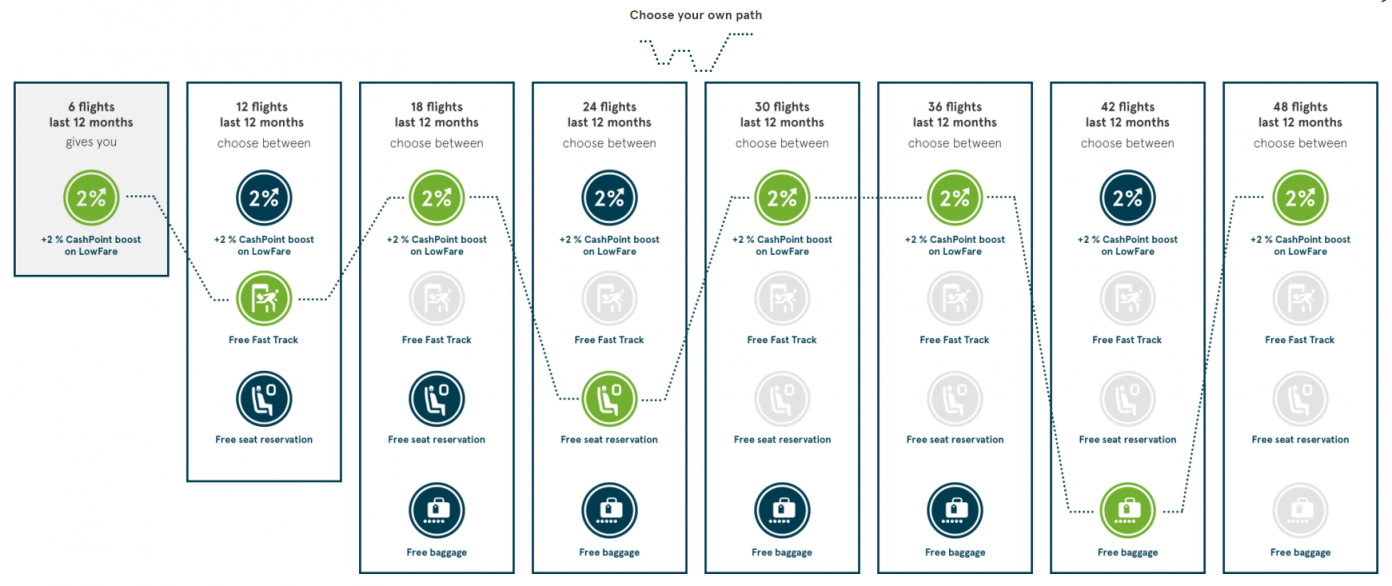 Bringing value to customers strategy #3. Share valuable content
Sharing knowledge in your area of expertise will always get a positive response. Value-driven content lets you establish yourself as an expert, enhance brand credibility, and improve customer loyalty.
There are three basic types of content that you can use:
1. Original content
You can create educational content like case studies, infographics, articles, recommendations, guides on how to use your product, videos, and podcasts. Send your content by email, publish it on your corporate blog, and share it on social media to keep customers engaged.
Piktochart created an inspirational article on infographics, which they shared with their customers via email.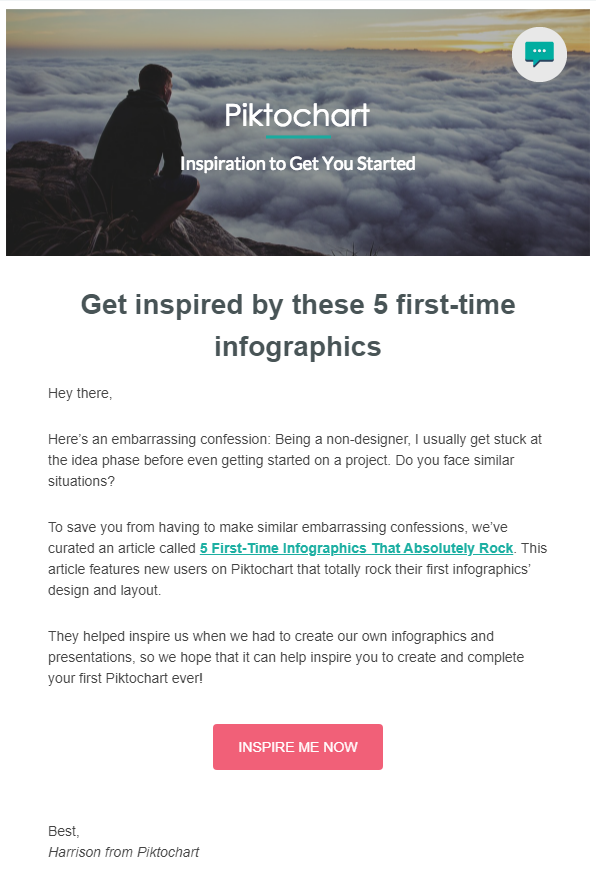 You can also invite customers to relevant educational events that you organize or participate in: webinars, seminars, and forums.
2. Influencer content
Recommendations from experts, authorities, and celebrities are a popular way to promote a product. According to the Influencer Marketing Benchmark Report 2020, on average, companies gain $5.20 per dollar they spend on influencer marketing. But influencers that respect their audience provide value to customers as well. Experts should reduce users' efforts in finding reliable products, provide helpful tricks, and warn users about pitfalls to help them avoid problems.
One way to collaborate with influencers is to provide them with a free sample of your product or trial version of your services. Selected experts may publish recommendations on how and why to use your products, write a review, or record an unboxing.
Another method is to sponsor a contest or giveaway that a blogger holds so they can use your product as a prize. Give influencers a chance to benefit themselves with more traffic while having them showcase your product, it's a win-win.
It is also possible to invite relevant experts to your office to let them create engaging content, for example, a behind-the-scenes report. The final publication may be posted either on the influencer's platform and your own as a guest post.
Avon, for example, often sends their customers useful information that not only makes them want to try their cosmetics but also gives expert answers to customers' questions.
3. User-generated content
UGC (user-generated content) is any brand-related content created by users. Studies show that it provokes purchases in 79% of cases. As for its benefits for your audience, UGC publications makes people feel appreciated and listened to.
UGC may feature a brand or refer to a relevant topic: photos of customers wearing the company's product or employees talking about your social responsibility initiative.
To let people create UGC a brand can hold a contest, ask customers to share their experience in Thank you emails or in packaging inserts, publish your company's branded hashtag on your social profiles and website to encourage UG posts on socials.
Users can publish content either directly on a company's pages or on their own, and then the company shares it. It can be a repost on social media tagging the author or publication in the testimonial section of their website. For example, National Geographic shares photos of their many readers, photographers, and authors in each email campaign.
Bringing value to customers strategy #4. Ask for feedback
72% of customers will not make a purchase without studying reviews of your product or service. After checking reviews, they will believe that a brand is more trustworthy and appreciate a brand that cares about their customers' experiences.
You can ask for reviews via email, share links to relevant review websites, and monitor social media for mentions of your brand. Companies that want to receive feedback about the quality of their goods or service always ask customers for their impressions: Do they like the product? Did they have any difficulties with the service, what were they? Customers appreciate this attitude from the seller and are more likely to come back again.
Grammarly, for example, encourages their users to evaluate the service with a five-star rating or by leaving feedback.
In addition to simple feedback, you can ask customers to take surveys. Surveys will help you understand what users think of your brand, giving you an opportunity to enhance your offerings and build bridges with customers. For example, you can thank them for sharing their positive experiences, help in case they have some difficulties, and share improvements in areas that concern respondents.
See how Adobe Customer Care carried out a survey asking their customers to evaluate their service after the case was closed.
Bringing value to customers strategy #5. Hold contests
People love contests because they are fun and rewarding. With little effort, you subscribers can interact with your brand and have the opportunity to try its products and services for free or with a significant discount. And although companies use contests to improve brand awareness and user engagement, there is no annoying direct advertising.
To hold a contest or a giveaway, you may use email, social media, and your website.
Emails for subscribers should contain necessary information about terms, conditions, and prizes. You may also share updates about the contest via email to encourage new participants. According to the selected platform, you should include a link that leads to the Facebook or Instagram page where the contest takes place or to your website.
For instance, Lush gives their customers a chance to win a prize pack if they post a video of their favorite wobbling jelly in social networks with the hashtag #getjellywithit. To participate, it is also necessary to register at their website, which automatically increases the number of potential customers of the company. Their emails also contain descriptions and bright images of the product, which may motivate customers to try it.
Social media contests usually involve submitting content with a campaign-specific hashtag. This is the best way to track contestants and automate winner selection. There are several types of social media contests:
Giveaways — require little involvement because the winner is chosen at random and conditions of participation are usually very simple, for example, commenting on a post.
Contests — require more action, for example, taking a topic-specific photo, and involve the evaluation of competitive works and the selection of winners by judges.
Short games, such as quests, quizzes, puzzles — are usually held on Instagram stories and offer small prizes.
To attract users to the contest on your website, you need to add clear CTAs on relevant pages that lead to a submission form. You may also use a countdown timer to motivate and remind your visitors about the contest.
For instance, NASA gave their audience a chance to attend the Mars 2020 Rover launch by winning an essay contest. The administration invited K-12 students in the USA to propose the best name for the spacecraft. In addition to the main prize, selected participants received ebooks, monthly subscriptions to Amazon, AWS Educate grant program membership and credits, and other prize packs from partners.
NASA announced the winner on the Mars Exploration Program website, on their social networks, and in their regular email campaign.
You can use contests in any field. Customers value not only high quality and useful products but also positive emotions that make them smile.
Bringing value to customers strategy #6. Personalization
RILA's (R)Tech Center for Innovation and Accenture learned that 63% of consumers are interested in personalized brand experiences. Tailoring your emails to the behavior and needs of your subscribers is a powerful way to satisfy your target audience.
The first tip for personalization is to keep customers' data and use it. By keeping track of your customers' birthdays, you can congratulate them on time. If you monitor users' online behavior and purchase history, you can adapt your emails to include their favorite products. If you have information about their membership start date, you will be able to send milestone emails to your subscriber.

For instance, each December, the delivery service Shipt, as well as a lot of other companies, distribute year-in-review emails focusing on individual milestones.
Conclusion
Now that you know how to create value, go over the tips and choose where to begin:
Motivational programs
Loyalty programs
Valuable content
Feedback and reviews
Contests and giveaways
Personalization
The general idea is to be caring rather than hard-selling to your customers. Think what your customers really value, what benefits will make them happy, what information about your market or product they lack, what is fun for them and use it to provide value.
All of the above-mentioned tactics will help you to create a positive image for your brand among potential clients. Send emails that you would be glad to receive yourself. And, of course, create them with SendPulse!