Advertising media is a wide range of channels aimed at promotion. Brands use various advertising media to communicate their message to potential customers. The right channels help companies increase sales and build long-lasting relationships with their audience.
Why is advertising in the media important?
Advertising in the media is crucial for every brand. Each channel is an intermediary between a brand and its customers. Finding a perfect channel allows brands to present their product successfully, communicate their value, and maintain trustful relationships with the target audience.
With the correct channel and well-thought-out advertising message, companies build brand awareness, create buzz around their brand, showcase and demonstrate the benefits of their products, increase their sales volume and revenue, and collect clients' personal information that allows them to craft highly relevant and personalized offers.
To reach these goals, you need to choose the best channel or a mix for your brand. So, let's discover the types.
Types of Advertising Media
We'll divide all advertising media types into online and offline channels.
Offline advertising media include the following channels:
Online advertising media offers a wide choice of channels which include the following ones:
PPC advertising;
SMS;
podcasts;
video marketing;
Big brands often combine these channels to better approach each customer. Such a mix is called integrated marketing communications. This strategy allows companies to reinforce their marketing efforts and ensure the best user experience.
Now let's see how brands use different advertising media channels to promote their products.
Advertising Media Examples
Forever 21 enjoys the benefits of email marketing. They sent a promotional email to their customers to announce the upcoming sale dedicated to Mother's Day.
With SendPulse, you can create and send this kind of email campaign without any technical skills and for free.
SMS advertising is the perfect choice for local businesses. If you have an offline store, don't miss your extra opportunities to inform customers about new arrivals and hot deals. Domino's does just that. They invite clients to get a 25% discount in the next two hours.
SendPulse allows you to create promotional SMS and send them to your audience easily.
With PPC advertising, you can drive high-quality traffic to your website and boost sales. Using this channel, you will pay the search engine a fee when a user clicks your ad.
Look below to get a better idea of how your advertising will look on the search engine results page. It attracts attention immediately, so users interested in your products won't ignore them.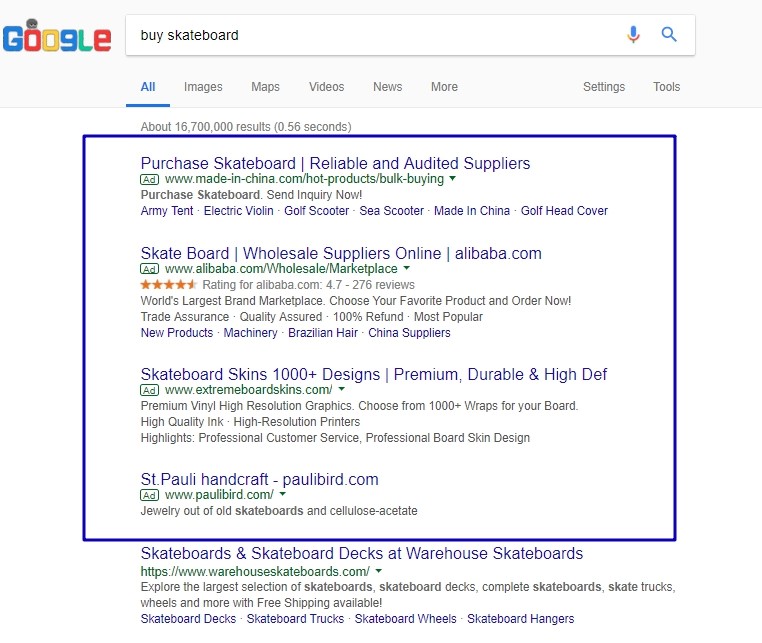 Congrats, now you know a lot of advertising media types, so it's time to choose a perfect channel for your business. Make the most out of the SendPulse promotional tools to bring your company to the next level.
Last Updated: 21.03.2023