How to Create a Facebook Messenger Ad and Launch the Chatbot It Links to
You can set up targeted Facebook ads to promote your products and services and start chatbot conversations with users in Facebook Messenger who interacted with your ads. You can leverage ads to strengthen your brand image, attract new customers, and keep in touch with them.
In this article, we will talk about how to create a Facebook ad campaign, define your audience, add the copy itself, and choose a message template users will see when starting a conversation with you on Facebook Messenger.
Read also: How to Сreate a WhatsApp Ad via Facebook to Start a Сhatbot Conversation and How to Сreate an Instagram Ad via Facebook to Run a Сhatbot.
Step 1. Create a New Ad Campaign
Choose a Campaign Objective
Log in to your Ads Manager, click Create, and select the campaign objective ("Messages").
The "Messages" objective is used to run ads that allow users to interact with you on Messenger, WhatsApp, and Instagram Direct.
Read more: Choose the Right Objective.
Specify Your Campaign Name
Enter the name of your advertising campaign so that you can find it quickly.
Click Continue.
Define Your Ad Budget
On the next page, scroll down, and move the toggle switch to the "On" position in the "Campaign Budget Optimization" section. Select one of the two budget allocation options, and specify its amount.
"Daily budget" is how much you want to spend on a specific campaign per day.
"Lifetime Budget" is how much you want to spend over the entire run-time of your campaign.
Read more: Optimizing Campaign Budgets and About Day Budgets.
Step 2. Choose How to Display Your Ad
Specify Your Ad Destination
Your ad destination determines where you want users to message you after they click on the ad button.
Select "Click to message" as your ad type and Facebook Messenger as your messaging app.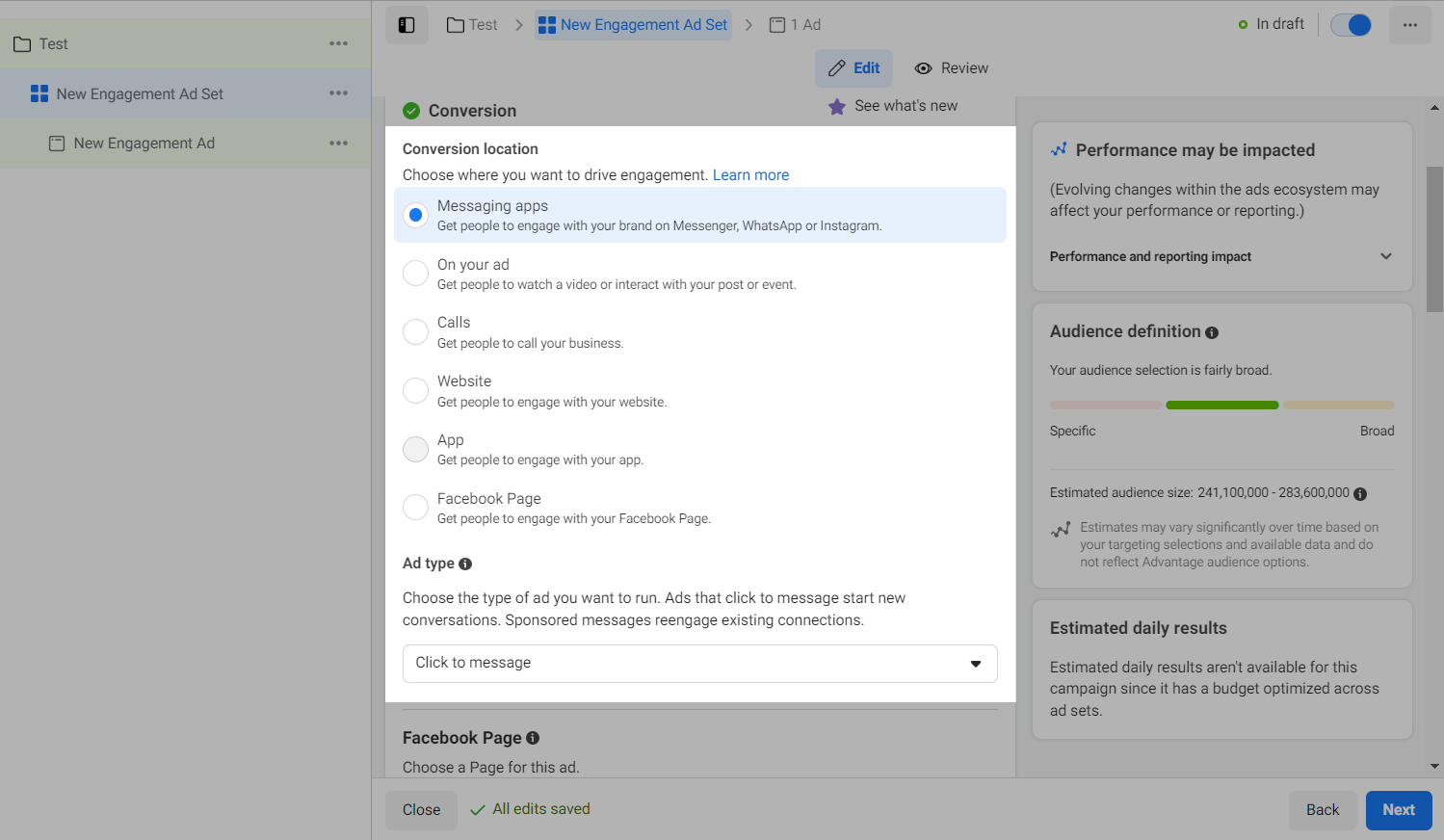 Set Your Campaign Schedule
Set a start and end date of your advertising campaign.
Identify Your Target Audience
Define your target audience — set your audience's location, age, gender, and interests, or select your existing audience.
Select Your Ad Placements
Ad placement allows you to specify where and how to display your ad. You can choose the "Automatic placements" option or select them manually.
Step 3. Add Your Ad Content
Choose a Format
Choose how your ads will be displayed ("Single image or video" or "Carousel"). In our example, we chose the "Single image or video" option.
Add Media
Enter the body text of your ad campaign, add media files, and select a call to action.
Read also: On Customizing Creatives for Different Placements and Call to Action Buttons Available for Different Purposes.
Don't forget to optimize the images you add. Pay special attention to the images you include in Stories because they need to have the 9:16 aspect ratio. To upload a new image, click on the pencil icon.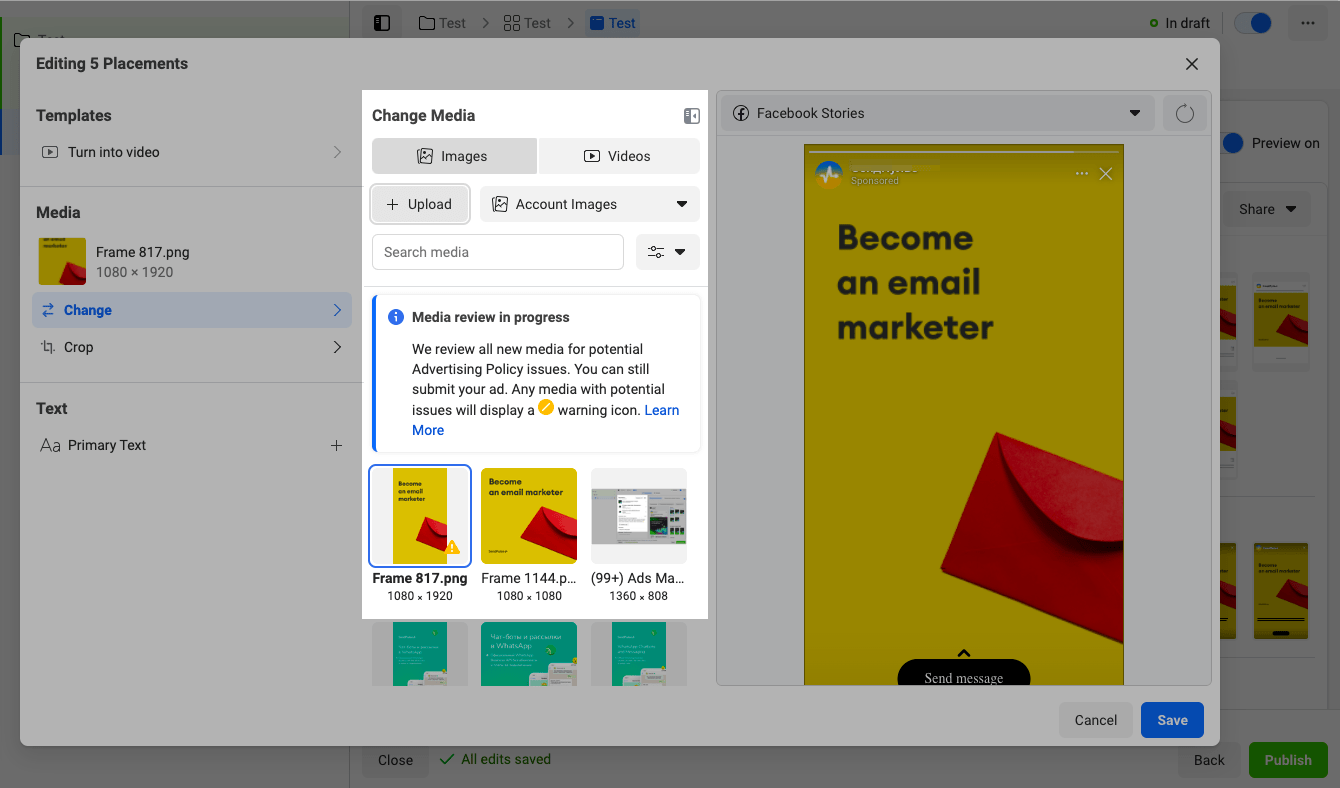 Create a Message Template
To create a message template users will see after clicking on your ad, click Create.
Select the type of your greeting message: text only, text and image, or text and video.
Enter a greeting message, and set up FAQs or quick replies. Let's talk about each of them in more detail.
Frequently asked questions. You can add multiple questions, each of which can be up to 80 characters long. When the user clicks on the question, it will trigger the start of a specific chatbot flow.
Quick replies. Add multiple replies, each of which can be up to 80 characters long, and select the "Connect your bot" option from the drop down list below. When the user clicks on the quick reply, it will trigger the start of a specific chatbot flow.
Buttons. Enter your button text that is up to 20 characters long, and choose an action: go to site or launch a chatbot. To continue the conversation in your chatbot, select "Send a postback."
Please note that to launch a chatbot flow, your FAQs, quick replies, or button names must contain the keywords set as triggers that launch the desired flow in your chatbot.
Click Save and Finish. Then, click Publish to launch the ad campaign.
How to Start a Chatbot Conversation via Your Ad
When users see your ad based on the chosen placement and click on it, they will see the ad content. Then, they will click Send message, which will trigger a specific chatbot flow.
How to Track the Effectiveness of Your Ad Campaigns
Go to "Campaigns," and select the desired campaign from the list.
You will be able to view your campaign results, estimated audience size, the number of impressions, the cost per result, and the amount of money spent.
You can also view more statistics, for example, statistics on user engagement and reactions. Click "Columns: Performance," and select the desired metric.
Read also: How To Use Ad Relevance Diagnostics.
You can also use filters to segment data in reports and define target audiences more effectively. You can segment your audience by age and analyze your ad performance by location.
Last Updated: 01.02.2023