Link building, easy to share content, and guest posting are all key to digital marketing success. If only there was a way to combine the three into the ultimate marketing tool…
Enter: the guestographic.
Guest posts that include infographics have become pretty effective for marketers looking to direct more traffic to their site. They can help even the smallest of businesses build high-quality links, boost their SEO, and pave the way to that all-important first-page ranking.
For those unfamiliar with the term, guestographics are simply infographics published on your site and shared as guest posts on others.
Guest posting has been a common link building tactic for years now. Still, recent figures suggest that infographics are one of the best ways to build links as they place information in an easy-to-read and easy-to-share format — making the chances of other people linking to the content from their own site much higher.
By posting your infographics to other people's sites and making them shareable, you can find yourself with hundreds of links back to your site within just a few hours. So if you don't want to miss out on this powerful technique, keep reading to find out how to use guestographics to boost your SEO and how to make your content go viral.

What are guestographics?
In very basic terms, guestographics are posts that feature both text and images shared on different websites.
Guest posts were once the bread and butter of link building, but marketers far and wide are starting to notice that they have become a lot less effective in their current form. Instead, guest posts seem "spammy" and may be avoided by both readers and the site owner.
But with guestographics, guest posting has been upgraded into a new, sparkly marketing tool.
A strong guestographic strategy will involve creating high-quality infographics to publish on highly-relevant, high-ranking sites. Rather than filling the page with blocks of text, infographics take all the important information and condense it into a palatable, visual asset.

How to improve SEO with guestographics
So, how can guestographics help enhance your SEO and take your site to new heights?
First, you'll need a strategy.
By following the steps below, you'll be able to create the perfect plan for your guestographic success.
Define your audience demographics
Whenever you're creating content for your business — whether that's a social media post, email, or guestographic — you always need to think about who you're trying to target.
To improve your SEO with guestographics, you need to clearly define the demographic you're targeting. Adding significant value to your content for your chosen audience will help you boost your conversion rate tenfold.
A list of attributes that define the target audience:
age;
gender;
location;
education;
occupation and income level;
consumption habits;
most preferred social media channel;
It's no secret that visual content is the most appealing online content format. This means that you can almost always guarantee that using infographics will have a positive impact on your brand's performance — if you make it relevant to your audience, that is.
Just take a look at the Pinterest empire: It's an entirely visual search engine with millions of users sharing and re-sharing content day in and day out. If this isn't direct proof of how powerful visual assets can be…
Choose the right type of guestographic content
It goes without saying that not all content can be turned into an eye-catching, successful infographic. Finding the right type of content to convert into a guestographic is integral to your success. Choose a topic that is fresh and relevant to the current market for the best results. Nobody is asking you to reinvent the wheel, but you also shouldn't just reinvent the same content over and over again.
Take a look at publications that focus on your industry, and see what's trending. This will be the key to creating a graphic that is worth sharing. You can also add a little light-heartedness. Humor always sells. Your infographic should have fun elements such as a nice color scheme and cartoon imagery — as long as this works for your target demographic.
Find and filter the best keywords for your guestographic
Even if you're not writing a guest post, it's important to do keyword research. Use an SEO platform like Ahrefs or Semrush to dig into what people are looking for and how competitive the SERPs are.
Finding suitable keywords for your content and filtering them to create relevant and result-orientated options is key to improving your SEO.
If your graphic is all about gluten-free baking, search for this keyword online and take a look at what sites come up. These will be your prospective sites to pitch to.
Keywords can be used in the graphic itself, but also in a brief summary on your site, the guest publishing site, in the alt text for your image, and — of course — in the title and meta description.
Create an infographic that stands out
Even with a killer topic, the best keywords, and a definitive target audience, your guestographic isn't guaranteed to do well. To set your content apart from the rest, you'll need to ensure your graphic stands out from the crowd — and in a good way.
Choosing a layout for your infographics is not something to rush or leave till the last minute. A content-first design and useful information all need to be balanced in a comprehensive and appealing layout. Some may refer to the layout as a wireframe — it's there to organize all your information so that you can present it in a systematic, easy-to-understand format.
If you have the technical prowess or the budget to outsource your design, you might want to consider making your infographic interactive — or at the very least, animated. Video and moving graphics like GIFs tend to catch the eye — meaning this could be the difference between your guestographic blending into the background or standing loud and proud in center stage.
And it's not just young folk that enjoy a moving image: 59% of business executives confirm that they'd rather watch a video or view visual content than read about the same topic — meaning there's a place for infographics in literally any industry.
Create a winning guestographic pitch
Your guestographic is only as good as the sites that share it. And for that, you'll need a great pitch. Why should someone link to your content from their site? What do they get out of the collaboration? When pitching yourself to potential guest sites, you should be clear and direct about how your content will add value.
To sweeten the deal, you might want to consider offering them a free guest post to go with the infographic. That way, they get a nice batch of content without lifting a finger. When a site can clearly see how your proposal will benefit them, they are much more likely to say yes.
This sweet "bribe" is just part of Backlinko's guestographic method, which saw their page's organic traffic increase by a whopping 175.59% in one month. So it really does work.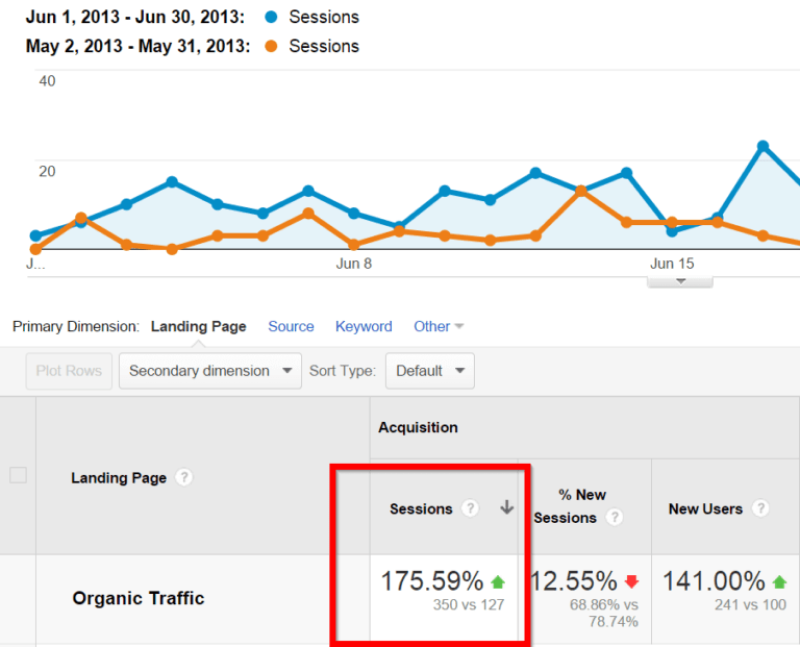 Send over an email to any site owners that you think would be interested or whom you think would be a good fit for your own site. The worst that can happen is you don't get a reply or the site owner declines the offer to share or post your content to their site.
However, you could find yourself with a lot of potential backlinks from all the right people. For the sake of a few emails, what do you have to lose?
Pro tip: Don't dive in and attach your infographic. You want to create intrigue. Your first pitch email should be short, sweet, and only ask if they want to see your content.
Promote your guestographic effectively
The hard work doesn't stop here. If you really want your guestographic to work, you need to promote it. Only you can get your post to be the best.
Social media
Of course, the best place to promote your guestographic is on social media. In fact, 73% of marketers say they've received a lot of value from social media and 58% consider it an important part of their overall campaign strategy. Facebook, Pinterest, LinkedIn, and Instagram are all great places to promote your work. And if you've chosen the right layout and design, your asset will be seen by all the right people.
Collaborations
Sites that offer similar content may be willing to share and promote your work for you. And there's no harm in asking. Reach out, and perhaps you could offer to share their content in return.
How to get backlinks using guestographics
As mentioned above, Backlinko's guestographic method proves just how effective this type of content can be. But there is a key element you need to be aware of.
There is a difference between guestographic backlinks and embedding.
When you share visual content from other sites, it typically embeds with a "source" link in tiny letters below. And how often have you ever clicked a source link? Probably never. Unfortunately, this isn't the kind of link you're looking for if you want your guestographic to improve your SEO and build your authoritative backlinks. Google actually sees embedding links in the same way as semi-automatic links. Essentially, these sorts of links won't do anything for your ranking.
Instead, by offering a free guest post alongside your infographic, you can surround your link with relevant content on the guest site — which in turn, not only makes your graphic more appealing to the reader but also improves your SEO performance.
How to make your infographic go viral
Getting a few backlinks is great. But why not reach for the stars? Why not go viral?
In the fast-paced world of online marketing, an effective post is just a blip in the ether. It may have its 15 seconds of fame where it boosts your SEO performance, gets a bunch of views, and creates the backlinks you'd always dreamed of, but after that, it's old news.
So how can you get even more out of your short time in the limelight? Well, you can work to make your post go viral, of course.
In a nutshell, here's what you need to do:
Submit an SEO-optimized press release. There's nothing quite like a little self-promotion to get you where you want to go. Creating a press release is the perfect way to introduce your content to the world while covering a topic that's hugely relevant to your target audience. Don't forget to make sure it's fully SEO-optimized too.
Create a social media release. Before you start posting your infographic to every corner of social media, create a little hype. By getting your target audience intrigued and excited by your content — without even seeing it — you'll be able to lap up the benefits when you officially release your graphic to the masses.
Create a social media sharing plan. After the initial social media release, you need to be strategic about when, where, and how you share your infographic to your social channels. Platforms like Tailwind are great for finding the right times to publish content to Pinterest, which will be essential in helping your post go viral.
Submit your infographic to directories. You can offer the same inspiration to others by adding your infographic to directories. Then, it'll reach wider audiences than you ever imagined, all with the possibility of more shares and backlinks.
Start doing manual outreach. Finally, you can start manually reaching out to people to share your content as the last push. While this might feel a little cheeky, it can go a long way to making your post viral.
Here's a recap of the steps you need to take to make your infographic go viral.
Conclusion
We already know just how effective visual content can be. In fact, it's probably safe to say that visuals have a much higher chance of going viral than their text counterparts.
This is why the potential of guestographics has no end. By backlinking to your graphic and surrounding that link with relevant content, you could find yourself ranking page one in for your topic.