Creating a great bio for Instagram is like writing a haiku: you need to say as much as you can in as few words as possible. Let your Instagram bio be another thing that sets your business apart. To accomplish that, you need a bit of creativity and inspiration, and this post can help you find it. We'll also share some tips on how to drive UGC and conversions with the help of that tiny text underneath your username.

Why is it important to have an awesome Instagram bio?
The platform gives you just 150 characters to describe your business, and that's exactly how much a new visitor will see before making a decision to follow, or not follow, your account on Instagram. You can impress them by introducing your brand with a few snappy words.
Photo and video content is important, but what are the chances your users will even want to see your posts if your bio is not inviting at all? You can't risk it. The first impression is everything, so make sure your Instagram bio works to your advantage.
An effective bio is one that presents your brand and sets the tone for what comes next. It convinces your audience that they've landed on your Instagram page for a reason and keeps them wanting more — making them subscribe and scroll down or even click on your link or CTA button.

How to make a good Instagram bio: essential components
It's not as simple as it might look at first. A good bio for Instagram includes a few elements that are easy to miss if you don't know what to strive for. Even big brands sometimes make this mistake and write uninformative and unclickable bios, and here is an example that illustrates that.
Something feels a bit off in this example, right? It's an official account, but it has a bunch of unclickable mentions and a lack of supporting text in the bio section. It creates the impression that it's either an abandoned or suspicious page. Certainly, not the worst situation, but it's disheartening to see since those mistakes could have easily been avoided.
Here are some essentials that any Instagram bio for business should have:
basic description 一 captures the essence of your brand for those unfamiliar with it;
hashtags 一 build a community around your brand and boost UGC;
business category 一 contributes to your description and improves brand recognition;
contact button 一 allows users to call, message on WhatsApp, or email your business directly from Instagram;
location 一 literally puts your business on the map;
link 一 sends your followers to your website or a standalone link page;
mentions 一 help users discover other accounts belonging to your brand.
You can add and edit all of this information by clicking on "Edit profile" after opening your Instagram account.
With its current functionality, Instagram enables you to add clickable mentions and tags using special buttons.
Call to action buttons are category-dependent. For example, these are three available options for a food delivery business: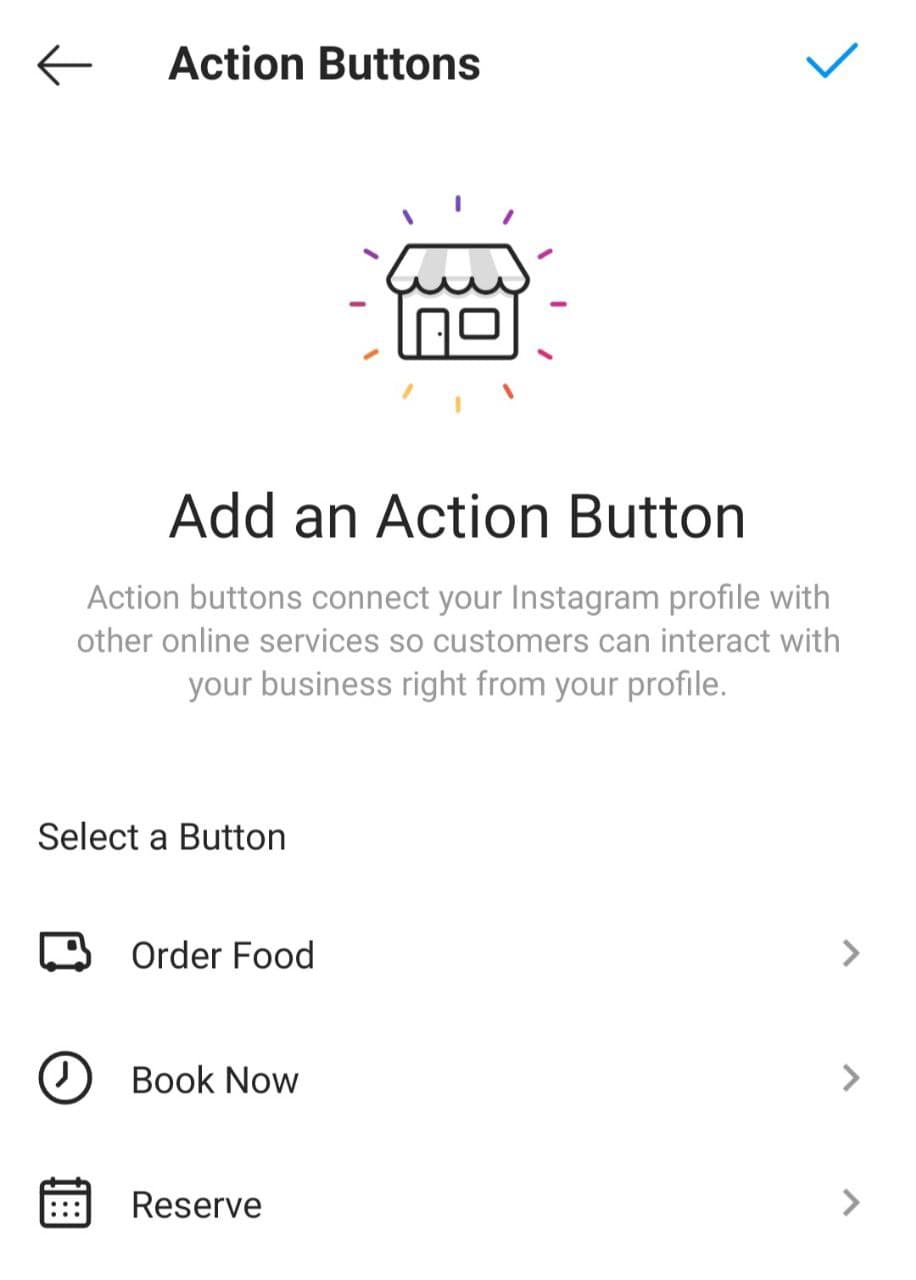 Ok, now you know what to put in your Instagram bio. Let's discuss how you can do it.
How to customize your Instagram bio
We're sure you want your bio to be not just good but great. Let's decode the secrets of creative Instagram bios, one trick at a time.
Fonts
You can experiment with different fonts to highlight a certain part of your bio. Vintage, sci-fi, cute, historic, or grunge style 一 you name it. Creative fonts will help your bio stand out.
Make your Telegram messages and posts more readable and expressive with our
formatting tips
!
Instagram doesn't provide users with many editing options, but there is no harm in copying and pasting your text from elsewhere. We recommend using online editors with compatible fonts that are guaranteed to display correctly on Instagram.
Here are a few tools that can help you instantly alter the look and feel of your text:
Most of these and similar editors work the same way: you just type or paste your text and instantly get the same text written in different fonts. You choose the one you like the most, copy it, and paste it into your bio. Some editors even allow you to see a preview of how your text will look in your Instagram bio.
There is another way to get your hands on some creative fonts for Instagram 一 you can install them as additional keyboards. But it only makes sense if you need those specific fonts on a daily basis.
Needless to say, the same editors can be used to spice up your captions, so they are certainly worthy of being bookmarked.
Emoji
You can insert any standard emoji in your bio and use them to add emotion, attract attention, and express your brand's personality. Typical ? and ? aren't going out of fashion yet, but we recommend going for less trivial emoji relevant to your specific niche.
Here is another great bio for Instagram where emoji really help drive the message home.
Emoji also make a great substitution for bullet points and improve the overall skimmability of an Instagram bio for your business.
The question of how many emoji to include is an industry-specific one. In the example above, the brand intentionally cultivates that "girly" look, and five emoji in its bio look natural. If you, however, create an account for a tech company, you may want to abstain from them altogether.
Special characters
Remember how Unicode symbols were all the rage in the era of ICQ? Special characters seem to be making a comeback because emoji are slowly becoming overused. Also, colorful emoji may not fit with a certain account aesthetic, and then it makes sense to reach for special characters to replace them.
A special character can be as simple as a trademark sign.
Special symbols can also amplify a minimalistic style, as in this Instagram bio example.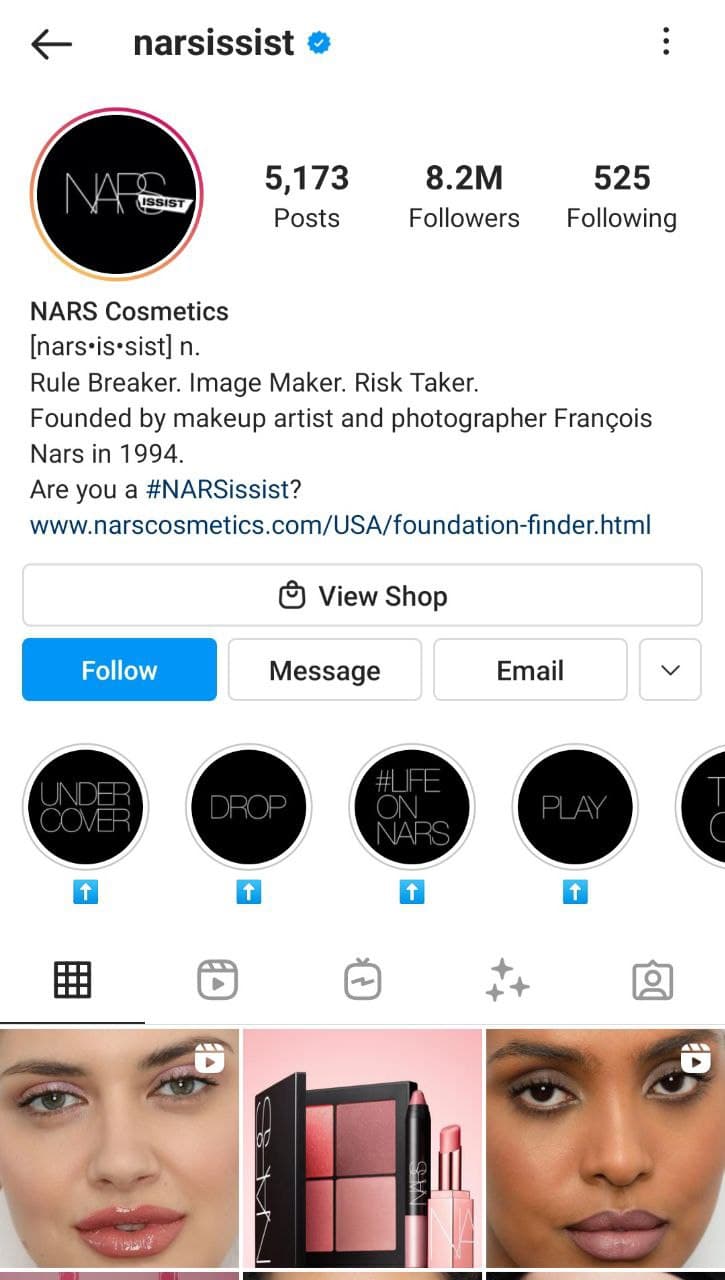 To add them to your Instagram bio, open a new Google Doc or a new document in the text editor of your choice, then click "Insert" and choose "Special characters." You can just as easily copy and paste them as you would with emoji.
Line breaks and white space
Adding some air to your text increases its legibility and, sometimes, beauty. Also, it helps you mention different things in the Instagram bio for your business account without making it too cluttered.
The times when you had to copy and paste an invisible empty character are now almost over: Instagram allows you to make line breaks and add extra spaces between characters in one click. If you want to create an empty line, add a space symbol and then click "Enter" to keep that line "occupied" but visually empty. Keep in mind that spaces also count as characters, and you have only 150 of them available.
If, for some reason, this type of formatting is impossible in your version of Instagram, add necessary line breaks and spaces in your note-taking app and then copy and paste it.
Link page
Many businesses on Instagram put multiple links in their bios because it helps them share more content, and you can do that too. With our landing page builder, it takes just 10 minutes to create a page like that and customize it to your liking.
Here is how Adam Audio uses a clickable link page to share videos, news, and downloadable content with its Instagram followers.
You can find similar pre-made templates in our library and adapt them to fit your unique brand style. Our intuitive builder is entirely code-free — no special skills are required. In the end, you get a professional-looking landing page you can share in your bio for Instagram.
Link pages like this help you put all your social media links and other resources in one place and, therefore, make it incredibly easy for your users to learn more about your business and what you do. It's also a chance to boost your conversion rate since you shorten the customer journey.
If you do a lot of storytelling, you might want to follow Dyson's example and create a clickable gallery where each Instagram post is linked to a relevant blog post or a web page.
Finally, let's take a look at the more advanced version of a link page from Electrolux to quadruple your inspiration.
As you see, it's a beautiful standalone page that perfectly introduces the brand and its new initiatives, yet isn't as cluttered as a regular multipage website.

Additional Instagram bio examples and the best practices
We've gone through hundreds of accounts and handpicked the most interesting examples of creative Instagram bios for business. Check out our findings below.
Nivea
You wanted tips for Instagram bio 一 here is a whole formula worth stealing. Nivea does it right by introducing itself with a short, to-the-point phrase complemented by a branded hashtag and a link page.
It's just enough to make the bio memorable without overstuffing it. The name of the company is written in all caps to make it even more prominent and mimic its original look.
Barbour
If your brand has a rich history, your Instagram bio is the perfect place to reflect that. This way, new visitors will know for sure that your business has been around for a while and is trustworthy.
Barbour's hashtag references their iconic black and yellow roundel that serves as a symbol of impeccable quality. This hashtag is even more unique and punchy than the brand's name — you might find this practice useful for your business account too.
Colgate
User-generated content is something all brands crave: it helps them demonstrate their products in real life, build a strong community, and boost virality. Branded hashtags do all the work, but only if they are easy to find, like in this Instagram bio example.
Don't make your users search for your hashtag every time they feel like sharing brand-related content. Put it in your bio, and you'll automatically drive the most authentic type of content and create a unified gallery of your customers' stories.
Google
Instagram bios aren't necessarily static — they can and should reflect big changes happening to your business. If you update yours regularly, it will help your followers catch up with your brand and learn about its transformations.
Notice how Google mirrors the message in its posts and Stories to let everyone discover its new account and stay connected to the brand. This is another great practice that can help you keep your follower base instead of just abandoning them with your old Instagram profile.
The Long Drink
This Finnish alcoholic beverage brand gradually has conquered other countries, hence the emoji with the American flag. If you want to share great news in your bio, but the character limit is holding you back, using emoji is the way to go.
This particular bio also manages to comply with the legal requirements forcing alcohol producers to mention the minimum drinking age — another thing that wouldn't be possible without emoji. The cherry on top is a branded link page.
GROOVY GAL
Independent brands, just like mass-market brands, can get overwhelmed with tons of messages from their customers. Unlike mass-market brands, they don't have enough resources to manage that ever-changing stream of questions. One potential solution is to answer some of them in the bio section.
This cheeky bio not only reflects the brand's personality but also conveys important info to the customers. Instagram users can continue scrolling through their products, knowing they can actually purchase any of them with ease and pay the way they prefer.
Fiorucci
If you want to give your business account on Instagram a more classy and elegant look, put an inspiring brand statement in your bio instead of puns and quotes. You can mention your brand mission or explain what makes it special.
Emoji, as in this Instagram bio example, can dilute the overall seriousness of your bio, so use them with caution.
Toyo Tires
The tire brand is known for supporting the most prominent and bold riders and racers — no wonder that it uses a bold typeface in its Instagram bio. It makes the summary truly stand out.
All caps and generous spacing only increase the overall impression from this Instagram bio. And, of course, Toyo Tires has a dedicated link page that helps the company share more content and resources with its subscribers.
Tiffany & Co.
Another beautiful and witty bio that perfectly captures the essence of the brand it represents. This summary also pays homage to the brand's history, spanning over two centuries, which makes it even more impressive.
As you know, there are many Tiffany stores across the world, and that's why this bio specifies the location of their headquarters. You can do the same thing by tagging the location of your head office on Instagram instead of leaving a blank space.
Starburst
Here is another tip for your Instagram bio: instead of composing a wordy sentence, come up with two or three words or ultra-short phrases encapsulating what your brand is about. It reads way more strong and dynamic, and that's what we are after.
This strategy works great even if you don't have a specific tagline yet. Your bio is a great place to exercise your creativity without committing to anything.
The NAMED Collective
We've mentioned experimenting with fonts and special characters, and here is a great example. This bio is sassy, bold, playful, and punky — and Unicode symbols play a big role in it.
If this mood resonates with your business, feel free to try something just as daring and make your bio truly outstanding. The only rule is not to sacrifice legibility.
Sézane
If you want to mention a few related accounts in your Instagram bio, do it right: make those mentions clickable and provide some explanations as to why your users should check them out. Emoji are your best friends since they help you save a lot of space.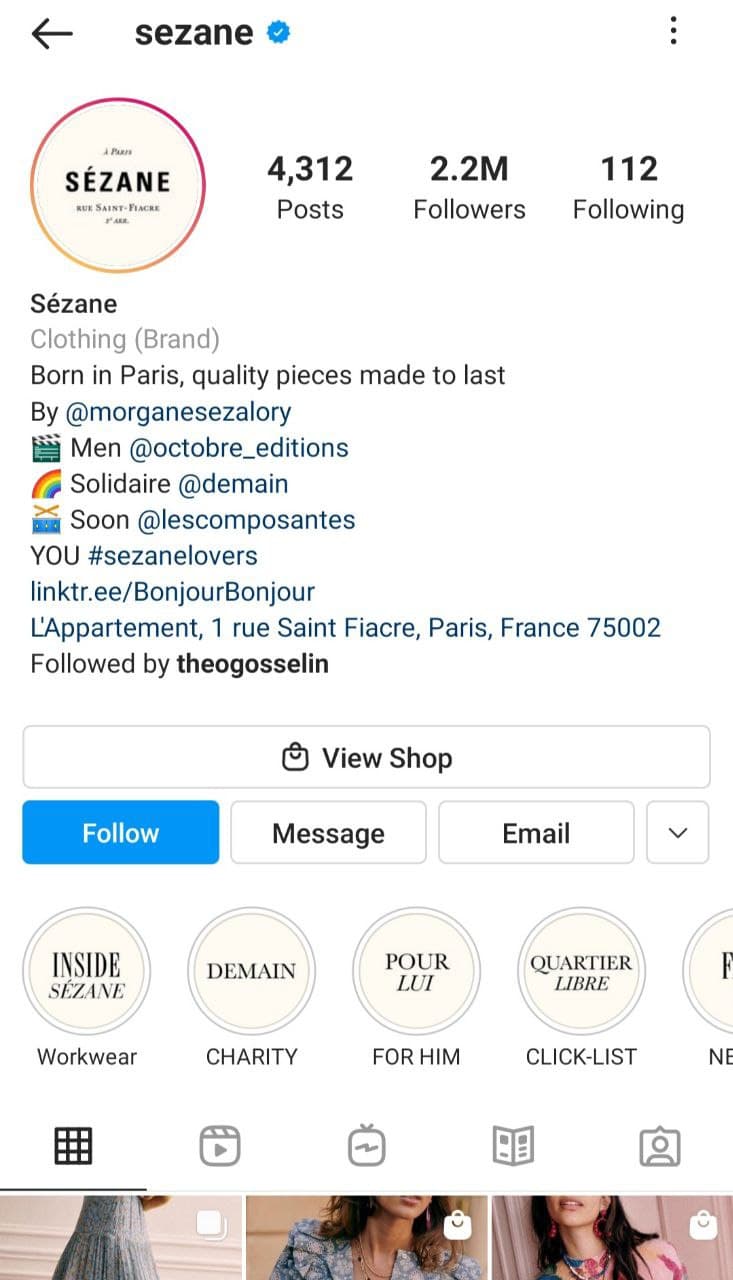 This Instagram bio example proves yet again that you can squeeze a lot out of those 150 characters if you know what to include and what to drop.
Montblanc
You already know that you need to include a call to action button in your bio. But how about including a verbal call to action in your summary as well? Turns out, it can make an Instagram bio sound more motivating and encouraging.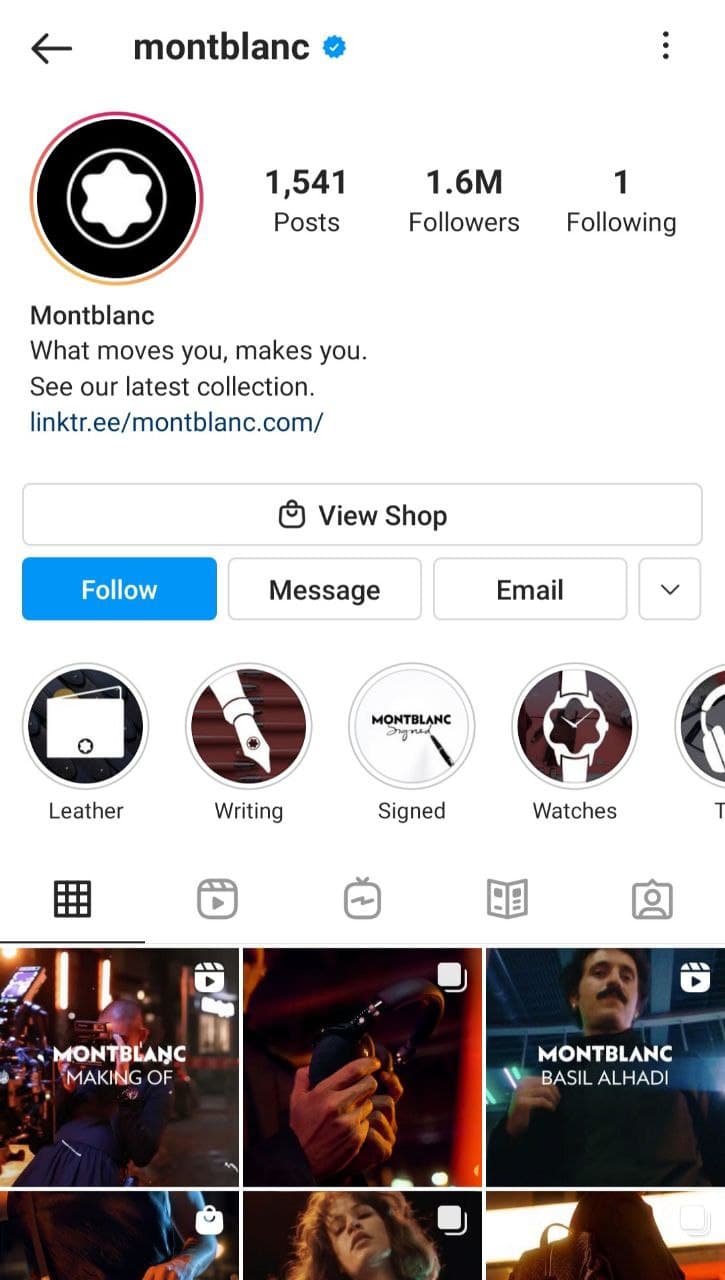 Active verbs are really effective at pushing readers towards taking a certain action. That action can be visiting your website or checking out your special offer — the options here are limitless.
Halls
Who said all caps is out of fashion? Halls proves that all caps can look bright and refreshing, especially when spiced up with proper emoji. Of course, this approach works better for brands with a young audience rather than for mature companies.
This bio is also interesting because the emoji color scheme corresponds with other brand colors used in the account.
NV Gallery
Speaking of curated emoji, this example also illustrates how you can use them without making your bio look tacky or oversaturated. Just stick to one color that is the closest to your brand's color palette, and you'll get a tidy and unique Instagram bio.
Emoji as bullet points are great at dividing a text into digestible chunks that can be scanned in milliseconds. They also give it a more unified look, especially if you use similar emoji in your posts.
Summing up
Now you know what to put in your Instagram bio. How about making it even more powerful by including a beautifully designed link page in it? Don't miss out on this opportunity — try our landing page builder now, and you'll see how quick and easy it is to create your own landing page for social media.
Your options aren't limited to Instagram! Share that link wherever you want and help your new audience get to know your brand without ever leaving their favorite communication channel.