Promotional marketing is a set of activities to share knowledge about a particular brand, product, or service with as many people as possible with the aim of increasing brand awareness and sales.
The Objectives of Promotional Marketing
Promotion of new products or services
Development of brand image
Informing customers
Showing superiority over competitors
Turning potential buyers into real customers
It's vital to determine your promotional marketing objectives so that you can achieve your goals. There are various objectives to bring into focus:
Promotion of new products or services. It is possible to introduce new products and services to the market against existing ones — a chance to find a place in the niche.
Development of brand image. Brand image is when people associate a brand with a particular product. For instance, when you think about toothpaste, Blend-a-med and Colgate come to your mind, when you think about tires, it's Pirelli and Bridgestone when you think about soccer — it's Manchester United and Real Madrid. This promotion objective tends to create or restore the brand image and makes products more recognizable amongst others in the market.
Informing customers. Marketing promotion is vital for telling people about changes in products or brand's policies. It also helps to describe the features and details of the products.
Showing superiority over competitors. Everybody uses promotion marketing these days, so to be competitive, each brand needs to apply a long-term promotional strategy.
Turning potential buyers into real customers. If promotion marketing styles like personal selling, advertising, and others are used appropriately, they stimulate demand for the product.
Types of Promotional Marketing
Personal selling
Advertising
Direct marketing
Sales promotions
Public relations
Personal selling. This one-to-one communication with potential customers is the most expensive type of promotion, but also the most effective when done correctly.
Advertising. Ads play a crucial role in making brands recognizable. Good advertising with an accurate, targeted message will reach both existing and potential customers.
Direct marketing. Performed through social media, email, and SMS marketing, unlike advertising, direct marketing intends to build relationships with people who have had your brand or product on their radars before.
Sales promotions. Promos stimulate purchasing and sales by giving discounts, cashback, free shipping, gifts, and more.
Public relations. This promotion style is a chance to build a positive and attractive brand image. With PR promotions, marketers analyze the way people respond to their brand, find out the positive and negative associations with their company, and work on the reconstructing of the brand's image.
How to do Promotional Marketing
Understand the needs of your target audience
Decide which marketing channels to use
Determine the objectives
Develop a proper promotion mix
Come up with your promotional message
Set your budget
Monitor the results
Understand the needs of your target audience. Think about the people that you want to receive your promotions. If your promotion efforts are to the point, it will be easier to get your point across to your audience.
Decide which marketing channels to use. Define the most suitable channels to accomplish your goals. For example, SMS marketing is right for promotional purposes on a local scale. For more international outreach, companies should use email campaigns, which are not only promotional but nurturing and trust-building. Besides, SendPulse offers free web push notifications to reach customers who did not interact with your emails and SMS.
Determine the objectives. Think about the results you want to achieve with promotional marketing. Set realistic targets; don't try to satisfy the full list of your business's goals at once.
Develop a proper promotion mix. A promotion mix is a model for creating a promotional plan based on the 5p's: people, price, place, product, and promotion. Before you attempt to conquer new markets, think about the most critical aspect of promotion marketing — the people, and come up with a suitable promotion mix.
Come up with your promotional message. Create a message that sounds familiar and understandable for your target audience. Be humorous and trendy when you talk to younger recipients. Be formal and reliable when communicating with professionals.
Set your budget. Set your expectations for your promotion marketing budget according to your resources and find out the cost for each channel you are going to use during the promotion.
Monitor the results. Use all available tools and data to understand if your promotion is a success.
It's high time to choose a professional marketing service to bring your ideas to life without any limitations.
Get promoted!
Increase your outreach and generate more sales with our advanced tools. Craft personalized email campaigns, push notifications, and SMS.
Promotional Marketing Ideas
Create a contest
Include gifts with your brand identity
Rewards card
Free shipping
Upsell
Cross-sell
Send engaging newsletters
Show video testimonials
Demonstrate your product
Create a contest. People love to take part in different kinds of lotteries, where they have a chance to win something valuable for free.
Include gifts with your brand identity. Many customers like when companies give them bags, pens, and other stuff. When people use those things in their day-to-day life, they are continually promoting your brand.
Rewards card. Offer your subscribers a discount or a free item after they make a specific number of purchases.
Free shipping. This is an effective trigger to attract your audience's attention. Give free shipping for specific products or at a particular time of the year, for instance, on holidays.
Upsell. Offer upgrades and advanced products to people who show interest in your business.
Cross-sell. Propose additional products like headphones or phone cases if someone recently purchased a smartphone.
Send engaging newsletters. Use email marketing to help people remember you. Make newsletters exciting and relevant to your audience.
Show video testimonials. Ask your customers to leave feedback about your product or service on the socials in exchange for free coffee, for example.
Demonstrate your product. Show people how your product works, give your customers a chance to use it before buying.
Promotional Marketing Examples
Aldo promotes its products with free shipping and a contest with the opportunity to win up to $500.
Grammarly upsells their Premium Account in a series of emails, offering different discounts and plans.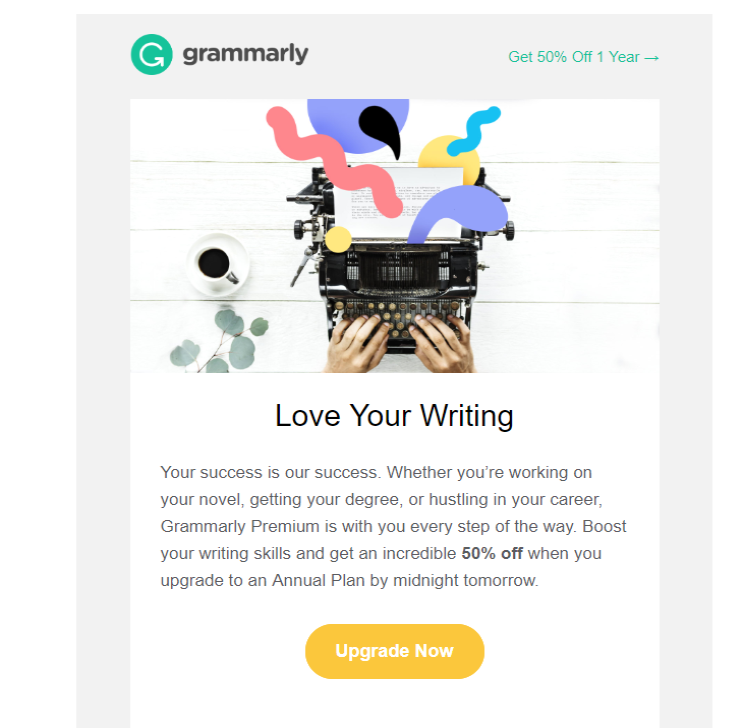 Art.com promotes artwork by celebrating President's Day Weekend with 50% discounts on [almost] everything on their site.
Last Updated: 2020-04-07