A Business SMS is a short text message that companies send to promote their products, inform about discounts, give coupons, or share important updates and news with their community.
Watch this video where a professional mobile marketer shares the four most important tips for running successful business SMS campaigns.
Benefits of Business SMS
Has global coverage. GSMA claims that over five billion people use smartphones around the world. It means that with this marketing channel, you can reach your target audience with ease.
Motivates a quick reaction. According to VentureBeat, people check business SMS within three minutes on average after it is sent. If users expect to receive SMS from you, the open rate will be tremendous — up to 98%.
It creates a high level of engagement. Business SMS makes communication with people more useful since people check their smartphones about eighty times a day, according to NY Post.
Works great for local businesses. Sending business SMS is especially useful for local businesses because it allows encouraging people to visit your store.
Types of Business SMS
Transactional. This type allows e-commerce stores to confirm orders. For postal services, it is a way to provide tracking and delivery information. Internet services utilize transactional SMS for confirming access to accounts by sending temporary passwords or as an additional security check.
Promotional. Helps in your marketing efforts, serves as a platform for sending proposals, discounts, and coupons. This type also serves to share relevant news or to invite to webinars, conferences, and other events.
Business SMS Sending
To send business SMS, you need to take three steps:
Register at bulk SMS service. SendPulse offers SMS on over 800 networks in more than 200 countries at affordable prices.
Collect a list of phone numbers. To achieve this goal, you can create and place a subscription form on your website. Add a phone number field and make it obligatory for filling in. To acquire more users, make use of lead magnets.
Create and send a business SMS campaign. Include your brand's name so users could understand who the sender is. Make sure you put your offer in the first place since the users are in a hurry most of the time. Let them know what's the deal as soon as possible. Create a strong and clear call to action, clarifying what to do to take advantage of your proposal.
Business SMS Examples
Sephora. The company uses a promo code in the example below, which allows customers to save 20% on all products.
H&M. The apparel brand incentivizes to visit the store and do some shopping to celebrate their anniversary.
Airbnb. For travel and hospitality companies, using business SMS is an excellent way to promote tours with the help of time-limited discounts.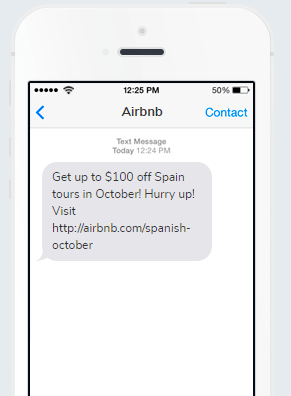 Business SMS Best Practices
Opt-in users. Similarly to the Can-Spam Act and other laws in email marketing, you need to get explicit consent from users to receive your SMS. If you send unsolicited text messages, the users will have an unpleasant experience associated with your brand. Besides, they may complain about your brand.
Segment your audience. Divide mobile users into groups based on characteristics they share: location, age, gender, etc. Segmentation allows you to send more personalized offers, which increase revenue by making your mobile marketing efforts more cost-effective in the end.
Make exclusive offers for mobile users. Let them feel VIP. The exclusiveness of the proposals via the SMS channel is one of the most actionable incentives to engage new people.
Keep the message short. Business SMS has its limits, so keep it less than 160 symbols. Otherwise, it will be divided into two messages — more challenging to read and twice as expensive.
Send it at the right time. Avoid sending business SMS at late hours and early in the morning. Communicate with your audience during the day, especially lunch breaks and the end of the working day. You can schedule SMS with SendPulse to plan your marketing efforts more wisely.
Integrate with email marketing. These two marketing channels complement each other in terms of delivering value. In case the user misses your email, you can automatically send a similar proposal via SMS. To achieve that, create an email workflow and include SMS into the sequence of messages.
Read our blog article to find more ways to power up your SMS marketing here.
References
The article "How to Send a Business SMS" by Chron defines the term and provides actionable tips.
The article "Things To Consider When Implementing SMS Into Your Business Communications Strategy" by Forbes shares best practices on how to start sending business SMS.
Last Updated: 2020-01-06