A Business SMS is a short text message that companies send to promote their products, inform about discounts, give coupons, or share important updates and news with their community.
Watch this video where a professional mobile marketer shares the four most important tips for running successful business SMS campaigns.
Benefits of Business SMS
Has global coverage
Motivates a quick reaction
It creates a high level of engagement
Works great for local businesses
Types of Business SMS
Business SMS Sending
Register at bulk SMS service
Collect a list of phone numbers
Create and send a business SMS campaign
To send business SMS, you need to take three steps:
Business SMS Examples
Sephora. The company uses a promo code in the example below, which allows customers to save 20% on all products.
H&M. The apparel brand incentivizes to visit the store and do some shopping to celebrate their anniversary.
Airbnb. For travel and hospitality companies, using business SMS is an excellent way to promote tours with the help of time-limited discounts.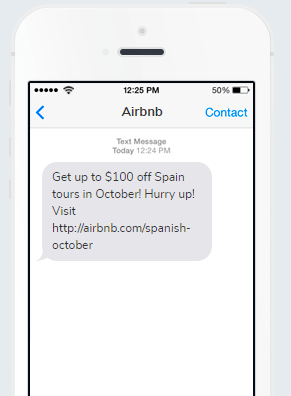 Business SMS Best Practices
Opt in users
Segment your audience
Make exclusive offers for mobile users
Keep the message short
Send it at the right time
Integrate with email marketing
Read our blog article to find more ways to power up your SMS marketing here.
References
The article "How to Send a Business SMS" by Chron defines the term and provides actionable tips.
The article "Things To Consider When Implementing SMS Into Your Business Communications Strategy" by Forbes shares best practices on how to start sending business SMS.
FAQ
Last Updated: 23.08.2023