A product launch email is an email sent to subscribers to inform them about an upcoming product release. Brands use these emails to build hype for a new product launch, features, or an event.
Why are product launch emails important?
After weeks and months of sleepless nights spent on releasing a new product, you have no room for error when launching it. A well-thought campaign topped off with the competitive advantages of your product and sent twice before the launch day will help you successfully build anticipation for your release.
To make your customers really look forward to trying your new product, you need to show how your new offering will help solve their problems. Remember, people are great skeptics, so they won't give you a chance unless you offer them something valuable.
With a product launch email, your goal is not only to build anticipation but increase brand awareness and win back passive clients. Perhaps, some of them have been waiting for a long time for your new innovation.
Now let's find out how to create and send an effective product launch email.
When should I send a product launch email?
The teaser email — two weeks before your product launch
The announcement email — 3 days to a week before the release
The product launch email
Send a series of three product launch emails. This will help you move your customers through the sales cycle.
The teaser email — two weeks before your product launch
Let's suppose you've been working on an awesome product and now your team is on the last lap of finishing the project. It's time to tease your existing audience with the great news. Don't miss a chance to create buzz around your brand. All you need is to do is send an email campaign.
Let your audience know that you are working on something huge and they can evaluate the benefits of your product very soon. Provide a short description of your product along with an approximate release date — you never know what could go wrong so avoid broken promises by using a more general timeline like "coming in July 2020." Try to resist the temptation of going into too much detail about the product, as the goal of this email is to create curiosity.
In the email below, Disney and ALDO sent this teaser email to announce their upcoming Lunar New Year Collection. With this cute email, they've managed to build anticipation and let their email subscribers get the new items 24 hours before the general public.

The announcement email — 3 days to a week before the release
This email is the official announcement of your product launch. Now that users are intrigued, it's time to unveil the mystery.
Reveal the benefits of your product. Tell subscribers about its main features and explain your product will solve their problems. Your goal is to explain the value of your product. Start by sharing an image of your product and include its name. Then, provide important product details that are relevant to your audience. To stir up interest, let your clients place a pre-order or provide an early bird discount. This will help you segment your mailing list accordingly and provide loyal clients with special treatment.
Check out this email from Everlane. They introduced their new winter puffers, described their quality, and specified the launch date, and told subscribers where to buy them. They provide a waitlist option so all of their customers will have a chance to get the new gear.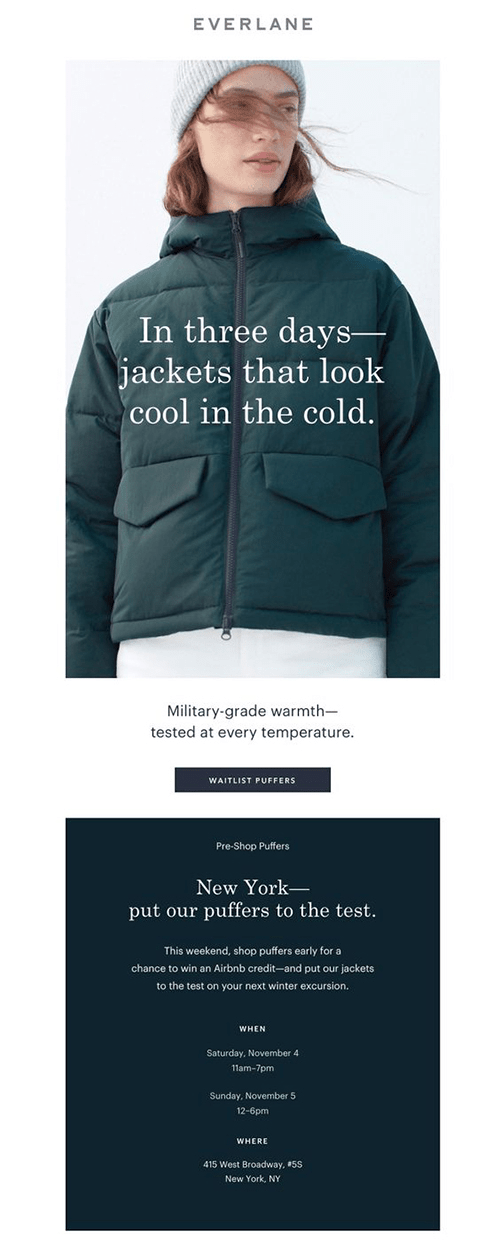 The product launch email
Finally! Send this email on the day of the product launch. Tell subscribers who this product is useful for, go over its features, and demonstrate the way it works. You can add a short guide and provide a link to step-by-step instructions.
Customers are often interested in what is going on behind the scenes. To satisfy their curiosity, send your email on behalf of your product manager, provide their contact information for those who have questions or want to share feedback, and add some backstage photos for your loyal clients.
Don't forget to include a powerful CTA. Let subscribers learn even more about your product by clicking the button from your email.
In the product launch email below, Shinola introduced their new watch and explained what makes it unique. They covered the features of the new product and added a CTA that helps users buy the product with a link to their website in the email.

How to Write a Product Launch Email
Write an eye-catching subject line
Keep your email copy straight-forward
Provide appealing images
Stick to your brand's design
Add a clear CTA
In this section, we will provide both writing and design tips to create an effective email campaign to launch your new product.
Write an eye-catching subject line
Your email subject line should win the competition for user attention in the inbox. Make sure it's relevant and unambiguous. Don't make it long — all you need is to let subscribers know that you've come up with something new. To convey excitement and joy, use emoji that will add even more anticipation. Support your subject line idea with an informative preheader. Tell users that they can try your new product or learn more about it right from the email.
We've collected some simple and cute examples of email subject lines. All the brands appeal to readers' emotions, tell them about their product launch from the very beginning, and use the preheader text to cover the benefits.
Keep your email copy straight-forward
Forget about a long-winded and too wordy introduction, promoting other offers and partners. Your product launch should be the sole focus of your email. To make sure that your email copy is concise but informative, answer the following questions.
What product have you launched?
Why is it important?
Who is the target audience of this product?
What are the benefits of using it?
How does it work?
How can I buy it?
If there are answers to all these questions, users won't have any trouble with your service. Don't forget to add your contact information.
TunnelBear below managed to create a friendly atmosphere to introduce their new password manager product. It explains why users need it and allows them to use it for free while in Beta.

Provide appealing images
Images help readers get a clear picture of your product. If you launch a new feature for your service — add a GIF image to show the way it works. If you launch a new line of shoes, you can even highlight the entire collection with a GIF. Let users choose the desired item by clicking on it and redirect them to the corresponding product card. Beauty brands often use this method to share makeup tips with their audience.
Check out the cute email below that Calvin Klein sent to introduce their new line of bras. Can't take your eyes off it, right? The brand gave subscribers a behind-the-scenes look at them shooting models for a new collection.
Stick to your brand design
We've already mentioned that product launch emails help brands increase awareness and recognition. It's only possible with the right design; use your brand color, logo, and font. It should be easy for readers to recognize your brand at first glance.
You don't need to create an email template from scratch every time you run a campaign. With the SendPulse drag and drop editor, you can create a unique template from scratch or choose a pre-designed one to use for free.
Look at the email below. If you have ever opened emails from Chanel, you definitely remember their design. Their emails are always minimalistic, black and white, including a brand logo at the top, and they "breathe" due to the healthy amount of white space. Nothing distracts the reader's attention from their new glasses. This is an excellent move.

Add a clear CTA
Only use one CTA so that you don't distract readers and their attention is focused on getting your new product. Make sure the CTA is visible and easy to tap on a mobile device. Make it contrast with the email's background, add white space, and provide a purchase link or a link to some useful resources.
Look at the email below. Allbirds managed to demonstrate their new line of socks and added a prominent CTA button which clearly tells recipients what to do next.
How to Send a Product Launch Email with SendPulse
Upload a mailing list
Create an email template
Schedule email sending
SendPulse offers a flexible and intuitive drag and drop editor. You need no HTML knowledge or other technical skills to create beautiful and functional emails in minutes. To get started, register with the service.
Step 1. Upload a mailing list
You can copy and paste your contacts, upload them from the file, import lists from a CRM, or add them manually, as shown below.
If you have no mailing list yet, create a subscription form with SendPulse to collect contact information from your clients. Follow this step-by-step guide.
Below you can see a subscription form created with our service. You can customize every element of the form and add as many fields as you need.
Step 2. Create an email template
You can use our drag and drop editor, choose from our pre-designed templates, or save any template you like from your Gmail inbox as a customizable template in your SendPulse account.
With our editor, it doesn't take a lot of time or skill to create an email template. Drag the necessary elements to your working field and design them to your liking. Add a background image, text, pictures, video, buttons, social media icons. You can change the email's font, color, width, and the alignment of any element.
Check out a product launch email created with SendPulse.
Step 3. Schedule email sending
In the last stage of creating an email campaign, you can schedule its sending. This way, you won't forget to send your campaign when necessary — just choose the date and it will be sent automatically.
Here you are! Now you can send your campaign.
Examples of product launch emails
Check out this short and sweet product launch email sent by Codecademy. The brand uncovers the main features of its new product and explains what a user should do to use it. A brief copy, simple design, and white space make this email great.

Tiffany sent the email below to announce their new line of jewelry. Its simple but impeccable design makes this campaign outstanding. Nothing distracts readers' attention from their new collection. Every image is clickable so there's even no need to look for a CTA.
Athleta sent this email to introduce their limited edition lace capsule. The brand uses a GIF and pictures to demonstrate the beauty of their new line from every angle.
Draw inspiration from these magnificent emails and send a product launch campaign for free with SendPulse!
Last Updated: 08.11.2023