You probably know that email campaigns are extremely helpful for drawing attention to your course before the launch. But what happens after your course goes live? How to find the right sending frequency? And, more importantly, what should you be sending?
In this post, we'll answer these and other questions about email marketing for online courses. You'll learn how to develop a unique sending strategy and make your emails more valuable to your students. We'll also show you some steal-worthy email examples from successful eLearning businesses.
5+ reasons to master email marketing for online courses
Email is one of the most versatile marketing tools. To better understand how to use it, you need to know what you as an online educator can achieve with it besides driving traffic to your website.
Demonstrate your expertise and personality. Sell your classes by making your audience fall in love with your skills, credentials, practical experience, and charisma.
Win your students' trust. Use social proof to help your students overcome doubts and see what they can achieve after completing your program.
Let your students know that they're in control. Keep them in the loop and aware of everything happening to their subscription, assignments, etc.
Turn them into your loyal fans. Prevent churn and make sure they want to stick to your online school.
Help them discover other courses they didn't know they needed. Keep pushing your students to develop their skills further and set more ambitious goals.
Bring them value outside of the curriculum. Help your students succeed by sharing additional materials, books, and exercises.
Enable two-way communication. Gather student feedback to gain insights into how you can meet their needs and design better courses.
You'll discover even more advantages once you get serious about email marketing for online courses. It does sound like a lot of work, but you only need to take care of the content — email automation will do most of the technical work for you.

What kinds of emails can you use to promote your courses?
This is a tricky question because as an online course creator you don't want to just advertise your courses and make a bunch of one-off sales — you want to build a loyal audience who'll keep buying your subsequent educational products and spread positive word-of-mouth.
The reality is that you can use over 15 types of emails to communicate with your past, existing, and potential students. Each of them has a distinct purpose, so you just need to decide which ones are relevant to your eLearning business:
Welcome emails. Say hello to your new students or subscribers, introduce yourself or your online school, and explain what's going to happen next.
Informational emails. Notify your students about upcoming live lessons, schedule changes, or anything else directly related to their learning process.
Webinar emails. Announce your webinars, Q&As, or other types of live sessions and incentivize your audience to participate in them.
Transactional emails. Confirm important students' actions such as subscription, payment, refund request, cancelation, etc.
Last chance emails. Encourage your contacts to take advantage of your special offer or reserve one of the remaining spots before your course begins.
Promotional emails. Make your students aware of your other educational products, merch, or resources that could enhance their learning experience.
Educational emails. Share useful materials, articles, guides, PDFs, reports, spreadsheets, listicles, eBooks, videos, podcasts, or tools.
Seasonal emails. Inform your audience about your seasonal sale or give them useful tips on how to keep their skills in shape during a vacation or a festive season.
Upselling and cross-selling emails. Help your learners choose their next course based on their interests, preference, and proficiency level.
Success story emails. Share your student success stories to motivate and inspire your audience.
Entertaining emails. Demonstrate your brand's playful side and share some light but relevant content such as niche memes, games, or social media challenges.
Reminder emails. Make sure your students never miss live lessons or lose their learning pace and motivation.
Announcements emails. Keep your students in the know about everything happening in your online school.
Survey emails. Timely ask your students what they think of your classes and use collected feedback to improve them.
Curated emails. Share your hand-picked favorites, from insightful books and movies to niche YouTube channels and podcasters.
Thank you emails. Thank your students for choosing your course and give them advice on how to continue their learning journey.
Many of these emails are nurturing emails, meaning, they help you build and deepen relationships with your audience and make them more interested in your offer. When it comes to nurturing emails, personalization is key — your students need to see that you actually care about them and want them to have a fantastic learning experience.
Create outstanding
interactive courses
to make sure your students stay motivated and have fun while learning!
You can learn more about these and other types of email from our blog and knowledge base. You'll find all the necessary email templates in our template library — feel free to customize and start using them for your educational business.
How should online course creators plan their email campaigns?
How you deliver your message is just as important as the message itself. If you spend hours creating high-value content for your students, you want to make sure they'll pay attention to it. So, you need to be especially strategic about your email marketing for online courses.
You can boost your open rates and CTR by focusing on the following details.
| | | |
| --- | --- | --- |
| What | Why | How |
| Sending frequency | You want neither to distract nor to annoy your students | Conduct A/B tests to establish the perfect frequency for your audience. Sending weekly or biweekly campaigns is a safe way to go |
| Subject line | Don't let your students miss important information or mistake it for spam | Keep it informative, course-related, and to-the-point. Ask questions, offer value, or mention skills your student wants to develop |
| Email design | Avoid overwhelming or confusing your recipients. Make sure they feel connected with your teaching persona | Keep your emails instantly recognizable, skimmable, and in alignment with your brand. Include your signature and photo to make them more personable |
| Relevance | Email users don't like to be bombarded with random content | Use personalization, triggers, and segmentation to only send content related to what your students currently learn |
| Email length | Prevent your learners from getting bored or losing interest in your content | Split big chunks of content into several digestible emails and keep key information above the fold |
| Tone of voice | Build better relationships with your audience and support your positioning | Choose a single style and language both for your lessons and online communications. Keep it at least slightly conversational to improve student engagement |
Plan and optimize your email campaigns after gathering student feedback and figuring out what their actual needs are. Maybe, your students prefer to receive short daily tips instead of sparse but wordy emails. Or, maybe, they crave an inspirational newsletter instead of dry after-lesson follow-ups. To prevent dissatisfaction, ask them during the sign-up process how often they'd like to receive emails from you and what interests them the most.

10 insightful examples of email marketing for online courses
Now is the time to take a look at educational businesses that unarguably succeed at email marketing and pick up a few tricks from them.
Educational content
You can't go wrong by sending curated emails with useful articles to your students — it'll enrich their learning experience and help them get even more excited about the skills they're working on.
Fitness brands such as Peloton seem to be especially good at this type of email campaign.
Use educational content to help your students practice at home more efficiently, choose gear like a pro, discover like-minded influencers, or develop new habits. Ran out of content? Simply repurpose your existing assets or share articles by other industry experts who aren't your direct competitors.
This email design deserves special attention — clean previews allow the recipient to quickly scan the content and develop an interest in the featured articles. The relevant images also help convey what the articles are about. Peloton uses the same CTA throughout the whole email, which is another great practice.
Situational marketing
You can show your subscribers that you're aware of global trends, events, and challenges and understand how they influence your industry. Use email to express your professional opinion, take a stand, or inspire your students — it'll make their learning more meaningful.
Ironhack is a tech school offering online and on-campus courses. Its newsletter, however, isn't limited to "what's new in tech" — the company also touches upon other in-depth subjects such as diversity and inclusion.
This email is packed with valuable links and has an overall great design. Even though it's text-rich, the reader's eyes can easily travel from one section to another and quickly grasp the essence.
Gentle reminder
Give your students a little nudge from time to time to make sure they don't get distracted and abandon their learning goals. You don't have to spend extra time on this type of email — even extremely short but friendly reminders will do the trick.
By sending automated reminders, you ensure not only your high course completion rate but also student satisfaction. It's a great chance to demonstrate that you genuinely want your students to stick to their learning routine and succeed. Timely reminders will help them maintain momentum and keep going as the course gets more complicated.
Special offer
Use email to inform your subscribers about your discounts, limited time offers, and new educational products. This way, you won't let your time-sensitive message get lost in an infinite-scrolling feed on social media.
This email effectively creates a sense of urgency and encourages the reader to reserve their place before it's too late. At the same time, there's no clickbait or sensationalism — just an appealing illustration and a popping call to action. Also, this school uses promo-codes to jumpstart early-bird sales, which is another effective practice online course creators can adopt.
Summary
Your students have the right to know where they're at in their learning journey, and you can help them find that out by sending them personalized reports once every two-four weeks. But don't just use dry numbers — add a personalized commentary to cheer up your students and let them know what they have already mastered and what lies ahead of them.
Help your students get back on track by highlighting topics or skills they should be focusing on. You can also make it a bit more competitive by revealing how their peers are performing and who has the highest score. Sending digests like this one allows you to give individual attention to each of your students and celebrate their small wins, no matter how busy your virtual classroom is.
Personalized picks
Show your audience how well you know them by sending them personalized offers and course suggestions. Help them navigate your learning program and find the perfect class according to their proficiency level.
This example shows how important visuals are, at least in curated emails. You need to create an appealing preview for each course you're describing to make them click-worthy. And if you do include multiple CTAs, like in this email, make sure to give them different visual weight.
Re-engagement
Let's say, your student checked out your courses, maybe, even started one of them but never completed it. How do you bring them back and reignite their interest? Re-engagement emails are made just for that — they help improve student retention and make them curious about your classes.
This elegant email from Masterclass contains powerful copy, an irresistible value proposition, and an engaging video featuring the teacher himself, the greatest world's poker player. In other words, it has all the chances to reawaken student interest and help them pick up where they left off.
Success story
Chances are, your students aren't learning just for the sake of learning — they're learning to develop specific skills and achieve certain results, personal or professional. Visualize that learning path for them and inspire them to work harder by sharing real student success stories in your newsletter.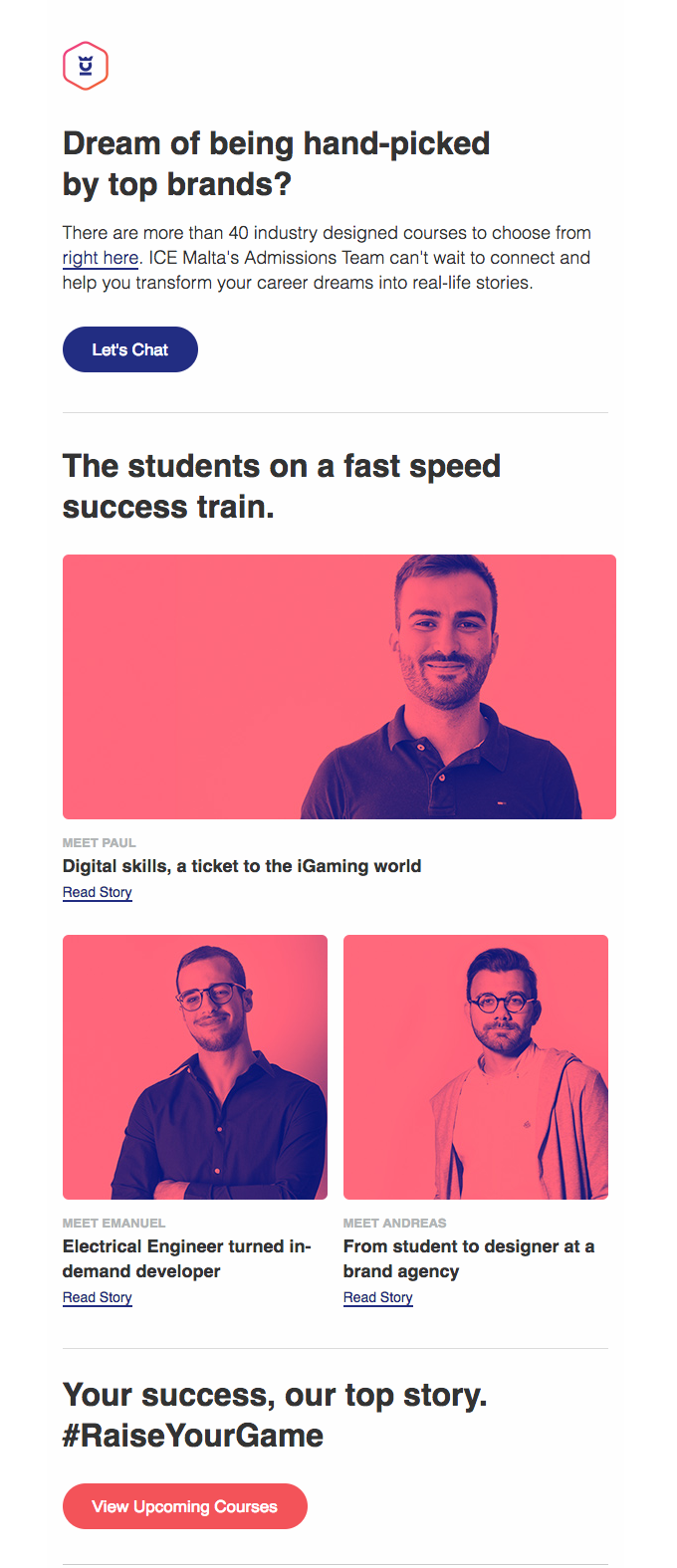 This example proves you don't always need to aggressively promote your courses to generate more sales. Instead, tap into your audience's ambitions and emotions. Show your students what they can achieve after finishing your course, make them dream big — and you'll have their full attention. Make sure to include a relevant CTA to give them a chance to convert right away.
Ideally, you should include your past students' real names and photos to make your social proof look more trustworthy. Or, even better, ask them to record short and simple video testimonials where they speak about their positive experience in your online school and how it helped them land their dream job.
Asking for feedback
You can't get into your student's head, but you can ask them about their learning experience directly and get all the information you need. When asking for a review, be sure to explain why you're interested in hearing their opinion and how you intend to use that information. To win their trust, you need to prove that every single reply matters and that their feedback can influence the way you design your courses.

This example illustrates what we've just described. Firstly, it gives the reader solid reasons for spending a few minutes of their time on the survey. Secondly, it describes another student's experience and makes the reader empathize with them.
Finally, it's written in a friendly way — it feels neither boring nor pushy, and the playful design elements only enhance that impression. The hand-written signature also contributes to the overall informal look. Even though it's an automated email from a coding school, it feels like it was hand-typed by a real teacher.
Personal schedule
Instead of waiting for your potential students to take the first step, get proactive and show them which of your classes they can join right this second. Or, if they already signed up for one, remind them when it takes place and who's teaching it.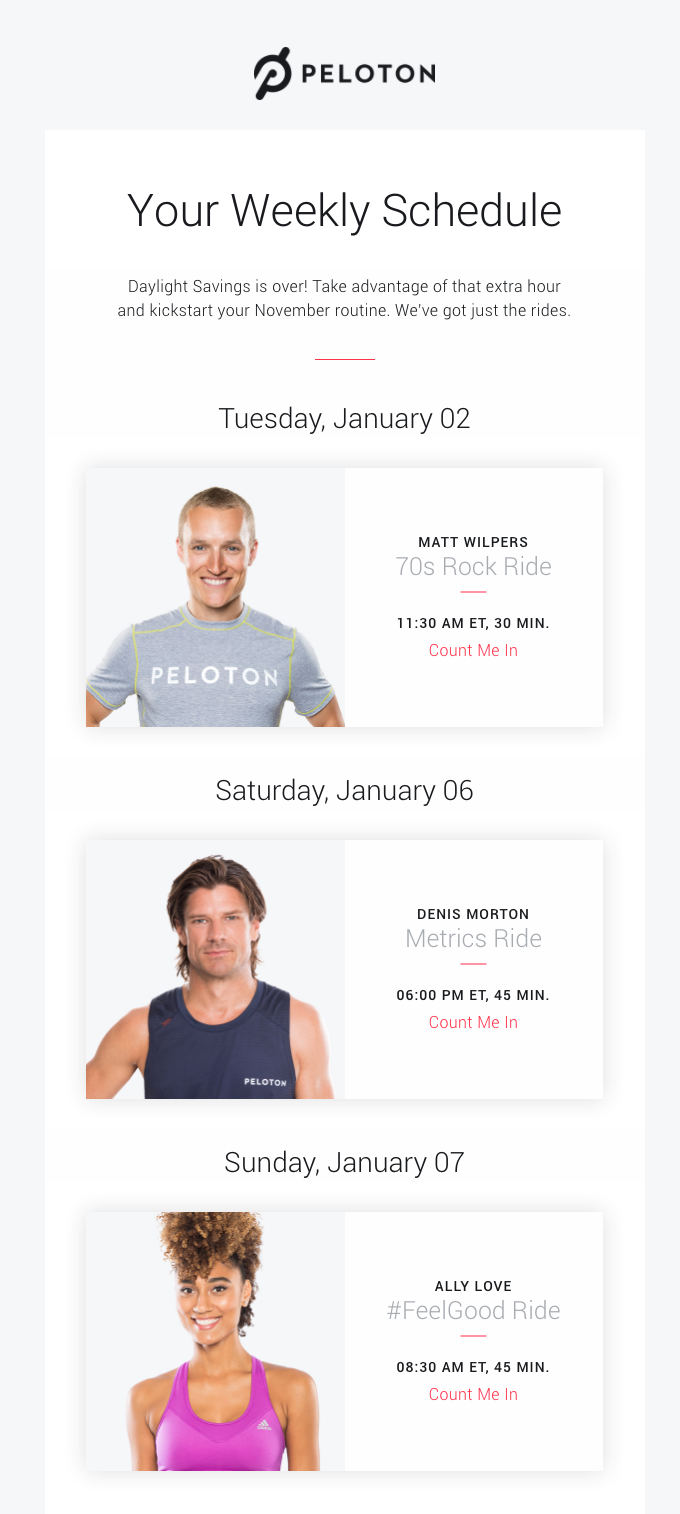 Go the extra mile to guarantee student success and prevent no-shows, especially if you only conduct live lessons. By featuring your teachers, you'll also help your students better understand the style and the mood of the upcoming class.
Email marketing for online courses made easy
Getting your first eLearning products off the ground can be equally thrilling and scary — there are always too many things to take care of before the launch. The good news is that you won't have to bother about your email campaigns going off at the right time if you use SendPulse.
Our platform offers you an intuitive online course builder, email service with a template library, CRM, chatbot builder, and other essential marketing and sales automation tools. Manage all your course-related activities from one tab and focus on creative work instead of routine tasks. Sign up to try SendPulse for free!