A learning management system (LMS) is software that helps you design, track, and deliver educational courses, training, and learning programs. It enables you to organize an educational process and allows students to prioritize their workload.
In this article, you'll discover why you should consider LMS and unveil its benefits. You'll also get to know 7 essential features and review the 5 best platforms.
Why use a learning management system?
As of 2021, Coursera, an online learning service, reported 20 million new sign-ups. Online learning is a new trend. People gain knowledge, refine critical thinking, and master almost any job online. It's convenient, time-saving, and easy. Modern tech-savvy users can discover new professions and take on new skills with the help of the internet and a laptop. People can manage their time, obtain technical skills, and show self-motivation.
To ensure seamless eLearning experiences, brands leverage learning management systems. They store all materials in one place, so companies no longer need to spread information over various devices and drives. This way, they reduce the risk of data loss. When businesses upload their online courses to the platform, their participants can access materials anytime.
Online course creators enable entrepreneurs to save time and money on on-site rentals, printed documents, video and photo reports, etc. They also save the time of the team and students.
Brand managers and instructors have access to students' progress and performance. This way, teachers can check whether people meet their performance milestones.
Now that you know why you should use a learning management system, let's explore its pros. In this section, you'll decide whether this system will come in handy for your business.
Benefits of a Learning Management System
A learning management system is a crucial part of every learning process that entails communication between teachers and students. It helps structure materials, improve lessons, and develop tests. If you leverage an educational platform, it will help you
store all learning materials, documents, and lessons on one platform;
provide users with access to courses;
monitor students' progress and evaluate their performance;
reduce costs and save time;
add new compliance standards to your online courses;
integrate social media platforms;
improve your course, training, and learning programs.
We've done a quick look-through on the advantages of LMS. It's time to delve into specific features your system should have to achieve your objectives.
7 Essential Features of a Learning Management System
To provide learners with quality knowledge and amazing experience, give sufficient attention to the choice of a system. Below we'll list the 7 crucial features a platform for your educational courses should cover. They will ensure the safety of your materials, a flexible reporting system, and a great experience.
Personalized user experience. It would be great if your learning management system provided a personalized user experience based on their interests. It'll help you draw students' attention to the topics related to their field of interest. For example, if a person is interested in digital marketing, you can offer related materials. By conducting quizzes, you'll be able to reflect on the user's performance and point out areas with low points.
Scheduling tools. With scheduling tools, you can offer students several options for the date and time of their lesson. The flexibility of the classes enables learners to select the best time for them. As a result, more students will join the course.
Centralized materials. Your learning management system should allow you to manage documents in one place. With the platform, you can store materials for students, such as videos, presentations, instructions, guides, infographics, etc. If users have access to centralized structured data, they can increase their knowledge and skills in an organized manner.
Data tracking. The system should provide instructors with permission to track students' performance. This way, they will ensure that learners obtain the necessary knowledge and demonstrate progress during their learning process. After receiving this information, you can improve your course. It is also required to ensure a personalized training experience.
Analytics. Flexible reporting helps evaluate the effectiveness of your program. You should align your reporting with your business goals to see if you managed to reach them. With its help, you'll identify students' problems and improve your online course.
Automated notifications. Notification is an integral part of any LMS. It helps keep managers and instructors updated on the completion of the course, students' needs, and completion rates. Learners also receive automated notifications when they have to meet training deadlines and leave feedback.
Integrations. A good LMS should be able to integrate with other systems to support the course with all the necessary information. Both startups and big enterprises in various niches need integrations like Zoom, Slack, Salesforce, etc. They help your team keep everything under control. Some tools will allow you to automatically collect and send candidate data and provide course updates to instructors, and some will help you schedule meetings and send notifications.
Now that you know the features, we'll walk you through the 5 best solutions and find the suitable option for your company.
5 Best Learning Management Systems
The effectiveness of an eLearning process depends not only on teachers and materials but also on your learning management software. It's a place where you store, deliver, and track your training content. Since the system is a vital part of your success, we've prepared a list of 5 best performing services to consider.
SendPulse
SendPulse is a universal tool that will come in handy for business schools, development centers, industry experts, HR managers, and anyone who wants to teach. The platform's visual builder helps you create online courses and lessons and modify them based on your requirements. With its help, you'll be able to improve your lessons by adding videos, infographics, and audio lectures.
SendPulse also cares about the visibility of your online course. You can design a landing page to promote your product and add a registration form to enroll students in your course. Better yet, you can add a custom domain to your online course for free. With its help, users will find your course easily. Once students enroll in the course, you can assign an instructor to take care of the process. This person will collect customer feedback, customize lessons, develop tests, address students' inquiries, assess the quality of the learning process, and create certificates.
Since the course builder automatically synchronizes with SendPulse's CRM, you can guide and support your students at any time. SendPulse enables you to communicate with learners through email, chatbots, or SMS.
Once learners complete a lesson or a course, you can create tests to check their skills and knowledge. After completing the test, they will obtain points. At the end of the course, students will receive certificates of completion. With SendPulse's builder, you can customize a certificate by changing text style and image, and adding instructors and dates.
Below you can see how to create a lesson from scratch. You need to drag and drop the necessary elements from the left panel to the editor field and edit them on the right panel.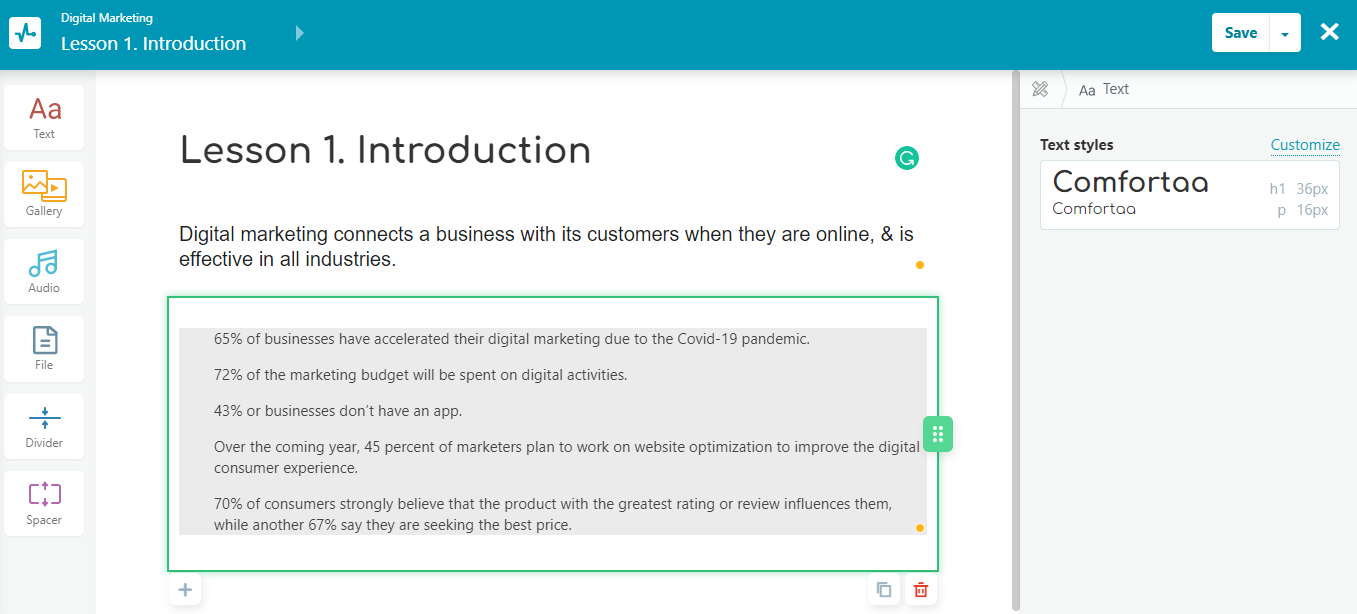 Free plan: 200 students, 3 courses, 1 instructor, and 1 GB of storage space.
Paid plan: From $42 per month for 1,000 users.
Thinkific
Thinkific provides vital tools for setting up, launching, and scaling your online courses without any knowledge of the code. With the platform, you can ensure a live or on-demand learning experience. The company's site builder allows you to develop a personalized school to demonstrate your courses and their benefits. Besides, Thinkfic helps you sell your courses and accept payments through popular payment systems. The platform has 0% transaction fees.
The service is very flexible. You can offer your product in different formats: courses, memberships, bundles, or digital downloads. To evaluate students' knowledge, you can create quizzes, surveys, and assignments. After completing the course, use the company's editor to design a certificate.
If you have a site, mailing list, and CRM, consider integrating them. Thinkific allows you to connect with ActiveCampaign, Mailchimp, and Zoom. The brand empowers you to stand out with its amazing website themes. Moreover, you can add your domain. It personalizes your course and helps students find it faster.
Below you can see how to add and create content for the first lesson.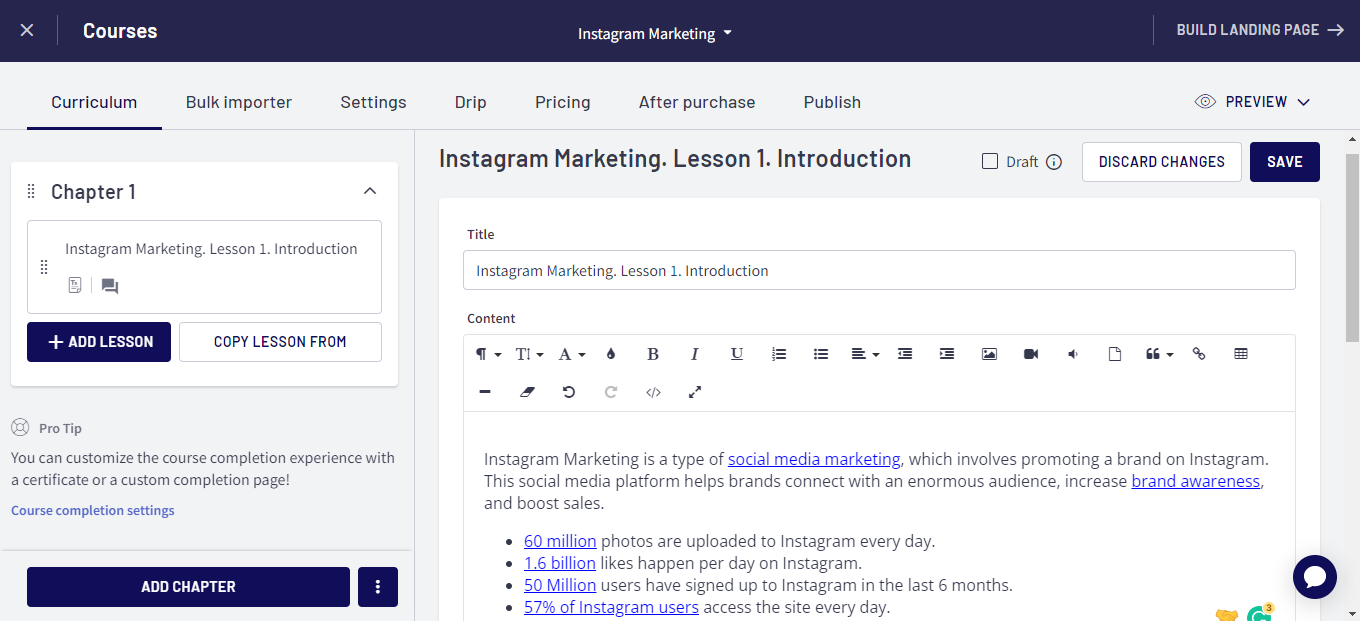 Free plan: limited courses, unlimited students, 1 site admin account.
Paid plan: From $49 per month.
SkyPrep
SkyPrep allows you to upload different types of documents and use them many times to create your online course. The service provides customizable permissions, automated email notifications, certificates of completion, deadline reminders, user grouping, and all necessary reports in just a few moments to ensure smooth online course management.
With visual and spreadsheet reports, you'll always stay in the know about your students' progress. SkyPrep's report features cover multiple reporting levels, course and user performance profiles, certificate awards, and more.
When you design your online course with SkyPrep, you can customize the platform to match your brand identity. Use your company logo and colors, custom URLs, certificates, email notifications, and CSS to make your design recognizable and related to your brand. The platform's open API enables you to add the most useful integrations, including PayPal and Zoom. SkyPrep's security model keeps all your data highly secured.
When developing a course, you can use game-based elements. They include award points, a leaderboard, and customizable badges. This way, you can increase users' engagement.
Below you can see how to create a new course: insert the course name, an introduction, and add a course image.
Free plan: 14-day trial.
Paid plan: From $299 per month for 100 users.
TalentLMS
TalentLMS helps you reach different business purposes. You can design online courses, training, and programs, such as remote, onboarding, compliance, and sales training.
With the service's drag-and-drop builder, you can design interactive courses. TalentLMS enables you to build training from scratch or reuse the uploaded content. Building a course from scratch won't take much time since you can add different media formats like videos, docs, and presentations. The platform empowers you to host live sessions. You can invite participants and send them automatic reminders about the upcoming event.
Once you need to evaluate the effectiveness of your course or assess the students' knowledge, create quizzes, tests, assignments, and surveys. Upon completing the e-learning course, you can create a certificate to acknowledge your students' efforts.
Setting up a structured course is crucial for users. The platform enables you to guide your students by splitting the content into categories. This way, they will easily find the necessary materials. Besides, you'll be able to give permissions to users with special statuses so that they can perform their roles.
Below you can see how to create an online course in TalentLMS.
Free plan: 5 users, 10 courses, and unlimited email support.
Paid plan: From $89 per month for up to 40 users.
Teachable
Teachable is a perfect solution for those who want to start an online business. You can link your website to the platform under a custom domain. The service is easy-to-use because its editor enables you to create engaging courses by simply dragging and dropping visual elements like videos, images, and infographics. The course you design with Teachable can include multimedia lections and coaching sessions. To create a quality course, you can invite your team to join you on the platform. Set permissions and roles so that they can contribute to course development.
You can use unlimited features when you purchase a paid plan. With its help, you'll be able to have no limit on the number of courses, video bandwidth, and students. You can run one-on-one sessions to communicate with your students live.
You can evaluate your students' progress with quizzes. The service allows users to design a certificate and congratulate learners on the completion of the course. After the course competition, Teachable enables you to receive feedback from learners. The platform uses third-party platforms to gather student feedback.
Teachable allows you to create a "Pricing" tab for your product and set prices to receive payments from students. Once you set everything up, users will have several payment options: credit/debit card, PayPal, Google Pay, and Apple Pay.
Below you can see how to create the first lesson for your course in Teachable.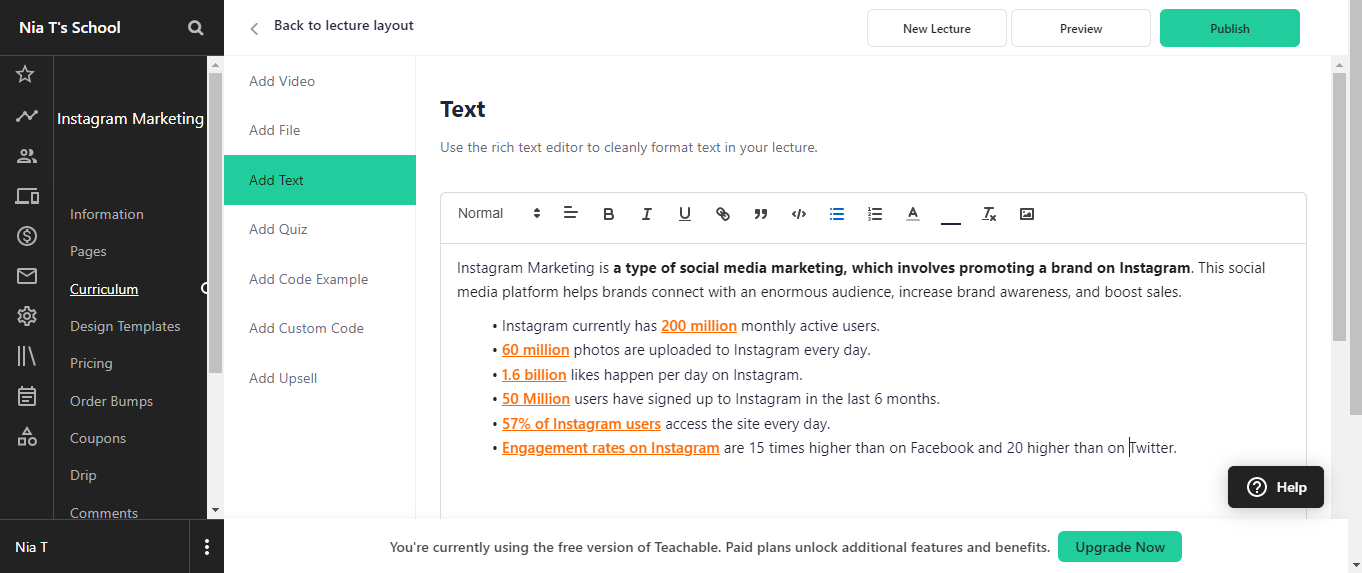 Free plan: Unlimited students, 1 course, unlimited coaching services.
Paid plan: From $39 per month.
Congrats, now you know the top performing learning management platforms. Choose one that suits your business goals and design an excellent course for your students. Make use of SendPulse's course creator to design your online course fast with our ready-to-go templates.
References:
This article defines the term and unveils how a learning management system works.
In this article, you'll find a list of learning management systems.
Last Updated: 08.06.2022