eLearning is the delivery of educational materials, online courses, training, and lessons through laptops, smartphones, and tablets. It allows students to receive the necessary information anytime from any part of the world.
In this video, a SendPulse marketer explains how to start your career in digital education.
In this article, we'll unveil the benefits and types of eLearning and review the 5 best platforms.
Why is eLearning important?
eLearning empowers students and teachers worldwide to learn and teach remotely. This cost-effective learning approach enables online learners to obtain the necessary skills and knowledge in any university and field they wish, and lets educators monetize their knowledge. People can master new profitable professions through online courses, training, and special programs. Teachers can share their expertise with a wide audience interactively and engagingly. Multimedia lessons encourage sensory engagement and attention to detail.
Online learning meets the needs of a wide audience. Students can access the lessons at any time and from anywhere in the world. They can stop the pre-recorded lesson and resume it. If students prepare for the tests or exams, they can access the course to review it. As a result, knowledge retention increases. If the course is real-time, students can communicate with each other and have open discussions. It leads to improved teamwork and critical thinking.
Now that you know the importance, it's time to reveal even more advantages of eLearning.
Benefits of eLearning
You can reap numerous benefits after implementing eLearning. The main of them include:
cost-effectiveness;
sensory engagement;
higher knowledge retention;
the opportunity to combine studies and work;
the possibility to study from any corner of the world;
more insight for educators into students' response to materials;
teamwork;
better productivity;
customization to students' needs;
mobile-first design;
flexibility;
less cognitive overload;
increased engagement.
Now that you know the pros, let's proceed to the next section to explore different types of eLearning content. After reviewing this information, you'll be able to decide which type meets your main purpose.
Types of eLearning Content
To provide students with the right content, you need to consider several factors, such as learning goals and results, needs, and instructional design. Once you find them, you can identify the most appropriate content formats.
Videos. Video content is always engaging, eye-catching, and interactive. Videos can establish a sensory connection with students and remember materials visually. They are usually shorter than text materials, and people can stay focused on learning. You can connect with your students in real-time or provide them with pre-recorded videos. These videos allow users to review the materials and memorize them better. As a result — better knowledge retention.
eBooks. If you want to provide your learners with manuals, checklists, and step-by-step instructions, you better create eBooks. They are easy to make and will contain all the necessary materials in one place. Learners can store them on their digital devices and access them whenever they wish. eBooks will become sources of information when your students prepare for tests, assessments, quizzes, and exams. They are always on hand.
PowerPoint presentations. A slide presentation is perfect for engagingly presenting the information. Presentations can combine videos, audio, text, and infographics in one slide. This way, you don't overwhelm students with information and don't lose their attention. If you succeed in developing an eye-catching and exciting presentation, learners will memorize the most important points in no time. Slides are a great fit for self-paced learning and teacher narration. However, when creating a presentation, include as less text as possible and add visuals.
Podcasts. It's a new yet effective way of learning. People search for podcasts on specific topics over the internet and study by themselves. Podcasts consist of episodes released on specific dates. Students can find an appropriate podcast and listen to it online. These lessons don't have a visual element, but learners still perceive information well. This content type best suits topics like communication, body language, the science of happiness, leadership, etc.
Quizzes. This content format motivates students to perform better. You can start your online course or training with a pre-test to evaluate students' knowledge and skills in a chosen field. The main aim of this test is to show learners what they already know and what they need to study. An effective pre-test should include the main points of your online course. Consider implementing tests once people enroll in your course. You can add them after lessons to review what users learned during this time. Students can memorize the answers. The results are equally important for your team. This way, you can assess students' progress and figure out what needs your close attention.
eLearning games. Gamification improves the eLearning process and reduces cognitive overload. Games in online learning have become increasingly popular because they are both enjoyable and effective. Gamification is a mix of game mechanics and traditional eLearning activities. Teachers use leaderboards, points, and levels to add incentives so that students actively participate in the process. eLearning games will help you increase engagement and content recall, especially if you teach children. They will be excited to win and automatically will perform the necessary actions.
Now that you know what types to choose for your online course, school, or training, it's time to unveil the platforms. In the next section, we'll review the 5 best eLearning platforms in terms of price and functionality. They will speed up the process of online course development.
5 Best eLearning Platforms
You have a wide choice of services. However, before selecting a specific service, you should identify your needs. It'll help you avoid overpaying for features you won't use. We've listed the 5 best solutions in terms of price, usability, and user experience for you to consider.
SendPulse
SendPulse is an all-in-one platform that will help you create your course, promote it through multiple channels, and establish communication with students. The service's course builder allows you to design appealing online courses, marketing schools, employee training, and customer onboarding. The platform is a great fit for marketing agencies, influencers, HR managers, and experts who want to teach and share their expertise with a wide audience.
SendPulse's course creator empowers you to organize all your useful materials into a single course that will bring new knowledge and professions to students. You can design lessons, sections, tests, quizzes, assessments, and issue certificates of completion. If you can't manage your online course on your own, you can invite users to become instructors. They will develop tests, check students' grades, and monitor their overall performance. After completing the course, you'll be able to provide graduates with certificates. SendPulse enables you to design them based on your liking. You can promote your online courses via email campaigns, push notifications, SMS, landing pages, chatbots, and live chat on your website created with SendPulse.
Below you can see how to create a lesson in SendPulse.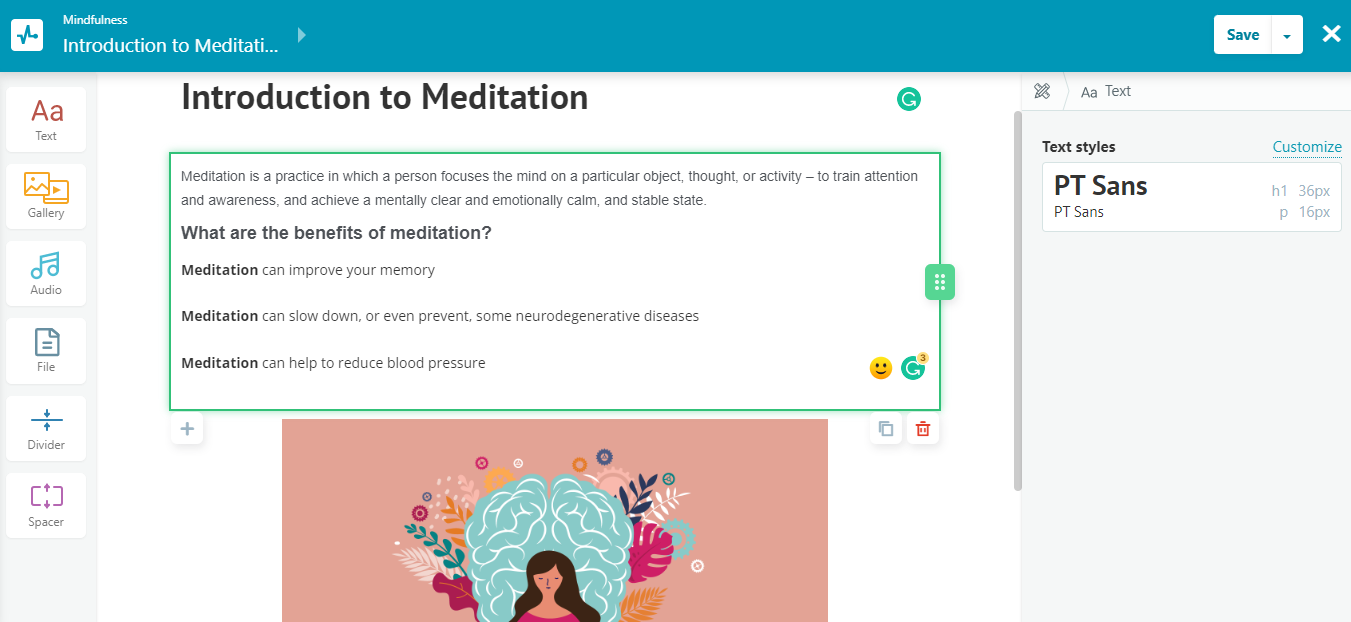 Free plan: 3 courses, 200 students, 1 instructor, and 1 GB of file storage space.
Paid plan: From $42 for unlimited courses, 1,000 students, 10 instructors, 15 GB of file storage space, personalized course link, and no SendPulse branding.
Pathwright
Pathwright is a platform with the necessary tools to design, teach, and learn. It's a great fit for educators in small to medium-sized businesses who want to find an effective approach to teaching.
With the service, you can organize documents, videos, project instructions, Zoom, and other content into a Path. Add interactive content Blocks to keep every student engaged. The platform enables you to diversify your lessons to your liking and add various types of media, including text, meetings, videos, and quizzes. The final design will look great on desktop and mobile devices.
Pathwright allows you to add moderators to help you with your online course. They can also participate in the lesson development and create tests, quizzes, assessments, and certificates.
Below you can see how to create a lesson in Pathwright.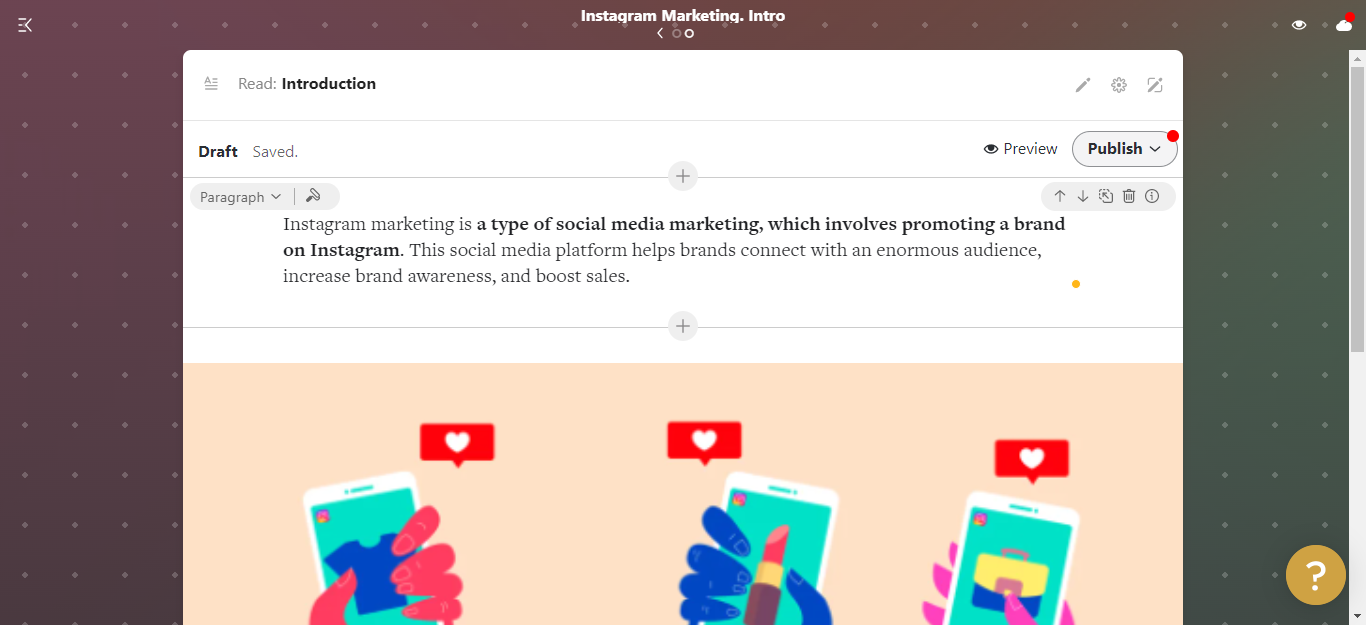 Free plan: 30-day free trial.
Paid plan: From $99 per month for 1,000 students, unlimited paths, 1 cohort, and 1 mentor group.
Teachable
Teachable is a great fit for owners of online businesses. With the platform, you can create a course and instantly sell it within one place. The service offers a built-in sales page creator. It will help you build, grow, and manage an engaging course and coaching business. Marketing agencies, online schools, influencers, teachers, and HR managers use Teachable to create and promote their courses and manage communication with students. As a result, you'll be able to share your expertise with learners and monetize your knowledge.
The platform's intuitive builder enables you to create various types of online courses: self-paced courses, cohort-based courses, and live coaching. You don't have to manage your course on your own. Teachable allows you to add instructors to create lessons, develop quizzes, and issue certificates of completion. Besides, your team can use comments to drive students' engagement and satisfaction.
If you need some more marketing tools for your online course, you can integrate several useful platforms. The list of integrations includes MailChimp, Zapier, ConvertKit, Google Analytics, and Segment.
Below you can see how to create a lesson in Teachable.
Free plan: Unlimited students, 1 course, 1 admin user, unlimited coaching services.
Paid plan: From $39 per month for unlimited students and courses, 2 admin users, and a custom domain.
Podia
Podia is a multifunctional platform that empowers you to design courses, create websites, and build communities. The service helps you handle every step of your online course: the design of your online courses, sales process, and payments.
The platform enables you to develop a bundle of courses, pre-launch courses, cohort-based courses, pre-sell courses, standalone courses, and drip courses. You can add multiple media formats to your online course in Podia's course builder: videos, text, audio, links, downloadable files, and PDFs. Various content formats enable you to design an interactive and engaging course. After each section or lesson, consider adding multiple choice quizzes.
Podia allows you to build your course from scratch in no minutes without the knowledge of code. A flexible layout will help you provide students will a media-rich course.
You can receive payments from students' credit cards through PayPal and Stripe. The service will store information about your students for further transactions.
Below you can see how to design a lesson in Podia.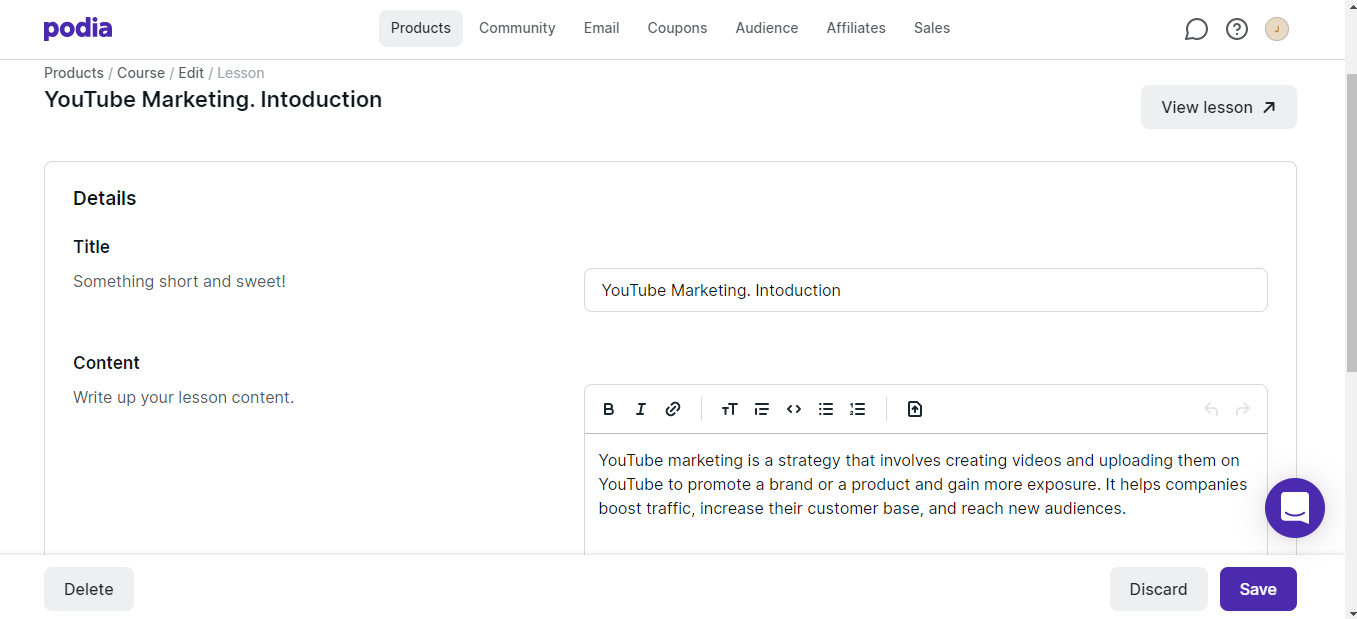 Free plan: 1 coaching product, draft courses, community, 1 download, full website, email marketing, and live chat.
Paid plan: From $39 per month for unlimited courses, coaching, downloads, community, full website, email marketing, and live chat.
Kajabi
Kajabi is an all-in-one marketing solution that allows you to develop courses, podcasts, coaching programs, and communities. With the platform, you can design, market, and sell your courses, onboarding programs, and employee training from one dashboard.
Customizable templates and intuitive design tools will help you quickly develop a short course or an extended program from scratch. Kajabi's course creator enables you to design lessons and add quizzes to each of them to check students' knowledge. Consider inviting other specialists to help you with the course. They will reduce the workload by creating tests and certificates and monitoring learners' progress.
Kajabi empowers you to accept payments from students securely and without any fees. The platform connects with Stripe and PayPal to provide smooth selling of your online course.
Below you can see how to create a lesson in Kajabi.
Free plan: 14-day trial.
Paid plan: From $149 per month for 1,000 active members, 10,000 contacts, 1 admin user, and 3 products.
Congrats, now you know what eLearning is and why it's essential. Use one of the recommended platforms to increase efficiency and manage time properly when building an online course, school, customer onboarding, or employee training.
References:
This article defines the term and uncovers the importance of eLearning in education.
In this article, you'll find the benefits of eLearning.
Last Updated: 06.09.2023