Microlearning is an eLearning process that uses small learning units or short-term learning activities and allows students to digest information well. Examples include games, videos, podcasts, infographics, etc.
In this article, we'll uncover the benefits, types, and best practices. We'll also review the best microlearning platforms.
10 Benefits of Microlearning
By focusing on small learning units and short-term activities, microlearning allows students to perceive information better compared to multitasking lessons. Learners have the time to study a specific topic in more detail, memorize the information, and successfully use it in the future. There are even more benefits students and companies can reap after implementing microlearning. They include:
high lever of students' engagement;
reduced cognitive overload;
easily digestible information;
easily trackable results;
cost-effectiveness;
time-efficiency;
personalized learning experience;
opportunity for mobile learning;
high knowledge retention;
high level of course completion.
If applied right, microlearning will bring you the goal you target. However, to achieve the necessary result, you need to choose the types of online lessons that meet your initial purpose. In the next section, we'll review them in detail to let you make the right choice.
7 Types of Microlearning
The effectiveness of your online course depends on the formats of content you choose. For instance, if you want to teach good pronunciation to advanced students, you can implement podcasts. However, this strategy might not work with beginners. You need to find your personal approach. For this purpose, we'll review different types of microlearning.
Infographics. Since 90% of data transmitted to the brain is visual, using photos, videos, and infographics in your eLearning process is essential. Infographics visually represent information in a clear, concise, and memorable way. This information is an excellent way to communicate the key points of long training.
Videos. According to statistics, visuals are processed 60,000 times faster than text alone. Unlike print materials, videos provide an engaging sensory experience. They allow students to digest information faster in an interactive way. Video content increases engagement and reduces cognitive overload. Besides being cost-effective, video learning ensures a practical learning experience.
Podcasts. A podcast is a set of audio episodes focused on a specific topic. These audio episodes are useful when learning a language. Students can listen to these audio materials 24/7 and improve their listening skills. They come in handy when learners skip classes or don't understand materials and want to learn these topics. Moreover, when listening to podcasts, students can multitask.
Gamification. Gamification is using the elements of the game in the learning process. The teacher, coach, or influencer applies game elements to an educational setting. Using gamification can increase engagement and prevent your students from getting bored. Duolingo is an excellent example of the wise use of gamification. When learners use the app, they feel like playing a game. This language learning app helps people learn new words without overloading them with tons of new information.
Simulations. With simulations, students are put in scenarios where they should act to solve problems. The main aim is to make learners use the knowledge and skills they have received so far. The instructor creates an appropriate environment so that people can obtain hands-on experience.
Static resources. Although PDFs and eBooks aren't too engaging and interactive, they are still in great demand among learners. These sources of information provide students with quality materials and well-researched answers to questions. After reading PDFs and eBooks, students can understand the topic from different perspectives.
Mobile apps. Mobile apps can be both entertaining and useful. There are apps for children and adults, college and home learning, reading, and learning languages. They can be presented in a form of a game or academy and help people master their knowledge and skills.
Using video, photos, infographics, and other formats of content speeds up and improves the learning process as most people capture information better visually. It's an excellent idea to share materials in visually appealing formats, and microlearning platforms empower you to do it fast in one place. Let's discover the top services you can use to design engaging learning units and activities.
3 Best Microlearning Platforms
SendPulse
LearnWorlds
GetCourse
Developing easy-to-understand lessons for your students is a challenging task that requires a lot of effort and time from your team. Consider using microlearning software to reduce the workload and speed up the process. We have selected the 3 best platforms to make your search easier. So let's see each of them so that you can make the right choice and achieve your goals.
SendPulse
SendPulse is a multifunctional platform that enables you to design online courses and teach your students. With the platform's visual builder, you can use all available content formats such as video, audio, books, presentations, and podcasts to create your online course. The service empowers you to design various formats of courses: video lessons, audio lessons, and text lessons. SendPulse allows you to customize your domain name for free to personalize your website and make it recognizable for your learners.
With the platform's course builder, you can create tests for students to check and assess their knowledge. SendPulse enables you to customize the test page, add questions, and possible answers, and set scores for each answer. If you haven't enough time to do it yourself, consider assigning instructors. They will track students' progress, develop lessons, respond to learners' questions, etc. SendPulse's course creator also enables you to design certificates of completion.
The process of designing a lesson on the platform is straightforward. Audio and video lectures, text instructions, lesson summaries in downloadable documents, and samples are the elements you can add to your lesson and help students perceive and memorize information.
Below you can see how to design the first lesson with SendPulse's visual builder.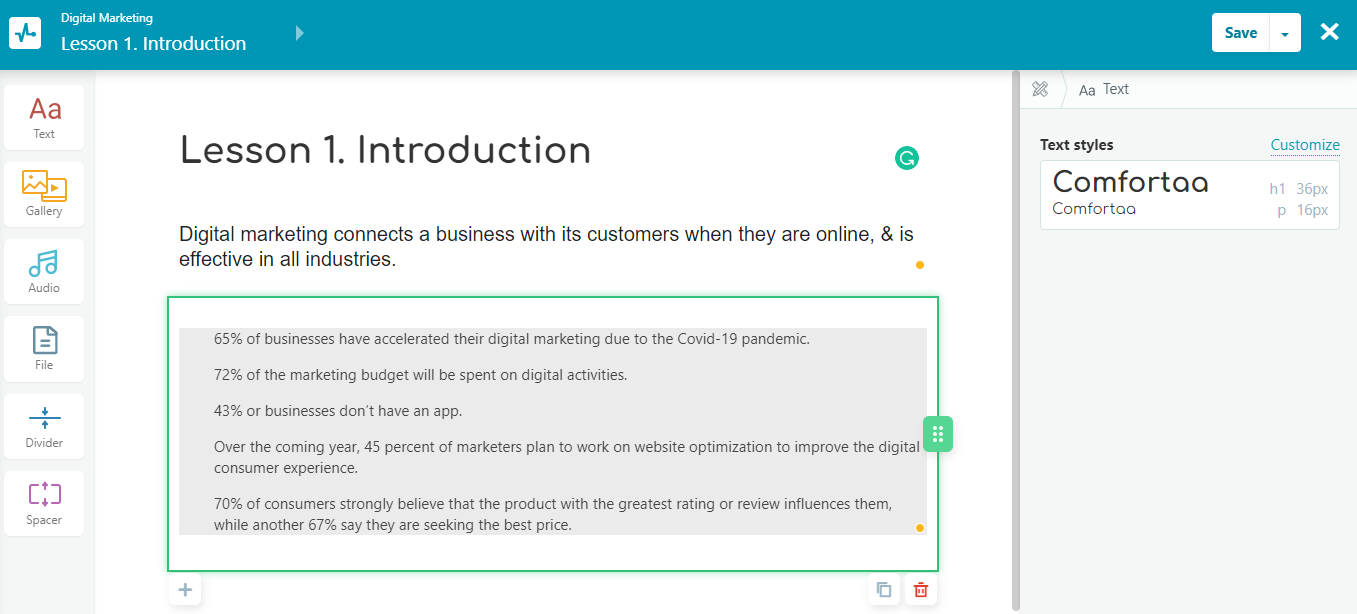 Free plan: 200 students, 3 courses, 1 instructor, and 1 GB of storage space.
Paid plan: From $42 per month for 1,000 users.
LearnWorlds
LearnWorlds helps you create lessons for online schools and courses. The service allows you to set a time zone and select your school's template (customer education, coaching, art & design, healthcare, fitness, etc.). When working with a platform, you can select the number of students, topic, role, and access type of your course.
LearnWorlds opens new opportunities for those who use videos in their online courses. You can extract and provide the video transcript to increase students' understanding of the topic. Better yet, you can add interactions. When learners have questions, they can directly ask them. Afterward, your instructors can add questions to test learners' knowledge and share links to helpful materials. You have the chance to check the statistics to figure out how students react to your videos and interact with them.
The platform's course player is flexible and customizable. You can choose how students can navigate your online course: freely or sequentially. It's also up to you to decide when to deliver your course to users. The service helps learners to memorize materials fast by providing some space for their notes.
Once students complete a lesson, section, or course, you can check their knowledge and skills with quizzes, tests, and assignments. With LearnWorlds, you'll develop tests and connect them to specific lessons and sections. After completing the course, you'll be able to provide students with personalized digital certificates.
Below you can see how to create the first lesson with LearnWorlds.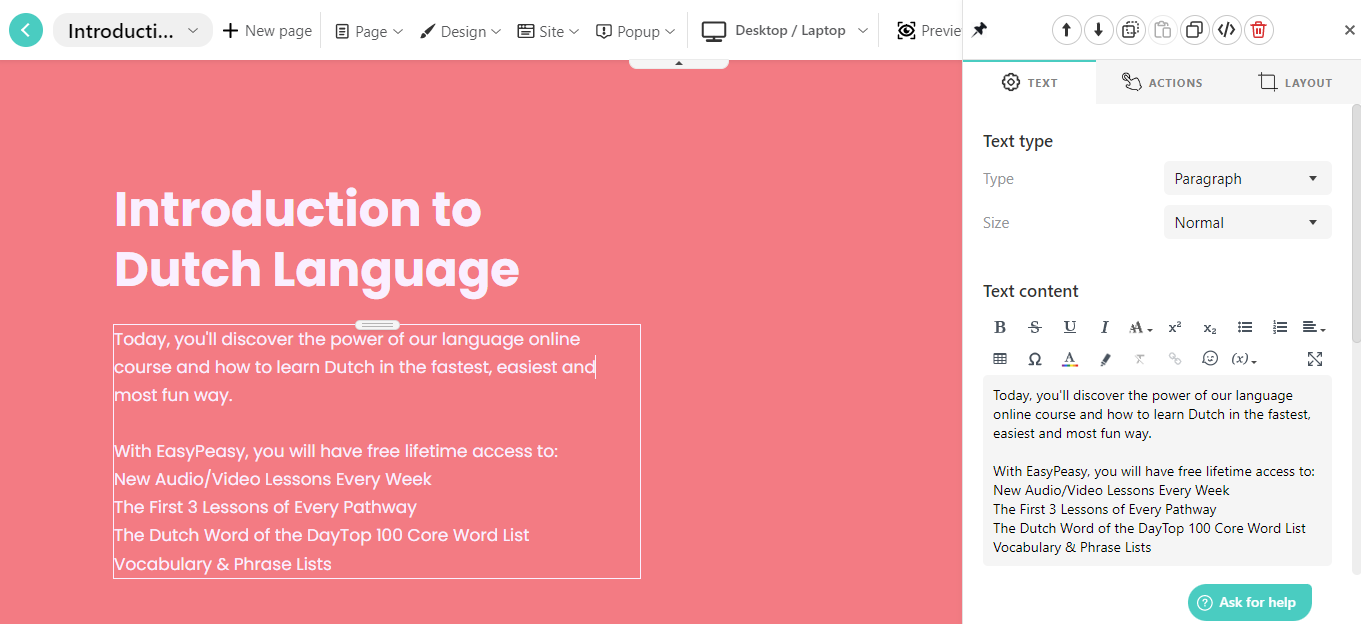 Free plan: 30-day free trial.
Paid plan: From $29 per month + $5 fee per course sale.
GetCourse
GetCourse helps influencers, entrepreneurs, and coaches educate people on different topics, provide them with valuable information, and teach them new professions. The service allows you to upload videos, documents, presentations, and audio to organize them into a full-fledged online course. With GetCourse, you can schedule lessons and create appealing content so that people would like to join your training. You can also add instructors to curate the eLearning process, create units, and develop quizzes and tests to evaluate students' knowledge and skills.
In addition to excellent user experience, the platform also helps you with a website for your online course. GetCourse enables you to create a website designed for educational purposes. This way, you'll be able to present the benefits of your courses and boost sales. You'll choose among visually appealing themes to match your branding.
The platform empowers you to create webinars with streaming service integrations. Webinars are perfect for communicating the necessary materials and tracking learners' activities. The service provides you with interactive chats to answer learners' questions and keep all involved.
The software's analytics updates you on the new leads and current students. When new learners want to join the course, they can pay with Stripe and PayPal integrated with GetCourse. The platform offers students a mobile app to easily access courses from any device at any time.
Below you can see how to create a lesson in GetCourse.
Free plan: 14-day free trial.
Paid plan: From $50 per month for 1,000 users.
Now that you know how to maximize your efforts and automate the eLearning process for your team and students, it's time to jump into the techniques that will help make your work even more efficient. The next section will reveal 6 best practices.
6 Microlearning Best Practices
Desire isn't enough to help your students obtain new knowledge, skills, and professions. A special approach with effective methods is needed. In this section, we've covered microlearning best practices for you to consider.
Determine your target audience. Before creating content and delivering it to students, consider conducting research. You should know the needs, pain points, and characteristics of your target audience. This step is necessary to provide learners with relevant and valuable materials.
Ensure mobile-first design. Since the number of mobile users now amounts to 7.26 billion, there's an urgent need to ensure that users can access your eLearning process from their smartphones and tablets. It will help you increase the number of participants in your online courses and improve satisfaction. Mobile-first design implies speeding up webpage load time, convenient navigation bar, and ensuring design for a vertical orientation for phones. Create easily digestible and short lessons and use responsive formats.
Add visual content. According to statistics, 65% of students are visual learners. Graphs, images, and infographics influence the effectiveness of learning and help students digest information better. People store information from visuals in their memory longer than from plain text or an audio recording.
Leverage multiple channels. You need to consider using multiple mediums to reach different types of learners (visual, auditory, reading, and kinaesthetic). Prepare different content formats for each channel, such as podcasts, images, videos, presentations, PDFs, etc. As a result, everyone will find a proper medium and perceive information in their unique way to memorize it.
Design interactive lessons. Interactive learning enables you to engage with the audience and build relationships with your students. Learners can communicate with each other and share their knowledge and understanding of the topic. They can also apply their critical thinking during practical tasks.
Provide personalized experience. Your online course can't be a solution for all. Craft it to the individual needs of your students. After completing your online course, learners should get the knowledge and skills they came for. You can help students attain their primary goals by implementing branching. Before students take your course, ask about their needs. Then, provide different learners with different versions of your course based on their preferences. For instance, if you sell an online course about social media marketing, you can offer students multiple branches: Instagram marketing, Facebook marketing, influencer marketing, YouTube marketing, etc.
Now you know what microlearning is and why it's essential. With our list of platforms and best practices for microlearning, you'll be able to optimize the process of eLearning and make it more pleasant for your students.
References:
This article defines the term and unveils how microlearning works.
In this article, you'll find the benefits of microlearning, challenges, examples, and best practices.
Last Updated: 23.06.2022