In the corporate world, investing in employee training and development has proven to yield significant benefits. Zippia found out that businesses with comprehensive training programs have a 24% higher profit margin. However, traditional methods of coaching can be cumbersome in our digitalized world.
Fortunately, the landscape of corporate learning is rapidly evolving, and now it is more than possible to learn anywhere and anytime. In this post, we delve into the world of corporate LMS software, exploring its capabilities and how it can revolutionize employee training and development.
What is LMS software?
An LMS (Learning Management System) or LCMS (Learning Content Management System) is a type of software, typically cloud-based, that enables the development of educational content in electronic format and facilitates online learning. In general, LMS software offers instructors a platform to create and deliver content, track student engagement, and evaluate student progress. Additionally, it may offer interactive features for students, including threaded discussions, video conferencing, and discussion forums.
These systems find applications in various sectors, including businesses, government agencies, traditional educational institutions, etc. By enhancing traditional educational approaches, LMS software proves to be a time and cost-saving solution for organizations.
LMS can be classified into different categories based on two primary criteria. Based on their target audience, they can be categorized as follows:
Corporate LMS are designed to train employees, partners, and clients.
Academic LMS are used by educational institutions. Typically, these systems have limited functionalities and minimal integrations.
Commercial LMS are suitable for creating and offering paid courses.
Hybrid LMS can be used for both internal corporate training and launching commercial, educational products.
From a technical point of view, there are two types of LMS platforms:
On-premise or server-based LMS. In this case, the LMS software is installed on a server owned or rented by the organization.
Cloud-based LMS. Clients access a ready-to-use service hosted on the developer's servers.
In this post, corporate LMS will be in the spotlight. In the following section, we will delve into the functionalities and advantages that these LMS platforms offer to businesses and organizations.
What is a corporate LMS platform suitable for?
LMS software is suitable for a wide range of training and learning needs. It facilitates efficient management and delivery of various educational content and training programs. Here are some key areas where a corporate LMS platform proves to be highly beneficial:
Employee training. A corporate training platform enables businesses to deliver ongoing skill development training and provide continuous learning opportunities for employees to enhance their knowledge and expertise.
Compliance training. If employees are required to undergo specific compliance training to meet regulatory standards, a corporate learning platform can simplify the process of delivering and tracking compliance-related courses.
Sales and product training. LMS platforms are effective tools for delivering product training to sales teams to equip them with the necessary knowledge.
Customer training. Corporate LMS systems can help businesses train customers, enabling them to better understand and use products or services.
Soft skills training. Using these platforms, companies can also launch courses on interpersonal skills, communication, and time management.
Onboarding. LMS software streamlines the onboarding process for new employees, providing them with essential information about the company culture, policies, and procedures.
In summary, a corporate LMS platform is a versatile tool that caters to diverse training needs, fostering learning and development within the organization. Depending on your business needs, you can easily create short or more detailed courses.
What to pay attention to when looking for an LMS system for businesses?
When considering a prospective LMS system for business, it's important to recognize your company's training needs. Nonetheless, there are three fundamental requirements that any LMS should address:
Course management. LMS platforms allow seamless uploading, organization, and delivery of learning materials to learners.
User management. An LMS enables administrators to add and edit users, categorize them into groups and departments, and assign specific roles to each user.
Progress tracking. Timely and accurately assessing individual learners or groups is a vital aspect of an LMS, facilitating ongoing improvement and monitoring of training effectiveness.
In addition to these core features, LMS platforms often offer extra functionalities that cater to specific organizational needs:
Learning path. LMS for training allows the creation of a structured course called a "learning path." This feature enables the deployment of specific evaluation criteria, deadlines, and unit arrangements.
Certification. Corporate training platforms can issue certificates to employees upon completing training courses or tests, providing validation and recognition for their achievements. This feature can also facilitate overall professional certification within the organization.
Mobile learning. Accessibility for learners anytime and anywhere is important. Some corporate LMSs are available as mobile apps, allowing users to take courses offline and automatically sync their results.
Learner feedback. An LMS facilitates the collection of valuable insights from learners through post-training feedback surveys. This feedback mechanism empowers organizations to evaluate the effectiveness and influence of their training courses.
Keeping in mind these features, organizations can make informed decisions when selecting the most suitable corporate LMS for their specific training requirements.
Top corporate learning management systems
The current marketplace is bustling with numerous LMS systems for businesses. These vendors vary from prominent global software companies to small cloud providers. In this overview, we will explore several of the most efficient LMS solutions that businesses worldwide employ.
SendPulse
SendPulse LMS is a versatile platform designed to cater to a wide range of business needs. Whether it's onboarding new employees, cultivating your team's potential, educating customers, or training and certifying partners, SendPulse LMS software has got you covered.
You can tailor your courses to suit your needs, choosing between paid and free courses, time-limited or lifetime access, and set your desired course progression style. Tracking progress and conducting tests is pretty straightforward, ensuring both learners and administrators stay informed throughout the learning journey.
SendPulse offers numerous integrations and provides access to API for seamless connectivity with your existing systems. As for course creation, you can easily create a program, add lessons and training materials without needing third-party specialists. Your content will render and be readily accessible on any device.
Celebrating learner achievements with automatic certificate generation is also made possible. Whether you prefer templates or desire a custom design, easily award learners with unique certificates upon successful completion of corporate training.
With this corporate training platform, you can effortlessly assess students' progress and performance to gain valuable insights into their adaptation to the workplace, employee performance, and team members' dedication and commitment. With SendPulse's mobile app, you can stay connected on the go, ensuring you can access your learning content anytime and anywhere.
Pricing: SendPulse offers a free tier limited to 200 students, three courses, and one instructor. The Pro plan enables a pay-as-you-go system, depending on the number of students. For 1,000 users, you will pay $21/month and get unlimited courses, API access, and up to 10 instructors.
Bridge
Bridge is a robust LMS for corporate learning. It allows you to create, catalog, and deliver scalable learning programs, making it a versatile solution for training employees, external partners, and customers.
You can easily deliver compliance training to ensure your workforce stays up-to-date with regulatory requirements. Additionally, Bridge LMS enables you to provide continuous learning opportunities for your employees. For new hires, this LMS software offers a structured onboarding process, helping them integrate smoothly into your organization.
Bridge Performance Management facilitates employee performance assessment and development. The built-in AI identifies skill gaps and recommends relevant courses based on employees' aspirations and needs. Facilitating communication and growth across teams, this LMS encourages constructive feedback through one-on-one and group agendas. Employees can also provide peer skill feedback.
There is also a division based on the field. For example, you can directly choose an LMS solution for healthcare, higher education, finances, etc. All Bridge plans include in-app chat support and useful materials on the website.
Pricing: Bridge's 2023 Starting Annual Agreement is $12,500. There are also three plans to choose from and a possibility to request a quote if you're an enterprise. The Learning Plan is $4/month per user. If you wish to upgrade, there are Learning & Performance and Learning, Performance & Engagement plans.
Talent LMS
Talent LMS is another corporate LMS with a specific focus on employee training, onboarding, and compliance training. Its cloud-based nature makes it a great choice for organizations looking to train both in-house and remote employees effectively.
One of the standout features of Talent LMS is its course-building capabilities. Users can create courses from scratch using various media formats, such as videos, presentations, and documents. Alternatively, existing content can be reused, streamlining the course creation process. To make the learning process more engaging, Talent LMS supports gamified elements.
This LMS for training provides efficient tools to manage and monitor the progress of training programs, enabling administrators to stay updated on learner performance. For a more interactive learning experience, the software allows the delivery of live learning sessions.
The extensive course library offers different learning resources. Additionally, the platform's customer support is available in every plan.
Pricing: This corporate LMS offers four plans with different features. The most affordable one is Starter, which is limited to 40 users but provides unlimited courses. There is also an opportunity to try a forever-free plan, which includes up to five users and ten courses.
iSpring Learn
iSpring Learn stands out as a user-friendly corporate learning management system. This platform excels in user management, content authoring, and delivery, making it a versatile solution for training needs.
One of its notable features is its built-in tool for creating pagelike courses with multimedia elements and quizzes. Moreover, iSpring Learn seamlessly integrates with the powerful iSpring Suite authoring toolkit. This integration empowers users to develop professional eLearning courses, advanced quizzes, role-play simulations, and video tutorials.
The LMS software allows the setup of blended learning programs. Users can combine self-paced courses with online training sessions hosted on Zoom or Teams. A course catalog enables learners to self-enroll in courses for better autonomy. iSpring Learn also incorporates a newsfeed with the latest updates and announcements.
Pricing: iSpring plans are split into three categories — Business, Freelancers, and Academic. The first one again offers three different plans, where the cheapest one costs $770 per year. It consists of an eLearning authoring toolkit and 24/7 technical support. Learning Management System also charges a fee for each user, minimum $2.29 per user per month.
eFront
eFront is a corporate learning platform designed to cater to the needs of the most complex learning environments. The platform offers extensive customization options, allowing users to tailor their learning portals to match their unique branding and requirements.
Users can re-use their best content on multiple courses and enhance it further by importing useful material from the web. The platform's assessment engine supports multiple types of questions, quizzes, and tests, providing extensive reporting on all results. eFront's editor enables the creation of interactive HTML5 content within the platform, promoting engaging and interactive learning experiences.
For organizations seeking ready-made courses, this LMS software offers a course marketplace with numerous options on various topics. Users can purchase courses that suit their training programs. eFront's learning delivery features include learning paths, blended learning options, and curriculums.
There are gamification elements, such as points, badges, levels, and leaderboards, which enhance learners' experiences. The Skills feature allows course and curriculum assignments based on specific skills, while skill gap testing identifies weaknesses for targeted learning programs. The platform is available in 22 languages.
Pricing: The Standard plan starts at $1200/month and provides spots for up to 1,000 registered users, unlimited courses, and unlimited email support. If you wish to add a collection of ready-made courses, the starting price will increase up to $1800/month.
EdApp
EdApp offers a variety of features to make workplace learning more effective and engaging. Businesses can adjust over 1,000 ready-made courses to match an organization's identity. The Creator Tool allows you to build courses in real-time. There are 80+ templates at your disposal that can be enhanced with videos, quizzes, games, assessments, and more. This LMS system for businesses doesn't require coding or graphic design skills.
With AI Create, you can defeat writer's block, save time and brainpower. EdApp allows you to create courses with just one click and let AI handle the brainstorming, research, and inspiration. You can also manage who can access, edit, and publish learning content.
Moreover, there are versatile engagement features and integrations that you can employ while creating courses. EdApp lessons are designed to offer a highly engaging multisensory experience, incorporating video and interactive elements. Colorful charts are used to present data in an eye-catching manner. Additionally, the LMS software provides extensive progress monitoring and the option to gamify courses, offering real-world prizes to top learners.
Pricing: EdApp offers a forever-free plan with an unlimited number of lessons and access to AI Create. If you wish to upscale and get access to analytics or API, the "Do-it-Yourself" plan might be the option. You will pay $2.95 per active user per month. There is also a possibility to get a Managed version that will provide you with courses made by experts. In this case, the price for a user will vary between $2.95-$5.95 per month.
LearnUpon
LearnUpon's corporate LMS offers businesses a comprehensive suite of tools to streamline employee training and learning programs. The platform focuses on user-friendly technology and industry expertise to deliver impactful training that enhances employee onboarding, skill development, and overall success.
The platform enables blended learning experiences by incorporating Instructor-Led Training modules and offering webinar integrations. Engaging content options, such as surveys, exams, assignments, badges, and certificates, supplement course materials and promote interactivity.
With LearnUpon's versatile features, importing SCORM and xAPI content is a breeze. You can seamlessly integrate courses from your preferred authoring tool, ensuring smooth content delivery within your courses. Incorporating videos into any course is also possible. Additionally, you can add accessible captions or transcripts, making the content more inclusive and accommodating to all learners.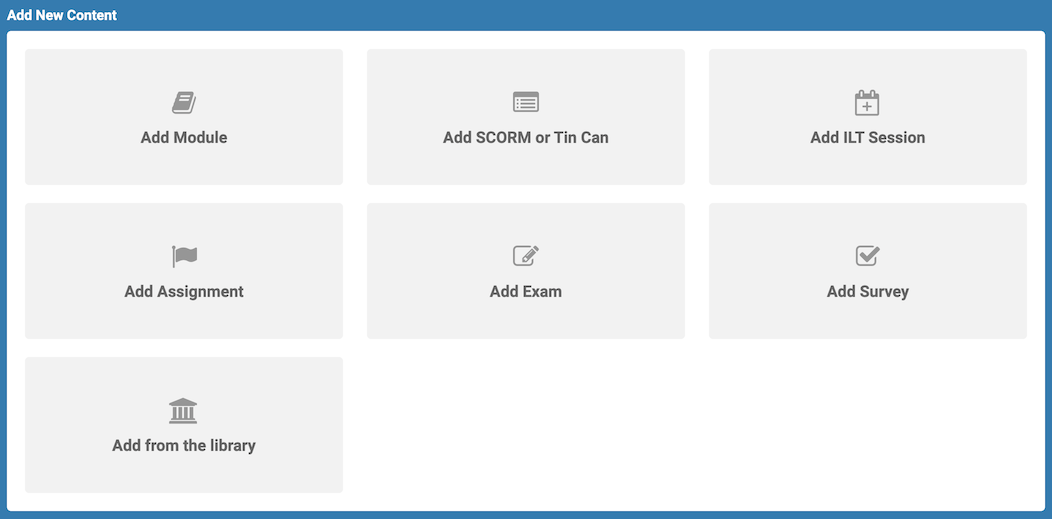 LearnUpon's corporate learning platform also simplifies the process of uploading and embedding files into your courses. Furthermore, you can embed Google Docs and Google Slides using simple links, streamlining content integration and accessibility.
Automated report scheduling enhances tracking and assessment, while collaborative learning features enable employee engagement. LearnUpon also includes global support available 24/7.
Pricing: There are three plans to choose from — Essential, Premium, and Enterprise. Pricing for any of them is available on request. The Essential plan is suitable if you have between 50 and 150 users. Instructor-Led-Training and custom branding are included in the cheapest tier.
Docebo
Docebo is a corporate LMS driven by AI. Not only can you enroll employees in training programs, but you can also give them the autonomy to choose what they want to learn. The platform features AI-Powered Deep Search, facilitating easy access to relevant content, and the Docebo Learner Coach, which recommends suitable training materials to users. Additionally, the LMS offers personalized content suggestions based on users' interests and popular course options.
The platform offers a powerful configuration engine that allows you to create audience-specific pages using flexible, drag-and-drop functionality, making it quick and easy to set up learning programs. The software has a user-friendly interface, high configurability, and robust learning management.
One of Docebo's standout features is its social learning functionality. Employees can collaborate by sharing content, asking questions, and providing feedback. LMS for training supports various eLearning formats, such as AICC, SCORM, xAPI (TinCan), and Windows. Moreover, its responsive player adapts dynamically to tablet and smartphone screens, ensuring an optimal course view on all devices.
Pricing: Docebo's pricing and plans' details are available on request.
The bottom line
Finding the best LMS for your company can be a complex and time-consuming endeavor that may require a substantial financial investment. There are numerous factors to consider, including whether the LMS effectively addresses your specific business challenges, provides the essential features for your training requirements, and remains within your budget constraints.
Here is a brief table with eight LMS software that you can compare:
| | | | | |
| --- | --- | --- | --- | --- |
| LMS software | G2 rating | Price | APIs and integrations | Unique feature |
| SendPulse | 4.6 | $21/month | + | Android and iOS apps |
| Bridge | 4.3 | $1,042/month | + | Knowledge Retention Tools |
| Talent LMS | 4.6 | $69/month | + | Gamification |
| iSpring Learn | 4.6 | $64/month | + | Role-plays |
| eFront | 4.5 | $1200/month | + | HTML5 content |
| EdApp | 4.7 | $2.95/month per user | + | AI Create |
| LearnUpon | 4.6 | On request | + | SCORM and xAPI support |
| Docebo | 4.4 | On request | + | Docebo Learner Coach |
There are definitely different solutions out there; that's why it's important to juxtapose different parameters to choose an optimum corporate LMS. If there is a free plan, like in SendPulse, for example, it becomes even easier to determine whether the service suits your business needs. Don't hesitate to give it a try!