Mobile learning (m-learning) is a form of education where learners use their smartphones and tablets to receive new knowledge and skills. Students can read textbooks, complete tests, and take online courses by using their phones and the internet at any time and place they need. It helps improve engagement and increase knowledge retention.
In this article, we'll review the importance and benefits of mobile learning, unveil its 10 types, and provide you with the top 3 mobile learning tools. We'll also uncover 7 tips to improve your mobile learning strategy.
Why is mobile learning important in education?
According to BankMyCell, there are around 6.92 billion smartphone users worldwide in 2023. It means that the majority of people have mobile devices and use them for multiple purposes. One of them — education. Research shows that mobile learning increases productivity by 43%. Materials delivered to smartphones are concise, making it easier for students to perceive and memorize all the information provided.
M-learning allows students to acquire all the necessary knowledge and skills at any time and any place. It's convenient and accessible, allowing learners to receive new knowledge when they have busy schedules. This way, even full-time workers can explore new topics, get new skills, take courses, and increase their expertise. Mobile learning erases barriers for learners to obtain the information they need. Despite location, schedule, and device accessibility, people can study everything they want.
Companies can run employee training and reach a wide audience. New workers can complete these corporate training programs from anywhere, increasing the number of remote employees. Businesses can hire people from different geographical locations and time zones and provide them with mobile training.
With m-learning, students can receive personalized experiences. Mobile apps and various platforms can be adjusted based on students' needs, preferences, goals, and requirements. Since learning is personalized, it's more engaging and interesting for learners. It makes students receive the necessary knowledge and skills faster without spending time on things they are not interested in.
Finally, mobile learning is more affordable than offline classes. Teachers and learners spend much less to organize the learning process and have access to it.
Now that you know the importance of mobile learning, let's identify the most essential advantages of it. It will help you decide whether you need to implement mobile learning.
Benefits of Mobile Learning
With the development of mobile learning, students' lives have become easier. They can study from anywhere in the world, whenever free, and are willing to receive new knowledge. However, these are only some of the pros mobile learning carries. There are even more benefits for you as an educator, let's find them all out.
Flexibility and accessibility. As we've already mentioned, students can access the learning process anytime from any mobile device and location. This allows people with busy schedules to get new knowledge and improve their expertise. The internet connection is enough to get all the information about a specific topic. Learners can determine their schedules as they want to. Classes are always available, making it possible for learners to study all the materials provided for them.
High level of engagement. With mobile devices, students can access multimedia-rich content. Teachers can add various content formats, such as videos, quizzes, games, and simulations. As a result, learners feel more happy with the classes and engage more. As an additional benefit — students perceive information faster and improve memorability.
Personalization. Mobile apps and platforms can be adjusted to resonate with people's preferences. As a result, students can focus on the areas that need improvement or topics they want to study from scratch.
Inclusivity. People with different capabilities can use m-learning. Since it can be adjusted to personal preferences, mobile learning is suitable for people with disabilities. It ensures an inclusive and accessible experience.
Cost-effectiveness. Mobile learning is more affordable than the traditional learning process. To educate learners, you don't need to spend money on physical location and materials.
Real-time feedback. Students can receive feedback on their learning progress in real time. They can instantly find out whether they need to study harder to get better results. Learners can monitor their progress and grates and make adjustments when necessary.
Now that you know the benefits, it's time to explore the 10 types of mobile learning.
9 Types of Mobile Learning
Mobile learning covers various learning methods and approaches and can differ based on goals, topics, and audience. In this section, we'll uncover the 10 most common types of m-learning you need to be aware of. So, let's dive in.
Mobile apps. Nowadays, we can find many apps for education that are useful and engaging. Educational apps help gain specific knowledge and skills in languages, mathematics, programming, healthcare, etc. With educational apps, children can use their screen time to receive new knowledge and make the learning process fun. Mobile apps are especially useful for kids because they use gamification. It keeps young learners engaged and encourages them to perceive the information they see faster.
Podcasts and audiobooks. Podcasts and audiobooks are a great way to explore new topics when learners can't focus on the screens of their phones. They help get new information even for those who are busy with something or don't enjoy reading. Podcasts and audiobooks are great alternatives to books. Students can receive knowledge while on the go.
Mobile sites. Now almost all educational websites are mobile responsive meaning that learners can easily access the materials from their mobile devices. These educational sites can include different content formats like articles, videos, quizzes, and other resources optimized to fit mobile screens.
eBooks and eTextbooks. eBooks and eTextbooks are another type of m-learning that can be accessed from smartphones. Learners no longer need to carry paper books to read because they can download files to their mobile devices. It's convenient and easily accessible at any time. They can also install book readers on their smartphones.
Microlearning. The attention span has dropped dramatically in recent years. It means that people need new approaches to keep their attention and receive the necessary knowledge. Microlearning is a solution to this problem. It involves delivering small, bite-sized pieces of content and keeping learners engaged.
Language Learning Apps. Mobile learning apps allow people to start learning new languages on the go. Students can set up their language level, goals, and other criteria to make the process fun and useful. Apps like Duolingo and Rosetta Stone provide learners with new words, grammar, and memorability tasks.
Mobile Assessments and Quizzes. Students who take courses using their phones they can easily pass through mobile assessments and quizzes. Learners can take their smartphones to go through knowledge checks at any time and place.
Chatbots and AI-based Learning. With chatbots, learners can receive answers to their questions, recommendations, and support. ChatGPT enables students to get all the necessary information quickly. Users only need to input their queries.
Mobile Simulations. Simulators are widely used for training in healthcare, aviation, and engineering. To make the process more accessible and flexible, specialists create mobile simulators. So, the students engaged in healthcare, aviation, and engineering can take the training with the help of their smartphones.
Now that you know the types of mobile learning you can use for education, it's time to review the platforms you can apply to create educational content for mobile users.
Top 3 Mobile Learning Tools
You can use many platforms to design mobile online courses, ensure a microlearning experience, and provide essential knowledge to your students. In this section, we'll discover the best tools in terms of price, usability, and features. Let's start with SendPulse.
SendPulse
SendPulse is a multichannel marketing solution that empowers you to design online courses for mobile learners, promote, and sell them. With its help, you don't need to overpay for several platforms for the features SendPulse combines. The service is perfect for business schools, development centers, and other experts striving to teach. The tool suits beginners since you don't need any specific skills, knowledge, or experience to create a professional online course.
The platform is easy and intuitive and doesn't require you to know the code. With the drag-and-drop editor, you need to add the elements to the editor's field. SendPulse enables you to create professional courses, conduct tests, and generate certificates upon course completion. You define the structure of your mobile online course and add different content formats like infographics, videos, eBooks, and audio lectures. It improves learners' memorability and experience.
The platform allows you to design landing pages and registration forms, sell your courses, and manage your contacts in CRM. You can promote your ready course through bulk email and SMS campaigns, chatbot, and web push notifications without much effort.
Below, you can see the process of designing a course in SendPulse.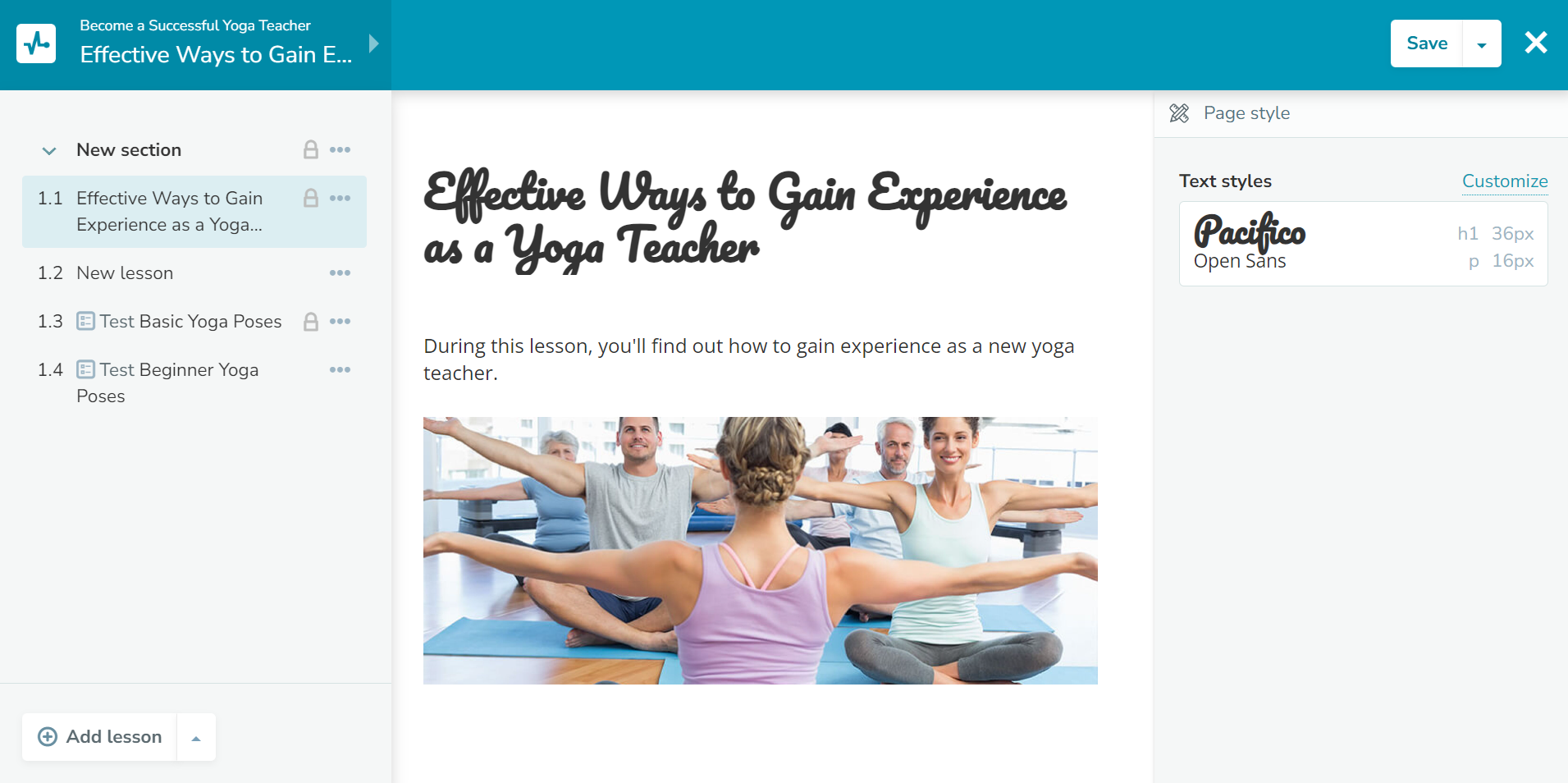 SendPulse's core features:
intuitive drag-and-drop builder;
payment systems support;
certificates of completion;
no knowledge of the code;
free plan;
CRM for sales automation;
course instructors;
testing;
library of templates;
homework assignments;
multiple communication channels.
Pricing: SendPulse allows you to have 200 students, develop one course, add one instructor, use one GB of file storage, create homework assignments, and access the LMS platform for free. If you have more students or want to design more courses, you'll need to purchase a paid plan that starts at $42 per month for 1000 students, unlimited courses, 10 instructors, 15 GB of file storage, API access, personal link to the course, and ability to make courses paid.
EdApp
EdApp is a platform designed to make eLearning more useful and fun. The service's AI Create enables you to develop courses without brainstorming. With this free tool, you can avoid unnecessary time spent on research, questions, and idea generation. The platform helps you generate your course based on the topic you choose. This way, you can skip the research stage.
EdApp provides you with all the tools necessary for mobile learning. With its help, you can choose one of the ready-to-go templates and generate content for your mobile online courses.
Below, you can see an AI-generated lesson with the help of EdApp.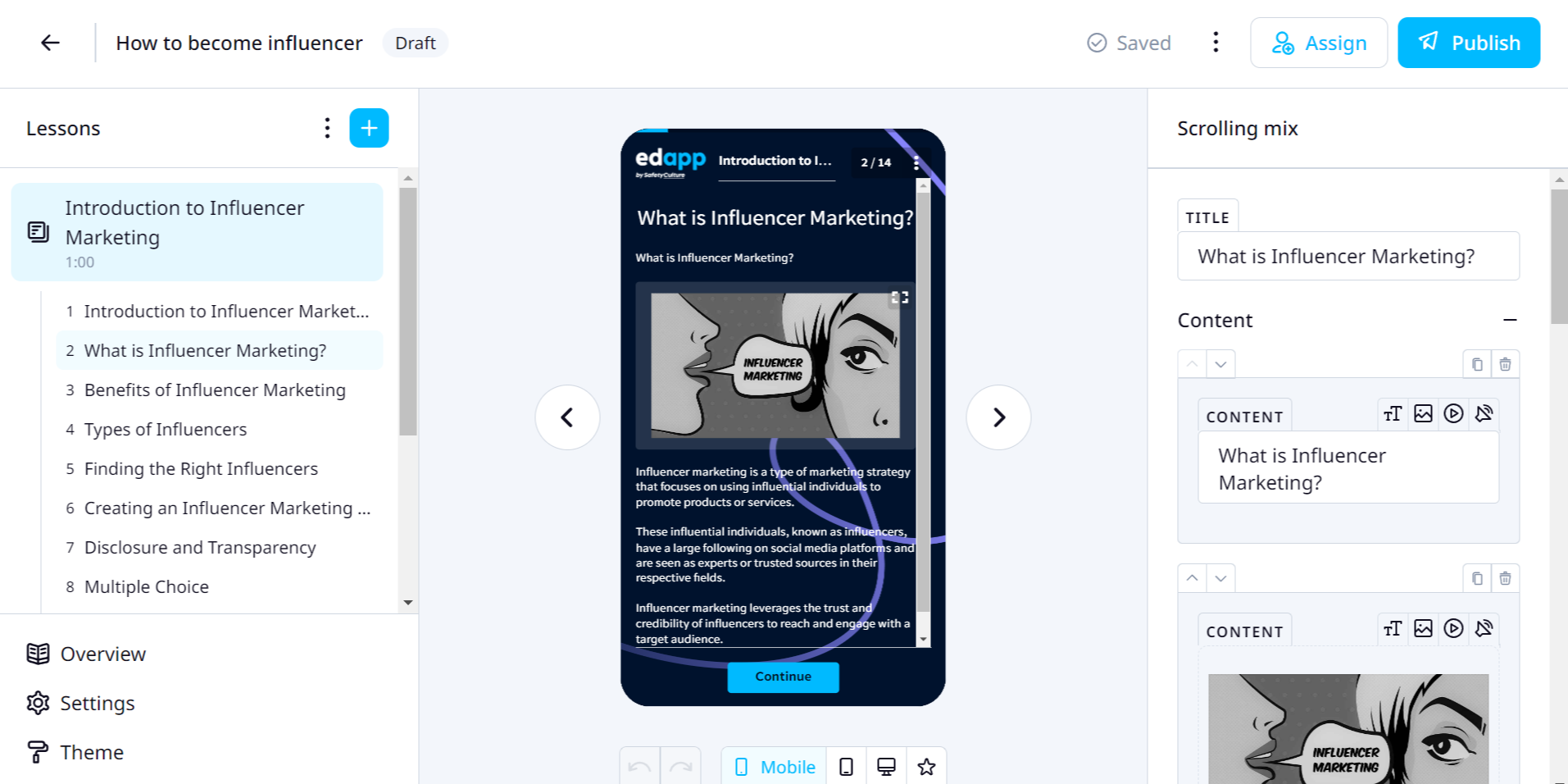 EdApp's core features:
AI Create;
microlearning;
mobile learning;
free plan;
course review;
advanced analytics;
library of 1,000+ editable courses;
PowerPoint converter;
AI-generated lessons;
customized certificates;
built-in gamification features;
customized branding.
Pricing: The service offers you to create unlimited shareable courses, add unlimited users, create AI-generated lessons, access a library of 1,000+ editable courses, use built-in gamification features, add unlimited video and audio, have customized branding, and receive 24/5 online support for free. However, if you need to access advanced features, you'll need to pay $2.95 per active user monthly. For this price, you'll get API integration, AI translation, single sign-on (SSO), group-based enrollment, spaced repetition feature, advanced analytics, and customized certificates.
Chameleon Creator
Chameleon Creator is a platform that suits perfectly for beginners. It helps create quality content for e-learning without any need for training. Its drag-and-drop editor enables you to design mobile online courses based on your preferences and requirements.
Parallax backgrounds allow you to turn a mundane single-page scroll into a layered animation. The platform has a branching feature. It means you can tap into advanced navigation with branching cards and buttons. Assessment building empowers you to create tests in no time. With the Review Tool, you can add comments on modules and communicate the feedback in real time. The tool encourages collaboration and content improvement. The built-in image library helps change the colors of the course based on your needs. Once you finish your course, you can test it and launch it after everything works properly.
Below, you can see how to create courses with Chameleon Creator.
Chameleon Creator's core features:
intuitive interface;
pre-designed learning templates;
library of customizable illustrations;
review tool;
parallax backgrounds;
expansive branching;
assessment building.
Pricing: The service has a 7-day free trial, but once it ends, you need to purchase a paid plan. The price for the paid plans starts at around $3556 annually. It covers up to three authors, 60 projects, theming, SCORM, customer support, and custom fonts.
Now that you know the platforms, let's explore some best practices that will help you improve your mobile learning strategy.
7 Tips to Improve Your Mobile Learning Strategy
M-learning is about accessibility and flexibility. However, to make sure that everything works for your students, you need to pay attention to points that will make your content more attractive to learners.
Create mobile-friendly content. The first thing you should take care of is optimizing your content for mobile devices. Ensure that your educational materials can be accessed from various devices without complications. Pay attention to responsive design, appropriately sized media, and easy navigation. Make sure that your content looks good on smartphone and tablet screens. Everything should be smooth and fast to ensure a seamless learning experience for your students.
Allow students to customize their learning experience. Personalization empowers you to help students achieve their initial goals with learning. That's why allowing learners to craft their learning experience is essential. Let them set preferences, determine goals, keep an eye on their progress, get feedback, and receive personalized recommendations. For instance, Duolingo allows users to set language levels and goals.
Ensure a user-friendly interface. Mobile users prefer simple and intuitive interfaces. So, if you want learners to stay with your app or platform, make sure to make your navigation simple and consistent. Don't make students search for the necessary modules, tests, and actions too long. Simple navigation will help you improve satisfaction with your company.
Use multimedia. Various content formats like videos, infographics, and images enable you to enhance the learning process. It results in better knowledge retention. Videos and images encourage memorability and improve engagement. Since the attention span has dropped dramatically, it's essential to find content formats that can keep learners' attention. It's challenging to do it with plain text, but it's still possible when you use additional engaging multimedia.
Develop mobile-friendly assessments. Your assessments and quizzes designed to evaluate the knowledge and skills of students should fit small screens of mobile devices. Make sure that your tasks have responsive layouts and touch-friendly interactions.
Keep your content constantly updated. Refresh and update your content on a regular basis. It will help you keep it relevant and current. Your content should reflect the current realities of the topic.
Incorporate microlearning. Break your content into smaller pieces to ensure it is valuable and practical. Large course materials should be divided into bite-sized modules (around 200-300 words for text and around 2-10 minutes for videos). Consider adding a short quiz after each module to improve memorability. Microlearning allows you to develop an easily digestible learning process.
Congrats, now you know the main peculiarities of mobile learning. Consider using our tips to ensure an engaging and useful learning experience with your company.
References:
This article defines the term and unveils the pros and cons of mobile learning.
In this article, you'll find the main types of mobile learning.
Last Updated: 27.09.2023