The recent pandemic outbreak, with its numerous global lockdowns, has greatly contributed to the emergence of a new phenomenon in the educational industry — online learning. Today, online courses have become an excellent option to deliver accessible learning experiences for learners worldwide, anytime and anywhere.
According to Coursera, the demand for online education continues to outpace pre-pandemic levels. In 2021, the total number of registered learners reached 92 million people, which is almost 30% higher than in 2020 and two times more than in 2019. It is believed that its popularity will keep growing during the following decades, with eLearning being employed within and out of the educational industry.
Nowadays, online courses are an excellent tool that does not solely help people study remotely. It's also used to deepen the knowledge in a specific subject of interest or learn something new from scratch. Companies implement online courses to upskill and reskill their employees, benefiting their workflow improvement and the entire business growth.
Realizing the scale of this trend, more and more experts started launching exclusive online courses of various types and industry focus. But, though every course can find its audience, it's still important to know how to create the one that goes viral and provides maximum efficiency to learners.
In this post, we'll go deeper into what types of courses are trending today, provide some practical tips on creating a custom course online, and share a great tool that can help you make your perfect course for basically any industry. Let's get it started!
Popular course types to launch in 2023
Regardless of what industry and audience your project targets, considering the course type is probably one of the most essential aspects that matter when creating a custom online course. Each course category has different purposes, requires different levels of expertise, and offers unique advantages for learners.
Below we'll introduce the five most popular types of online courses to create that can fit the target niche and go viral among large audiences.

Introductory or 101 course
Introductory courses are beginner-level courses mainly targeted at learners with little to no knowledge of a selected subject. What is more, no matter what topic you're going to focus on, you'll surely start with the 101 course, which stands at the top of the course hierarchy.
Overall, introductory courses play a key role in hooking potential learners for a long-term learning journey.
This category is a win-win option for both digital product creators and learners. They are easy to produce and showcase only the basics of a specific topic, explaining each aspect in simple words. That is why anyone can enroll in this course type, regardless of educational background.
Main advantages of this type of online course:
comparatively less content required;
shorter delivery timeline;
high project scalability and more options for the topic development.
A good example that perfectly fits the introductory course type is the entry-based level SEO course on Coursera. Within only hours of learning, students can get a general idea of what search engine optimization is and how to get themselves ready for this career.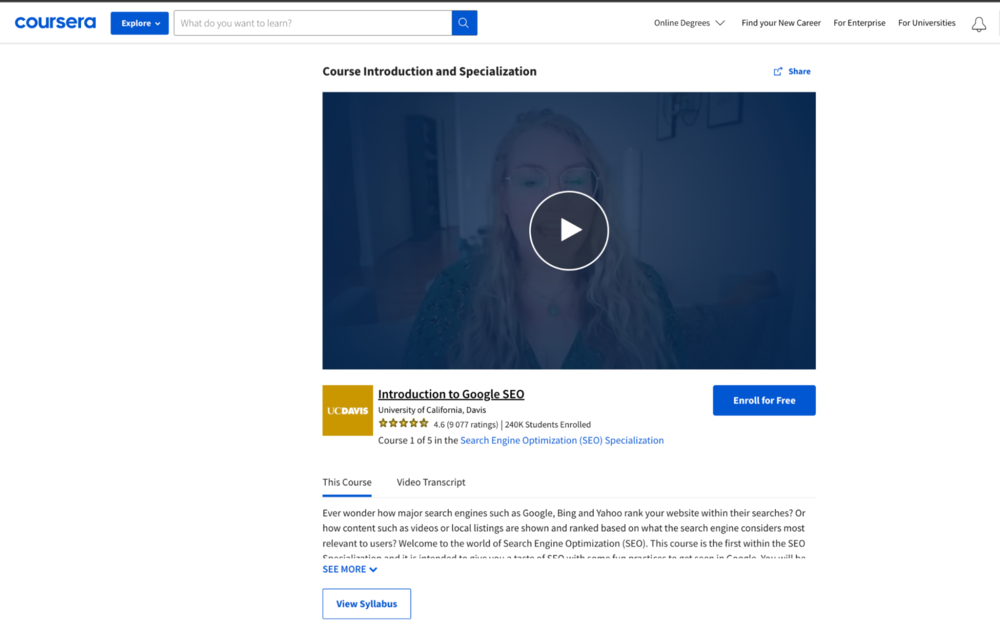 Specialization course
Unlike introductory courses, a specialization program is targeted at deeper learning of a certain subject that can help learners obtain job-focused skills they can use for employment or career development.

As a rule, specialization courses consist of several milestones that cover various aspects of a specific industry or job. They have a much longer time frame compared to other educational courses and include hands-on projects or practical assignments that help develop a better knowledge and experience about some aspects. At the end of the course, learners get a shareable certificate of completion they can attach to their CVs or add to their LinkedIn profiles.
Main advantages of this type of online course:
deep expertise in a specific project;
better monetization and scalability;
course automation.
Here's how it's been implemented on the edX dedicated learning platform. Their "Leadership and Communication" course consists of two blocks. After completing each part, learners receive a certificate of accomplishment confirming their expertise in the target scope.
Signature of flagship course
If designed and planned properly, signature courses can be your bread and butter in the online learning industry market, as they are structured around a broad topic and offer an authentic, step-by-step solution to a certain problem. Therefore, these can be a long-term asset and the foundation of your course business from a long-term perspective.
While Apple's flagship is iPhone, why don't you make your brand set with online courses? It enables you to show your expertise and authority in a certain field and share exclusive knowledge with your students.
Main advantages of this type of online course:
sharing unique knowledge or experience;
creating strong brand awareness;
recurring revenues.
One of the best examples of this course type is Stu McLaren's Membership Experience, where he showcases the basics of setting up, launching, and promoting a sustainable membership site.
Online masterclasses
One of the most popular types of online courses you've surely come across on the internet is masterclasses. A virtual masterclass has no set rules or structure models, which opens up a perfect chance for creators to unleash their creativity and create a powerful product that is unique and relevant to their target audience.
This course type can include online lectures, video lessons and tutorials, live Q&As, coursebooks, and other learning materials that come in handy for modeling and skill development. The key point is keeping your masterclass structured to improve the learning experience and audience engagement.
Main advantages of this type of online course:
highly experienced professionals engaged;
scalable project models;
minimum maintenance resources required.
And here comes an excellent example of this type of online course. The concept of the MasterClass learning platform is built out of thousands of online masterclasses from the world's celebrities ready to share their expertise in a particular field.
X-day challenge course
The best thing about challenge courses is that they establish momentum and immediately hook your audience with certain benefits they can provide. The key point is that, unlike other course types, it is built in a model of sprint for a fixed time — seven days, two weeks, 30 days, etc. This allows keeping your participants constantly engaged and motivated, which significantly helps in making progress and achieving results.
Main advantages of this type of online course:
high user engagement;
result-focused approach;
course automation and passive revenue.
That's exactly what Cloe Ting, a fitness personality, launched in 2018: a powerful coaching platform with free workout options available for anyone, anytime, and from anywhere. The YouTube creator has successfully transformed workout video content into a series of powerful courses and recommended herself as a fitness brand in particular.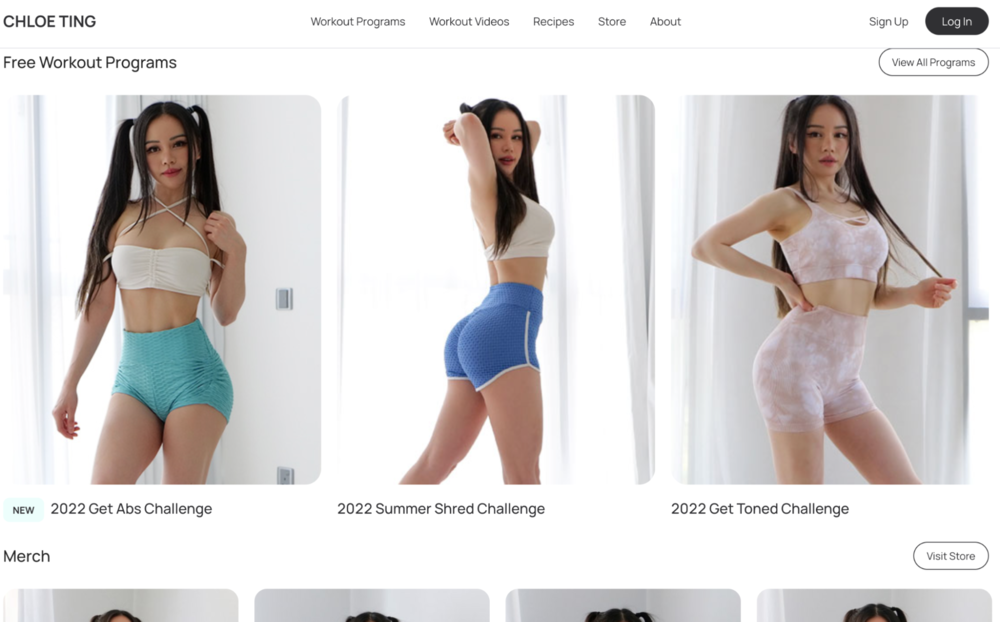 Best practices for launching a custom course of any type
Once you've learned the basic types of online courses to create, it's the right time to consider making the custom one. Here are the top tips that can greatly help you launch a competitive educational project online:
Choose the right subject matter and a preferable course type. For more inspiration, you can also research similar courses within your scope and analyze their strong and weak points that might be helpful for designing your online course.
Test the idea for relevancy. At this stage, the main goal is to ensure that your effort will find results in a product the audience will certainly want to try. Otherwise, you risk gaining no revenue or creating a course that is not interesting or relevant for learners.
Conduct comprehensive topic research. Once you've ensured there is a high demand for your course and discovered all the pain points of your target audience, it's time to research the information you want to include in your course and decide how it can be structured.
Write an outline for your learning course and produce content. Make sure it's engaging and covers all the aspects to perfectly match the learner's needs and expectations.
Market your online course to boost product visibility and attract more learners. This essential process enables potential learners to learn more about your online courses and consider enrollment.
Gather feedback and make improvements. The final stage implies measuring the performance results of your online project, outlining what was and wasn't achieved, and defining the ways you can improve these.
These are the key steps each course creator goes through when planning and launching an educational project online. So, knowing the basics of successful course creation, it's the right time to start developing your product.
Steps to creating your online course with SendPulse
SendPulse has recently launched a universal solution that streamlines the process of creating courses online and can be a good fit for professionals from any industry. Here are the main steps of developing your course with our course builder.
Sign up for the course builder
You can create an account on our platform for free. The whole process takes less than 5 minutes as all you need to do is to enter your email and create a password.
Start creating your first course
Click the "Create course" button on the main screen, and you can choose between creating a course using a pre-designed template or doing it from scratch.
Enter your course details
Indicate your course title and URL and save the changes.
Set up your course
Modify the main settings for your course:
Add images for your course preview and landing page.
Add a course description that will be displayed on the course registration page.
Choose your course format — open-ended or tied to specific dates — and determine whether it will be free or paid.
Set up your lesson flow. You can provide learners with access to all lessons at once or open access to the next lessons only after they complete previous modules.
Specify your course completion criteria. Your students may need to complete all lessons and pass a test to complete the course or just successfully pass a test.
Choose whether or not learners will be provided with a course completion certificate.
After adjusting all the settings, make sure to save the changes.
Add lessons and tests
After setting up the course details, it's time to move on to the most important part — creating your lessons. To do this, click "Add lessons," and you'll be redirected to the lesson editing dashboard.
Here you can add text, images, videos, audio, and other types of files that can simplify the information delivery. Here, you can also create tests to evaluate how well learners processed the information provided.
Create your course completion certification
If you want learners to receive a certificate upon course completion, navigate to the "Certificates" section to design one. You can choose your text style, background color or image, define whether or not you want to mention the instructors, and the date of completion on the certificate.
Publish your course
After you're done adjusting your course settings, creating lessons, and customizing your course landing page, you can return to the main page and click the "Publish" button.
Create your best online course today
We hope this post has helped you get ready for launching your eLearning project and provided some tips on how to create a powerful course of a required type.
Should you be looking for a platform to create your course, check out our online course builder — it is an excellent option for launching your eLearning product, regardless of its scope, audience, or subject. It doesn't require deep expertise in developing custom online courses. At the same time, it enables upgrading your teaching experience by transforming all of your workshops, presentations, podcasts, videos, books, and more into one outstanding digital product.
Interested in giving it a try? Sign up for free and start building your custom online course of any type!