Double opt-in is an email subscription method. It means that users are added to your mailing list only after they confirm the subscription two times. With this method, you'll get high-quality leads and better email deliverability.
Building a mailing list using a subscription form can seem like a tedious process, but it is a must for your email marketing strategy. When choosing a list building technique, you should decide which email subscription method to use — single opt-in or double opt-in. Each of them has its own peculiarities as well as advantages and disadvantages. Read on to discover the difference between single opt-in and double opt-in.
Single Opt-in vs Double Opt-in
The difference between these two methods lies in the number of steps users must take to subscribe. Hence, the choice will influence the quality of your mailing list, email deliverability, and number of conversions.
Single opt-in means that a user joins your list right after they provide their email address and click "Subscribe." So, this is a one-step process that doesn't require users to go to the inbox to confirm their subscription.
Look below to see how the single opt-in subscription process looks. Users enter their email address.
Then, they submit the address and immediately join the mailing list.
A double opt-in method implies a two-step subscription process. After users leave their email address in a form, they receive an email with a confirmation link. If they follow it, they join a company's mailing list.
Look at the example of the double opt-in form below. After users leave their email address, they're asked to verify it.

Immediately, they receive a confirmation email. The brand asks them to follow the link if they want to subscribe or delete the email if it was received by mistake.
Advantages and disadvantages of double opt-in
Double opt-in subscription forms have several significant advantages over single opt-in forms. Check them out below.
Advantages
Quality leads. If users went through two-step verification, you can be sure they're aware of what they're doing and are really interested in your brand.
High email deliverability. The double opt-in method helps marketers eliminate spam traps, emails with typos, and their competitors' attacks aimed at harming the sender's reputation. With this method, you'll collect a high-quality mailing list and send campaigns to engaged subscribers that will result in high email deliverability, open rates, and overall email performance.
Compliance with GDPR regulations. Despite the fact that double opt-in is not required by the GDPR regulations, it won't be superfluous. Use it as extra proof that you send legal campaigns.
Still, the double opt-in method has some minor disadvantages. Before creating a subscription form, you should be aware of them.
Disadvantages
Slow mailing list growth. Since the subscription process takes two steps, users need more time to join your list. Besides, some of them can forget to check their inbox. As a result, it takes much longer to collect a list.
Lower conversions. Some users interested in your blog or products may not have time to check the inbox or simply give up halfway because of this two-step process. So, you should realize that you'll get lower conversions.
Now, that you know the peculiarities of each method, it's time to choose one and start collecting leads. No matter which method you like, SendPulse allows marketers to create both forms without any technical skill for free. Follow the instructions below.
How to Create a Double Opt-in Subscription Form
Register with SendPulse
Choose a subscription form type
Design your subscription form
Select the necessary subscription method
Creating a subscription form won't take you more than 30 minutes with the SendPulse Subscription Form Builder. You only need to drag and drop the necessary elements to your form, and design them to your liking.
Step 1: Register with SendPulse
If you don't have an account yet, create it. You can sign up with Google or Facebook.
Step 2: Choose a subscription form type
In your account, navigate to "Subscription forms," click "Create a new form." Then, choose the form you like and select a mailing list where all the addresses will be added.
Step 3: Design your subscription form
Drag the necessary elements from the left to your form, and edit them in the right panel. You can add as many fields as you need, use checkboxes, radio buttons, drop-down menus, etc. Change style, colors, font, images, background color, etc.
Step 4: Select the necessary subscription method
In the upper right corner, click "Form Options" and go to "Opt-In Settings." Here you should enable the corresponding setting by turning the toggle switch to the ON position. So, after subscribing, users will receive a confirmation email.
After that, you can edit the text of your confirmation email below.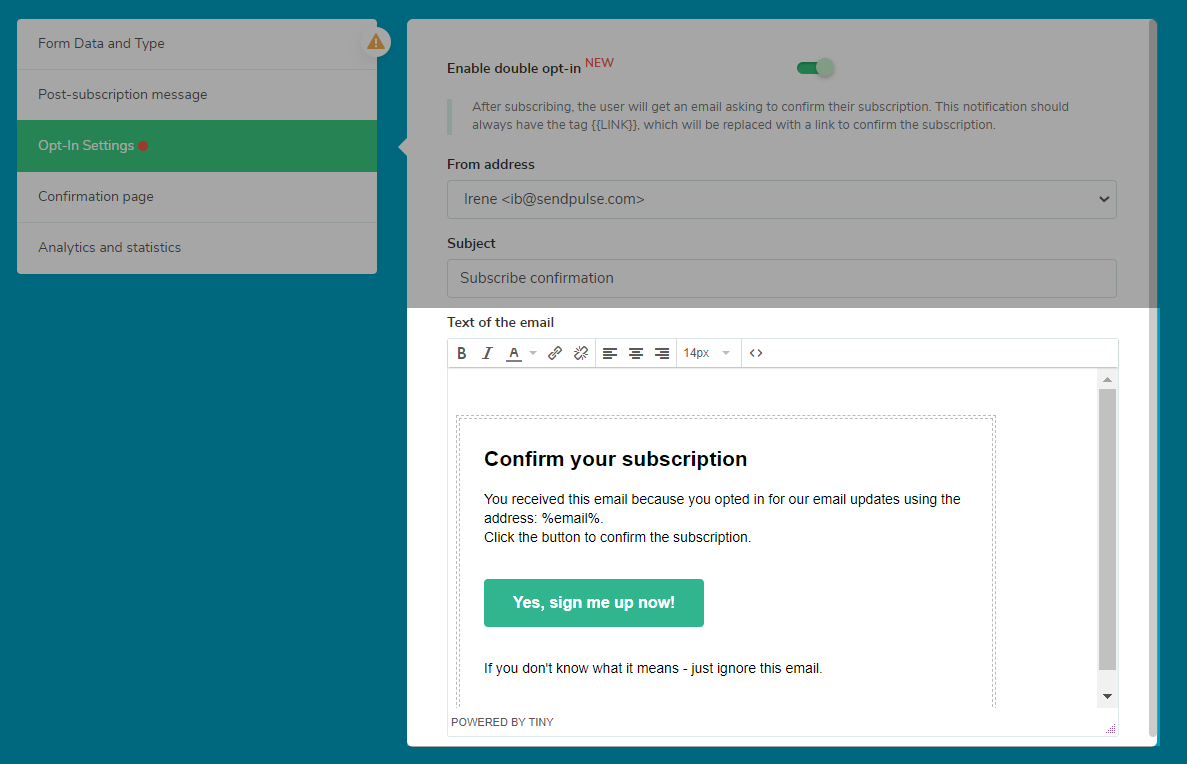 If you decided to use a single opt-in method, you don't need to change the settings since it is configured by default.
In our knowledge base, you'll find a step-by-step guide to creating a subscription form.
FAQ
Last Updated: 22.03.2023