User Agent
User agent
The term user agent stands for the agent software, which is acting on behalf of the user. In its most common meaning, it is a client application that uses a certain network protocol.
When a user agent operates inside a network protocol, like HTTP, SIP, and NNTP, it identifies itself (including the operating system and software vendor) by submitting an identification string to the operating peer.
When it comes to email marketing, the user agent serves as an important source of information about operating systems, browsers, and devices, which subscribers use to open emails. SendPulse provides these statistics for all email campaigns.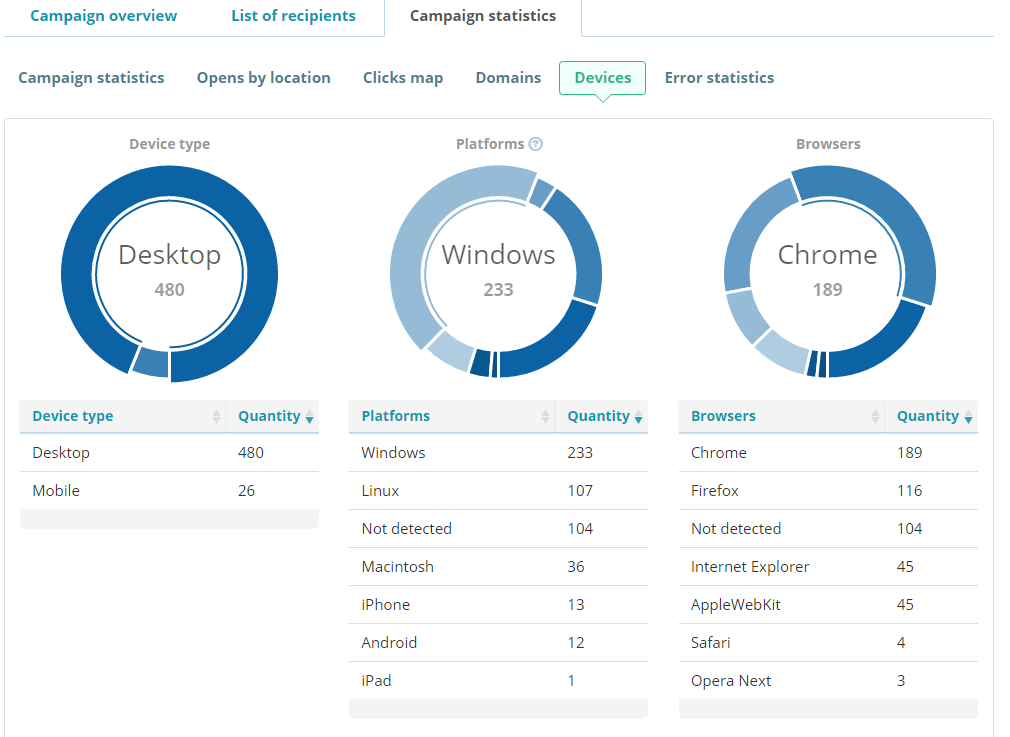 Knowing these statistics enables you to analyze an email campaign in terms of graphic design and adapting HTML emails to different kinds of mobile devices. 
Also searched with "User Agent"
Soft Bounce - Soft bounce means that the email reached the recipient's server but got bounced back without reaching the recipient's mailbox...
Email marketing strategy - Marketing is an important tool for working with the target audience and promoting on the Internet, enabling direct communication between business and customers...
Click-Through Rate - The click-through rate is the quantitative relation between users who clicked on a particular link and the total number of subscribers the letter was sent to...
Web-version - The web version of an email is a feature that mailing services offer...
Mailing lists - A mailing list might be a simple text file consisting of individual entries, all with the same structure...
Rate this article about "User Agent"
Try SendPulse today for free
If you are interested in "User Agent" you might be interested in our bulk email service.
Sign Up