User Agent
The term user agent stands for the agent software, which is acting on behalf of the user. In its most common meaning, it is a client application that uses a certain network protocol.
When a user agent operates inside a network protocol, like HTTP, SIP, and NNTP, it identifies itself (including the operating system and software vendor) by submitting an identification string to the operating peer.
User agent in email marketing
When it comes to email marketing, the user agent serves as an important source of information about operating systems, browsers, and devices, which subscribers use to open emails. SendPulse provides these statistics for all email campaigns.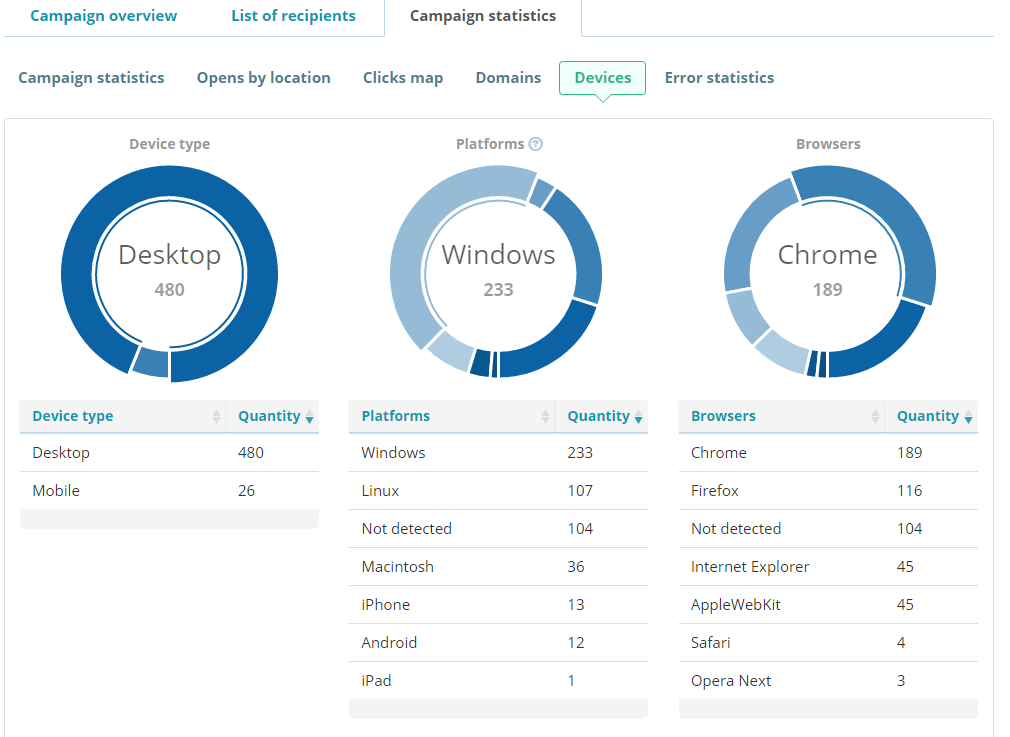 Knowing these statistics enables you to analyze an email campaign in terms of graphic design and adapting HTML emails to different kinds of mobile devices. 
Also searched with "User Agent"
Double opt-in - The users submit their email address in the subscription form on the website and click "Join our mailing list...
Archive Bar - This bar is placed in your newsletter archive...
Autoresponder - A confirmation email A welcome email A congratulation email A reactivation email Transactional emails when a subscriber makes a purchase With SendPulse, you can create these emails in the tab "Autoresponders," where you can set the special date...
Triggered email - Attracting new customers; Saving your current client base; Conversion increase...
HTML email - HTML stands for HyperText Markup Language...
Rate this article about "User Agent"
Try SendPulse today for free
If you are interested in "User Agent" you might be interested in our bulk email service.
Sign Up