User Agent
User agent
The term user agent stands for the agent software, which is acting on behalf of the user. In its most common meaning, it is a client application that uses a certain network protocol.
When a user agent operates inside a network protocol, like HTTP, SIP, and NNTP, it identifies itself (including the operating system and software vendor) by submitting an identification string to the operating peer.
When it comes to email marketing, the user agent serves as an important source of information about operating systems, browsers, and devices, which subscribers use to open emails. SendPulse provides these statistics for all email campaigns.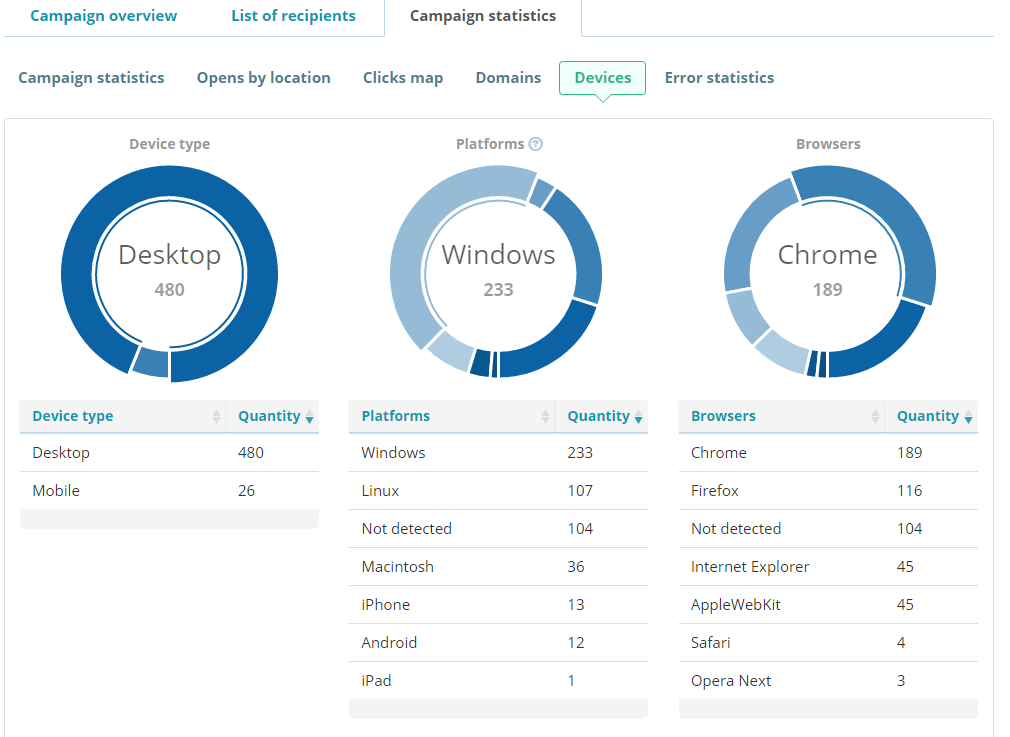 Knowing these statistics enables you to analyze an email campaign in terms of graphic design and adapting HTML emails to different kinds of mobile devices. 
Also searched with "User Agent"
Bulk email campaign - Bulk email campaign is a method of Internet marketing which implies sending automated emails to the group of addresses...
DMARC - Domain-based Message Authentication, Reporting and Conformance (DMARC) is an email-validation system designed to detect and prevent spam and phishing...
B2B marketing - B2B marketing B2B marketing ( Business to Business) It is the type of informational and economic interaction, classified according to the type of interacting entities, in this case they are legal bodies who work not for the ordinary ultimate consumer, but for the same companies, i...
Archive Bar - This bar is placed in your newsletter archive...
Bounce - Bounce is the percentage of email messages that failed to send...
---
Rate this article about "User Agent"
If you are interested in "User Agent" you might be interested in our bulk email service.
---
Try SendPulse today for free