HTML email
HTML email
HTML stands for HyperText Markup Language. 
It's the way the text looks like: 
bold;
italics;
color of the text.
HTML email is an email, designed as a web-site with the help of graphics, colors, table columns and links. 
The plain text in comparison is an email that contains only text and has no formatting. A well-formatted HTML email will yield much better result that an ordinary text format. Some people want their email to look better, richer, brighter.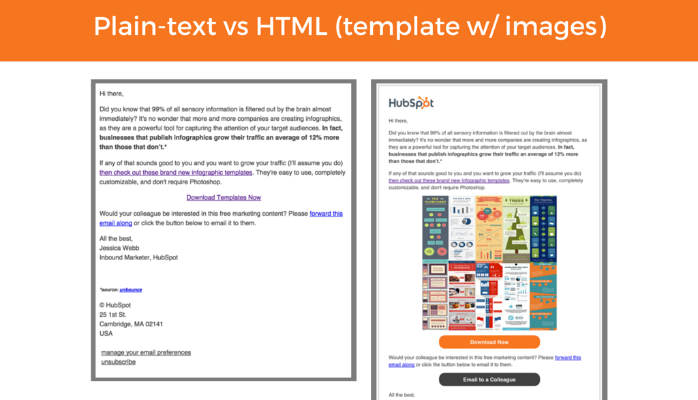 A lot of businesses use HTML email to make their message look more formal, more professional, and often much more in line with their corporate image. If you want to create web sites, you will not do this without HTML. The basics of HTML will greatly simplify your life, and your website will become much more interesting.
The text of a plain email can only contain ASCII characters. This means that the text of the letter will NOT have the following text formatting elements: 
bold;
italics;
color;
images;
font styles. 
When developing the design of HTML email one should not forget about simplicity, not to complicate your work, you'd better stick to the option of two columns. The usage of images should be minimized, as Outlook, for instance, does not support background images. You can use background images for decoration, but since the email should look legible, it is better to do without it. Due to the fact that the message view window in email clients often takes only a small part of the general window, your email should be no more than 600 pixels wide. After all, nobody likes horizontal scroll bars. In addition, remember to keep proportions.
Also searched with "HTML email"
API - API is used to integrate SendPulse's distribution service capabilities with clients' personal projects...
Click-Through Rate - The click-through rate is the quantitative relation between users who clicked on a particular link and the total number of subscribers the letter was sent to...
List (Subscribers' List) - In email marketing, the term List, or Subscribers' List, is used to define Internet users who have subscribed to receive emails from you personally, or from your business...
Mailing templates - An email template is an HTML preformatted email that you can use to create your own unique email template by changing proposed content to your own...
Google Analytics - Google Analytics is a web analytics service by Google, which is a popular and widely-used service of such kind on the web...
---
Rate this article about "HTML email"
If you are interested in "HTML email" you might be interested in our bulk email service.
---
Try SendPulse today for free