If you're dreaming about building yourself a source of passive income, selling digital products is the way to go. Compared to physical products, they are usually easier to create, promote, and monetize. That is, if you are ready to deepen your content creation skills and put a couple of new tools in your toolbox.
In this post, you'll find hands-on instructions on how to create and sell digital products. We'll also unpack six digital product ideas for small business owners and bloggers and illustrate them with some real-world examples.
The advantages of selling digital products
So, you are ready to monetize your skills and knowledge. Should you go digital? Or should you focus on creating tangible products? The choice isn't always obvious.
Let's make a side-by-side comparison to see why creating a digital product may be a better idea. Then, we'll discuss its downsides and draw a conclusion.
| | | |
| --- | --- | --- |
| | Opening a bakery | Selling an online baking course |
| Visibility | Mostly local | Not limited |
| Scalability | Time-consuming and expensive | Depends on the platform you use, usually not limited |
| Demand | Daily | Special occasions |
| Longevity | Vulnerable to real estate market fluctuations, local regulations, unforeseen factors | Not limited if you regularly pay for hosting |
| Expenses | Rent, salaries, equipment, ingredients, legal approvals, promotion, maintenance | Online course platform, video production, gear, editing tools, marketing tools |
| Updatability | Introducing new products requires testing, looking for new suppliers, buying additional equipment and ingredients, waiting for customer feedback | Making changes to the course curriculum is relatively easy, and you can get immediate feedback from your students |
| Customer relations | You can't communicate with your customers outside of your store unless they deliberately follow you on social media or come across your ads | Sending educational and informative emails, notifications, and surveys is part of the online teaching process |
One of the main advantages of selling digital products is that there is no cap on how much you can earn from them. As long as you keep driving quality traffic to your platform, there will be new downloads and purchases.
The digital format makes certain things easy but doesn't eliminate problems completely. If you want to enter a foreign market, you'll still need to localize your product and do in-depth research to make sure it's relevant to your new target audience.

Digital products need to stand out because the competition is getting tough. Your potential customer can always choose to keep scrolling and look for a better option. Meanwhile, a bakery can attract some customers simply because of its physical proximity to them. Making a few more clicks, after all, is easier than walking a few more blocks.
But, overall, it's unlikely that people are going to get on a bus every morning just to buy a loaf of bread from you, no matter how artisanal it is or how hard you promote it. If you are convinced that your business idea can attract a large audience, it makes sense to go digital.
However, things aren't always black and white.
You can sell physical and digital products to reach a wider audience. It's also possible to test a product idea online before starting to produce it.
How to create and sell a digital product in 9 steps
This guide is applicable to any niche. It will help you build a solid framework for creating and successfully launching digital products time after time.
Define your target audience and their goals and challenges
Paint a realistic picture of your potential customer. Ideally, you should create a buyer persona, a detailed description that includes the following information about them:
age group;
education;
occupation;
professional and personal goals;
pain points;
budget;
hobbies;
amount of free time;
preferred media;
favorite thought leaders.
Here's an example.
Having an extensive description of your target audience in front of you will help you visualize them better. You'll be able to create a product that caters to their needs and generates demand.
Do market research to see what's already available
Run a competitor analysis and study industry trends to see what kinds of digital products your competitors sell. Pay close attention to their:
content formats;
positioning;
pricing model;
targeted keywords;
key audience;
marketing strategy;
tone of voice.
Arm yourself with knowledge before you jump into the competition, and don't be afraid to see that someone is already implementing digital product ideas similar to yours. This type of research will help you understand how to present your product and distance it from its alternatives before it hits the market.
Position your digital product
Create a unique selling proposition for your digital product to make it easily distinguishable. What is it that you're doing differently? Put it into a snappy sentence and use it in your brand communication.
Brand positioning defines how your target audience perceives your offer. Let's take a look at this example.
Mindwellness Counseling is an organization helping patients enhance their physical, mental, and emotional well-being. In addition to in-person meetings, they also promote their digital products such as eBooks, apps, and podcasts.
Their product positioning is perfectly aligned with their mission and value statement, and that's what incentivizes website visitors to download them.
Choose how you want to deliver your expertise
No rule says your digital product always has to be a mobile app. Creating an intuitive and reliable app requires a lot of work, testing, and iterations. Meanwhile, hastily made and buggy apps will only repel customers, so it's reasonable to consider other options and focus on the skills and assets you already have.
You can decide on any format you like as long as it can be promoted and sold online. Here are some digital product ideas:
eBook;
online course;
lookbook;
webinar;
guide;
workbook;
template;
exclusive online community;
newsletter;
curated collection;
preset pack.
We'll give you six inspiring digital product examples, so keep on reading.
Find an optimal pricing model
Your product price should correlate with its positioning. Affordable products can't be marketed the same way as top-shelf goods, and vice versa. Your price has to reflect the value of your product and how much effort you put into it, but it shouldn't scare away your potential customers.
If you sell access to an exclusive community, think about choosing a subscription-based pricing model to get a more even revenue stream and keep providing value to your customers for months.
Launch a prototype to gather feedback
Send the first version of your digital product to your friends and peers and ask them what they think about it. Alternatively, you can pay freelancers to explore and assess your digital product. Make sure it's not too raw because you want them to see it through your customers' eyes.
This is how you find out whether your pricing is a bit off or your packaging isn't professional-looking enough. You can gather initial opinions and make necessary changes before the official launch.
Pick the right marketing channels
One size doesn't fit all when it comes to promoting digital products. You need to understand where your target audience is and focus on those channels. It might be helpful to create some sort of visual aid to better see which media should be prioritized.
Think about what your sales funnel will look like, which channels can bring you new customers, and which channels can help you nurture them. Typically, SEO, paid ads, and social media are responsible for new traffic while email is mostly used for lead nurturing.

Launch with a bang
Make sure your digital product launch won't go unnoticed by warming up your audience and making your website conversion-friendly. Here's what you need to do:
Create a coming-soon landing page.
Add a countdown timer.
Send pre-launch email reminders.
Offer early bird perks and discounts.
Make it easy for your customer to contact you.
Create a chatbot for social media to be available 24/7.
Add a FAQ section and social proof to help new visitors convert.
You can learn more about conversion-centered design and landing page anatomy from our blog.
Listen, track, and improve
Collect customer feedback early on to make additional tweaks and improvements after the launch and retain more customers. Sending survey emails is a great way to do that.
You also need to set KPIs to track the success of your digital products. Those will greatly depend on your niche, but here are the most common metrics:
monthly recurring revenue (MRR) — how much you earn from this product in a month;
the average revenue per user (ARPC) — how much money an average customer brings you;
customer acquisition cost (CAC) — how much money you spend on winning a single customer;
retention rate — how many repeat customers you have;
churn rate — how many customers eventually abandon your product.
No matter what you sell, you can keep track of your deals in a simple CRM to get a bird-eye view.
6 examples of high-demand digital products you can start selling
Just to be clear, we're not talking about launching the next Facebook here. We will discuss real-life digital product ideas any creator or a small business owner can implement and profit from.
Online course
You can create and sell on-demand and live events, lessons, webinars, or coaching sessions. Any pre-recorded educational product can potentially bring you reliable passive income and help you establish your thought leadership.
Make sure to check out our guide on how to create and launch online courses!
Here's a simple yet inspiring example from Ming Fung, a Jakarta-based speech therapist. He is using a landing page to sell his online courses, community memberships, private sessions, and other materials.
This page has a lot of personal storytelling and social proof, which certainly helps its visitors develop trust and interest in his offer. This example also shows how you can sell online courses in bundles or even combine them with other digital products.
Online community membership
If community management is your strong side, consider creating an online group where you'll share educational content, facilitate networking, or provide entertainment, depending on your expertise. You can sell memberships and gradually build a devoted customer base.
Take a look at this online space where women can learn how to invest and manage their finances.
This is a fantastic resource featuring various digital products, from memberships to eBooks and templates. All of the products are tied together and form an inspiring environment that is also surprisingly affordable — trying to recreate a similar community offline would take a fortune.
eBook
If you want to start small, pour your knowledge into a digital book you can easily sell or use as a lead magnet. In the eBooks segment, the number of readers is expected to reach 1.2 billion by 2026, so this trend is far from slowing down.
You can publish the same book digitally and traditionally to give your audience an option of choosing between a unique signed version and a more affordable, lightweight version. That's what YouTube chef Wil Yeung does.
In the "You may also like" section underneath, the user sees more of his digital and physical products. This creator also offers his online masterclasses for sale on the same website, turning it into a one-stop-shop for home cooks.
App
Creating an app is the most obvious but also the most laborious choice. This type of digital product requires hiring developers, QA experts, designers, and sales and marketing experts. But it's still possible to achieve a lot even when your resources are limited.
Learn more about marketing your app after it hits the stores.
Let's take the app Seedlang as an example of a successful digital product. It's a language-learning app made by a tiny team of YouTube creators and foreign language aficionados.
The app has unique positioning, original features, intuitive interface, and customization options. This example proves that there is always a chance to stand out in a saturated market if your product is good and unique enough, and it doesn't matter if you have a big shining office building or not.
Curated pack
If you've built up a collection of useful templates, filters, or cheat sheets, why not share and monetize it? Create a good package for your digital product and put it for sale. Alternatively, you can offer your website visitors to create a custom set.
Many Instagram influencers use this practice to monetize their editing skills.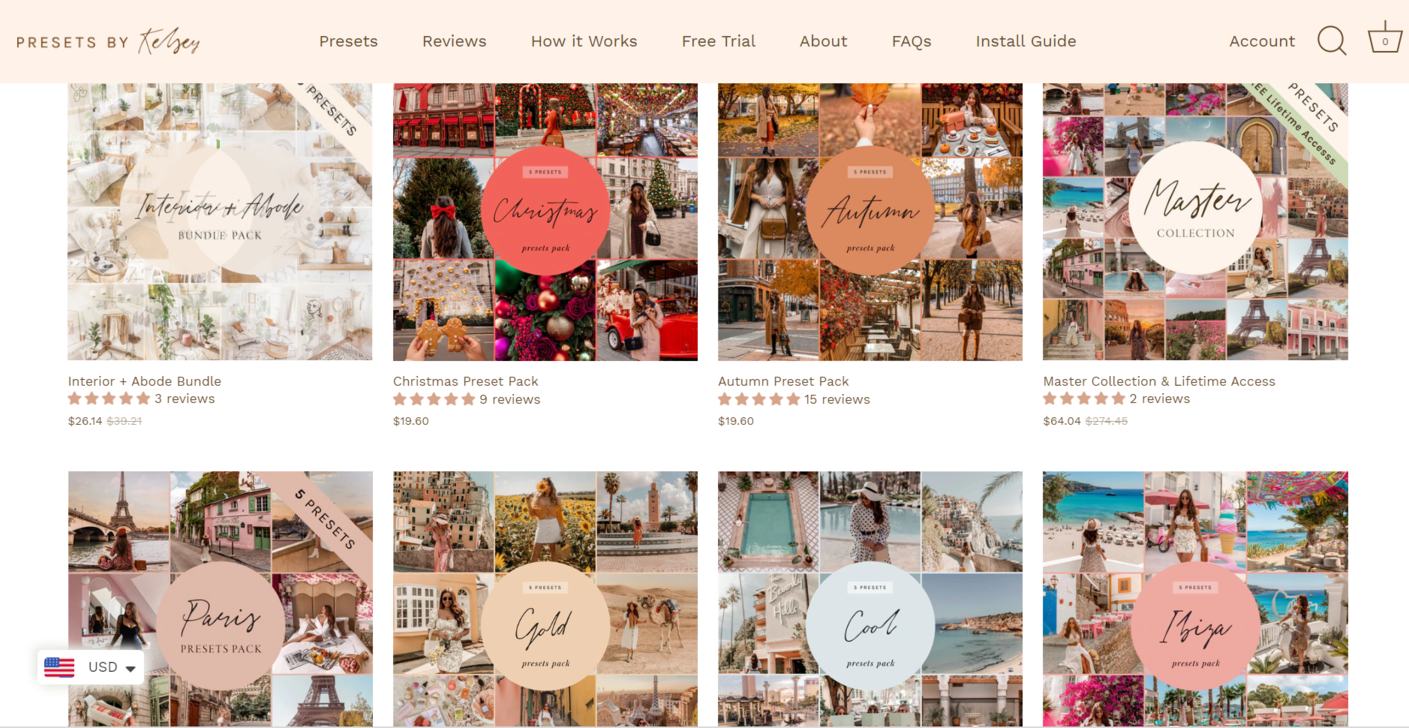 Of course, there's always a risk that your product will later appear on torrents or niche forums free for grabs. But there's also a chance that you will attract an engaged audience and turn them into your fans by delivering curated products no one else offers.
Podcast
You're probably used to the idea that podcasts are usually free and that the only way to monetize them is through ads. But there's another way to turn them into profitable digital products.
You can use a platform like Patreon to publish your podcasts and get paid by your target audience directly, without having to deal with networks and advertisers.
Technically, you will sell memberships, but your main product will be your podcast. Patreon offers great community management tools as well, so you can also chat and engage with your audience.
We have something for you
We're about to launch our online course creator — sign up for early access! Once it goes live, you'll be able to create online courses in our easy drag-and-drop editor and collect payments in a hassle-free way.
Interact with your students, assess their knowledge, and issue certificates of completion. The platform allows you to turn your existing assets into engaging lessons in minutes. We offer a complete toolkit for creating educational digital products and promoting them — make sure to give it a try.