Putting your app on the market is a thrilling experience. After months of hard work and late nights, you're finally able to see your idea come to life on a screen. And, with all of that build-up and excitement, comes the anxiety of wondering how your app will do once it goes live.
Will people like it? Will they download it? Will they leave a scathing review? Will they even notice it's there?
All of this is running through your mind on a loop while you monitor your mobile app's popularity and check for new ratings to see what people might be saying. And while you might be knee-deep in app-launch jitters, this isn't the time to stop working.
Marketing is often a major focal point when you're in the process of launching an app. You want to get people interested before it goes live so they're rushing to download it the moment you publish it. But just because you've created some buzz and talk before the app launches, doesn't mean you can stop marketing — you need to continue that momentum.
In addition to the launch of your new mobile application, you need to market it well after it goes live so that it can continue to exist and thrive. The success of marketing your app post-launch determines how sustainable it will be in the long run.
So if you're ready to pull your head out of the reviews and focus on your long term app marketing strategy, learn more about marketing your app after it hits the stores.

Integrate frameworks to track users and target better
As an app developer, you know how important a high-quality framework is to the app's overall user experience. The more buggy and low-quality an app is, the more likely new users are to delete it.
So while you might be narrowly focused on the user's perspective of the framework, it's just as important in your app marketing strategy post-launch to make sure that your framework is set up to track important data.
You want to know what your users are doing on the app, the features they're engaging with the most, and how long they typically spend playing around before completing your target action. And of course, you'll want to know how many users are actively opening the app, how many download it but never use it, and how many download and delete it. While setting up a tracking system in your app's framework is the best method for analyzing activity, there are also free tools you can use like Google Analytics for Firebase.
If you want to track and target users with an app, you need to set up your app's framework before you begin thinking about mobile app marketing strategies. It will be impossible to prioritize your marketing efforts if you do not have any metrics to use.
So spend some time making sure your app's framework can handle those capabilities before you get started implementing other marketing efforts. Then, you can use any data that the framework collects to better market your mobile app to your customers.
Get your user back into the app with retargeting
Retargeting users is a major part of a successful post-launch mobile app marketing strategy. If your app is brand new, you'll likely have to wait a few weeks before diving into this as it essentially requires you to market to people who stopped opening up your app or people who have deleted it.
You can, however, identify who is no longer active on your platform, once you've spent some time setting up your framework to track and target all of your users. And with that data in hand, you can create a marketing plan to retarget and re-engage former users.
If they still have the app downloaded on their phone, you can start with some simple push notifications asking where they went or saying "We miss you!" You could also include an incentive to open the app, such as a new feature or some sort of freebie.

If they deleted the app from their phone, you can create a retargeting email series designed to entice them to redownload the app once more. Because it's against anti-spam laws to send marketing or commercial messages to email addresses that register to use a service (including an app), create an incentive for them to opt back in to receiving promotional emails. This could be something like a discount code or an extended free trial.
But you don't want to overwhelm or spam people, so keep it to two to three emails at the most.
You should also try to understand why they aren't using the app. Their reason, regardless of whether they download it again or not, might spark an idea on how to improve your app and make it better for your current, active users.

Save money with good ads
When people think of marketing, they imagine ads. And, while advertising your new app on social media platforms, popular websites, and even on TV can be a great way to gain some visibility, it can also feel overwhelmingly expensive.
Yes, creating ads that are visually appealing and targeted towards your ideal audience can cost a pretty penny initially. But the truth is that investing your money in good ads can actually save you a ton in the long run.
Think about it: good ads get you in front of your ideal customers. That alone will save you the time and cost of trying to find the right people who are interested in downloading your app. These are what we call high-quality leads. They're people who are searching high and low for an app that does what yours does. They're actually really excited to download your app — and they're more than willing to pay for your premium services.
Why? Because they understand the value of your app. That is the key, and that is what good ads will target for.
Here's an example of an app ad from Starbucks that sticks out in a crowded Twitter feed. The company makes use of social proof, showing the number of users who have already rated the app.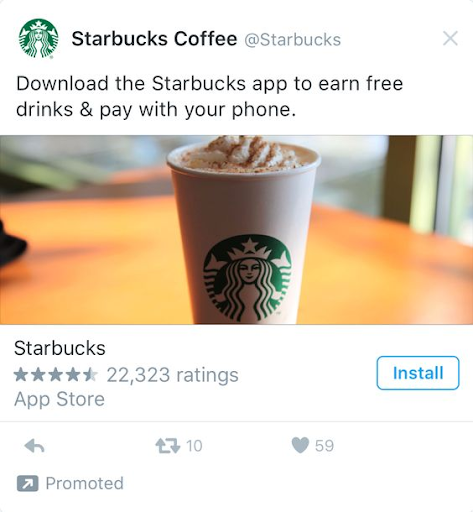 So yes, you might have to spend a little money up front, but it's so worth it to get as many of those high-quality leads as you can. Ads are actually an investment in your app's future and a worthwhile cost to make in your post-launch app marketing strategy.
Include ASO in your app marketing strategy
You can have all the fancy ads, fully fleshed targeted keywords, and in-depth research about your high-quality users, but all of that is moot if you don't implement ASO.
ASO, or app store optimization, is a crucial aspect of good mobile app marketing, especially after you go live. Now, ideally you would have done some ASO strategies before you launched your app, but if you didn't, it's not too late to implement them now.
App stores typically have a search function that people use to discover new apps. As soon as you submit a query in that search bar, your screen will populate with a list of results — and this is where ASO comes in.
In the result lists, apps are ranked based on their number of downloads. The more downloads, the higher on the list of results the app goes. When you optimize your app for ASO, you increase the likelihood of a higher ranking on the results page, which increases the likelihood of downloads you'll receive.
And again, the more downloads you get, the higher you go, and the more popular your app will become. In essence, your aim is to get as many users as you can. The success of your app depends heavily on getting into that top-five ranking. You will be able to sustain your app for a longer period of time if you climb higher on the results page.
When your app isn't quite getting the buzz you expected after a few weeks, you might want to look into ASO. If you offer your app on the App Store or Google Play, try creating some keyword phrases that describe it best. Think of what a potential customer might search for when they are looking for your product. If you want to test your app listing further, you can do an A/B test whenever necessary.
The aim of ASO is to increase your app's reach and overall visibility by making it easier for people to discover on major app stores like iOS' App Store and Google Play. To properly utilize ASO, you have to understand the way your high-quality users search for high-quality apps.
For instance, at Zutobi, we researched what motorcycle students look for in a permit test study resource and what they want to study specifically, and then made our app page appealing to them. By doing so, we can specifically target people who benefit the most from our app, which leads to higher CTR and download rates.
Utilize more than one platform for marketing
Some marketing strategies recommend focusing on an area, growing it, and then moving on to the next. This can work in some cases, but for the weeks following the launch of an app, it's a much better strategy to try out as many marketing platforms as you realistically can.
Avoid becoming too dependent on a single advertising network. Doing this can limit your marketing efforts and ability to reach high-quality leads. At the early stages of the app launching game, you want to reach as many people as you possibly can, and your mobile app marketing strategies need to reflect that.
Advertise on Facebook, create a massive email campaign, shoot a mini commercial, film a bunch of viral TikToks, experiment with all of the marketing channels at your disposal and see what happens. If you notice one of your marketing avenues isn't converting or is getting little to no engagement, just call it quits and put your efforts into something that's working.
All of marketing is just throwing things at the wall and seeing what sticks. So get comfortable with experimentation and do whatever you can think of to get the word out about your awesome new app.
And remember: conducting research on your users will make it very clear which marketing platforms and mediums they are more likely to respond to. A multifaceted approach to marketing is great, but it can be made even better when you know your audience's top virtual hangouts.
Establish the goal of your marketing efforts
Every marketing campaign at every phase has a goal it's striving to achieve. And if you don't have that goal in mind while you're making decisions, it will be very easy to get lost in all the marketing hype and waste money on app marketing strategies that don't help you achieve anything.
Identifying your marketing purpose at every phase of your app launch is more than necessary. And it's only possible after you've asked yourself a few honest questions.
Your app is live and people are downloading it to their phones as we speak. With that in mind, ask yourself:
What is your app struggling with the most? Lack of engagement? Downloads? Bad reviews?
What is it that you're trying to accomplish next with this app? Offering a premium service? Getting to a certain number of downloads?
With those answers in mind, summarize your current goal (keep it singular for efficiency's sake) into a single sentence.
Your marketing objectives should become clear after answering those questions. Before you make any investments, ensure that your purpose is clearly defined. For example, when designing our app, we knew one of our target groups were CDL learners looking for DMV test prep resources, in addition to car and motorcycle learner drivers. So in the beginning, we honed in on the overall goal to provide valuable information that would help students feel more prepared. But when we launched, our goal was to reach 5,000 downloads. Once we hit that, we turned our focus to getting reviews and created incentives to get users to share their thoughts in the App Store and Google Play.
Knowing your overall marketing goal allows you to make better marketing decisions that will bring you closer to it.
Say goodbye to an ineffective campaign
Even the most beautifully laid out campaigns can have their faults — and sometimes those faults are that they simply don't work.
It can be tough to admit defeat and throw in the towel on something you've put hard work into. But if your efforts aren't converting or getting you closer to the goal you laid out, you have to be okay with calling it quits.
Data can show you when you are on the right path. But you also have to listen to your gut when something is off. Certainly, you can adjust and change your strategies to see if that moves the needle. But at some point, you can't keep wasting time and energy on an ineffective strategy.
Conclusion
It takes a lot of effort to launch an app, but it takes even more effort to keep it active, alive, and visible to new users. That's why it's crucial to have a solid post-launch app marketing strategy so you can keep driving more leads to your app well after it goes live in the app store.