Many online course creators are great at delivering quality educational content, but most fail to value their work reasonably. Some underestimate their expertise and effort, while others have many followers and think that they can ask for the highest prices for obvious facts that are all over the internet.
Pricing is an important step of the online course creation process that can make or break the entire project. Thus, it's essential to understand what influences the course price, what course pricing models are there, and how to choose the right one. This post will cover all of this in detail and provide five actionable tips on how to price your online course in 2022.
Online course pricing models
There are three main pricing models to consider during the online course creation process — let's take a closer look at them.
Free
Some people choose to share their courses for free to establish their expertise in a certain domain or build a community around their educational programs.
Pros: Free courses are often used for lead generation and new customer onboarding, or they may be offered as a bonus to the primary purchase.
Cons: You need to have a well-functioning sales funnel to monetize the audience you've aggregated thanks to the free course.
Membership-based
Membership-based pricing model means that a customer purchases the membership on an educational platform and has access to as many courses as they like. It is an excellent opportunity for learners to access great knowledge at a low price.
Pros: This pricing model gives you more control over your income as it ensures the recurring revenue stream.
Cons: It won't work for complex training programs as it fails to reflect the real value of such courses.
Pay-per-course
Most course makers choose this pricing model — a student pays one time and gets access to all the course materials.
Pros: It is the most profitable option for any educator, even though it is less accessible to people with a small following.
Cons: When choosing this model, it's hard to predict your potential revenue in the following months.
You can choose a single pricing model for your course or combine a few of them.

Factors that influence your online course pricing
When it comes to physical objects, it is quite easy to estimate the price: you add together the cost of materials, labor, taxes, and add some more. The pricing is much different with online courses because you are selling knowledge that has no fixed price.
Let's look at what actually influences the price of an online course to make a more realistic estimate of the final cost:
Cost of production. It matters whether you used the phone camera and a headphones mic or professional equipment.
Exclusivity of content. Something you have learned from experience and spent a lot of time studying and something you just pulled together from the Google search results has different values.
Complexity of knowledge. The deeper you dig and the more topics you highlight, the more expensive the course is.
Market pricing. People often compare prices before making a final decision, and so should you.
Expected impact on students. Your course should give your audience a solution to their pain point — that's where the value is.
Content type. Including multiple learning formats like reading material, workbooks, worksheets, quizzes, exams, certification, and so on in your course will cost much more than just a couple of videos.
Thus, when deciding on the price for your online course, make sure to list all the monetary and non-monetary resources spent on its creation. Such a list will help you develop the price that reflects the course value, provides sufficient remuneration for your efforts, and gives enough cash flow to promote your course.

Potential problems related to wrong course pricing
According to Podia, the average price for an online course is $137, and the average price range is $0-304. But what happens when your pricing is too high or low? Well, both scenarios have negative outcomes.
When the course price is too high and doesn't correspond to the provided value, you risk facing the following problems:
Less people buying the course. If your target audience does not have enough money or sees that other people are offering the same information much cheaper, they will avoid your course, even if it is a good one.
More refund requests. If someone bought a course but then discovered that it was not worth it — bad quality, too easy concepts, zero impact on their life — they would ask for a refund and never buy from you again.
Reputation damage. Dissatisfied customers don't only ask for refunds but also leave negative comments and share their bad experiences on their social media and with all their acquaintances.
If you set unreasonably low prices in an attempt to attract more students, you can face the following challenges:
Lack of money for marketing. Charging too low expecting more people to buy your course won't allow you to promote your courses in the best way possible.
Low perceived value. People already know that a cheap course doesn't mean a good one. Quite on the contrary, cheap courses often turn out to be a total waste of money. You don't want people to think that about your work, do you?
Less committed students. If we buy something cheap, we don't care about it much. For example, we read books that we bought just because they were cheap less eagerly than something we actually wanted to buy and paid more money for.
So the question of adequate course pricing is a pressing one, considering all the mentioned drawbacks.
How to optimally price your online course
To make a well-informed decision on what your course is actually worth, make sure to follow our tips.
Do your market research
Market research does not, however, mean that you should take an average price compared to your competitors. You should try to understand why every educator chooses that price for themselves and what you do better or worse than them.
For example, you can buy a course, analyze its price components, and do your estimates based on every other factor. Such a research will also help you do the course marketing properly since you will know your uniqueness and strength better.
If you understand that your course is too weak and, therefore, cheap compared to other competitors, you can always make changes before launching the project.
Price the outcomes
It is difficult to put a price tag on something non-physical, but you should try. For example, if you sell a course after completion of which students can pursue a new career path, you can try asking yourself the following questions:
How much money will learners earn after the course thanks to the knowledge you shared?
How will they grow professionally? Will they get a promotion faster after this course?
How much more productive will they be after the course?
The questions will obviously differ based on the course topic, but you get the idea: try to find out how your course will make someone's life better. After you have your outcomes in numbers, you can either price it yourself or ask prospective learners in surveys or personal interviews.
Learn how to increase your survey response rate to collect more customer insights.
For example, students who take a Pop Songwriting and Production course by Charlie Puth will have two release-ready songs by the end of their studies. Such a great outcome is definitely worth all the investments.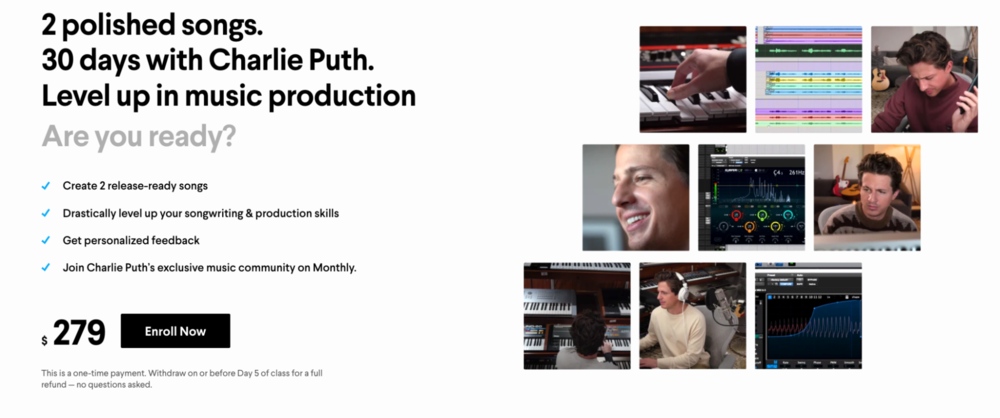 Justify the price
If you are wondering whether the pricing is right, try to justify it. Imagine the customer asks you, "What am I paying for?" and you need to give them an honest answer. If you can explain why it costs that much, you are good to go. If not, you may want to either better understand the real value and lower the price or improve your course.
Learn how to create an online course that brings value to students and profits to creators.
You can also try to prove the value of your course to a friend. It is a good way to determine whether you may have lowered your value too much. You can also publish testimonials of your students to justify the price of your course.
Provide options
If you are very hesitant about higher pricing because you will get fewer customers, provide options. Create your course in different value versions — basic, standard, and premium. For example, the basic version can have limited information and no access to the community, the standard one can offer a complete course and access to the community, and the premium version will also have individual consultations and additional webinars.
This strategy will allow you to target different customer types and be less afraid to price the premium course as much as you feel it is worth. Here's an example of different pricing options for a course:
Keep testing
The pricing is not fixed for life, especially if you are doing it for the first time. You can choose the price you are comfortable with and look at reviews and sales. If reviews are good, you can increase your pricing gradually to the point where you see that the sales are suffering greatly. Therefore, you should not be as critical of yourself when it comes to announcing the first price.
Pre-selling your course is a great way to define the right pricing. You can offer different prices depending on when people buy the course and evaluate the demand for each price. During pre-sale, you can also understand how interested the people are in your content overall and whether or not your course has the potential.
Define how much to charge for an online course yourself
Pricing is an essential step in the course launching. You need to understand the real value of your course based on different price components and analyze your competitors to determine whether your value is realistic.
At the same time, don't stress too much since your course pricing can be changed when you better understand the market. You can conduct surveys and analyze reviews to see whether it is not too high or too low. If reviews are all good, you may want to consider higher prices. It is actually healthy to test new course components, including prices, from time to time.
Do you want to focus on the content rather than on the technical issues with the course platform? It is easy — try a course builder and spend less time trying to understand the tech. Improve your course value with a great-looking and functioning course while decreasing the effort you have to put into it.