Imagine successfully finishing a marathon just to receive a simple pat on the back instead of a medal. Would you still feel proud of yourself? Of course. But, without a physical sign acknowledging your achievement, the whole experience would feel incomplete.
When it comes to online courses, the situation is very similar. Your students are expected to follow a long and winding path from your introductory lesson to the final test. It's your responsibility as a teacher to recognize their work and give them an elegant document summarizing their learning journey.
This post will convince you to pay more attention to certificates of completion. In it, we'll discuss the benefits custom certificates bring for students and teachers. We'll also give you design tips and show you how to create professional-looking certificates of completion in minutes.
What is an online course completion certificate?
Certificates for online courses are also known as completion certificates. These are documents that are awarded to individuals who have completed a course or a program taught online. These certificates serve as proof of successfully finishing the course and may be used to demonstrate knowledge or skills gained through the said course.
Technically, a completion certificate is a downloadable PDF file that can be printed or presented online. There's no single course completion certificate format — they can vary widely in terms of their format.
Some certificates may simply indicate that an individual participated in a course, but they don't elaborate on how well that student performed. Others may require passing a final exam or completing a project or assignment — those certificates will also include the student's average test scores.
The former are easier to obtain, while the latter require high levels of student engagement. To choose between the two, you need to evaluate your course pace, curriculum, and student expectations. A demanding course usually comes with a hard-to-get certificate.
What are the benefits of certificates for students?
As an online course creator, you may want to provide your students with certificates of completion for several reasons:
Set a tangible goal for your students to focus on. Сertificates can serve as motivation for students to complete the course and work towards their learning goals. The sense of accomplishment and recognition that comes with receiving a certificate can encourage learners to put in more effort and stay active throughout the course. The best thing is, this works regardless of students' age.
Create a more professional appearance for your online school. An online school granting its students personalized certificates looks more legit by default. On the other hand, an educator who doesn't give their students any tangible rewards is likely to appear less experienced and authoritative.
Strengthen your brand and get more exposure. A nicely designed certificate provides another visual support for your brand and makes it more recognizable, especially if your students share them online.
Help your students land a good job in the future. While certificates for online courses are not critical for career advancement, they can still be a nice addition to a resume or CV, demonstrating to potential employers that an individual has invested their time and money into developing their skills and knowledge in a particular area.
Win the trust of your potential students and keep growing. Certificates help establish the credibility and reputation of your course and your brand as a whole. This will make it easier to attract new students to the course, as they may see the certificate as a tangible benefit that they can receive upon completion.
Use it as another chance to interact with your remote learners. Online learning can be pretty monotonous and even isolating, but sending over a personalized certificate along with a congratulations note can help reignite that connection between a teacher and their students.
Overall, certificates of completion are highly beneficial to both online students and teachers. They're not time-consuming to create, either. As you'll see soon, it's easy to pre-design them and have them generated and personalized for each student.
Best practices for creating memorable certificates for online courses
Chances are, you aren't opposed to the idea of creating memorable certificates for online courses, but you're a bit confused when it comes to the actual implementation.
Here are some tips that can help you prepare fantastic completion certificates for your next batch of students:
Use high-quality images, beautiful font pairings, and vetted color palettes to create a great impression.
Personalize your certificates using relevant information such as the name of the student, the name of the course, the date of completion, and the name of your online school.
Make sure your branding is pronounced but not overpowering.
Use neutral language and stick to minimalism — keep in mind that your students may want to use that certificate when applying for serious jobs or educational institutions.
If your students are required to pass an exam, get a certain degree, or attend most of the classes, make sure that their results are reflected in their completion certificate.
Consider offering different levels of certificates for students who achieve different levels of mastery. For example, offer a basic certificate for completing the course, and an advanced certificate for achieving the highest grade or submitting all assignments.
Allow your students to easily access and download their certificate upon completion of the course.
To sum it up, it's in your best interest to create memorable certificates for online courses that students will be proud to display and share with their peers. Thankfully, you won't need any secret knowledge for that — many online course platforms already offer certificate creation functionality. Let's see how that works.
How to create an online course completion certificate in SendPulse
If you've already tried creating online courses in our intuitive no-code builder, you may have noticed that you can create interactive challenges such as quizzes and exams for your students. Completion certificates are another piece of that puzzle — that's a great way to reward your learners for all the hard work they put in.
To activate the feature and start automatically giving your students certificates upon completion, open the "EDU" tab and find "Certificates" on the sidebar. From there, you can access our certificate builder. Alternatively, you can open your course settings and toggle the "Certificate" button on. Either way, you'll be suggested to create your first certificate for students.
You can customize your documents by selecting a font style and adding your own title, background image, and side image. It's also possible to include additional info, such as the certificate issue date. SendPulse allows you to create individual certificates for each of your educational products, but you can also link the same certificate template to all of your courses.
While you're in the course settings, make sure to specify course completion criteria to only grant certificates to avid and active learners. After successfully completing the course, your student will be able to download the certificate from their account. It'll be in the language set in their account at the time of receiving the certificate.
You can also create and upload a custom course certificate for each student.
Three tools for creating custom certificates for online courses
There are many tools available that can help you design an outstanding online course completion certificate for students, both free and paid. Here are some popular options to consider if you want to design something rather sophisticated and advanced.
Canva
Canva is a popular online design tool that offers 1,400+ online course certificate templates, both from their own library and made by other professional designers. You can add your own text, images, and logos to the templates. Canva offers deep customization options — you can be sure that your certificate for students will be unique.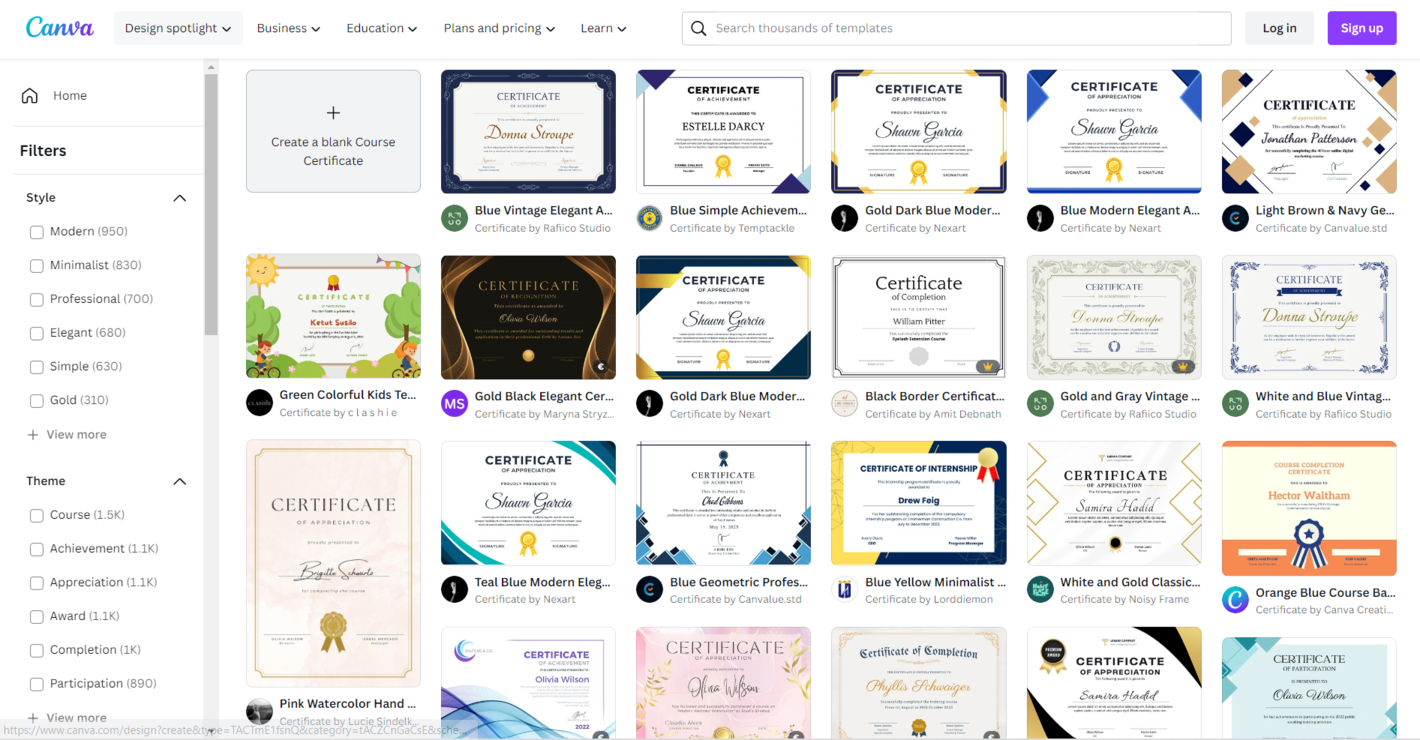 Canva has a generous free-forever plan, which even allows you to collaborate with others. Should you want access to premium templates and tools, you can switch to a paid plan starting at $14.99 per month.
Certifier
Certifier is a straightforward tool that offers a variety of customizable certificate templates. This is the place to go if you're looking for very formal and elegant designs. You can then download the certificates in PDF format.
You can issue up to 100 certificates annually for free. If you need more, you can purchase a plan starting at $19 a month.
Visme
Visme is a solid alternative to Canva, offering 20+ customizable certificate templates, including online course completion certificates. You can edit every inch of your template and resize it however you like.
Visme has a basic free plan, which allows you to access most templates. If that's not enough, you can purchase one of the pricing plans starting at $29 a month. To save 50%, choose annual billing.
Summing up
Now that you know how to create a certificate, you'll be able to issue attractive proofs of completion in no time. And if you're looking for a reliable yet simple online course platform, check out our builder — you can create up to three courses for free to give it a proper test. We offer a complete marketing and sales automation toolkit for creators to help you start and quickly grow your eLearning business.