A warm lead is a type of marketing lead that expresses interest in a brand but isn't ready to buy yet. These leads might have visited your website, subscribed to an email newsletter, followed you on social media, or submitted their contact information. etc.
In this article, you'll find out the difference between cold, warm, and hot leads. You'll also learn how to prospect and convert them.
The Difference Between Cold, Warm, and Hot Leads
There are three types of sales leads in marketing: cold, warm, and hot leads. They represent a prospect's stages, from having an idea about the brand to becoming its customer. These leads have different intents, so you need to use different lead nurturing strategies to approach them correctly. But before, let's clarify the difference between the three types of leads.
Cold leads are at the top of the sales funnel. They show no interest in a brand or might have never heard about it. They don't realize their need for a product. Cold leads ignore any reach attempts, such as email or phone calls. They've unlikely to purchase at this point. Brands need to put much effort into lead nurturing strategy to convert them into clients.
Warm leads are in the middle of the sales funnel. They show interest in a brand. These leads know that a specific company can solve their particular problem. They realize their needs and desires. Warm leads interact with a brand somehow: sign up for an email newsletter, visit a website, share their contact information, follow a brand on social media, etc. They are not ready to buy yet since they're not sure about the brand's product or don't have a budget yet. You can convert them into a client easier than a cold lead. Still, you need to implement an effective lead nurturing strategy.
Hot leads are the easiest to convert. These people are at the bottom of the sales funnel. They might have considered several companies, compared their offers and pricing, and know your competitive advantage pretty well. Hot leads are highly engaged and interact with the brand's emails, calls, and messages. They have both budget and authority to make a purchase. They don't require nurturing but need a final push to buy.
Now that you know the specifics of each type of lead, we'll show you how to identify warm leads for your business. It will help you save time and use resources wisely.
How to prospect a warm lead?
To create an effective strategy that will help you convert warm leads into hot leads, you need to learn how to identify them. In this section, we'll share several tips to categorize your prospects correctly.
1. Score leads
Lead scoring allows you to develop high-performing strategies for working with cold, warm, and hot leads. With this method, you can rate your leads and divide them into several categories based on their behavior, personal information, customer journey stage, engagement on different platforms, etc. This data will enable you to analyze which strategies, approaches, and offers to choose to boost conversions. You'll get to know the most promising leads and prospects who are not likely to convert. This way, you'll save time and money on working only with an interested audience.
To get started, you need to develop a lead scoring model. Assign points to leads for performing specific actions. For example, a prospect who has visited your site through the search engine is warmer than a lead who has received your email campaign because, in the first case, that was their desire to check out your website. So you can assign 10 points to those warm leads and give 5 points to those who received your email.
Then, let's consider leads who have opened your email. You can assign 10 points to those who have followed the link from it and give 5 points to leads who have just opened it.
After that, determine the score ranges for your company. For example, leads with 0-20 points are considered cold ones. So they can either need much nurturing, or you can define them as not the best fit for your business and stop working with them. Leads with 21-50 points are considered warm leads needing some nurturing campaigns. Finally, leads with over 50 points are defined as hot leads ready to buy.
After your lead scoring model is ready and the score ranges are set, think about how to engage each lead group. SendPulse provides Automation 360 system, which enables marketers to automate communication with subscribers, enhance a lead nurturing strategy, and visualize each sales pipeline stage. You can automate sending triggered emails based on subscribers' actions without any technical skills.
2. Use a CRM
A CRM system will help you keep track of all the interactions and touchpoints with your leads. Once a user subscribes to your email newsletter or adds an item to their shopping cart, they will be automatically added to the CRM system. Marketers can view their information here, including purchase history, the deal status, and a sales representative responsible for each deal. So you can easily monitor the card of every lead and make informed decisions.
SendPulse provides a free CRM system to streamline sales. It allows users to manage all sales processes, collect and store customer data, and launch marketing campaigns from a single platform. Below is a customer card created in the SendPulse CRM. You can see all the information about a lead, the history of interactions, and the sales rep responsible. Leave comments and share access with your team members for better performance.
3. Segment your mailing list
Email segmentation provides marketers with lots of benefits. First, it allows you to divide your subscribers into groups based on their common characteristics. You can group them by age, gender, occupation, country, preferences, etc. You can even segment users based on their interaction with your email. Hence, you can identify the most engaged subscribers who are your warm leads and send relevant campaigns to this group. Secondly, segmentation enables you to improve your email open rate and CTR because people appreciate brands providing individual offers. Finally, segmented email campaigns improve your sender's reputation. As a result, your delivery rate will increase.
With SendPulse, you can segment subscribers based on their personal information and how they have interacted with your previous campaigns. Alternatively, you can use ready segments formed automatically based on the activity of your subscribers.
To segment your list, you need to enable segmentation after choosing the necessary mailing list and select the criteria.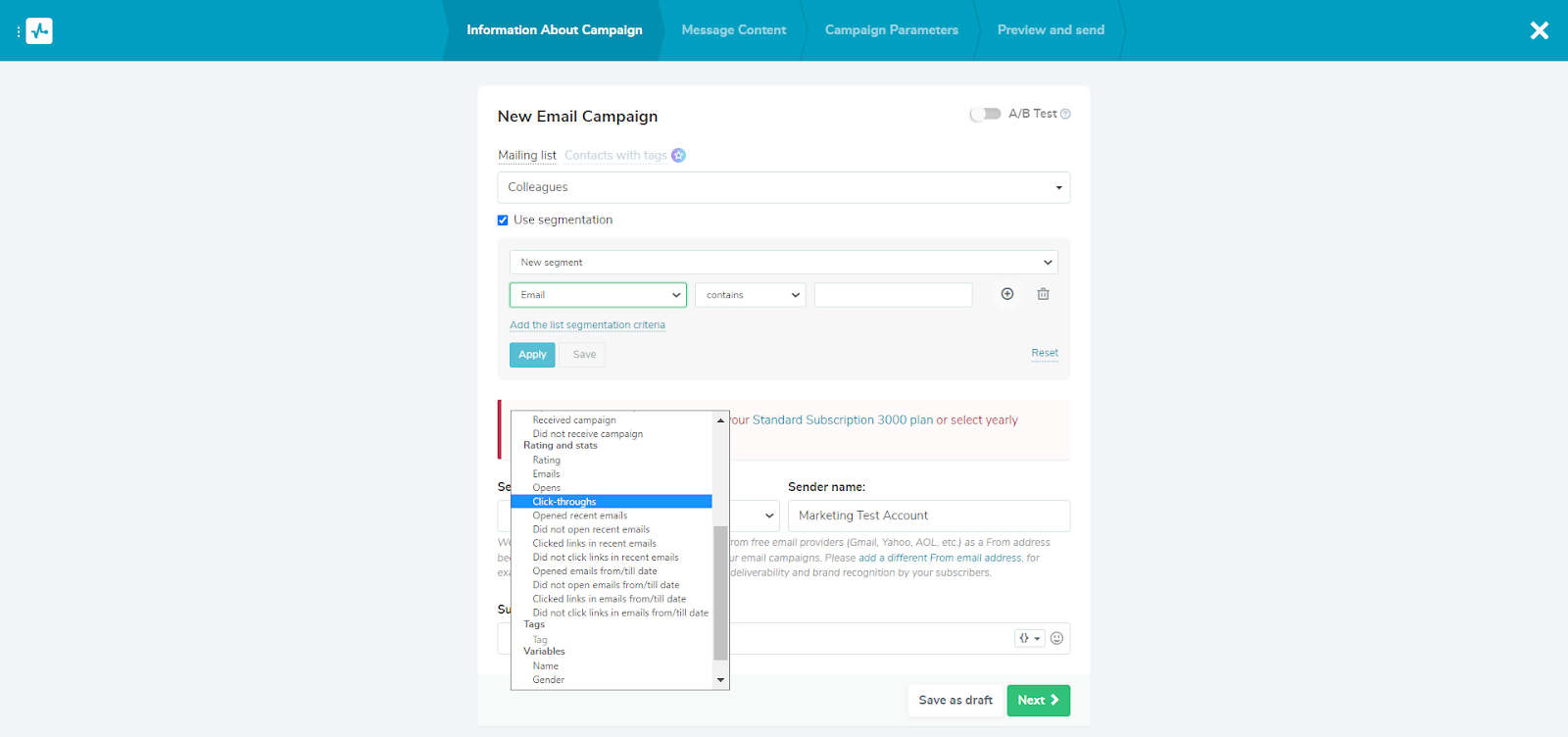 Follow a step-by-step guide to email segmentation.
Now that you know how to prospect warm leads, it's time to learn how to move them down the sales funnel effectively.
How to convert a warm lead?
To turn a warm lead into a paying customer, you need to have a well-planned strategy and act quickly. We recommend you use a professional marketing platform to automate the process. Follow the five tips below.
Congrats, now you know how to identify a warm lead and convert him into a customer. Take advantage of the SendPulse marketing platform to build long-lasting relationships with clients and blow up sales.
Last Updated: 03.07.2023