Outreach marketing is a strategy that aims to find individuals and organizations that may be interested in your business. It helps to increase brand recognition, facilitate the promotion, and boost revenue.
The essential idea is to provide an incentive in exchange for a favor rather than insist on making customers buy goods or services from your company. Outreach marketing allows for mutually beneficial cooperation for both parties.
Benefits of Outreach Marketing
Increasing your online presence
Improving the quality of content
Personalized approach
Creating and empowering collaborations
Unlike big corporations that have sufficient funds for lavish, large-scale campaigns, small companies often can't afford campaigns of the same caliber. How can small companies get involved in multi-faceted activities? Relatively cheap solutions are offered due to recent digital advancements.
Increasing your online presence. This strategy allows you to increase your outreach all over the globe. You can find partners who will promote your brand to their devoted customer base. This way, your audience will grow without your participation.
Improving the quality of content. Through localizing and optimizing website content, it is possible to attract more users. Evaluate what successful bloggers and writers do to capture a broader audience. Modify existing successful strategies to promote your products or services.
Personalized approach. It's necessary to add a human touch to what you do on the web. With the help of blogs and links, for instance, you can develop a personalized approach for clients.
Creating and empowering collaborations. Small businesses can combine their resources and fill in the gaps for each other to assist in expanding the customer base.
These four pros are the main reasons a small company would want to engage in outreach marketing.
Finally, outreach marketing is a great way to obtain a competitive advantage. Any organization can gain these benefits with the right outreach marketing strategies.
Email Marketing vs. Outreach Marketing
The significant gap between these two is that in outreach marketing, a message is sent to users who are not familiar with your business. With email marketing, emails are always created and sent to your target audience that opted in to get notifications from your company. Outreach marketing is about:
delivering an advertisement to users who have visited your site;
cooperating with a data enrichment service to receive a list of decision-makers;
trying to reach out to your audience on social media platforms.
Outreach cold emails are perfect for targeting users who are looking for possible solutions to their existing issues and needs.
As for marketing email, once again, this is for users who are interested in your news and offers. Email marketing refers to:
сlients that you wish to retain;
users who visit your website but not committed;
potential buyers who have subscribed for a free trial;
users who agreed to receive emails from a company.
How To Do Outreach Marketing
Come Up With Intriguing Subject Lines
Show the Value
Keep Researching
Show How They Will Benefit
Encourage Users to Share Feedback
Now, the question is: how can you do outreach marketing effectively? Different experts share various approaches to outreach marketing. We have prepared the five most useful ones.
Come Up With Intriguing Subject Lines
Statistics show that the average email open rate is currently around 18%. The email subject line is your first chance to stand out in your recipient's inbox. It might seem like a challenge to create an engaging one for someone you don't even know. It is critical to personalize headings to avoid spam filters that are common nowadays. Show how the recipient can benefit by merely opening your message in 5-7 words.
Look at the subject line of the outreach email below. The sender personalized it and provided value before offering a deal.
Show the Value
If you start with an excellent solution to one's problem, people will pay you back. Think about the benefits the cooperation with your company may bring to your partner. Highlight the problem that your company is solving, and only then provide the rest of the information.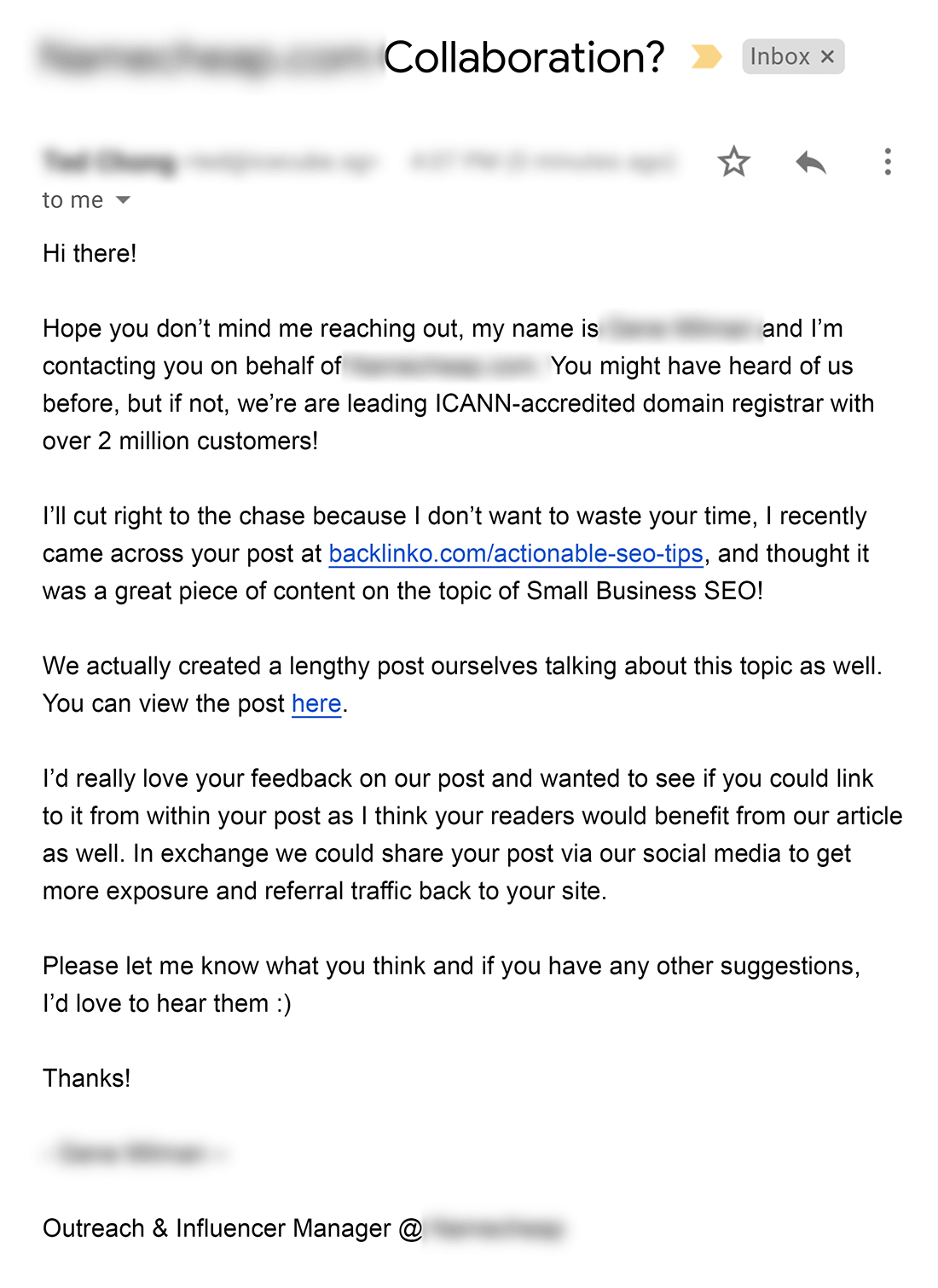 Keep Researching
There is always room for improvement, so you should not stop searching for new ideas. Look for ways to start your emails differently from regular cold emails. It's important to customize each message to improve client relationships and your overall marketing performance.
In the email below, the sender researched a bit and used their findings to ensure a personalized approach.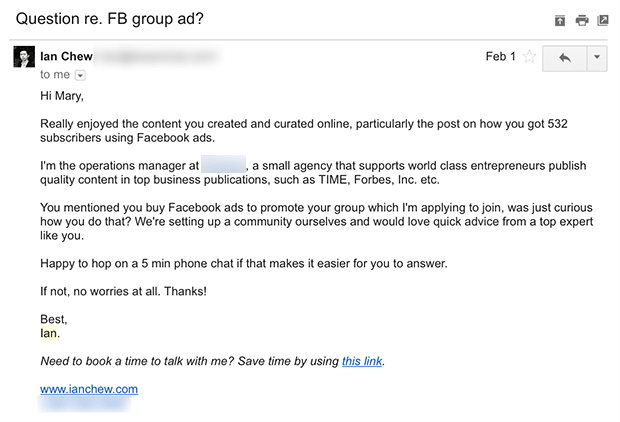 Show How They Will Benefit
There is another useful technique that is easy to miss. It is known as reserve blogger outreach. It's about offering recipients a chance to obtain benefits from you, as an email author. An example of mutual collaboration could be a writer creating guest posts for one's website to get backlinks.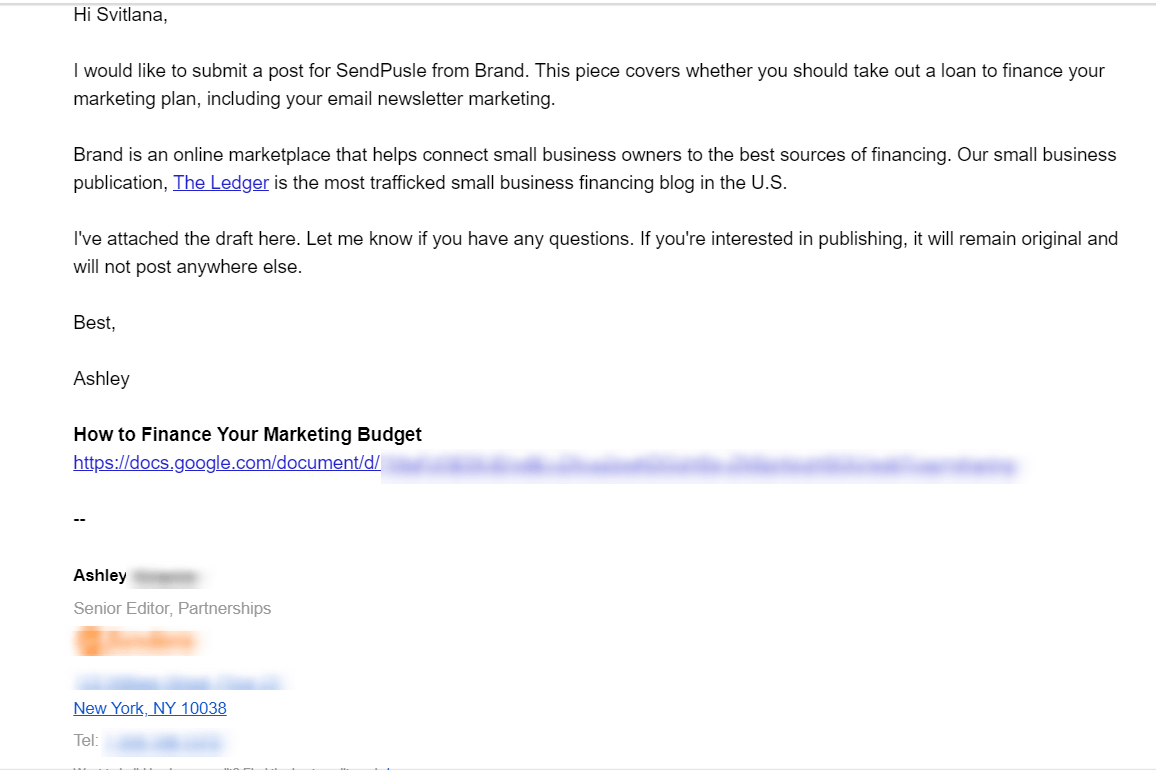 Encourage Users to Share Feedback
Some people are too scared to hear a critique, so they don't ask for comments. Even negative feedback is valuable because it points out gaps in your work and helps improve the product or service before you lose a large share of your audience. Besides, people love to be heard. Thus, they will feel needed if you ask for their opinions. Getting feedback is also an excellent way to start a conversation with customers you previously haven't interacted with.
Outreach Marketing Tactics
As a recent study has shown, about 83% of customers rely on recommendations from their peers when it comes to ads. You may benefit from using these outreach marketing tactics:
Get in touch with successful bloggers in your industry;
Come up with influencer events;
Involve a network focus;
Use quotations and testimonials;
Make sure that you communicate with the right people;
Tell your success story;
Automate business communication.
With a bunch of tips, tactics, and examples at hand, you can empower your outreach marketing strategy. Using SendPulse, you can automate sending bulk emails without much hassle. Register and give it a try!
Last Updated: 08.11.2023