Social media optimization (SMO) is a strategy that involves a company striving to establish an online presence and communicate the main brand's message through social media. It helps businesses reach their target audiences, improve brand awareness, and establish trusting relationships with consumers.
In this video, Alex, a SendPulse marketer, shares valuable insights on how to optimize your social media with chatbots.
In this article, we'll review the importance and pros of SMO. We'll also make the difference between SMO and SMM clear, unveil 4 effective strategies and 3 powerful tools.
Why is social media optimization important?
Many companies switch to modern social networking services like TikTok, Instagram, and Twitter to communicate with customers and hook their attention. SMO aims at driving awareness and traffic to your website. It's a powerful tool for establishing your brand's online presence and becoming an authoritative company. With its help, you'll be able to establish positive branding, enhance brand recognition, visibility, engagement, and awareness.
You can create videos, photos, ads, and blog posts to communicate with more potential and existing customers. Clients can interact with your brand by using their most convenient mediums. They can see your ads on Instagram and land on your website. The strategy enables you to present your product to new geographics, which results in a wider customer base. This way, your website traffic will increase. If your company's team works properly both on SMO and SEO, you can obtain a better ranking on search engines.
Besides, social platforms are now widely used for lead generation. Your campaigns and ads will help attract prospects and encourage them to make purchasing decisions.
Let's now explore all the benefits of SMO.
Benefits of Social Media Optimization
Optimization of social networking services is a must for any company that seeks growth. Although the process needs your time and effort, you'll be happy to see the results after the successful implementation. These are the benefits you can reap:
more loyal customers;
better customer service;
higher brand visibility;
active customer interaction;
improved brand awareness;
higher customer engagement;
wider reach;
more leads;
website traffic;
higher ROI.
Now you know the possible advantages you can obtain once you work on social media optimization, so it's time to find the difference between SMO and SMM.
SMO vs SMM
People often confuse these terms because they have similar goals. To avoid any misinterpretation, we'll unveil the main distinguishing features of SMM and SMO.
SMM is a type of marketing that implies the use of social networks to promote products, increase customer base, boost traffic, and improve sales. Social media marketing encompasses the processes outside the company's website. Once you optimize your website, you proceed to the next step — promoting your product off-site. Companies create content and develop strategies to effectively communicate it to the audience and interest potential customers. You can convey brand messages in various forms such as blogs, ads, images, and videos, and they will tell about your product to a wide audience.
SMO is a process of optimizing a company's website so that it can be shared on different social media networks. It's about on-site optimization. Business owners make their sites look more compelling and improve usability to attract customers to their accounts on platforms like YouTube, TikTok, Facebook, and many more.
Simply put, SMO is about on-site optimization, while SMM encompasses activities outside a company's site and involves creating ads, posts, campaigns, and articles to disseminate information about a specific product.
4 Effective Social Media Optimization Strategies
You should implement different techniques to improve your website for social media platforms. We've listed the most effective strategies so that you can consider them for your company.
Optimize your content for different networks. You should use the specific content format for each of the social media channels. For example, TikTok requires you to create short videos, while Facebook allows you to publish sponsored ads. Besides, before creating any type of post, ad, or video, you need to define goals for each network and develop a strategy. The strategy should cover your target audience and industry. You also need to analyze the performance of your previous posts and optimize them.
Consider using external links. If you aim at boosting your website traffic, you should pay attention to link building. There's a point in adding external links to your articles. This will help you increase the chances of being noticed by search engines. Moreover, it will influence the visibility of your company's site and enhance the number of visitors.
Include social media plugins on your site. Many people who like your post can share it on different social media platforms from their accounts. However, many websites don't provide such functions, making it impossible to share. If you want your website to become visible on social media and obtain more customers, you should add social media plugins to your site. As a result, users will be able to share your content with a click of a button, and you'll get updated on the number of shares.
Use hashtags. Hashtags boost brand engagement. By putting hashtags under your posts, you increase the chances of being noticed by the target audience. People can easily find the necessary information by simply inserting the hashtag into the search field. They can also explore the related articles.
Let's now explore some useful SMO tools.
3 Social Media Optimization Tools
More and more companies get involved in SMO because it helps hit their main objectives. Since it's an effort-consuming process, it requires automatization. Hopefully, many outstanding platforms can help you manage your social media networks and provide you with features for publishing and monitoring your performance. Now let's delve into the best tools worth your attention.
Agorapulse
Agorapulse offers several features to manage your Instagram, TikTok, Facebook, or other platforms. The service allows you to handle all incoming messages in one place. With this service, you can also optimize content and schedule the date and time to publish it. Its listening tool updates you on people's opinion on your company and competitors'. Finally, you can leverage the monitoring function, which provides you with reports. In these reports, you can find information about the things that work and don't work within your social media.
You can start a 15-day free trial to test the features of a plan you are interested in. Once you decide that it's a perfect fit, you can purchase a paid plan for a small team that costs $99 per month. However, if you have a big team, consider buying a premium plan with a monthly fee of $199.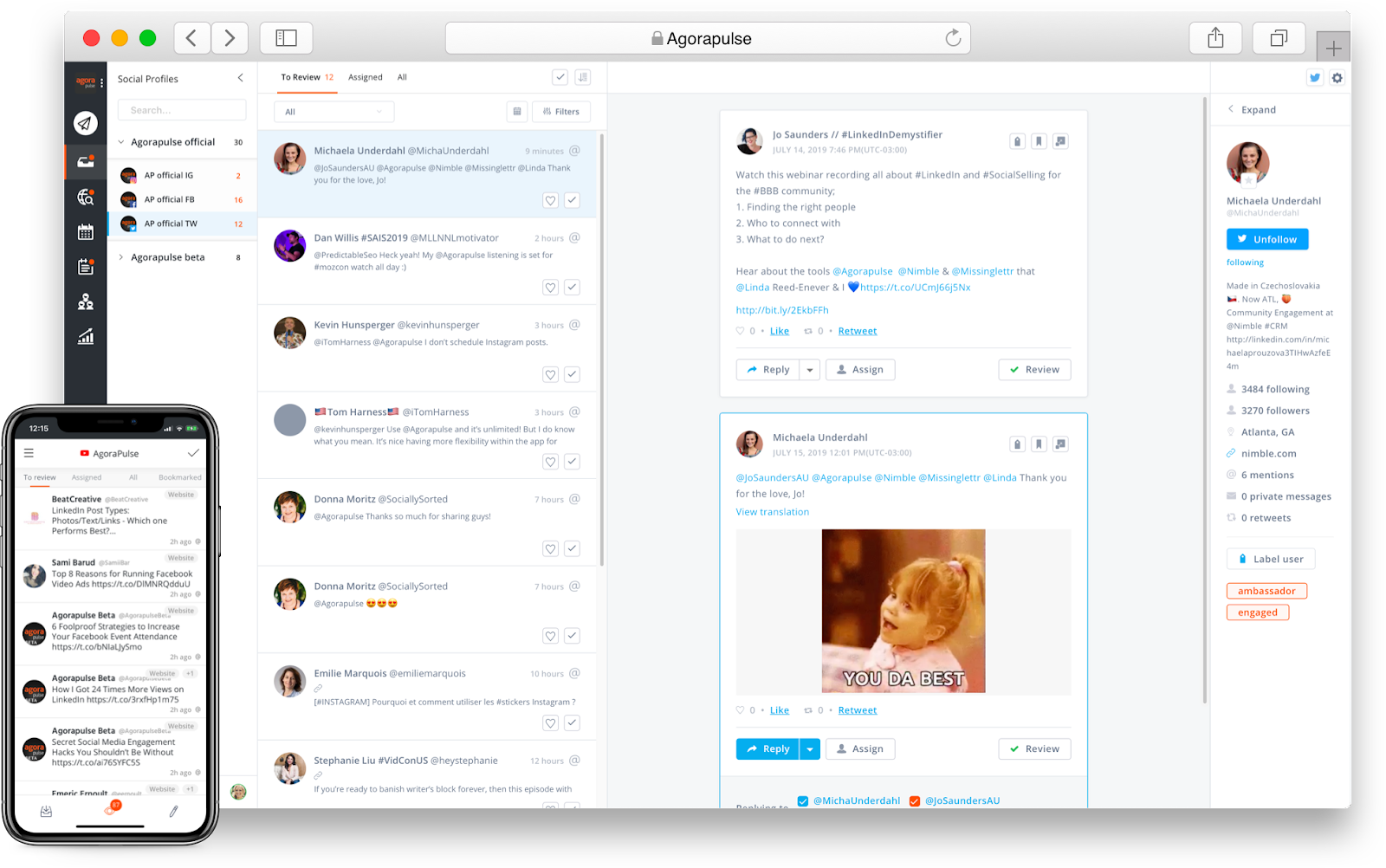 Buffer
Buffer provides different social management tools such as publishing, analytics, engagement, and start page. The platform offers you to keep an eye on the performance of your social media channels and figure out what content people want to see. Once you finish with analytics, you can jump into the next stage and work with your team to create content and schedule the date of publishing. With Buffer, you can track your customers' comments and respond to them fast from one place. Later, you can see analytics to assess your progress.
The service is perfect for beginners since it has a free plan. So if you are just starting, go ahead and register. If you are a professional who needs engagement, analytics, and publishing tools, you'll need to pay $6 per month for each channel you use.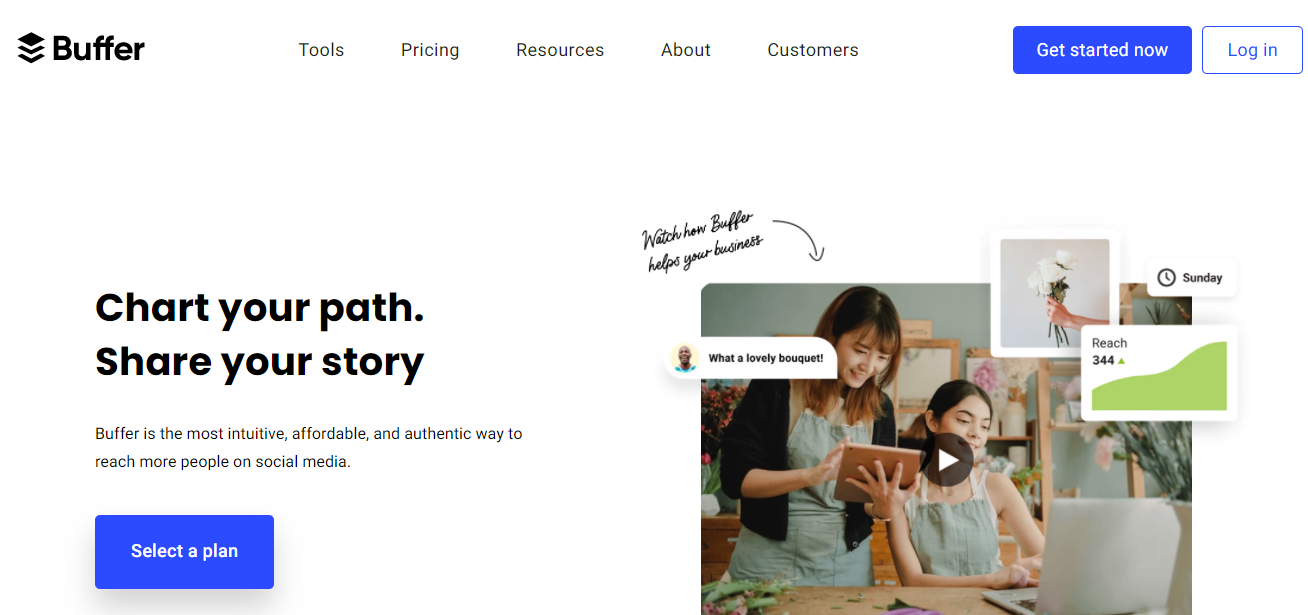 PromoRepublic
PromoRepublic is a leading service that enables you to manage different social channels from one platform. With its help, you can create and publish content at the right time, communicate with users, and monitor results. Besides, you can share your content with partners to represent your company. If you want to explore pricing, you need to directly contact PromoRepublic's sales team and calculate the price.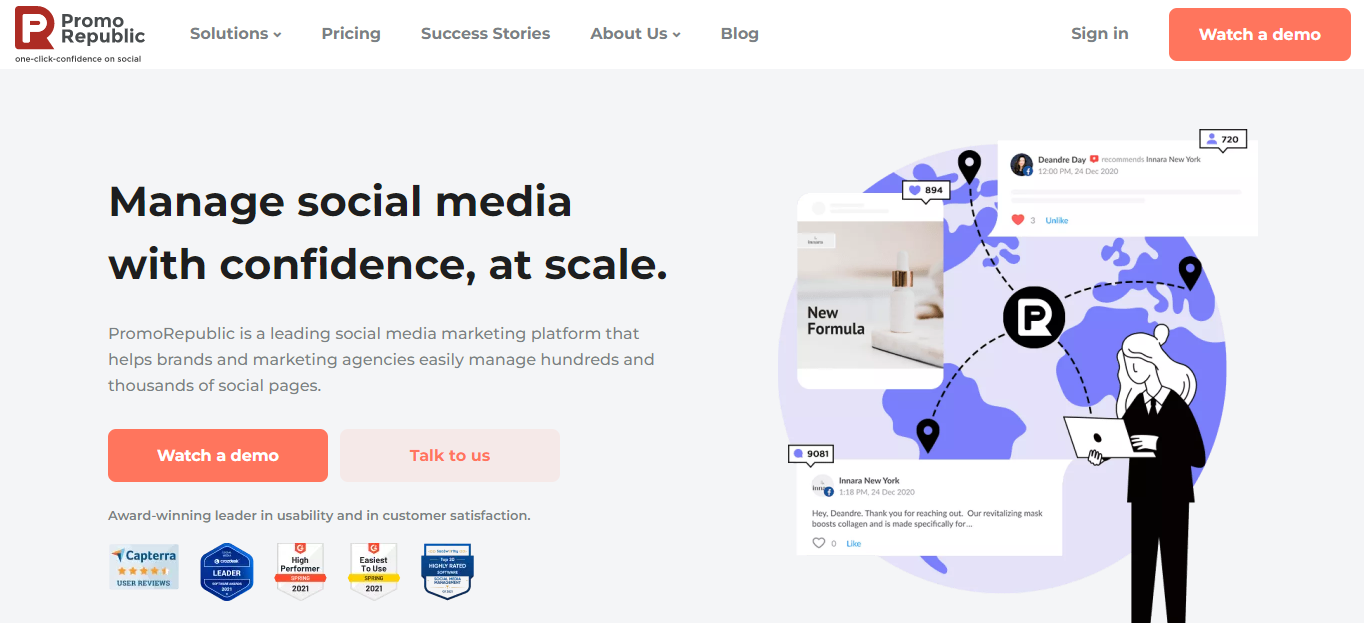 Congrats, now you know the reasons why so many brands implement SMO. If you consider developing this strategy, make use of the tools above to simplify the process and keep an eye on the performance of your campaigns.
References:
This article defines the term and unveils steps to social media optimization.
In this article, you'll find free tools for social media optimization.
This article provides readers with 6 strategies to increase engagement.
Last Updated: 22.03.2023