A lead generation email is an email that companies send to start communication, promote their services, and seek partnerships with other companies in the B2B sector.
Let's find out how to create perfect lead generation emails without much sweat.
How to Create a Lead Generation Email
Register with SendPulse
Upload your email list
Create an email template
Send your campaign
It only takes four steps to create a lead generation email with SendPulse. Here they are:
Step 1: Register with SendPulse
It's a bulk email service that allows you to send all sorts of emails, including newsletters, promotional, and transactional emails. Register with SendPulse and send up to 15,000 emails to 500 subscribers monthly for free.
Step 2. Upload your email list
You can upload your email list as a CSV, XLS, XLSX file, copy and paste email addresses manually, or import it from ConstantContact, MailChimp, or GetResponse. Your email list will look like a table with all the information you've collected about your contacts, including their email address, name, subscription date, and rating by default.
Step 3. Create an email template
With SendPulse, you can create a template for your B2B lead generation email in three ways that won't cost you a dollar:
Use our convenient drag and drop editor;
Choose a pre-designed template from our library;
Save any email from your Gmail inbox as a customizable template in your SendPulse account with our Chrome extension.
Here's an event follow-up email created with our drag and drop editor in half an hour. You can send emails like this one to the email addresses you've collected during an event you've hosted.
Step 4. Send your campaign
You can send your lead generation email right away or schedule it for a desired date and time. To schedule email sending, you just need to select the date using a small popup calendar.
Let's review some lead generation emails to better understand in which cases companies use this technique.
3 Lead Generation Email Examples
We've collected three well-designed examples of lead generation emails for your inspiration. Here they are.
The first lead generation email is from Yieldify. It reaches out to eCommerce companies that use email marketing in their strategies. The message offers an essential guide on A/B testing — a feature that email marketers often overlook. Besides, Yieldify encourages recipients to follow them on social media.
The next email is from SmartSheet. The company promotes its services by targeting HR managers with the heading "Business value your boss will care about." Forrester's infographics strengthen these words as it highlights SmartSheet's effectiveness with figures and graphs. The CTA leads to some comprehensive research that an HR manager will probably forward to their boss.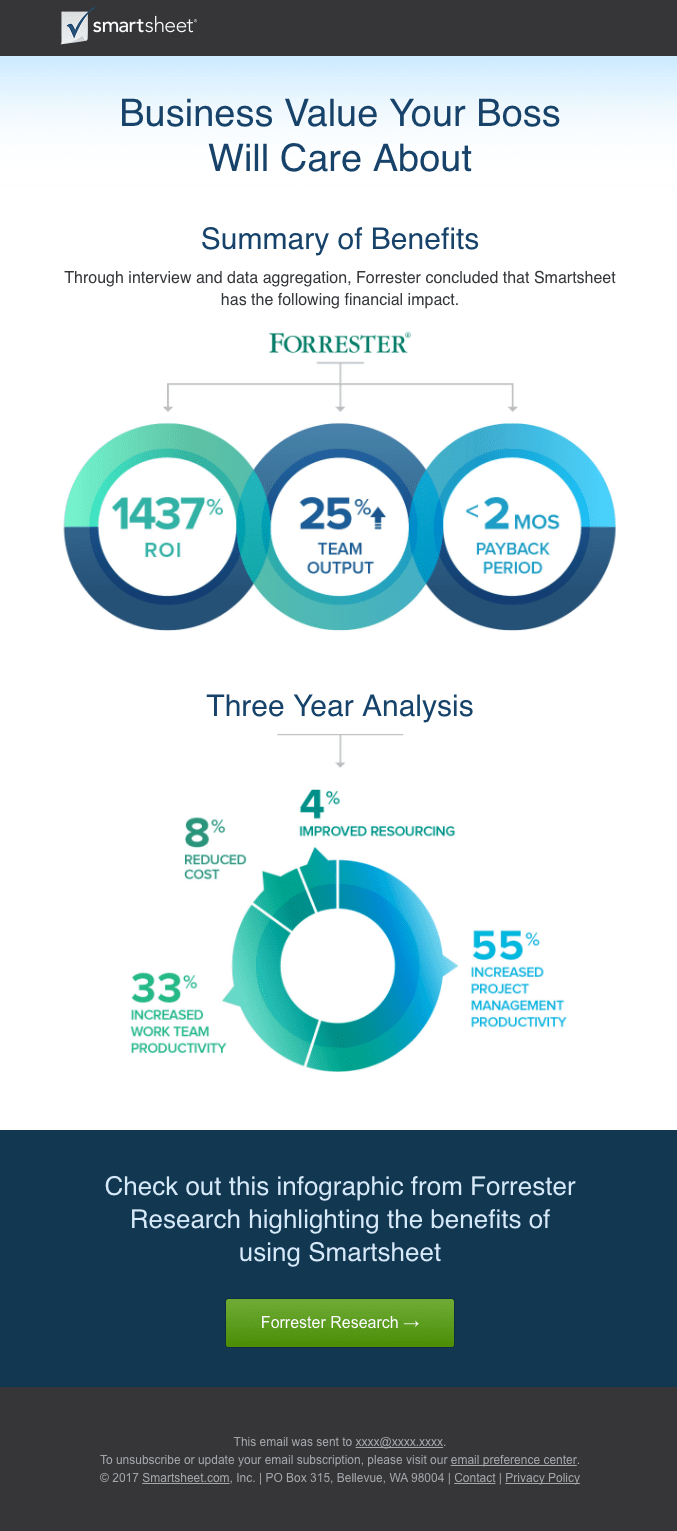 The last lead generation email is from Candor. Its CEO tries to convince recipients that the service for improving corporate meetings is highly efficient and saves time. The rest of the message is a step-by-step guide on using the service that describes all of its helpful features.

Let's finish this guide by reviewing some actionable tips.
4 Best Practices for Creating Lead Generation Emails
Create a catchy subject line
Run an A/B test
Appeal to emotions
Send follow-up emails
We've collected four killer tips to help you reach good results in your B2B email outreach. Here they are:
Create a catchy subject line. This plays a huge roll in determining whether users open your email, so it should tell recipients why your message is worth their time. Put your value proposition upfront and make sure your subject line is relevant to your email's content. Check out some subject line best practices to get the best open rates.
Run an A/B test. It will help you analyze how different variants of your subject line, calls to action, images, and text perform. Find out what works best for your lead generation emails and increase your conversion rate. Follow this guide and run A/B tests with SendPulse.
Appeal to emotions. This tip is universal for any email, but adding feedback from other companies relevant to the recipient's industry will add more value to your offer. Using infographics is also a great idea since it allows you to quickly show a decision-maker how excellent your service is.
Send follow-up emails. Lead generation emails in B2B communication tend to have lower open rates compared to B2C emails. This means that only a few users out of many will open your message. To increase that number, and eventually increase sales, send automated follow-up emails to recipients who never opened your message. All you need to do is create an alternative subject line and schedule the resending date and time. Here's how to send follow up emails to users who never read your emails.
Congratulations, you've just learned the basics of lead generation emails. Send your first email with SendPulse today!
Last Updated: 07.09.2023