A social media strategy is a well-thought-out plan that indicates when, how, and what content to share on multiple socials of a brand. It helps you use resources efficiently and reach your target audience.
In this video, Alex, a SendPulse marketer, shares valuable insights on how to boost your social media strategy with chatbots.
This article will uncover 14 reasons to create a strategy for social platforms and what you should do to develop it successfully.
14 Reasons Why You Need a Social Media Strategy
According to statistics, around 4.62 billion people worldwide are social media users. Although the initial purpose of Instagram, Facebook, and Twitter was to provide communication, it's no longer their main goal. Oberlo's marketers emphasize the three main reasons users spend time on social networks: exploring news and trends, finding things to do, and products to purchase.
Since many customers use social platforms every day, you need to build a strategy for each social network. Establishing a brand from scratch on social media without a well-thought-out strategy can be challenging and require excessive expenditures. In this section, we'll review the main reasons for you to consider developing a strategy. It will help you
establish a strong online presence;
expand your reach;
increase the base of leads and customers;
use resources efficiently;
save time and money;
target your audience with personalized offers;
increase engagement;
provide users with relevant content;
get a competitive advantage;
stand out from the competition;
attract new consumers with influencer's help;
build a positive brand reputation;
gain brand recognition;
earn customer loyalty.
Now that you have enough arguments to work on your tactics, it's time to dive into the steps. The next section will guide you through the process of developing your detailed plan for social media and help you do everything right.
10 Steps to Create a Social Media Strategy
Define your goals
Research your target audience
Conduct competitive analysis
Run social media audit
Develop a social media content calendar
Create engaging content
Leverage social media management software
Provide support with chatbots
Use advertising to expand the reach
Analyze social media metrics and adjust your strategy
A gut feeling doesn't work with social media. To achieve success, you need to develop the tactics of what, when, and how to do to generate interest, build communities, and encourage purchases. A social media strategy is your guide of actions in the world of social users. In this section, we'll unveil the steps you should take to reach your business purpose on social networks.
1. Define your goals
If you want to develop a winning strategy, determine your primary objectives. Together with metrics, they will help you evaluate the success of your strategy. Use the SMART (specific, measurable, attainable, relevant, and timely) framework to set your objectives. For example, we will use a chatbot for Instagram to reduce the response time of our customer support on this platform in two months.
Besides goals, you need to identify valuable metrics and monitor them to see the progress of your strategy. At this stage, likes and followers don't bring real value. The metrics you should track depend on your key goals. For instance, if you use Instagram to boost traffic to your site, track click-throughs from your bio link, ads, and stories.
2. Research your target audience
Before creating an offer, you should understand your audience and know what they want to see on socials. After researching your target market, create a buyer persona to understand your audience and target them with personalized offers. To develop a detailed persona, you should identify their age, interests, location, income, occupation, preferred social media channels, etc.
Remember, followers on your social media accounts are your potential customers, so treat them accordingly. Explore their needs and desires to find out how to approach and engage them. Social networks like Instagram have an Insights tab that allows you to obtain helpful information about your followers: their gender, age, location, interaction with your company, and more.
Below you can see an example of Instagram Insights.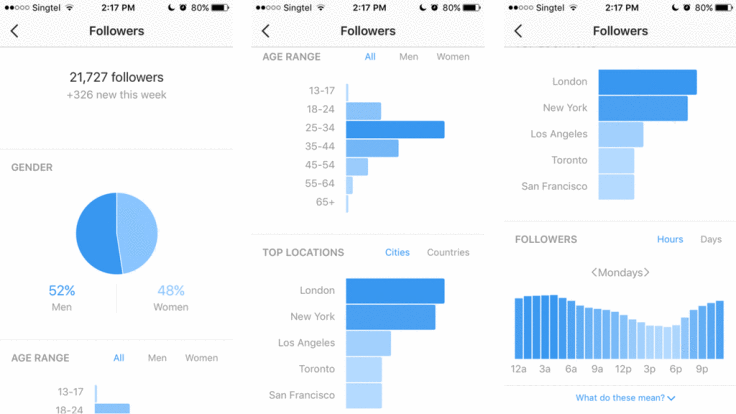 3. Conduct competitive analysis
Since 58.4% of the world population now uses social platforms, the odds are that your rivals already have profiles on Instagram, Facebook, and Twitter. So you should create appealing profiles to attract followers. Your competitors will help you develop a successful strategy. To take advantage of your rivals, conduct a competitor analysis to reveal their strengths and weaknesses.
By examining the social accounts of your rivals, you can find your biggest competitors, uncover the platforms they use, and the content they create and assess the level of customer engagement. With analysis, you'll be able to identify the best time for publishing, find new marketing approaches, get inspired to create engaging pieces of content, explore trends and topics, and unveil the pain points of your target market. After you research, you can identify the gaps. Eliminate these problems as soon as possible.
4. Run social media audit
A social media audit is the process of a business reviewing its key metrics to assess the performance of its social media strategy. The audit covers every social media channel and environment, sentiment, challenges, and opportunities for each of them. Once you finish the audit, you'll understand the desires of your target audience. You'll be able to identify the most successful platforms, determine a content schedule, and figure out the most appealing type of content for your brand. As a result, you'll focus on the alterations to your strategy, which lead toward the achievement of your initial business goals.
If you already have accounts on social networks, you need to evaluate your efforts so far. Analyze everything you have done for your social media since you created accounts: the strengths and weaknesses, people who like to engage with your brand, the channels they prefer the most, and your social media performance compared to competitors. After doing an audit, you'll find out the purpose of each account. Yet if the channel's purpose isn't clear, consider revising or transforming it.
Below you can see a social media audit example. It covers elements you should include.
5. Develop a social media content calendar
Social media calendar is an outline of your upcoming publishings on socials, organized by date. You can create a calendar manually with a spreadsheet or leverage a special tool. To share posts on time, your content calendar should have the date and time of publishing, the platforms you want to add the content to, creative assets, and useful links.
Social media calendar enables your team to save time, provide users with consistent content, reduce mistakes, and improve content quality. Besides, when all team members have access to the spreadsheet or a management tool, they can proofread the posts and avoid typos.
Below you can see a HubSpot calendar template.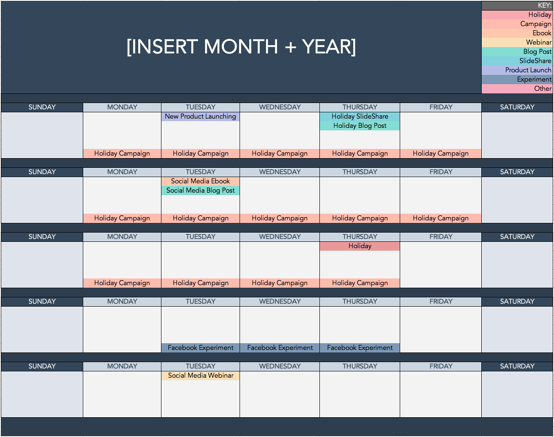 This is what a content calendar looks like if you decide to choose a specific management platform.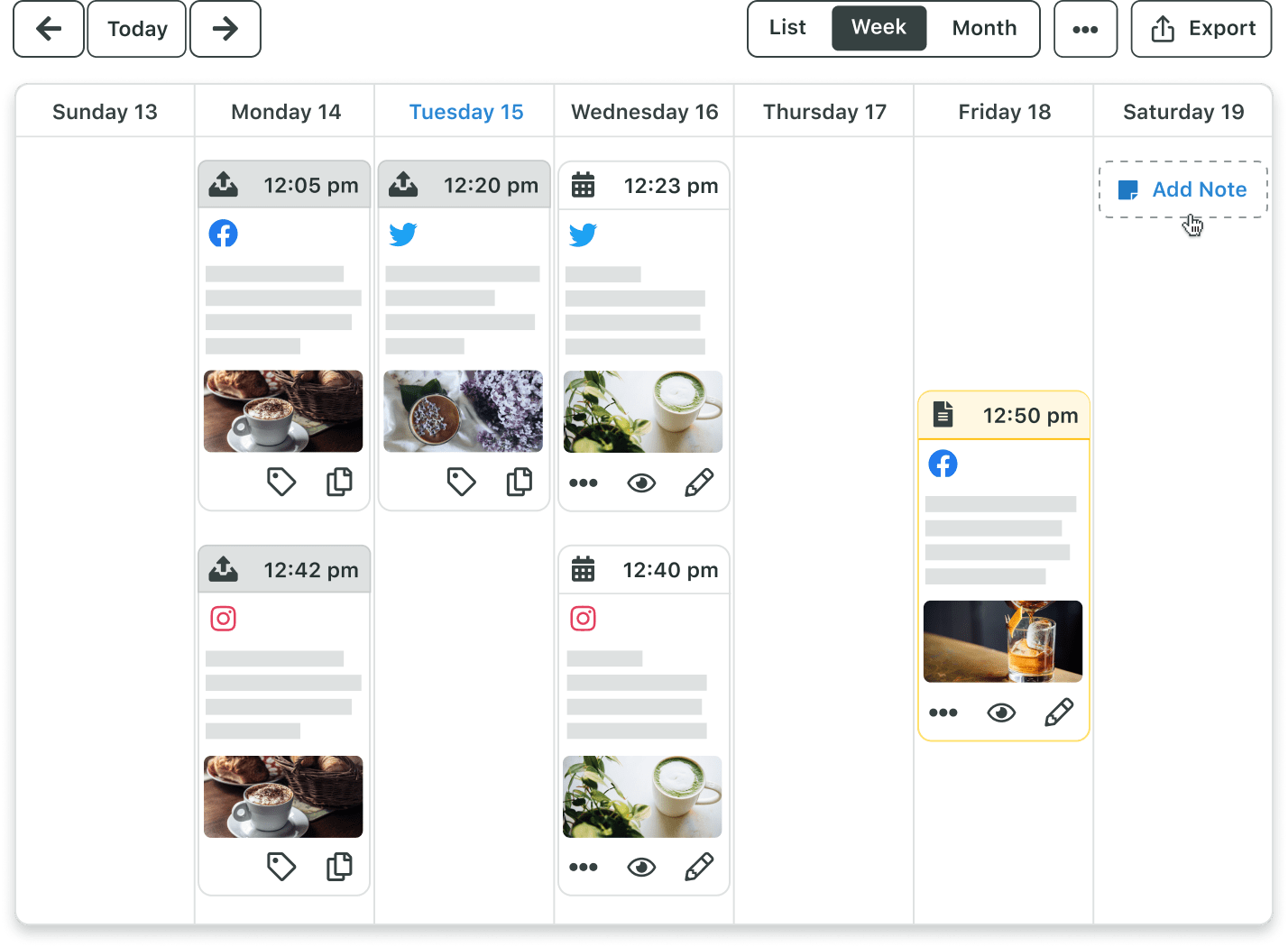 6. Create engaging content
Having a huge social media audience doesn't guarantee your business' success. If you struggle to generate the interest of your target audience and gain attention on socials, you should create engaging content. Instagram is a perfect platform for interaction with your followers. Consider implementing engaging ways to communicate with your audience. Create polls for Instagram Stories, use specific hashtags, ask followers about their experience and opinion, provide customer stories, and share valuable data in carousel posts. Besides, ask followers what sort of information they would like to see next, implement Q&A time, and provide some games.
Make use of the most successful Instagram format reels — 15-second multi-clip videos with audio. You can share useful tips, lifehacks, effective platforms, and step-by-step guides. People will love them and like, comment, and share.
Below you can see Lavazza inviting followers to play the well-known "Bingo" game to increase engagement and reactions.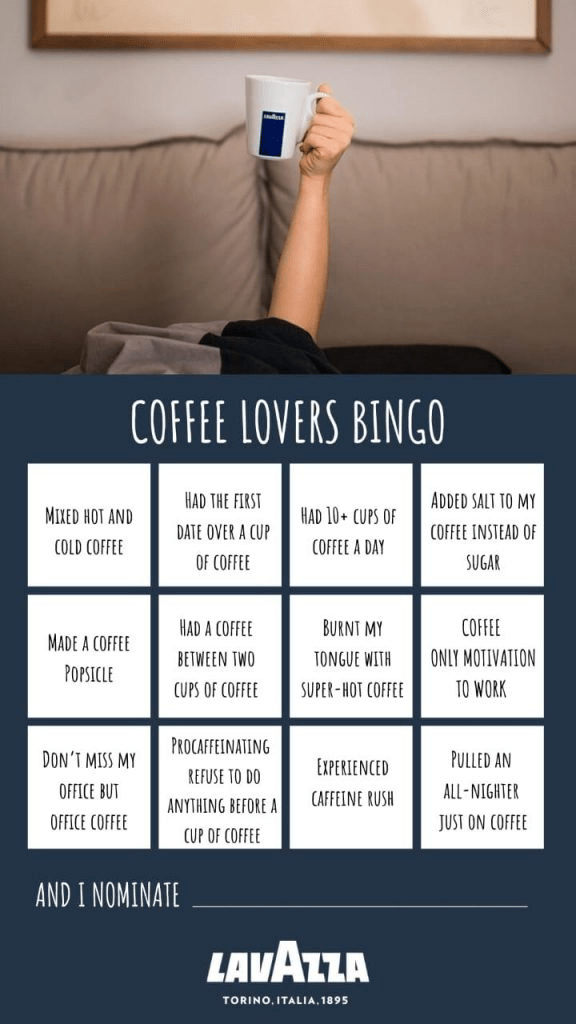 According to statistics, users are 35% more likely to sign up after seeing original pictures of a brand. That's why consider making your own photos and videos instead of using stock materials. Besides, you can hire a professional who will create brilliant branded graphics for your socials or use a web-based platform to design it on your own.
Every marketer will recognize Neil Patel and his brand. In the video below, Neil Patel explains how to use Google ads.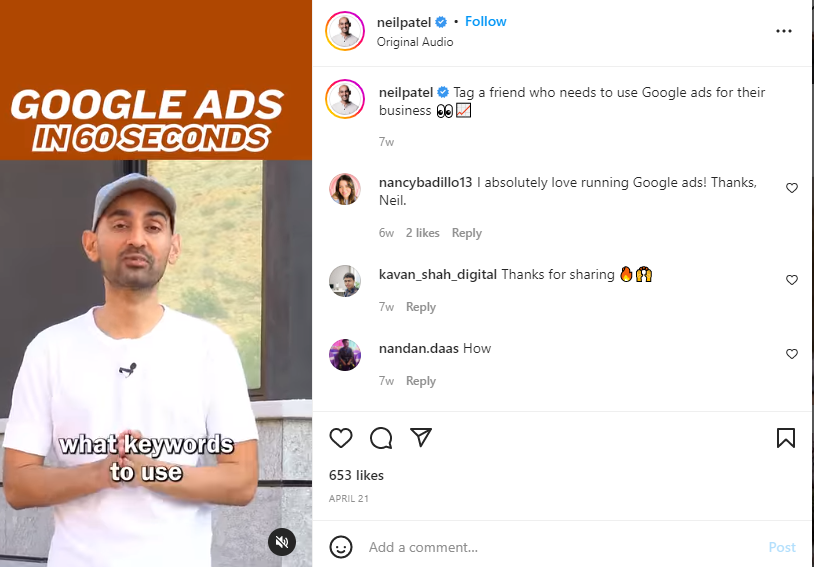 Consider including customer testimonials on your social media. Testimonials help establish trusting relationships with customers and build a positive brand image. 79% of consumers trust customer reviews as much as friends' recommendations.
Below you can see how Club Life Design shares reviews of its digital product. The brand includes all customer testimonials in Instagram Highlights.
7. Leverage social media management software
Social media management tools empower you to handle several social media from one place, build relationships with followers, and develop an editorial calendar to publish posts on time. In addition to increased engagement, such platforms enable you to track and analyze social performance.
Whether you have a startup, a family company, or a large enterprise, you can find a tool for any business size. Social media managers are often overwhelmed with the social media tasks they need to complete every day. Hopefully, you can consider many platforms to keep an eye on the processes like content creation, scheduling, and tracking performance. Hootsuite, Buffer, Sprout Social, and Agorapulse allow you to manage multiple socials from one place, which is extremely convenient and time-efficient.
8. Provide support with chatbots
According to statistics, bot-only chats receive an 87.58% satisfaction rate. Chatbots imitate human conversation and allow your company to provide 24/7 support. Once social media users have inquiries, they can send you a direct message and receive an instant autoreply on common questions.
You can employ chatbots for the biggest social networks like Instagram, Facebook, and Twitter to provide users with instant information. For instance, accounts of online shops on Instagram incorporate chatbots to give real-time responses to people's questions. They use quick-reply buttons like "prices," "available items," "sizes," "delivery," etc. As a result, they immediately receive answers to their questions.
If you are interested in making the work of your customer support agents more efficient and reducing the workload, consider using a chatbot builder. With SendPulse's chatbots, you can set up auto-replies to answer FAQs, move prospects down the sales funnel, send personalized messages and reminders, gather customer feedback, and respond to brand mentions on Instagram and Facebook.
Below you can see an example of a chatbot created with SendPulse.
9. Use advertising to expand the reach
Instagram is home to 1.47 billion active users who spend around 29 minutes daily on the platform. This time is enough to communicate with friends, explore trending, and search for products. Yet brands still search for the best places for their ads. Companies should run ads on social media to expand their reach, generate new leads, drive traffic to their websites, and increase sales volume and revenues.
Use paid advertising to present your product to potential clients and build awareness. If you succeed in capturing attention, users will follow the link and visit your profile or website. After exploring your content and product features, they will make a decision. You can apply different types of advertising based on your main business purpose. Social media platforms offer you to make use of photo ads, video ads, and stories ads. You have the option to run campaigns manually or use Facebook Business Suite, AdEspresso, Hootsuite, or Revealbot.
Retargeting helps you target people who have already visited your site or social media accounts. It ensures more touchpoints with prospective customers, boosts conversions and sales, and encourages brand recognition. Sponsored content is a type of promotional advertising that involves a sponsor (company) paying a publisher (influencer, opinion leader, industry expert, or marketing agency) for promoting a brand on social media platforms. It helps showcase your product, expand your reach, increase your following, and drive sales.
Below you can see an example of Thinkific's sponsored ad on Facebook. This advertising targets users who show interest in the product.
10. Analyze social media metrics and adjust your strategy
Creating a profitable social media strategy is challenging, so it can't be perfect on the first try. However, you can always improve it. To do it, look at the performance metrics to see what's missing in your strategy. Pay attention to reach, engagement, impressions, conversions, referrals, and response rate. Besides these metrics, you can also track UTM parameters (short text codes linked to your URLs). Parameters show the value of social media campaigns, provide information about traffic and conversions, and measure ROI.
Use this data to improve your strategy. For instance, change the frequency of posts, implement storytelling, or add customer testimonials to communicate your value. Test different options to find the most effective strategy for your business. Leverage a special social management service to check the performance of each platform. Assign this task to a certain person to do it every day and have a clear picture of moving towards goals.
Now you know what social media strategy is and why it's crucial. Hopefully, our ideas and examples inspired you to do everything in your power to work out an effective strategy.
References:
This article unveils how to create a social media marketing strategy.
This article allows you to explore the importance of social media strategy.
Last Updated: 12.09.2023