An event announcement is a way to promote your upcoming event and make it more visible for your target audience. You can announce your event on various platforms, including social media, YouTube, display ads, etc.
Why should I create event announcements?
Sending event invitations and event reminders is a must to attract your existing audience. The question is, how can you invite people that might be interested in your event but are not yet in your contact base?
Using an event announcement is the right answer. It's similar to a traditional promotion, but it promotes your event instead of products. So, if you want to announce the event to an audience beyond your subscribers, make sure it's highly targeted.
Let's have a look at some event announcements on different channels.
Event Announcement Examples
We've collected a few examples of event announcements on Instagram, Facebook, and YouTube. These ads can be costly but allow highly targeted campaigns.
The first event announcement example is a promotional Instagram ad from HubSpot Academy. The message tells what topic of the upcoming event is, its date and time, and presents the speaker.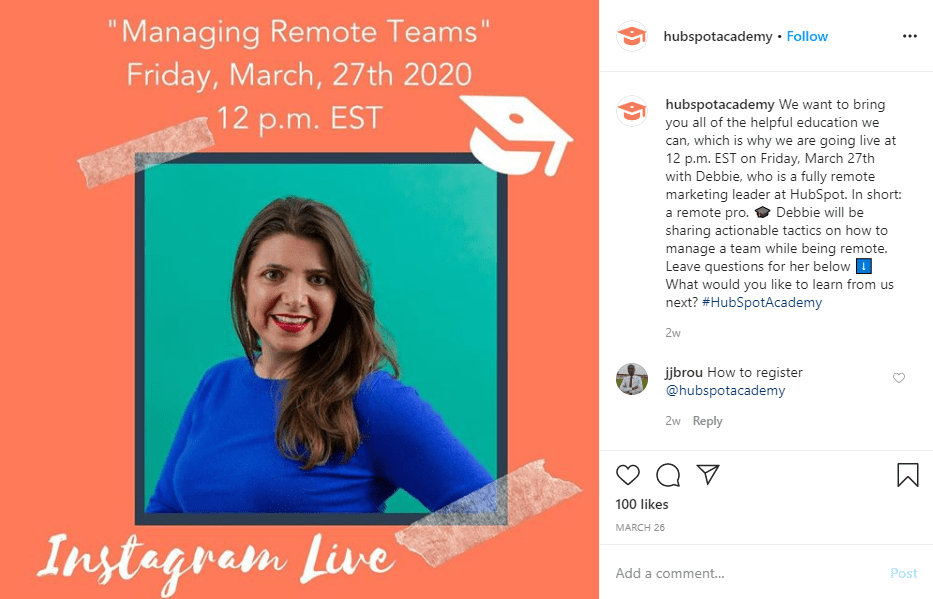 We found the next event announcement example on Facebook. It promotes a brain-training masterclass, targeted specifically at parents with teenage children. The event is free, so this type of advertising allows you to reach a large audience that has nothing to lose.
The last example is a seminar announcement on YouTube. Making a video is one of the most expensive types of advertising, though it can be extremely powerful in terms of attracting attention.
All these options are paid, but how can you promote your event if your business has a small budget? Let's find out.
3 Ways to Announce Events for Free
Create subscription forms with a lead magnet
Place a banner on your site
Run a giveaway using socials and email
We've collected three ways to generate more interest from potential attendees without investing a dollar.
Create subscription forms with a lead magnet
Place one of SendPulse's free subscription forms on your website and offer free admission to your event as a lead magnet. You can create a form like the one example below in less than half an hour.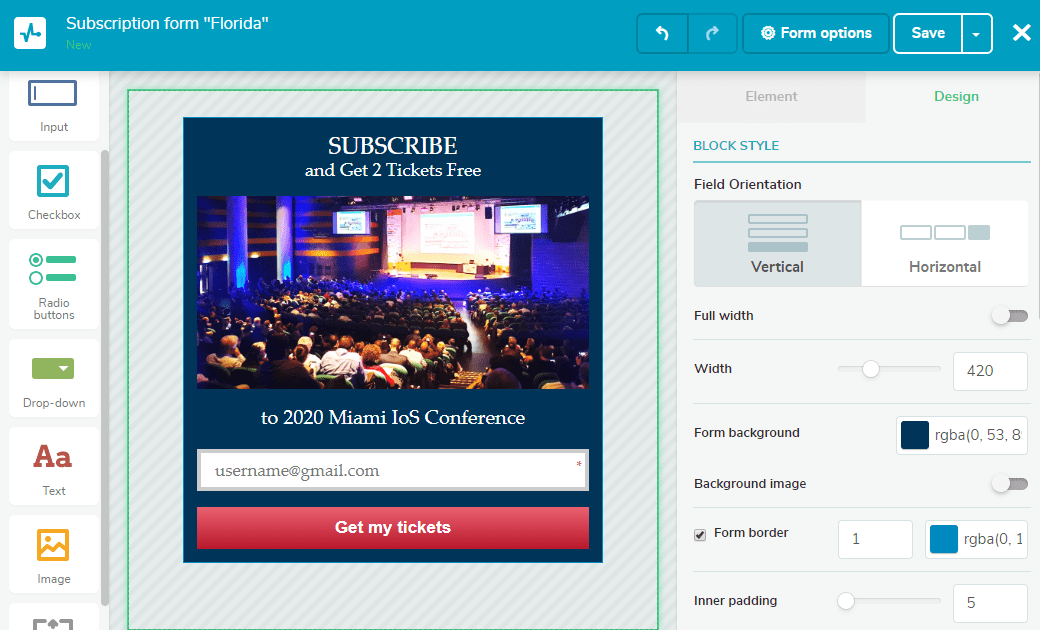 This way, you will increase the number of attendees at your event and generate more subscribers for future communication. It's also a great idea to set up automated event reminders to keep your new audience engaged until the event date.
Place a banner on your site
If you have lots of organic traffic from Google, why not use it to your advantage? Ask your designer to create an eye-catching banner to promote your event right on your website. It can be something like the example below.

Make sure your announcement banner doesn't interrupt the user experience of your website and allow visitors to close the banner if they want.
Run a giveaway using socials and email
Everyone loves freebies! Create a post about an upcoming event on your Facebook page, and encourage shares fora chance to win free admission to your event. Set your giveaway's rules as the following: "Share this post on your page, subscribe to our email list, and get your chance to win two tickets for the concert."
Send giveaway emails, like in the example below, to the new subscribers.
Great, you've learned how to attract users that don't belong to your audience yet. Let's now finish this guide with some actionable tips.
4 Best Practices to Create a First-class Event Announcement
Target your event announcements
Put the most significant value upfront
Combine different channels
Create a thought-out onboarding experience
Here are four best practices to create event announcements to help you achieve excellent results.
Target your event announcements. Since you promote your event to non-opted-in users, target your messages very specifically based on people's interests. You don't want to look spammy on any channel you choose: be it Facebook and Instagram ads, or display and YouTube advertising.
Put the most significant value upfront. Again, people don't know your brand yet, so put your cards on the table right away, and tell them why your event is worth visiting. Save the logistical details for your event reminders, your event announcement is purely promotional. You will send these messages to users that converted from your event announcement.
Combine different channels. The more channels you use, the better your chances of being recognized by your target audience are. While you're at it, make sure that your message looks great on any device.
Create a thought-out onboarding experience. Your event was the only reason new users subscribed. However, your relationships with event-goers shouldn't end there. You can create a series of onboarding emails with SendPulse's Automation 360, and offer more value to entice subscribers to stay in touch with your brand. The value that you offer can be in the form of a discount, free trial of your service, an educational email newsletter once a week, you name it.
We hope this guide clarifies how to expand the target audience for your event beyond your regular subscribers.
Last Updated: 22.03.2023