A customer database is a software that stores all personal information about customers, including names, emails, shopping history, and demographics, in one place. It helps establish good communication with consumers, keep the information updated, and improve efficiency.
In this article, we'll uncover the benefits of building a customer database and ways to do it. We'll also review the 5 best customer database software.
Why is building a customer database important
Today, when the number of customers and businesses is constantly increasing, it's vital to store all your customer information in one place. It will help your sales representatives provide consumers with proper communication and relevant offers. A customer database serves as a source of information for the sales team when interacting with consumers and enables them to establish good relationships. A personalized approach increases the chances of converting subscribers into customers and winning more sales.
Special platforms prevent you from having chaos in your customer data when your website traffic boosts and the number of consumers increases regularly. A customer database keeps all records about your clients and prospects up to date.
Customer profiles serve as roadmaps for your salespeople. After exploring information about each customer, salespeople can identify their needs, desires, problems, and challenges and prepare the right speech, presentation, phrases, etc. This data helps send personalized email campaigns. Consider tailoring your emails based on customers' preferences.
Now that you know why creating a customer database is essential, it's time to explore the main advantages.
Benefits of Building a Customer Database
After creating a customer database, companies reap many benefits. It helps
update consumers on relevant offers, events, promos, and discounts;
reach them through preferred communication channels;
establish trusting relationships;
obtain loyal customers;
build customer targeting;
create personalized email campaigns;
reach the right people at the right time;
understand customers' needs and pain points.
Now that you know the pros, let's proceed to the following section to unveil how to build a customer database.
How to create a customer database?
A clear understanding of the process of creating a customer database for your business enables you to save the time and effort of your team. We'll walk you through this process to increase your productivity.
Identify the functions of your database. The first thing you should do is to think of your database's main functions. You need to clearly understand the goals you want to achieve with this platform. Databases perform four main functions: operational, collaborative, analytic, and strategical. They help your team run your business and communication with subscribers daily. CRM enables you to align marketing channels and establish proper interaction with consumers and partners. Analytical functions of your customer database ensure that you provide the maximum value for your clients and pay attention to their problems and desires. Strategic activities allow you to tailor your marketing strategy based on people's needs, marketing trends, competition, and available distribution channels.
Determine the sources of personal data. Partner with your company's sales and marketing departments to collect subscribers' personal information and define the main sources. When you know where your customers come from, you can craft a better strategy and target the most successful channels.
Choose the most suitable database type. There are different ways of storing customer information in your database. We can differentiate three main types: hierarchical (simple visual way), network (customer information linked to the owners), and relational databases. The choice of database depends on your budget, database size, and users.
Split up information into segments. If you want to ensure the proper functioning of your company's departments and teams, you need to organize your database. Determine tasks and ways to attain them. Once you finish with the plan, consider dividing your database into segments.
Find additional sources of information. Conduct research to find more sources that will enhance information about your customers. They will provide additional details that will be useful for communication with clients. Consider searching for additional sources of information to find the missing information about your consumers. They can provide email addresses, phone numbers, additional contacts, full names, etc.
Consider using a CRM. CRM helps you keep all your information in one place. CRM is a multi-functional tool that can store customer data, deal with statuses, and serve as a communication tool. Your marketing and sales team will get access to the necessary information, add and manage deals, and monitor the progress of every customer journey. SendPulse's CRM is a platform that enables you to perform all these tasks within one place for free. This way, you can ensure that all your customer data and deals are secure.
Now that you know how to create a customer database for your company, it's time to explore the 5 best customer database services. They will help you increase your company's efficiency and store all customer data in one place.
5 Best Customer Database Software
In this section, we've gathered the 5 best customer databases regarding functionality, usability, and price. These detailed reviews of each service will help you decide which is perfect for your business goals and customers. Let's start with SendPulse, a multi-functional platform that is perfect both for starters and experienced employees.
SendPulse
SendPulse is an all-in-one marketing solution that helps take control of your communication with customers. Its absolutely free CRM enables you to collect customer data in one place and build marketing campaigns. With the Kanban board, you can visualize all your deals and have them at hand. This is essential for tracking the status of your deals and taking the required actions to achieve more sales. CRM's Kanban board provides you with total visibility of open deals so that you know when to allocate tasks to your sales representatives. Once you do it, you can easily track their successes and failures with each potential client.
To keep your sales and marketing teams updated about customers, you can organize their personal information in one place. SendPulse enables you to add their emails, phone numbers, and names and add notes to every record to have quality conversations in the future. After creating contact records and deals in your CRM, feel free to contact your prospective customers right away. Consider getting in touch with your potential clients through the channels they came from. You can chat with them on Telegram, Facebook Messenger, or WhatsApp or email them.
Below you can see how to add contacts to your SendPulse's CRM.
SendPulse's CRM allows you to receive orders and keep an eye on them. Consider creating a sales pipeline for your company to understand your prospects and develop a well-thought scenario of how to win them. Moreover, the service enables you to set up an automated flow to send order confirmation emails, abandoned cart emails, and reactivate passive subscribers.
You can set statutes for your deals and take care of their progress. If you have many deals, you can distribute them to your team members. Consider setting up alerts if you want to get notified about new deals and delegate them instantly to your sales representatives.
Freshsales
Freshsales ensures that your team organizes all customer data fast without spending extra time on this process. With its help, your sales representatives can focus on effective sales by using all available information about your leads and existing consumers. The solution is easy to use and cost-efficient. Your team will be happy to implement Freshsales and pay attention to customers' needs.
A 360° view of your clients allows you to improve your sales process, deliver personalized experiences, and win more sales. The platform enables you to ensure proper communication with customers via email. It helps you monitor your sales teams' email conversations, send outbound campaigns, and improve sales. Freshsales takes care of one of the most popular means of communication - emails. Two-way email synchronization allows you to connect your third-party email accounts to Freshsales and manage all deals from your CRM. if you need to contact your prospective customer with an email campaign, consider ending personalized emails or emails in bulk.
The platform offers free, and three paid plans. A free plan covers contact and account management, contact lifecycle stages, and built-in chat, email, and phone. Paid plans start at $18 per month and include a visual sales pipeline, AI-powered contact scoring, sales sequences, up to 2,000 bot sessions per month, and WhatsApp business.
Below you can see how to add a contact to Freshsales CRM.
Salesforce
Salesforce CRM is a great choice for both small and big businesses. If you are using a CRM for the first time, you need to consider this service. It's easy to set up and equal to other platforms in terms of features and quality. Salesforce's sales pipeline is visual, so your team members will figure out how everything works fast. You'll be able to identify the stage of your prospects in the sales process.
With an intuitive drag-and-drop interface, you'll be able to manage all your contacts and deals fast and pay more attention to providing personalized sales experiences to your customers. With the platform's activity tracking and workflows, you can boost the productivity of your sales representatives and increase sales. The forecast management feature enables you to receive insight into pipeline health. Once you get this data, you can make informed business decisions. Performance dashboard allows you to track the progress of your sales and marketing reps in real-time and make adjustments.
If you are a newcomer, you can start with a free trial and decide which plan is more suitable for your goals. Salesforce has four paid plans, starting at $ 25 per month (if billed annually).
Below you can see how to add contacts to your Salesforce customer database.
Pipedrive
Pipedrive is a platform designed by salespeople and aimed at selling. With its help, you can collect leads from different sources and store them in one place. You can create web forms for your website to generate more qualified prospects.
The platform allows you to add and communicate with your customers and see the full history of emails, calls, and meetings. It helps you understand the stage of your prospect and identify strategies to win customers. Consider setting up reminders to track your deals and reach your contacts in time. Those will enable you to get notified about upcoming sales activities.
Since personalized messages enable you to win deals faster, Pipedrive invites you to apply lead segmentation. You can categorize and filter your prospective customers based on specific characteristics.
The platform provides a 14-day free trial. After that, you'll need to purchase a paid plan if the features, pricing, and usability satisfy you. Paid plans start at €15 and include lead, deal, calendar, pipeline management, simple data import, easy customization, 24/7 support, and 300+ integrations.
Below you can see how to add contacts in Pipedrive.
Zoho
Zoho helps you input all customer data in one place and automates workflows, processes, campaigns, and customer journeys. The platform lets you nourish trusting relationships with your consumers and bring more deals to your company. The service is simple, so if you have no experience working with a CRM, it'll take minutes to learn. The dashboard is intuitive and easy to understand.
With advanced analytics tools, you can easily identify your strengths and weaknesses and make well-informed decisions regarding your target audience. Customer insights help you improve your strategy and bring more customers.
Zoho offers you to use a dedicated admin panel, state-of-the-art customization, and a powerful developer platform. Moreover, it enables you to integrate all the necessary third-party apps.
Zoho CRM offers a free trial and three paid plans. The cheapest starts at $20 monthly and gives you basic modules, tasks, calls, events, advanced filters, multiple pipelines, scoring rules, sales forecasting, and email insights.
Below you can see how to add contacts to Zoho CRM.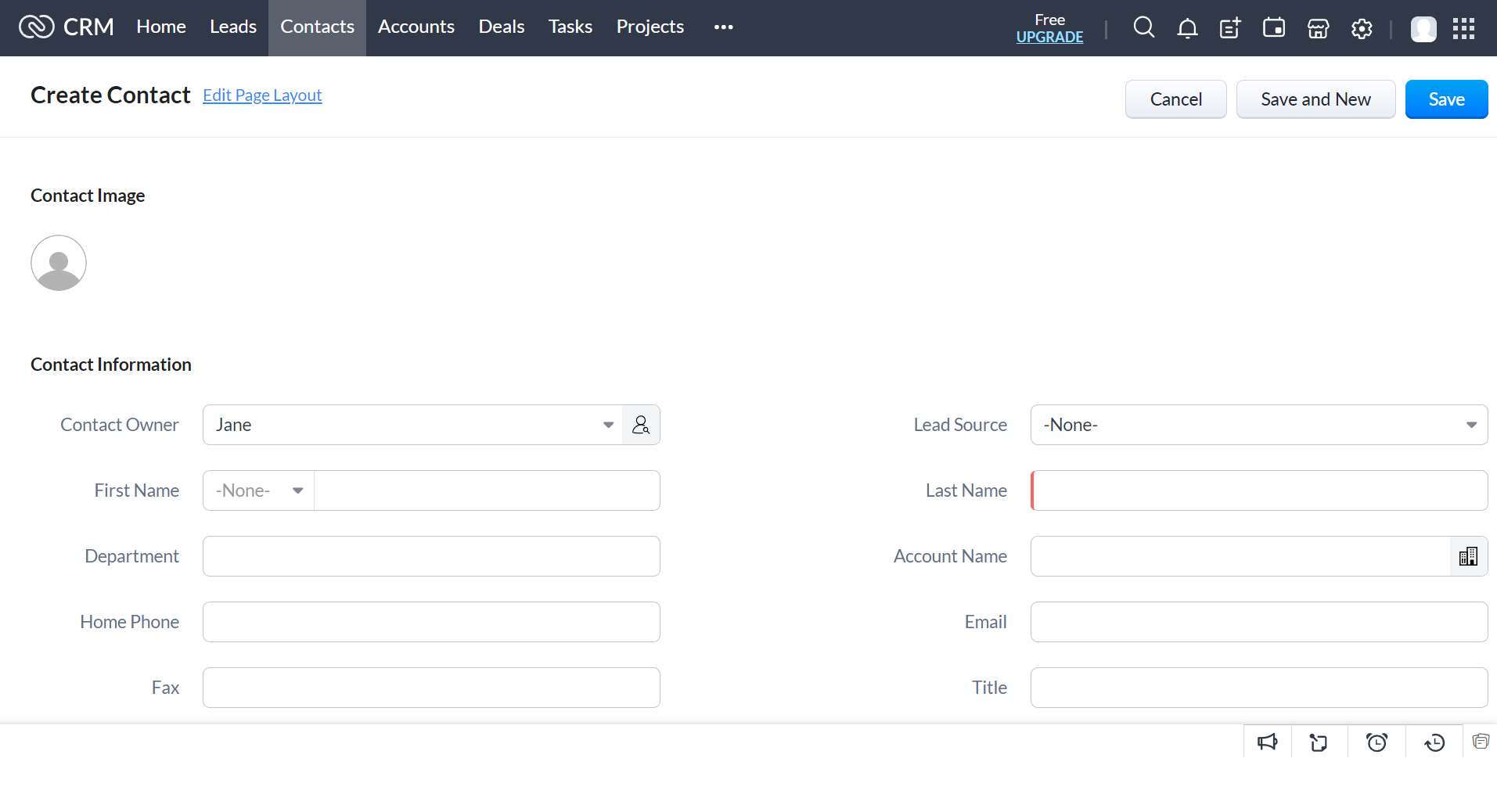 Congrats, now you know what a customer database is and why it's essential. Choose one of the recommended platforms above to improve the effectiveness of your efforts working with customers.
References:
This article defines the term and unveils how to use a customer database.
In this article, you'll find how to create a customer database step by step.
Last Updated: 22.03.2023