Customer data platform (CDP) is a software aimed at collecting data about the users from multiple tools, centralizing it in one database, and making it available to other systems in real-time. Companies can use information gathered by CDP to create accurate portraits of the customers and improve their marketing and sales strategies.
In the article, we explain what a customer data platform is, highlight its benefits and compare CDP with customer relationship management (CRM). We also provide the top 5 platforms to collect customer data.
Benefits of Customer Data Platform
According to CDP, 81% of users prefer brands that use AI to personalize recommendations. These statistics show how important customer data platforms are to attract more clients and boost companies on the market.
It creates holistic images of your customers. CDP allows companies to gain more insight into their clients and use this information to plan their future actions. Understanding the behavior of each separate consumer enables you to increase personalization and improve the customer journey. You can use customer data in product management, marketing, sales, service, and other business departments.
It saves your employees time. According to Forbes, companies that use data-driven marketing have a competitive advantage and are six times more likely to increase profits. Such impressive statistics motivate many businesses to gain information about their clients. However, it requires lots of time and effort to collect the data, and organize and analyze it. CDP allows brands to automate this process, making it more accurate and productive.
It lets marketers segment their clients. Segmentation of the target audience allows companies to increase the efficiency of their marketing campaigns and attract more clients. CDP can segment consumers based on any actions, create a few groups and even predict their future behavior. It will help you develop more personalized offers and avoid communicating irrelevant marketing messages.
It helps to improve customer service and provide a better experience. Consumers may be annoyed by your recurring advertisements or dissatisfied when they have to explain their problem a few times to different managers. Using a customer data platform helps avoid such situations and makes your communication with consumers more effective. It will reduce the churn rate and decrease cases of brand switching.
It allows users from different tools to access the data. It is a very useful option when your staff works remotely. It increases the rate of the company's flexibility and effectiveness. Also, it will save your employees' time because they will not need to ask each other for certain information about the customers anytime they need it.
Now you know why CDP is a useful tool to make your business more effective. Let's go further and discover the difference between customer data platforms and customer relationship management.
CDP vs CRM
Some business owners do not understand why it is necessary to use CRM and CDP in their companies. However, combining these two software platforms can significantly improve your business processes. In this section, we explain the difference between CRM and CDP and provide some tips on how to combine them effectively.
CDP is software that automatically collects data about your consumers' behavior from different platforms. It gathers both online and offline data, analyzes it, and provides analytics using AI. Data platform creates unified consumer profiles influenced by consumer behavior during the customer journey. Also, it can account for information about anonymous users on your media platforms. CDP helps staff handle the data about consumers' steps to optimize all processes in the company.
On the other hand, CRM allows sales teams to track their interactions with consumers. CRM is focused on direct interactions with consumers and helps analyze the effectiveness of the sales pipeline. You should enter information manually and can track only the data about direct connections with your clients. It can not give you a holistic image of the customers but can provide valuable insights into your sales processes.
Understanding these differences is crucial for choosing an effective tool for your business automation. Continue reading to discover the top 5 customer data platforms and how to use them effectively.
Top 5 Customer Data Platforms
According to CDP, the size of the global market of data platforms will reach $20.5 billion by 2027, which is 34% more than it is now. It may be difficult for business owners to find the best customer data platform for their companies. In this section, we provide 5 CDPs that can help you improve your business processes.
Segment
This software allows companies to collect, optimize and use consumer data in real-time with one API for any platform. It enables users to customize data pipelines, manage consumer information and use AI to increase client engagement. Below we provide the main features of this service.
Collecting the data. You can collect customer data from any application and unify it from all platforms and channels to create a holistic image of the user. Also, Segment allows companies to create a single tracking plan to standardize information.
Data warehouse. This platform can automatically send data from any part of the product, such as a website or social media, to the warehouse. Segment allows companies to switch on or switch off collecting of the information. It also backs up the data to your storage provider so that you can download and use it.
Personalization. You can build audiences in real-time and use this data in all your tools to make your advertising consistent. Segment allows marketers to personalize messages based on consumers' behavior and even analyze their initial intentions. You can also track how many times the users have already seen a certain ad and set frequency caps to avoid their irritation.
Analytics. This tool allows users to identify anonymous users as new or existing customers and track how they interact with your products. Moreover, Segment provides a wide range of analytics, A/B tests, and studies on how new features affect your KPIs.
Data management. This platform integrates with 300+ marketing tools and allows users to add new ones in a few minutes. You can process the data, control its quality, and optimize user requests for deletion in a few clicks.
Pricing:
Free plan. It allows you to track 1000 visitors per month, use 2 sources of data, and provides integration with 300+ tools.
Team plan. 120$/month. You can track up to 10 000 visitors per month, use unlimited sources, and have one data warehouse destination.
Business plan. Pricing is discussed individually. It offers everything from the Team plan plus advanced permissions, historical replies, and single views on the customers.
Look at the interface of the customer profile in Segment. In this tab, you can see the users' actions and analyze them to predict their future behavior.
Redpoint Global
This service provides total control of data security. It uses machine learning to optimize your business processes. Also, Redpoint Global gives real-time access to standardized information and allows companies to exchange data between systems effectively. Discover more about its features below.
Data intake. This tool allows users to connect and enrich information at scale automatically. You can also build machine learning models to collect high-quality data faster.
Customer profiles management. Redpoint lets companies match customer profiles to identify new or existing visitors. Also, you can automate this process and get access to real-time data by driving machine learning algorithms.
Segmentation. This tool also allows companies to segment their clients based on billions of data points. AI helps identify engagement segments and offers the most relevant content to consumers in real-time.
Personalization and predicting consumer behavior. Extracting insights from consumer data helps provide more personalized experiences. Moreover, AI allows companies to understand users' intentions and predict their buying behavior to persuade people more effectively.
Data management. Redpoint can help you unify all the data sources to create a holistic image of every customer. You will be able to make the customer experience consistent and change future strategies according to incoming real-time information.
Pricing is discussed individually.
Below you can see the dashboards that help track and identify changes in the behavior of different user' segments. Redpoint Global uses machine learning and AI to streamline these processes and predict consumers' future actions.
ActionIQ
This cloud-based platform provides security and privacy for customer data. It can directly integrate with your business tools to gain insights into consumer behavior. Read more about its features below.
Collecting the data. This CDP collects data both online and offline from any platform. You can use historical information, enrich it in real-time, and create holistic profiles of your consumers. Also, ActionIq has proprietary data architecture that allows its user to be more flexible and scale the information.
Customer data management. This platform allows companies to stitch variable records to make persistent users' accounts. You can centralize all the data on ActionIQ to make future analysis easier.
Segmentation. There is an ability to create complex audiences based on your customers'. This platform provides predictions of users' actions based on their intentions, specific needs, and trends in each segment.
Management of customer journey. You can test and coordinate unlimited customer journeys to conduct future analyses and make sales more effective.
Analytics and reporting. ActionIQ provides reports and operational metrics you can use to optimize your business processes. Also, there are predictive analytics and recommendations on future interactions with every account.
Security. ActionIQ conducts security audits and tracks the safety of the data across all parts of the platform. There is a single sign-in and multi-factor authentication to ensure secure authentication. You can also track your employees' access to the data on the platform.
Pricing is discussed individually.
There is a chart of users' activity and computing capacity in ActionIQ. You can use it to define the best time to communicate with your clients and promote your products effectively.
Adobe Experience Platform
This is a tool for data management in both B2B and B2C spheres. Adobe Experience allows companies to collect information from multiple lines, unify consumer and professional data and create hybrid profiles. We provide the main features of this platform below.
Collecting and managing the data. Adobe Experience aggregates information about new and existing clients with an AI-powered algorithm. You can use data collecting models across Adobe and non-Adobe connections, standardize this information and activate in real-time using any preferred system.
B2B and B2C data management. This platform allows businesses to collect and analyze both consumer and professional data from all channels and create unified profiles. You can also differentiate these two spheres to create holistic images of different types of clients.
Instant reactions. Adobe Experience provides users' profiles that update in real-time. Also, this platform allows companies to react to any changes in the customer data instantly and deliver new experiences from different channels, such as websites, social media, messengers, etc.
Segmentation and personalization. There is also a wide range of segmentation opportunities based on the data collected with the Adobe Experience drag-and-drop editor. You can personalize clients' experiences using data about their intentions from existing profiles.
Security. This platform has patented tools that help give consumers control over their information. You can customize the data governance framework and mark data sources to prevent privacy policy violations.
Pricing is discussed individually.
There is an interface of Adobe Experience tab where companies can manage their audience's segmentation. You can track the number of consumers, check their profiles, find activated destinations and check the users' behavior summary.
mParticle
This is a platform for managing data from mobile applications. It helps simplify data collecting using secure APIs and SDKs. mParticle gives access to A/B testing and more than 300+ analytics that enables you to provide a more personalized consumer experience. Discover more about its features below
Data intake. You can capture data from different platforms and load it into a data warehouse in real-time. This platform also allows companies to measure video and audio usage metrics and save them to conduct future analysis.
Data management. You can use filters to make collected data more effective, organize it, and transform it at any sales pipeline stage. mParticle allows companies to manage customer profiles and identify key stages of the customer journey. Also, you can integrate this tool with any existing data source or warehouse and control the data flow according to requirements such as GDPR / CPRA.
Segmentation and personalization. This platform allows companies to create personalized experiences based on historical and real-time consumer data. You can create segments of clients and enrich them with computed fields to get more insights into people's behavior.
Unified customer journey. This AI-powered platform gives companies a complete view of their customer actions. You can identify the roadblocks, discover the trends in your consumers' behavior and understand how people engage with your brand to improve your future strategy.
Security. There are also regular tests of mParticle's security that helps this platform avoid phishing attacks and save clients' data.
Pricing is discussed individually.
Below you can see the activity tab in mParticle. This platform allows companies to track the time, location, and device consumers use to make an action. You can also set up filters to get more specific data.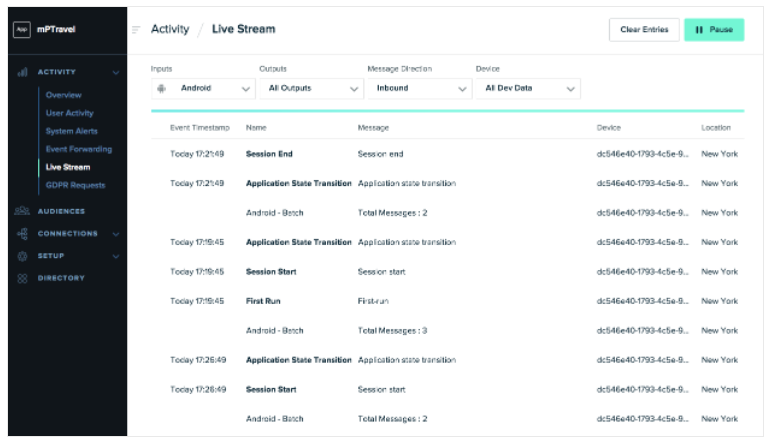 Congrats, now you know what a customer data platform is and its benefits and understand the difference between CDP and CRM. Also, you have discovered the top 5 consumer data platforms and are ready to choose one of them to improve your business processes.
Last Updated: 22.03.2023