It's finally here — our online course builder is live and ready to turn your ideas into reality! Now, you can add lessons, sections, tests, and so much more to make sure that your students' learning process is effective and more engaging.
In this post, we will share some tips and tricks on how to create online courses faster using our newly-launched online course builder to show them in action. Our knowledge base can provide more information on its functionality and other technical caveats. Let's get to it!
How to make your online courses more efficient
Let's walk you through some tips that can help you improve the effectiveness of your online course.

Collect feedback after each lesson
Receiving timely feedback from your students is crucial, so make sure to ask them whether the course meets their expectations, what are the issues they are facing, and what is missing from the course. It is best to collect feedback after each lesson to recognize your course's shortcomings and promptly make adjustments.
With SendPulse, students can ask a question or add a comment for a teacher in a special text field. The "Rate the Lesson" and "Rate the Course" options are coming soon, and they will be available to students once they complete your course.
Use the video format
Video materials are easier to digest because they require both visual and auditory memory to be involved. To add a video in the SendPulse course builder, drag the "Gallery" element from the sidebar to the workspace, and select the "Video" type. You can upload a file to SendPulse's storage or embed a video from YouTube or Vimeo.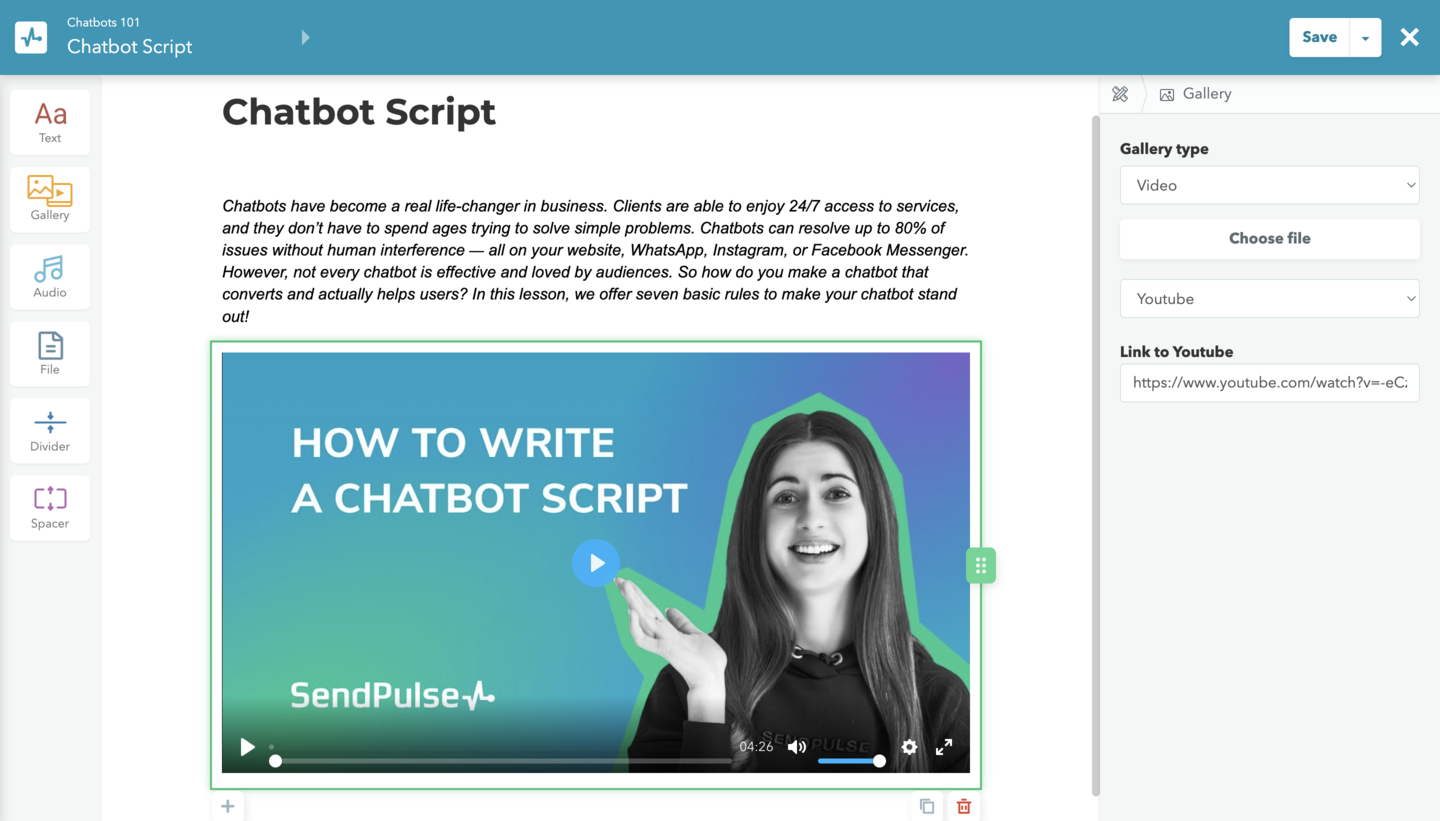 The free plan provides you with 1 GB of storage space. If it is not enough for you, you can upgrade your pricing plan and get up to 500 GB of free space.
Downloading videos on the platform is banned. The model for piracy prevention will be improved in the future.
Add summaries to your lessons
You can enable students to refresh their memory quickly without having to re-watch your videos every time by adding summaries to each lesson. Highlight the key points in bold, break your text into paragraphs, and use lists so that your text is easier to perceive.
To add a summary in the SendPulse course builder, drag the "Text" element to the workspace, and paste or enter your text into the field.
Leverage a student-friendly textbook format
Organize your materials into downloadable and printable textbooks to provide your students with an alternative way of gaining knowledge during your course. Use infographics, tables, and mind maps when creating your textbooks.
With our online course builder, you can add Word and PDF files.
Hold live webinars
When an expert conducts webinars, audiences get imbued with their charisma and buy courses from this particular person. Therefore, people are often disappointed if they managed to see the expert only at the sales stage and then only get recordings and work with instructors instead of seeing more of their favorite speaker go live.
Conducting live webinars is so useful since the value of your digital product and students' engagement and motivation increases. People can get prompt answers to their questions online, and you will once again confirm your expert status and receive the feedback necessary to bolster your course.
If you have created a webinar but have no idea how to get people to watch it, try our tips for successful webinar promotion.
Include podcasts with more info
Your students can listen to educational podcasts and audio lectures on their way to work or uni/college, before going to bed, or when doing household chores — this format helps consolidate their knowledge and save time.
With the SendPulse course builder, you can add audio files of any duration.
Set your course time limits
Think about whether to give students lifetime or time-limited access to your course. We recommend setting time limits for your course to motivate your students and keep them organized. Otherwise, people tend to slack off, and their learning process can sometimes drag on for months.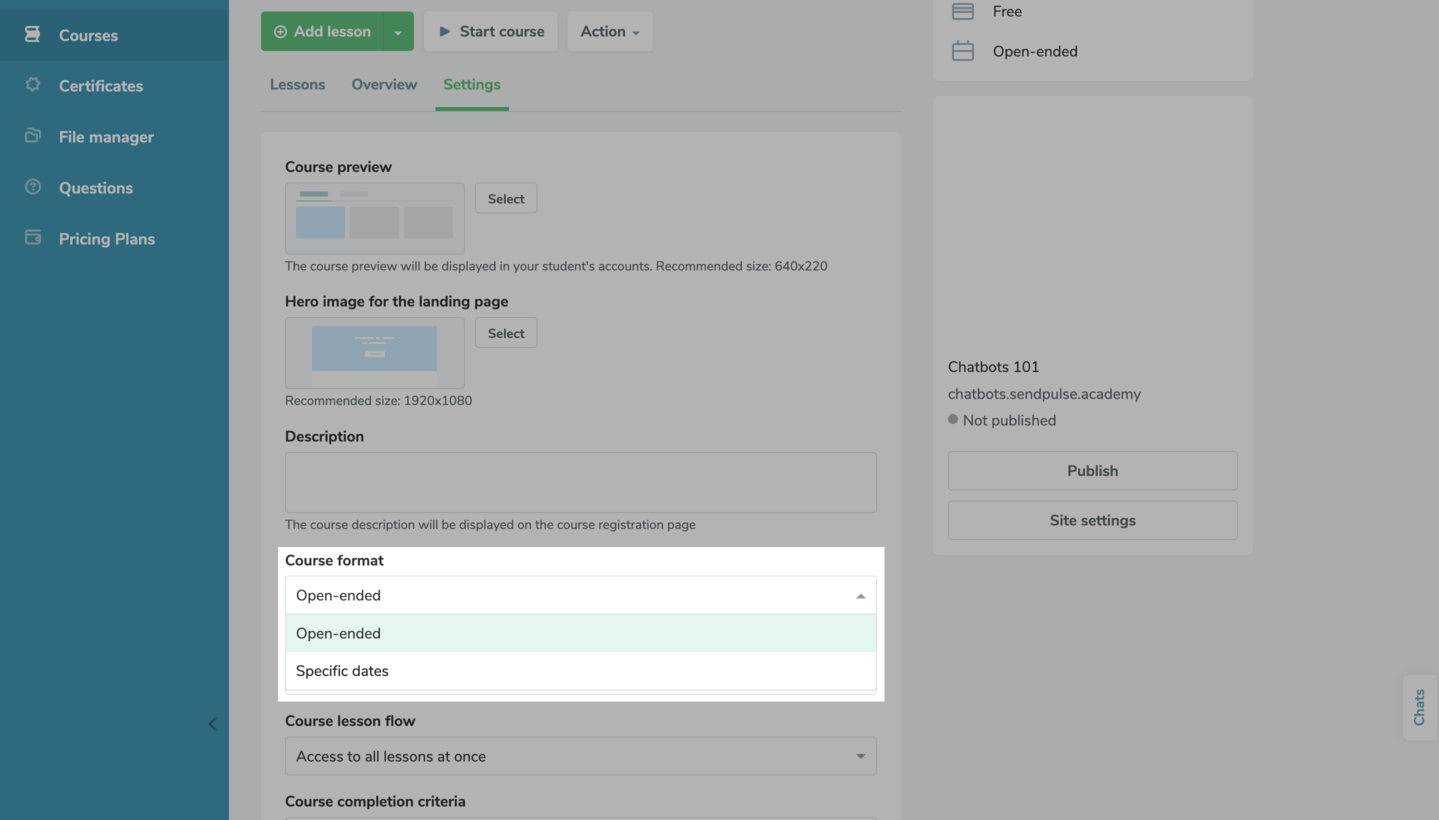 Specify your section time limit
Estimate the average time it takes to complete a particular section, and provide this information. This will help your students plan their studies more efficiently.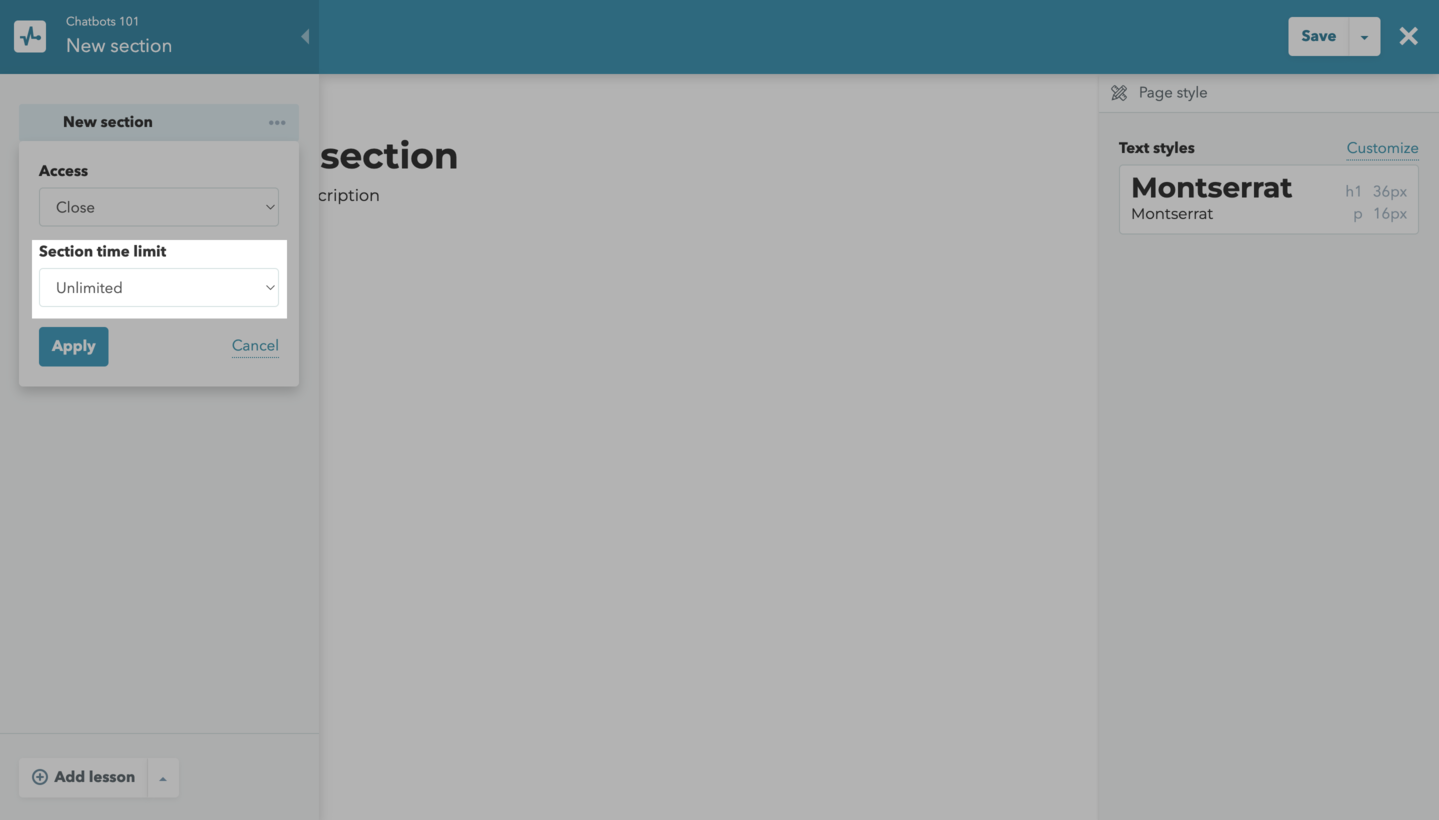 Run tests after each module
Add tests after each section so that both teachers and students can evaluate their progress. Here's how you can do this with the SendPulse course builder:
If there is only one correct answer, there is a possibility that your student can just guess it. We recommend integrating questions with multiple answers — students will get points if they mark all the correct options.
The order of your questions can be changed — click and hold the six dots icon next to your question, and drag it up or down.
You can grant or block students' access to your tests, assign points for correct answers, and specify the number of attempts in the test and lesson settings. You can also show hints if a student selects an incorrect answer. Another option is to motivate your student to look through the materials again and fill their knowledge gaps by themselves — you can specify where to find the correct answer instead of providing a hint.
Issue certificates of completion
If your school does not have the right to provide state-issued diplomas, you can still issue certificates of completion. This will make you look more credible and motivate students to study harder and complete your course. Graduates often post their diplomas and certificates on social media to prove their expertise to potential clients or just show them to friends. This way, more people will find out about you and your courses.
SendPulse's course builder enables you to create a branded template. Fields with each student's name, teachers, completion date, and course title are filled in automatically.
Assign instructors to work with students
If there are a lot of students on your course, you might need instructors who check assignments, answer questions, and help solve students' problems.
To add an instructor to your course, send them an invitation, and provide access to your course in the account settings. If your instructor is also a manager, you can grant them access to your CRM system as well.
How to make your online course quickly
Let's review a few tips on how to speed up your course development process.
Prepare a lesson template
Come up with a structure for your lessons and sections, and stick to it. For example, it can go like this:
Introduction.
Video.
Lesson outline and glossary.
Second video and comments on it.
Podcast.
Homework.
Test.
Your structure can, of course, look different, so don't be afraid to tailor it specifically to your course. Make sure there are no gaps when presenting the material, and try not to overload your lesson with meaning.
Having a universal lesson template and structure on hand will speed up the process significantly. Plus, structured materials are always easier to digest and comprehend.
Duplicate your content
Leverage the duplicate feature to create your course faster. This is especially convenient if your sections and lessons have the same structure and you just need to replace the content. This is how you can duplicate your content using the SendPulse course builder:
You can duplicate separate sections or the entire course. Go for this option if you want to change or supplement your existing course that is already running.
You can also use this feature when creating tests. It allows you to save more time when your answer options are the same.
Add students via your mailing list
Transfer your customer database from other services, and send course invitations via email or messaging apps without having to add each student manually. This way, they will register for your course using a link.
SendPulse allows you to add students via your mailing list, one at a time, or manually. You can add users to a mailing list, and send invitations to all contacts at once.
Conclusion
We hope our tips on how to make courses quickly and efficiently will help you in this daunting task. Try our online course builder to automate a fair share of tasks on your list and breathe easy. You can share your experience, create authentic courses, and sell your digital products with our landing page builder, email service, SMS service, chatbot builder, free CRM, and web push notifications.