Click Map
Click Map
"Click map" is a part of the statistics report that displays your email with the number of clicks on each link of the sent email. You can get this report in SendPulse in just a few clicks. Follow the steps in the article "Statistics" to see the click map of every email campaign. These small green blocks show you the number of unique clicks in your email.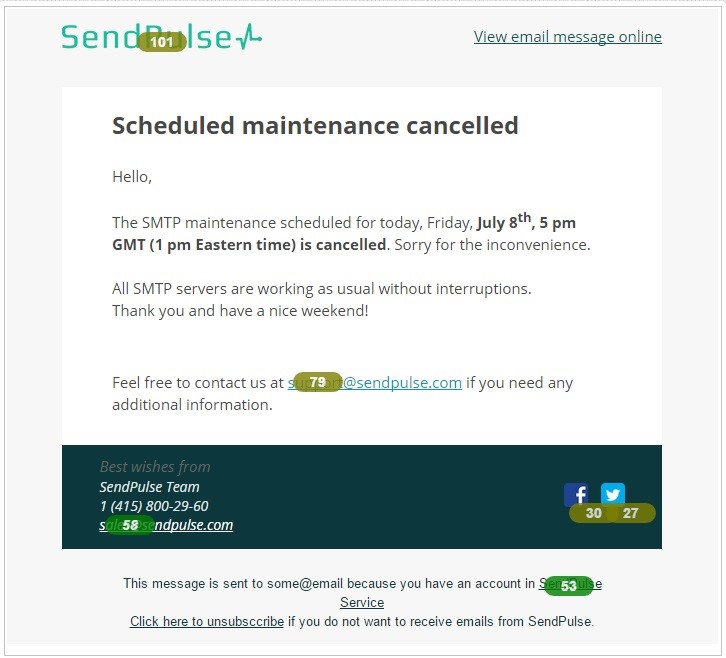 Click map is a powerful tool in analyzing the results of your email campaign. By knowing which links are opened by your subscribers, you can create efficient and productive email campaigns.  
With this feature, you will have the opportunity to create a series of emails. For example, if your email was read and the link with a particular proposal was clicked on, then you can send a follow-up email with another offer. 
How does it work? Well, you send an email to your subscribers and then get the results on the click map. If the subscriber clicks on your offer, you can send them another proposal. If the second email was clicked too, it means the subscriber showed significant interest, so you can make another offer. If the click map shows that subscribers don't click the link at all, then you can add them to the list of the re-engagement email campaign. The example below shows how you can arrange a drip email campaign on the basis of the click map where you can see if the subscribers click on your offer.
Also searched with "Click Map"
Regular Campaign - Regular campaign means an html campaign with images, links, and complete text formatting, which also contains the plain-text version...
Editor - Editor is a user status that gives access to the email campaign's statistics reports and mailing books...
Automated email - Automated email is one of the forms of email marketing, opposed to newsletters, performed as an email which is sent automatically to a list of people in case they meet a particular trigger...
Spamhaus - Spamhaus is a non-profit organization established by Steve Lindford in 1998...
List (Subscribers' List) - In email marketing, the term List, or Subscribers' List, is used to define Internet users who have subscribed to receive emails from you personally, or from your business...
Rate this article about "Click Map"
If you are interested in "Click Map" you might be interested in our bulk email service.
---
Try SendPulse today for free