Now that a lot of us are spending almost all of our time at home, there is an opportunity to learn something new, get new skills, and…rest a little. Spend some time reading a free book or checking out an exhibition from another continent.
We've collected a list of free software, services, and courses available during the coronavirus outbreak to help you brush up on something new. All you need to do is to decide what you want to devote your time to, and take advantage of some free resources.

Software and Services
Zoom
Zoom is an online conference software. During this time of isolation and remote work, they provide free software and webinars about all the opportunities their software offers, and tips and tricks for working from home.
Special offer: Free software and webinars to help people successfully adapt to remote work.
Google Hangouts Meet
Google is giving their G Suite and G Suite for Education customers free access to their advanced Hangouts Meet video-conferencing features. This opportunity will allow you to keep the business and education processes going with ease.
Special offer: Meetings for up to 250 participants per call, live streaming for up to 100,000 viewers within a domain, the ability to record meetings and save them to Google Drive until July 1.
Microsoft
Everyone has used Microsoft Word or Excel so there's no need to explain who they are. And there's no doubt Microsoft wants to help. So, they've got a special offer, too.
Special offer: No user limit on its free version; a basic version of their Office 365 enterprise suite of productivity tools such as Word and Excel is free for six months for organizations, which gives users access to the premium version of Microsoft Teams.

Cisco Webex
Cisco Webex is software for video conferencing, online meetings, and screen sharing. They realize that the number of people working remotely is growing exponentially every day. So, they want to help businesses connect and keep them afloat.
Special offer: They are providing free 90-day licenses to businesses who are not Webex customers; they offer extended features to their existing customers.
Adobe
When Adobe states that they're supporting their community, they mean it. Adobe supports everyone impacted by COVID-19 and helps their license owners stay creative.
Special offer:
Students now have free, personal in-home access to Adobe Creative Cloud in place of their schools' in-classroom licenses through May 31, 2020.
Adobe web-based PDF services on Adobe.com are free through May 31, 2020.
For Creative Cloud and Document Cloud customers in Value Incentive Plan (VIP), the renewal grace period has been extended to 60 days.
For Creative Cloud and Document Cloud enterprise term license agreement (ETLA) customers, there are no additional license charges for 60 days.
Zoho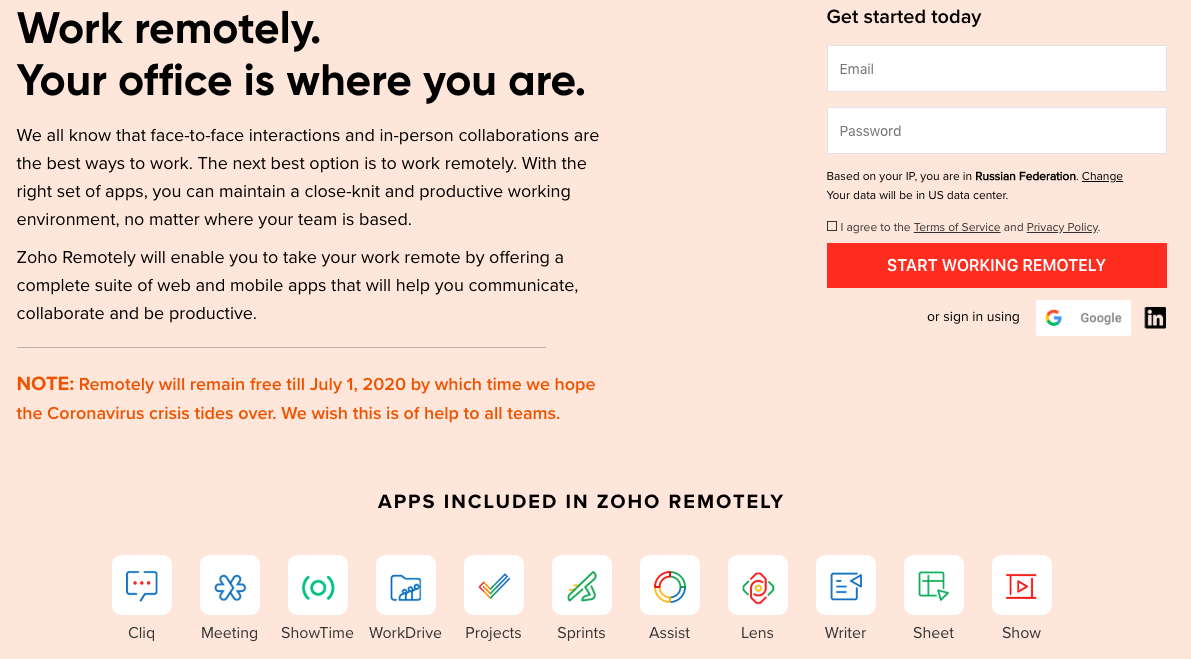 Zoho Remotely will enable people to do their work remotely by offering a complete suite of web and mobile apps to help them communicate, collaborate, and stay productive. They've got apps that will help companies track their processes and progress online, too.
Special offer: Remotely will remain free until July 1, 2020.
TripIt
TripIt is a service that gives users a single view of all their trips, helps keep it all straight — even if a person is planning one trip while still on another. It is helpful in the time of coronavirus when more and more flights are canceled or delayed. This way people can keep up to date with the latest travel developments.
Special offer: If you don't have an account, sign up between March 13 and March 31 to get free access to TripIt Pro for six months. If you have an account, update it by March 31 to extend your plan for six months.
Dropbox
Dropbox is a file storage and a workspace that helps teams organize their business processes, even when they work remotely.
Special offer: Dropbox Business and HelloSign Enterprise are offering free subscriptions for a three-month period for nonprofits and NGOs that are focused on fighting COVID-19.
Slack
Slack is the collaboration hub that brings the right people, information, and tools together to get work done.
Special offer: Slack offers free upgrades to paid plans for organizations working on coronavirus research, response, or mitigation.
Courses
LinkedIn Learning
LinkedIn Learning offers 16 mini-courses that will help people set up their working-from-home process, and stay part of a cohesive team. It's all about time management, virtual teams, and meetings. These courses have never been more relevant.
Special offer: Free courses to help people learn how to be productive when working from home.
Coursera
Coursera's statement on the website says the following: "Coursera's mission is to transform lives through learning. To help minimize the impact of the coronavirus (COVID-19) outbreak on students, the Coursera community is launching a global effort to assist universities and colleges to deliver courseware online." It is a perfect opportunity for students from all over the world to take an online course for free.
Special offer: Free access to over 3,800 courses for students.
Skillshare
Skillshare is an online learning community with thousands of classes for creative and curious people, on topics including illustration, design, photography, video, freelancing, and more. And they offer their help, too.
Special offer: Free two-month access for students.
500+ Ivy League Free Courses
Taking into account that many people now have some free time, the Ivy League universities have shared over 500 online courses on any subject a person can think of, including business, design, personal management, and much more. The hardest thing is to pick one from their excellent catalogue of free courses.
Special offer: Free access to 500+ Ivy League courses.
Scholastic
Scholastic is offering free online courses for children as school closures sweep the nation amid the coronavirus outbreak. The company's digital learning hub is accessible on all devices, including smartphones, and requires no sign-up. It will help parents who work from home keep their children occupied during the quarantine.
Special offer: Scholastic offers three hours of learning per day with up to four weeks of instruction for free.
Books
Cambridge University Press
Cambridge University Press publishes research monographs, academic reference books, textbooks, books for professionals, and books for graduate students. Cambridge University Press is making over 700 higher education textbooks free to access online during the coronavirus outbreak.
Special offer: The Press has made all Academic higher education textbooks free to access online until the end of May 2020. They also support distance learning by publishing free materials, and there is a free Cambridge Elevate 90-day digital trial.
New York Public Library
The New York Public Library has closed its physical doors. Luckily, they have access to so many ebooks, and they are ready to share them with people.
Special offer: NYPL offers an opportunity to download 300,000+ eBooks to SimplyE, their app.
Scribd
Scribd is a reading subscription service that gives its users access to eBooks, audiobooks, magazines, and news. And they have something nice for people on quarantine, too.
Special offer: Free 30-day access.
Entertainment
Staythef*ckhome.bar
Get a glass of wine and join a video conference with English speaking people from anywhere around the globe. It's a perfect fit for those who are missing a person-to-person communication.
Special offer: An opportunity to feel like you went to the bar while sitting in your best chair.
Vogue Italia
For those who enjoy leafing through fashion magazines, Vogue is offering an opportunity to check out all the Vogue Italia editions from 1964 to 2020. Enjoy!
Special offer: To see the Vogue collection, go to the Vogue Italia website and use the promo code VARCHIVE4YOU. Voila!
Vienna State Opera House
Dreaming of attending one of the operas in Vienna? Well, here you are: Vienna State Opera House is offering people from all over the world a chance to see live-streams.
Special offer: Vienna Opera State House offers free live-streams.
Google Arts and Culture

Google Arts and Culture features content from over 1,200 leading museums and archives that have partnered with the Google Cultural Institute to bring the world's treasures online. You've got an opportunity to see all those amazing galleries for free from right from your sofa!
Special offer: Free content from over 1,200 leading museums around the world.
Foam Magazine
Foam is an internationally operating organization in the field of photography, based in Amsterdam. Foam informs and inspires the widest possible audience by showing all facets of contemporary photography.
Special offer: Free access to 50+ magazine editions digitally including many sold-out issues. Expires in 30 days.
Berlin Philharmonie
The Berlin Philharmonie is closed, but they found a way out. So, now the Digital Concert Hall is free for everyone. People from all over the world have a chance to enjoy the concerts online.
Special offer: Redeem the voucher code BERLINPHIL by 31 March and receive free access to all concerts and films in the Digital Concert Hall.
Peace of Mind
Headspace
Headspace is a meditation app that helps people make their lives healthier, happier, and more well-rested. As they know everything about reducing stress, Headspace has a little something for all of us.
Special offer: free meditations, sleep, and movement exercises.
Stop, Breathe & Think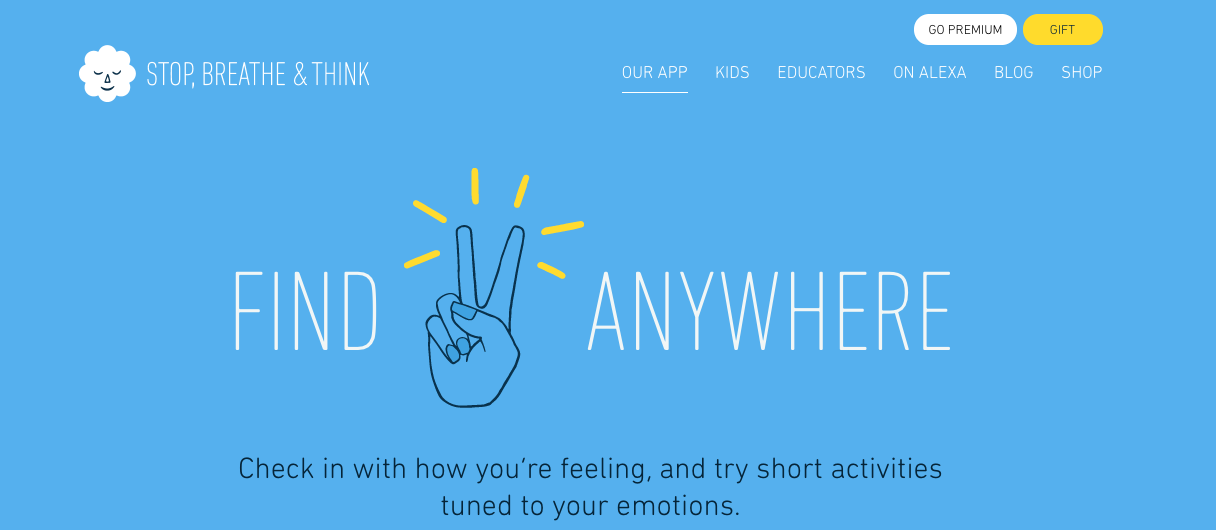 Stop, Breathe & Think app offers guided meditations. They realize people's anxiety so they created "Calm Coronavirus Anxiety" meditations in order to help people handle the stress.
Special offer: "Calm Coronavirus Anxiety" meditations are available for free.
Endel
Endel is an app that creates personalized environments that help users focus and relax by making a list of music and sounds that fit the person.
Special offer: Use the promo code STAYCHILL for a free one-month subscription.
To sum up
Let's try not to panic and make the most of the current situation. If you know other useful resources to help you spend your time home more effectively leave them down in the comments. And remember, SendPulse is here for you by providing you with free tools.