When it comes to marketing and brand communications, subscription forms are a crucial element of your strategy. They are essential for building mailing lists, interacting with customers, and increasing sales. Today, 74% of marketers use forms for lead generation, and almost 50% of specialists confess that web forms are the tool with the highest conversion rates.
The easiest way to make an effective subscription form is to use online form builders. With their help, you can create forms in minutes without any knowledge of programming or design — all you need is to understand what information about a subscriber you need to collect for successful communication with them.
The majority of existing online form builders use a drag and drop builder and allow you to customize the structure and color scheme of your forms. However, there are a lot of differences between these tools, and each of them has its own peculiarities. We've researched tons of form building services and picked ten most helpful and easy to use options to help you create killer forms.

SendPulse
The multichannel marketing platform, SendPulse, combines a wide range of marketing tools, including a form building tool. The service allows users to create embedded, floating, fixed, and pop-up forms from scratch, or employ one of the pre-designed templates. SendPulse forms are responsive to all screen resolutions and adjustable on the go. Once you've changed the form in the editor, it automatically updates on your website too.
Apart from regular subscription forms, you can create lead magnets — insert a download link into the notification message a customer receives after filling in the form. Another useful option in the SendPulse form builder is multichannel forms. These forms enable you to sign up customers not only to your email campaigns but also to messengers and chatbots.
With a great variety of design options, you can choose a vertical or horizontal location of form fields, switch between different backgrounds and form element colors, settings for fonts, borders, corners, and so on. It is also possible to alter fields' positions and add a background image. All these options help customize your form to make it look perfect on your website.
SendPulse's form builder provides users with different types of form fields, including name, address, phone, email, checkboxes, radio buttons, and drop-downs. To allow you to segment subscribers right from the form, each field requires you to set a variable linked to your mailing list — city, email, phone, and so on. You can choose the existing variables or create new ones.
After a customer fills in the form, every piece of data binds with the variable in the mailing list. Using variables enables you to personalize future communication with your clients. For instance, you can divide customers by gender, and, then, send them different offers by choosing a particular gender variable in the email campaign settings.
Speaking of nurturing leads, SendPulse offers a wide range of channels, including Facebook and Telegram chatbots, SMS, web push notifications, and an abundant variety of options for email marketing. You can create email flows to nurture your leads with Automation 360 and send personalized email campaigns. Address your customers by name, make special offers based on their geographical region or company's name, send birthday emails according to the date they share during registration.
Free plan: Available forever.
Paid plan: Allows users to remove SendPulse branding for $9.85 per month.
HubSpot's Form Builder
A marketing software giant, HubSpot, offers its users a quick and easy form builder. The tool helps you create embedded forms, stand-alone pages, pop-ups, drop-down banners, and slide in boxes.
Inside HubSpot's builder, you will find six templates for different purposes — registration, email sign-up, customer support, contact us forms, e-book download, and event registration. To create a form from scratch, the builder offers a handful of ready-to-apply fields, including first and last name, phone number, address, company size, captcha. In further steps, you can write a follow-up email, add a thank you message, and adjust the form's design.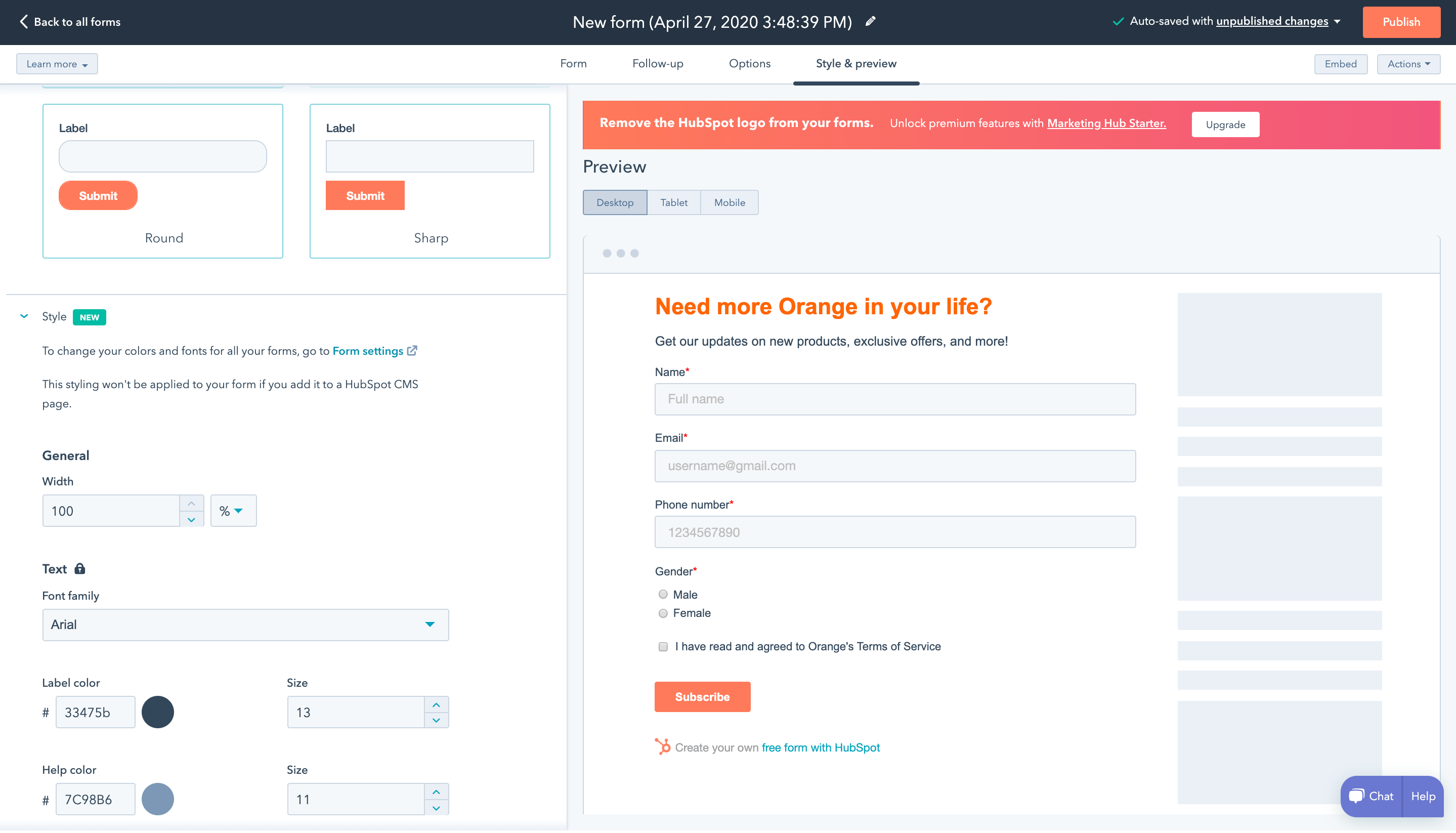 The form builder is a part of HubSpot's diversified software solutions for marketing and sales; thus, the tool has deep integrations with other company's services. After a visitor fills in the form, the data automatically goes to Hubspot CRM, where you can build a lead nurturing system — set tasks, call customers, and send them personalized email campaigns.
Free plan: Available forever. The plan enables users to work with everything except design tools.
Paid plan: Access to design tools and HubSpot logo removal is available for HubSpot's Marketing Hub service users. The price starts at $50 per month.

Gravity Forms
A WordPress-powered plugin, Gravity Forms, has a number of time-saving options, among which are a few pre-built templates and pre-designed fields for collecting various information, such as name, contacts, gender, pricing, and more. Also, you can create advanced forms from scratch. However, both options require WordPress experience to use effectively.
Styling your form made with Gravity Forms is tricky. To change fonts, adjust colors, add images, align fields, and more, you'll have to work with CSS. To make this task easier, Gravity Forms' website provides tutorials. Installing one of many available design add ons is another option for those who don't want to mess with any type of coding when using this plugin.
Being a plugin, Gravity Forms is not self-sufficient in terms of nurturing leads. However, the tool offers a wide range of integration options, including email and automation software, messenger platforms, and payment solutions. Statistics for forms are available in the service itself, so you don't have to implement Google Analytics or other external tools.
Free plan: 7-day free trial. The plan allows users to test all of the features available on paid plans.
Paid plan: From $59 per year, or around $4.90 per month — Gravity Forms is billed annually. With a paid plan, Gravity Forms gives users access to advanced post creation, polls, quiz, electronic signatures, surveys, webhooks, integrations with third-party services such as Dropbox, Paypal, Slack, Square, Trello, Zapier, and more.
Pabbly Form Builder
An online marketing and sales software developer, Pabbly, offers its customers a form building tool. The service enables users to upload files, collect payments, and work with conversion rate optimization features.
With Pabbly, you can build multi-page forms, in other words, break long registration or shipping forms into multiple pieces. Filling in multi-page forms is a less stressful experience for customers than one long form. Another useful option is conditional logic, which allows you to show new questions according to a subscriber's previous answers. Pabbly has a built-in analytics feature and captcha functionality to protect the form from bot attacks.
With various design options, you can customize and personalize each form. In addition, Pabbly form builder offers more than 260 templates for multiple purposes, including booking, contacting tech support, evaluating a product or service, and more.
Besides the form builder, Pabbly provides an email marketing platform, email verification solution, subscription management software, and billing service. However, it is possible to connect the form builder with other tools you need — Pabbly supports numerous payment services, CRMs, and help desks.
Free plan: 7-day free trial.
Paid plan: $15 per form.
Paperform
This form builder has an unusual conception — creating forms with Paperform is similar to creating text documents on your computer. The service allows users to make not only embedded forms for existing websites but also self-sufficient landing pages.
Paperform focuses on customization and offers tons of options for building advanced, well-designed forms. Users have access to a wide range of form field types, including taking and calculating payments, scheduling appointments, or choosing a product's color. Also, you can hide a form from search engine results, add captcha verification, and more.
Offering a broad set of design options, Paperform allows you to choose between numerous templates, design your form to match your branding, import a color theme, or apply any ready-to-use form design randomly.
To manage further communication with customers and automate your workflow, Paperform offers more than a thousand integrations with other services, including SendPulse.
Free plan: 14-day free trial.
Paid plan: From $12.50 per month.
Wufoo
Wufoo is a form builder provided by SurveyMonkey, an online survey development cloud-based software. It is an easy-to-use constructor, that allows users to create nice-looking forms. With Wufoo's design options, you can choose from one of the eight provided color themes or create your own palette.
It is convenient to use one of the multiple templates for building forms and alter it according to your needs. Templates are divided into several categories: invitations, lead generation, orders, registrations, surveys, and tracking. Wufoo also enables users to take online payments and receive email notifications when someone fills in the form.
The service supports integration with multiple customer relationship management platforms, email marketing systems, website and mobile app builders, project management solutions, and social media. To obtain the form's statistics from Wufoo, you can integrate it with Google Analytics.
Free plan: Available forever. Users can build one form with 10 fields, and collect 100 entries per month.
Paid plan: From $19 per month.
Typeform
This form builder is one of the few that doesn't have a drag and drop editor. The tool works as a notepad.
The variety of available fields is huge — you can create scales, ratings, receive payments, and collect email addresses and phone numbers. Another option is to show or hide questions based on the respondent's previous answers. With these features, Typeform is particularly great for taking customer surveys and doing user research. You can share a link to your questionnaire on social media or send it via email.
Typeform is dedicated to forms alone, but the developers anticipated the need to continue further work with leads and added integrations for thirty popular email, analytics, automation, and customer support services. Integrations are also available for other services including Slack, Google services, and Trello.
Free plan: Available forever. Users can create three forms with up to ten questions per form, and collect 100 responses per month. If you get more than 100 responses, Typeform won't save the data for their free plan users.
Paid plan: From $35 per month.
Cognito Forms
A stand-alone form builder coupled with a WordPress plugin, Cognito Forms is known as the service with the most robust set of features. It enables users to create forms with payment and calculation fields, electronic signatures, and conditional logic.
With Cognito Forms, you can import data from Excel spreadsheets to keep all your entries in one account or adjust forms by adding lists of cities, prices, products, and so on. Another time-saving option is the possibility to integrate information from existing forms to new ones.
The tool offers a lot of pre-designed templates. Navigation through them is simple thanks to the convenient organization of Cognito Forms' website — templates are divided into groups according to industry, form type (application, contact, etc.), and the features form contains (electronic signatures, payments, etc.).
Cognito Forms works with Google Analytics. After connecting it to your form building tool, you can collect statistics about the form, optimize multi-page forms, and improve PPC campaign performance. The set of integrations for this service is limited to Zapier, Microsoft Power Automate, and SharePoint.
Free plan: Available forever for one user.
Paid plan: From $10 per month. A customer gets a bunch of additional features, including custom document templates, electronic signatures, form folders, removing the Cognito logo, data importing, analytics tracking, payments via PayPal and Square, and more.
FormSite
FormSite has all the essential features for easy form creation. With this tool, you can build registration, order, and lead forms, customer surveys, and more. The new form creation process starts with choosing one of a hundred pre-designed templates. With multiple adjustment options, users can customize their form — tons of settings help change fonts, colors, background images, buttons, and other elements.
You can also tailor form fields and add any specific question types you need, including rankings, contact lists, pricing options, file uploads, and credit card data. The platform supports multi-page forms and jumping between questions according to previous answers.
Once the form is ready, a user can embed it into their website or share a link on social media or via an email campaign — FormSite's forms can work as stand-alone landing pages. They are automatically responsive to all device types: desktops, tablets, and phones.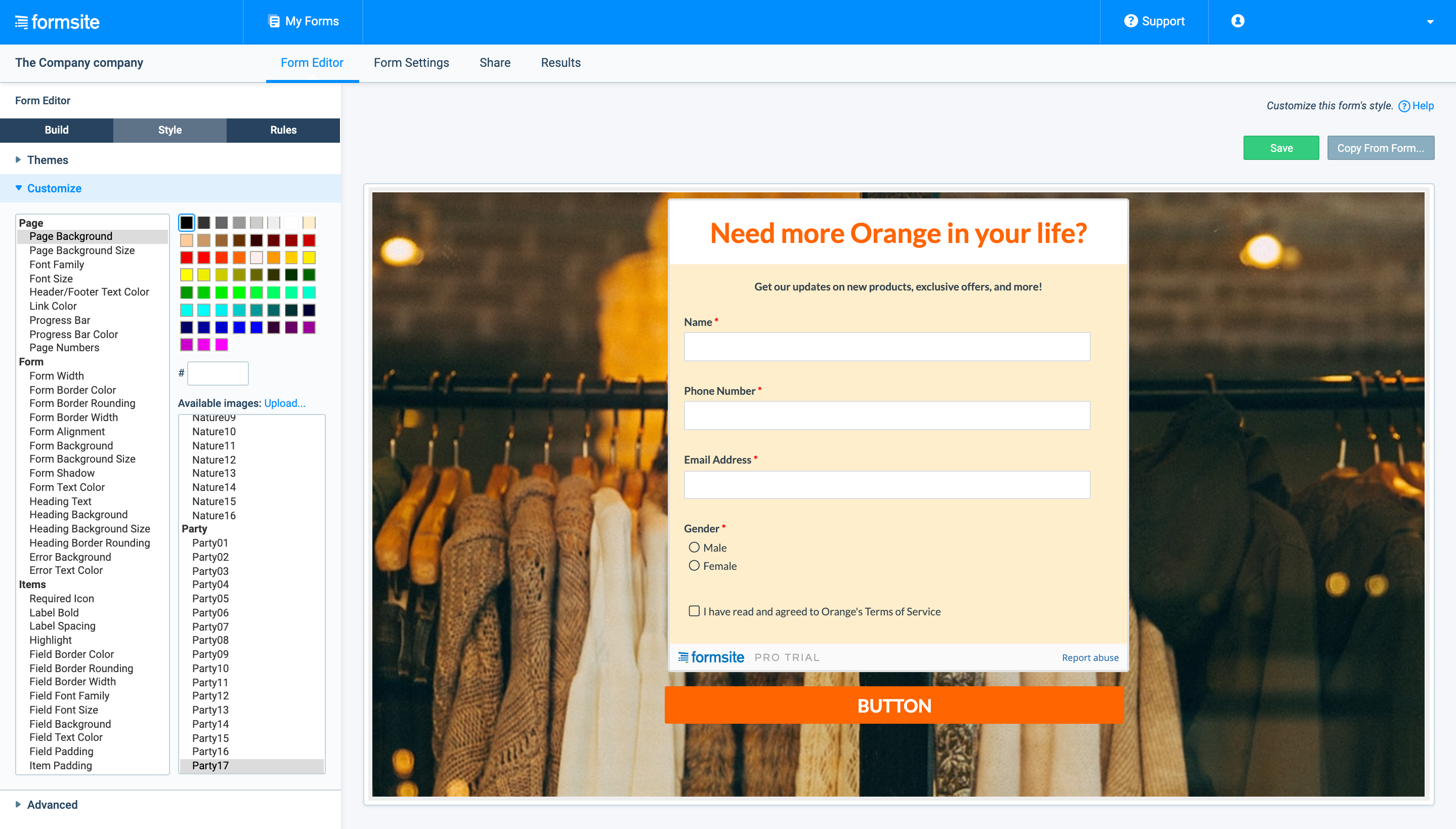 p>
FormSite hosts your form's statistics, that you can export anytime, and sends you email notifications with updates. You can also integrate the form builder with email, marketing and sales services, and payment processors.
Free plan: Available forever.
Paid plan: From $19.95 monthly. It offers features to remove the FormSite logo, add more users, export results as a PDF or Word document, creating unlimited workflows, and use enhanced security.
Socital
A pop-up builder, Socital, is great for making short subscription and registration forms — it does not provide a lot of question types but allows adding countdown timers. To speed up the form creation process, the tool offers more than thirty ready-made templates. You can choose one of them and customize it to your needs, although the variety of design options is limited.
Nevertheless, Socital has other robust features — it provides users with profound information about their buyer persona. The service uses social media CTA buttons and pulls up user data from social networks. This peculiarity allows you to personalize further communication with customers more precisely.
Also, with this service, you can manage your pop-ups — schedule their emergence on your website, implement a seasonal calendar of special offers, and more. To enable users to work on lead nurturing, Socital has integrations with email, automation, and multichannel marketing platforms.
Free plan: 30-day free trial.
Paid plan: From $24. A user can work with 500 — 10,000 new profiles per month and get access to 30+ popup templates, 18 targeting rules for exit-intent popups, a calendar of seasonal on-site campaigns, and analytics.
A quick overview of the best online form builders
Let's sum up the main information about the form builders given above.
Online Form Builder
Free Plan
Paid Features
Starting Price per Month
SendPulse
Available forever
SendPulse branding removal
$9.85
Hubspot
Available forever
– HubSpot branding removal;

– Design options.

$50 for Marketing Hub
Gravity Forms
7-day trial
– Integration;

– Advanced post creation;

– Poll;

– Quizzes;

– Electronic signatures;

– Surveys;

– Webhooks.

Around $4.90 (billed annually)
Pabbly Form Builder
7-day trial
– Unlimited users;- Unlimited payment accounts;

– Unlimited file upload;

– Unlimited submission reports;

– Multi-page forms;

– Star ratings;

– Form customization;

– PayPal & Stripe integrations.

$15 per form
Paperform
14-day trial
– Removable Paperform logo;

– Form URL customization;

– Custom domain support;

– Answer piping;

– Custom HTML;

– Calculations field;

– Color picker;

– Electronic signatures;

– Webhooks;

– Custom analytics;

– Paperform analytics.

$15
Wufoo
Available forever. One user, one form with 10 fields, 100 entries per month
– Payment acceptance;

– Google Analytics tracking;

– Higher file upload limit;

– Field encryption;

– Password protection;

– Company branding customization.

$19
Typeform
Available forever. One user, three forms with ten questions per form, 100 responses per month.
– Hidden fields;

– Custom close message;

– Removable Typeform logo;

– Additional users;

– Priority support;

– Live chat;

– Facebook pixel; Google, Tag Manager, HubSpot, and Salesforce integration.

$35
Cognito Forms
Available forever. One user, 500 entries per month, 100MB file space
– Additional users;

– Custom document templates, electronic signatures;

– Removable Cognito logo;

– Data importing;

– Analytics tracking;

– PayPal and Square payment acceptance;

– Extra email features.

$10
FormSite
14-day trial
– FormSite logo removal;

– Additional users;

– Results' output in PDF and Word;

– Unlimited workflows;

– Enhanced security.

$19.95
Socital
30-day trial
– 500 – 10,000 new profiles per month;

– Unlimited on-site campaigns;

– 30+ popup templates;

– Exit-intent popups with 18 targeting rules;

– Seasonal on-site campaigns;

– Analytics.

About $24
No matter which an online form builder you choose, you still need tools to work with leads — manage mailing lists, create beautiful and personalized email campaigns, and collect statistics to measure your email marketing effectiveness. Get started with SendPulse to build email marketing for your brand and boost ROI with other instruments — SMS messages, web push notifications, and chatbots.